Indefinitely Wild
How the Camp Fire Stacks Up to Other Disasters
Putting the deadliest fire in California history into perspective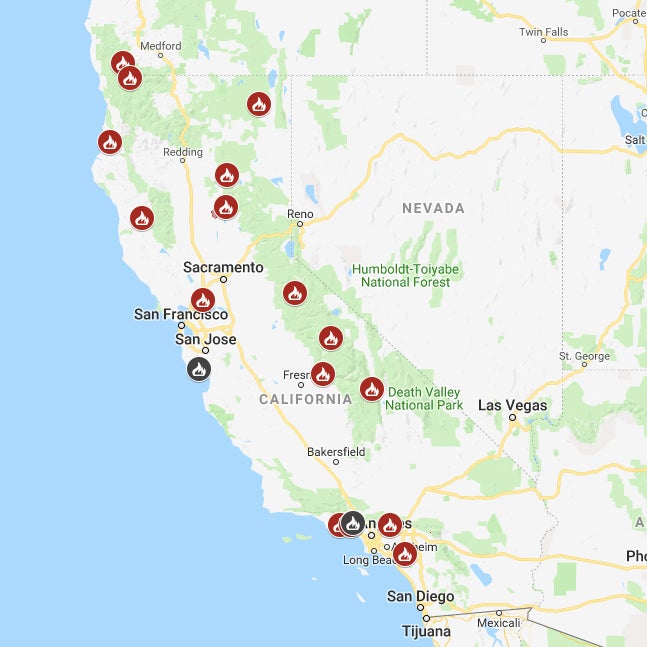 Heading out the door? Read this article on the new Outside+ app available now on iOS devices for members! Download the app.
As of this writing, the ongoing Camp Fire in northern California was responsible for taking at least 42 lives and destroying more than 6,400 homes. Both numbers are expected to rise as the fire continues and as first responders sift through the wreckage. As extreme wildfires like this one become the new normal across the American West, I thought it'd be important to put the devastation they create in perspective. 
The Camp Fire was likely started by downed power lines sometime on Thursday morning. Near-zero-humidity conditions had left brush bone dry, meaning embers burst into flames almost immediately. Powerful winds coming down from the Great Basin whipped those embers forward in what survivors have described as a firestorm. By the time those flames reached the town of Paradise later that day, the fire was advancing at a rate of 80 acres per minute. Reports indicate virtually the entire town was destroyed. As of Tuesday, the fire measured 200 square miles and was only 30 percent contained. 
While this is the deadliest fire in California history, it still falls behind other massive conflagrations when it comes to size and fatalities. The Peshtigo Fire, which burned 280,000 acres of Wisconsin in 1871, killed at least 1,500 people. According to the Wisconsin Historical Society, the area had been suffering such a significant drought that its residents had grown used to the smell of smoke and the presence of ash in the air. So the town of Peshtigo didn't take any extra precautions when they went to bed on the night of October 8. Late that night, "all hell rode into town on the back of a wind," stated one survivor. In the ensuing panic, many people remained in their homes, all but two of which burned down. 
Neither fire approaches the size of the Great Fire of 1910. There, hurricane-force winds met drought conditions, burning three million acres in the northern Rocky Mountains. A sparsely populated area, only 78 people were killed, many of them firefighters. It's this fire that led to the U.S. Forest Service's policy of fire suppression, which is often cited as worsening today's wildfire conditions. 
The Camp Fire supplants last year's Tubbs Fire as the most destructive in the state's history. Tubbs is infamous for also burning through an urban area, destroying 2,800 homes in the city of Santa Rosa. It took 22 lives.
While no costs have yet been tabulated for the ongoing disaster, the Tubbs fire may help us gain an understanding of how much the Camp Fire is going to cost. Its damage was estimated at $1.2 billion, while firefighting costs were $100 million. 
To me, what's remarkable about the Camp Fire isn't just the sheer amount of destruction. It's the timing. In addition to Camp, there are two other terrible fires ravaging California, and all of this is happening just months after the devastating Carr Fire destroyed parts of nearby Redding. In fact, seven of the 20 most destructive fires in California history have come in the last year alone. The Camp Fire isn't an outlier—it's just the latest indication that, out West, we have to get used to living with wildfire year-round. 
A year ago today, I wrote a piece analyzing the impact climate change is going to have on wildfires and the people who have to live with them. That led me to research suggesting that an estimated 5.1 million homes in California alone are at risk from wildfire—120 times more than the number of homes in the state that are at risk of sea-level rise. 
My conclusion then was the same as it is now: climate change is going to massively worsen fire conditions in the American West and we will have to find new ways to live in that much more fire-prone landscape. Until we do, we're not watching small, fast-moving individual disasters—we're looking at one very big one.