Gear Guy
How to Buy Your Next Pair of Ski Goggles
Knowing the basics on lenses, fit, and venting will help you find a pair you love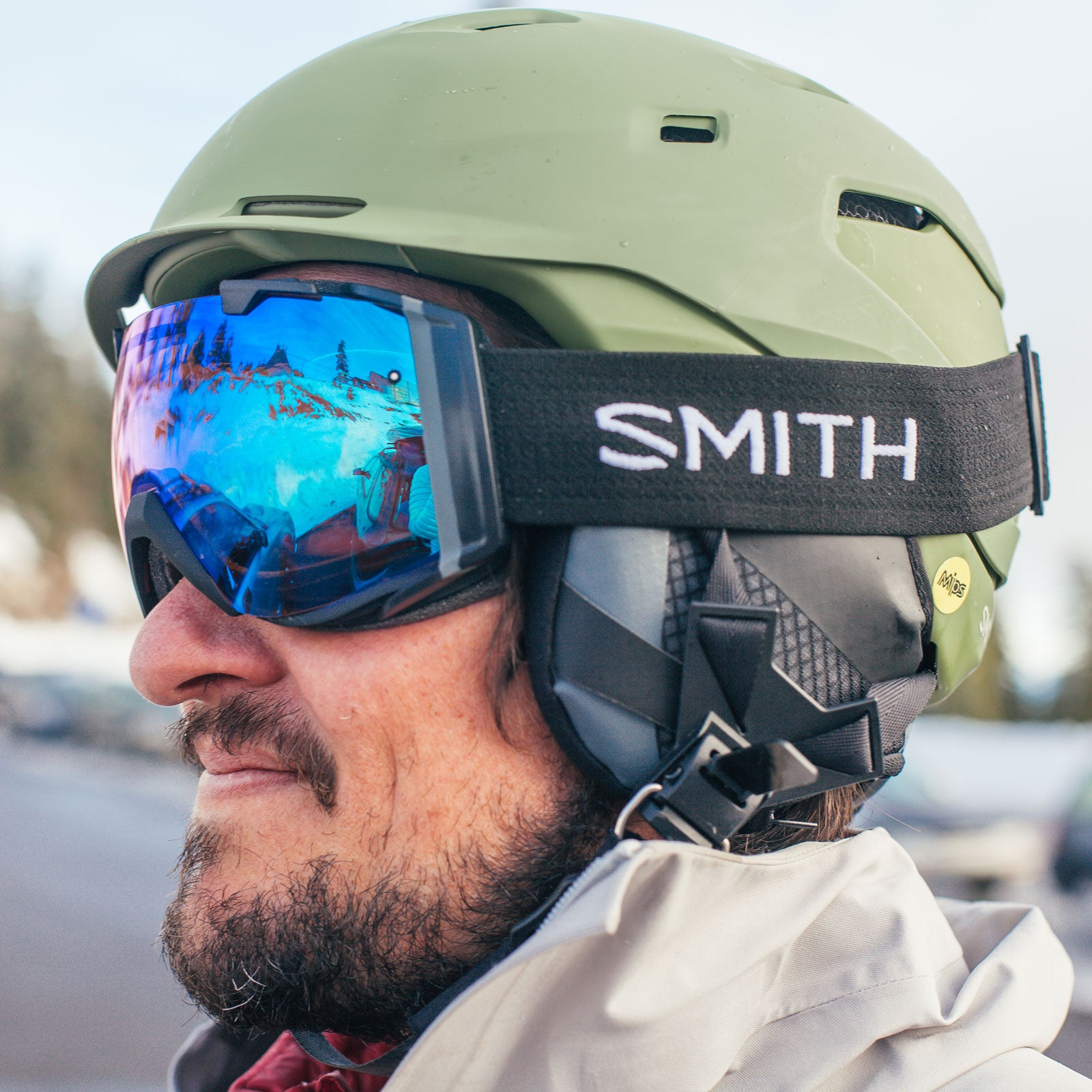 Sarah Jackson(Photo)
Heading out the door? Read this article on the new Outside+ app available now on iOS devices for members! Download the app.
Buying ski and snowboard goggles can be surprisingly difficult. But it's worth putting in the time to get the right pair—having a clear view of your path down the mountain is important. A lot of R&D goes into making sure goggles are comfortable, perform well in various light conditions, and don't fog up. Unfortunately, goggle companies describe the features and functions of their products with language that seems to come out of a NASA flight manual, and often they use different terms for similar versions of the same technologies. Never fear, though. I've tested dozens of goggles over almost a decade and can simplify all that. Here's what you need to know when shopping for your next pair.
Lens Tint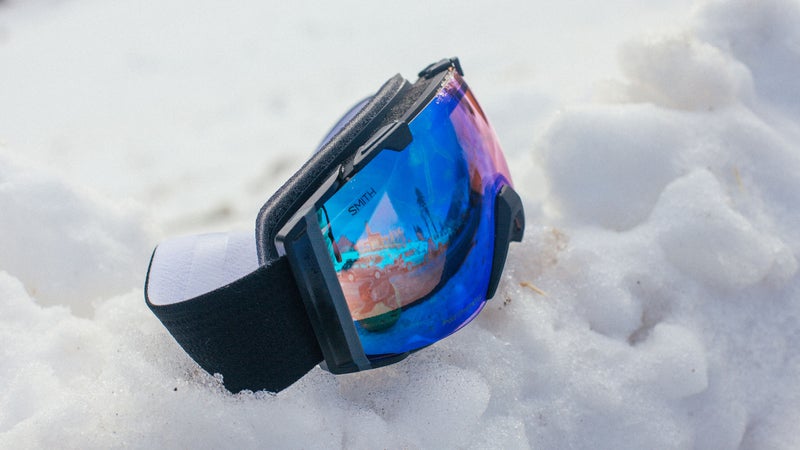 Offering a clear view in different light conditions is one of the great challenges facing goggle makers. Certain lens tints are better for certain scenarios. The most important thing to consider, when it comes to choosing goggles that will perform in the light conditions you experience at your primary skiing hill, are the tint color and saturation.
For Low Light
You're usually going to encounter low light when the weather is overcast or at the end of the day when shadows are long. As can be expected here, lenses with less tint and a lighter color, like a yellow, are going to give you the best view in low light.
For Bright Light
Classic mirrored, dark, sunglasses-style lenses are best for cutting the glare of a bright day of skiing or riding.
For Variable Light
Over the course of a single day in the mountains, you can encounter dramatically different lighting. I've found that rose-colored lenses, which are a happy medium between the lighter and darker tints, do the best in variable conditions. Just remember that on the brightest days, they won't protect your eyes as well.
Lens-Swapping Systems
As light conditions change, many skiers and riders opt to swap the lenses on their goggles. The two main types of systems that do this have either magnets on the frame or click-in, click-out clasps. Magnets usually make for faster lens swaps, but the connection can be insecure, causing the lens to pop loose on chattery terrain or during a fall. Clasps lock the lenses in but will take longer to open (and can be tricky to manage with your gloves on).
Personally, I'm not a big user of interchangeable lenses because I find getting indoors to swap them out between runs onerous. (But try to do it outside and you'll likely fog up the new lenses). In my experience, the most user-friendly system is made by Uvex. Buy one of the brand's goggles that's compatible with its Take Off ($157) lens covers; instead of switching out lenses, you attach them via magnets over the lens to adjust the tint. It's easy to put them on and take them off with one gloved hand, and you don't have to step into the lodge to do it like you would with full lenses (which can fog up if switched off and on in the cold). Get two covers—one rose tint and one dark tint—and you'll be covered for most of the light conditions you'll encounter during a day of skiing. 
Tint-Changing Lenses
In recent years, we've seen companies employ technologies that allow lenses to automatically change tint in response to light conditions. The two most common systems are photochromic and electrochromic.
Photochromic
These lenses are filled with molecules that change shape when they come into contact with UV light and high-energy visible light, which causes the lenses to darken or lighten. Earlier this year I tested Smith's I/O ChromaPop photochromic goggles ($200) head-to-head against the Spy Ace ECs (more on that below), and they've become my go-to pair. (They're also the favorite of Outside affiliate reviews manager Ben Fox.) The tint shift isn't instant, making it a little tricky when you're skiing into shaded groves and then back out into sun at speed, but the upshot is that you never have to tinker with them. I recently got back from a skiing trip to Whistler, British Columbia. The mountain conditions alternated between bluebird and stormy all day, and I was glad to have the I/O ChromaPops.
Electrochromic
Spy's Ace EC ($275) is the second pair of goggles I've tested with this technology (the first, from Uvex, bombed and has been taken off the market). Oakley also makes a pair. The Ace EC, which had some battery-life issues but certainly worked, has an electric filament sandwiched between a yellow outer lens and a clear inner lens. When you push a button on the power pack on the side strap, a pulse of electricity runs through that filament, cycling the lenses through three levels of darkness. The beauty of electrochromic goggles is that they can switch between tints in less than a second—much faster than photochromic models. The downside is that they use a battery to deliver the electricity, and batteries and the cold never play well together.
Fit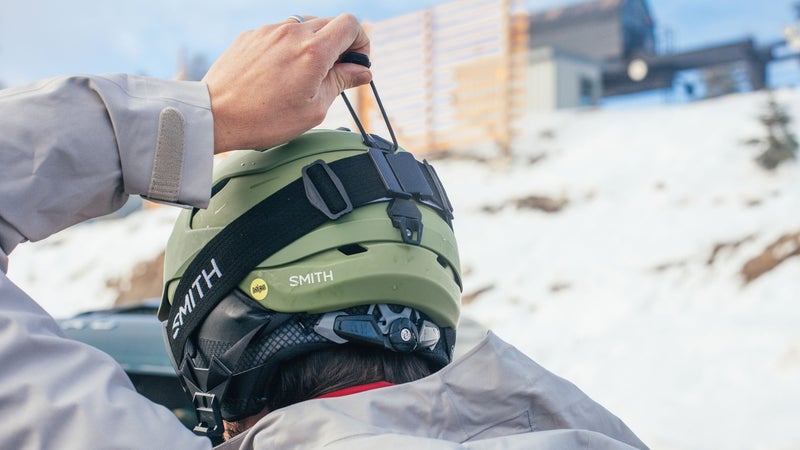 Size
This goes for most apparel and gear but bears reiterating here: regardless of how cool a pair of goggles may look online, make sure you try them on your own face before purchasing. If you're like me and have an odd-shaped face (I was once called Rocky Dennis in high school), it's impossible to tell how a goggle will fit until you wear it.
Plus, goggles have been trending bigger and bigger in the past five years. While a giant pair can offer a huge field of vision, it can also make you look like an astronaut.
Helmet Compatibility
When buying goggles, you'll want to make sure that they work with your helmet. The so-called gaper gap—an open space of bare forehead between the top of your goggles and the brim of your helmet—will not only get you ridiculed by locals, it can let drafts in and lead to some very awkward sunburns. Bring your helmet to the store with you, or ask to try the goggles on with a helmet similar to the one you own. And it's wise to get helmets and goggles from the same brand if you can, because more than likely they are built to be compatible.
Lens Shape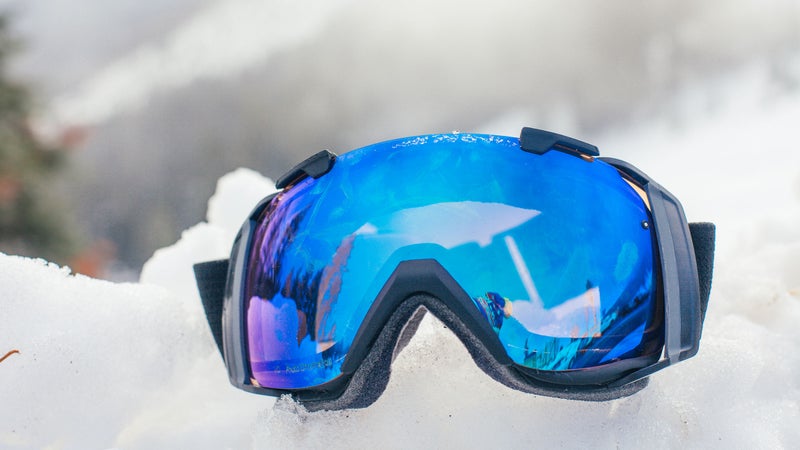 You'll have a choice between two lens constructions: spherical and cylindrical.
Spherical
These lenses curve both left to right and top to bottom. I used to call them fishbowl goggles. For the most part, they deliver better peripheral vision and glare reduction than their cylindrical counterparts due to the greater curves. But they're usually more expensive.
Cylindrical
This is the more traditional construction. Cylindrical goggles curve left to right but not up and down. They're not as good at mitigating glare or distortion as spherical goggles, though they tend to be cheaper.
Moisture Management
Fogged-up goggles are worse than no goggles at all. Most models will perform fine if you're just riding the chairlift at the resort and not sweating much. But if you plan to do any backcountry touring, or are just prone to perspiring, look for a model with ample vents in the frame. That feature will often bump the price north of $100, but it's worth it. (Smith has an option with a built-in fan, but unless you ski with your glasses on under your goggles, chances are you don't need it.) The best venting technology I've ever tested in goggles is Julbo's Aerospace ($245), which allows you to pop the entire lens a full centimeter forward and away from the frame to let them air out when they fog up.
I'm not going to get too deep in the molecular weeds here, but most goggles also have some type of coating on the exteriors and or interiors of lenses to help them combat the buildup of ice and moisture. Such coatings make a difference, but I've never found that any of the treatments make or break a goggle.
The Upshot
In the end, focus on getting goggles with lenses tinted to the type of light you ski in most often, a lens- or tint-change system that you feel comfortable operating, sufficient venting, and something that will avoid the dreaded gaper gap. If you can see clearly through them, and they don't slow you down on the hill, you've picked the right pair.
Lead Photo: Sarah Jackson