What I Learned as a Snowboard Instructor at Mount Baker
According to a recent story in Bloomberg, celebrities and gallons of champagne are all in a day's work at Aspen. But for the rest of us, it's not so glamorous.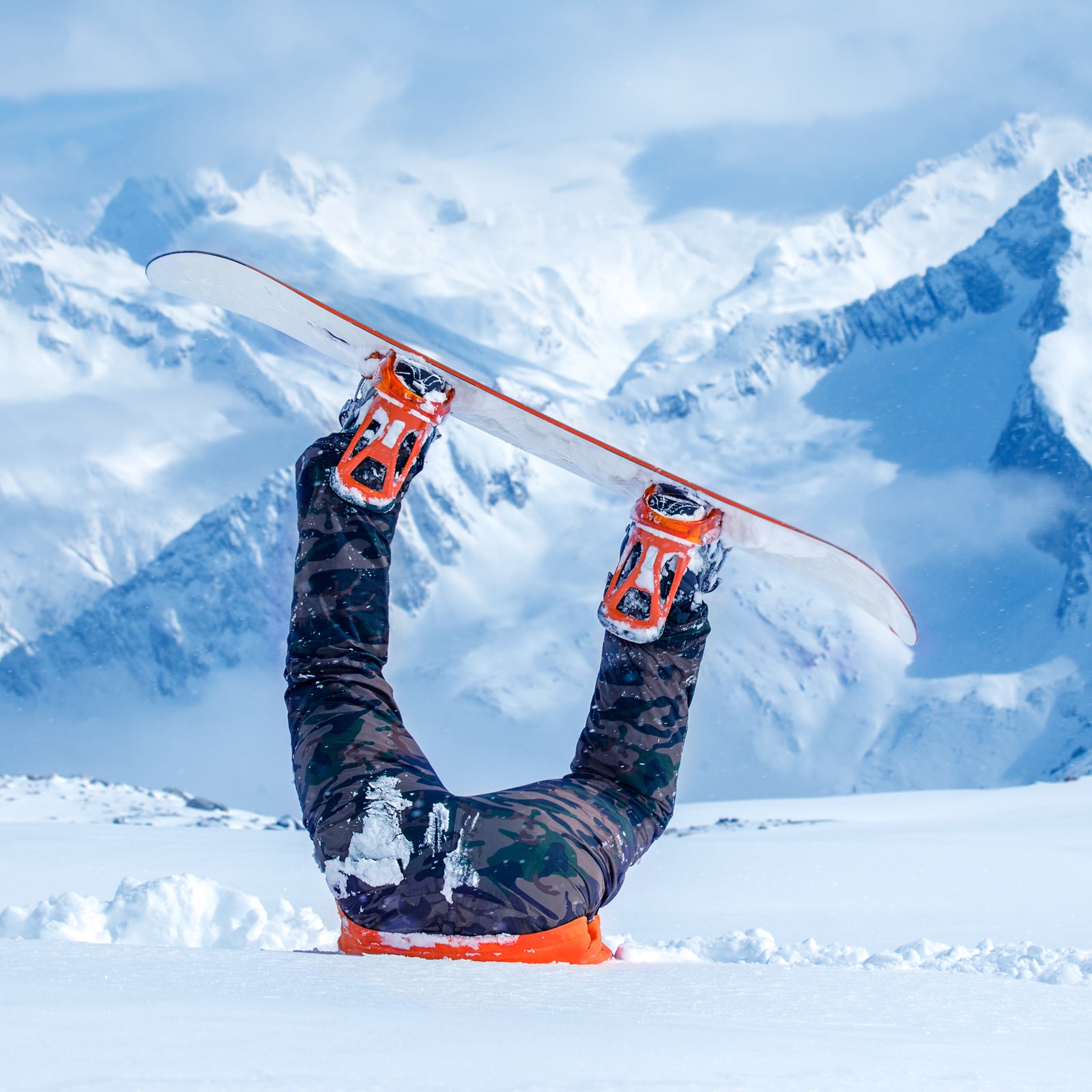 anatols/iStock(Photo)
Heading out the door? Read this article on the new Outside+ app available now on iOS devices for members! Download the app.
Early last week, Bloomberg published a piece by Brandon Presser on the secret lives of Aspen, Colorado, ski instructors. Covering $50,000 tips, secret clubs with $250,000 induction fees, difficult clients, and snotty celebrities, it featured all the decadence and upper-class excess you'd expect from one of America's swankest ski resorts. But as a former instructor myself, I could not relate less. Then again, I worked at Mount Baker, a undeveloped ski area in the North Cascades beloved for its steep chutes, unbelievable powder, and rustic charm. It's just a three-hour drive away from Seattle but a million miles away from Aspen's A-list. 
When I worked at Baker as a snowboard instructor during the 2015–16 season, you'd likely find me standing in the one corner of the lodge that had cell service while checking my dilapidated bank balance instead of slurping down thousands of dollars' worth of champagne with my clients. And I bet that's an experience more instructors can relate to. So without further ado, and with all due respect to Mr. Presser, I've responded point by point to his Bloomberg story to show you what it's really like to teach skiing or snowboarding for a living.
Surprisingly, There Are No "Whales" at This Pacific Northwest Ski Area…
A whale is a high-spending client, and Presser reports that the average tip in Aspen is an unspoken $100 a day, though some instructors have snagged as much as $50,000 or a brand new Jeep. My biggest tip ever? $20.
…So Avoid Getting a Morning Lesson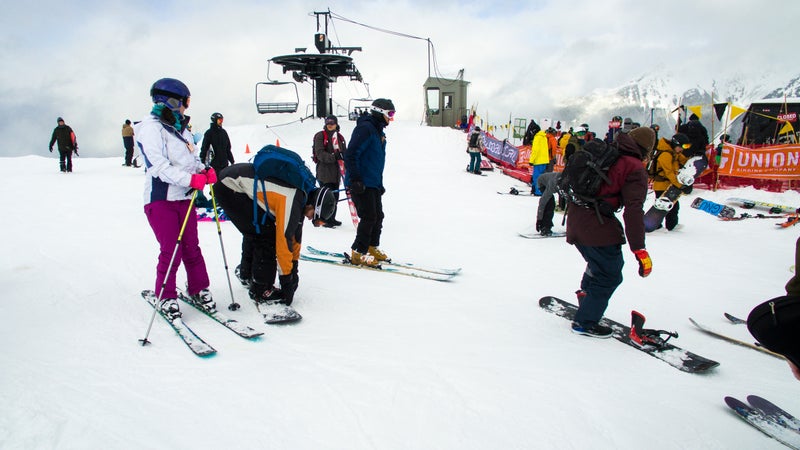 Since tips—and therefore the financial windfalls Presser chronicles in his Bloomberg piece—are mostly nonexistent at Baker, the best perk we could hope for was getting out of a morning lesson so we could ski pow.  
There are really only two ways to do this. First you tell a tale of grandeur to one of the younger part-time instructors about what they could do with all that extra money if they took your spot. That never really works, so your second option is to never be assigned a lesson in the first place.
Lessons were delegated by our manager at the 8:45 A.M. check-in. They would call out the name of the instructor that had be chosen, who would apathetically sulk to the front to take their burden. Superstition held that if you stood in the back of the crowd and avoided eye contact with the manager, you may just be forgotten about and spared. However, you also wanted to seem aloof, like you didn't care if you got a lesson or not. Taking that logic to an extreme, a controversial approach employed by a brave few was actually the opposite: stand at the front and never break eye contact, eager to be chosen. Ultimately the decision was already made. We were just searching for something that could give us a sense of control over our meek existences.
The Instructors Are Watching You in the Parking Lot
Presser starts off his piece with examples of how the instructors at Aspen size up their clients before they even get off the first lift of the day. And while that's universal among instructors, at Baker that reconnaissance started well before our clients even got to lift. We'd scope them out before they'd even leave the parking lot, often from the back window of a camper shell after a good night's sleep. Some are scouting out the known ice patches, looking to get a live view of the day's first casualties, but mostly we'd watch the parking lot fill up and make estimates on how many lessons there'd be that day. 
Most Clients Don't Know What They Want, Because They're Ten
Aspen's clients apparently prefer "fun young guys" with Australian accents as guides because, as Presser writes, "Women want to date them; men want to bro out with them." In my experience, the best guides are ones who are good with kids. Group lessons at Baker often resemble a day care more than a ski school. Powder-hungry parents are ready to charge, so instead of wasting the morning cruising greens with their kids, they'd delegate that responsibility to a totally capable college freshman.
As the dad skied off I turned to see the kid staring down at his snowboard in a way that seemed to suggest he was experiencing his first existential crisis.
One time a parent skied up to me with about ten minutes left in the lesson, said it was too good of a day to ski with a kid—in front of his kid—and asked if it was cool if he took another lap. I agreed, hoping for a better tip, but as the dad skied off I turned to see the kid staring down at his snowboard in a way that seemed to suggest he was experiencing his first existential crisis. We didn't do another lap—I took him inside for a hot chocolate with extra whipped cream. When the dad returned, he thanked me for buying the little dude a drink but didn't offer to reimburse me, much less tip me. I mean, I had gotten the hot chocolate for free, but he didn't know that.
The Unspoken Rules of Flattering Moms
At Aspen, instructors may be paired with clients through a process akin to matchmaking. At Baker, group lessons were assigned more or less by luck of the draw. And since most of the group lessons were for kids, the most consistent adult interactions I had were the short conversations with their moms.
Moms were unequivocally the best, and not just because they are consistent tippers. They're also patient with their kid's progress, punctual for pickup times, and will even ask after your own physiological needs. This being the case, it is advantageous to flatter them and attribute all the positive qualities of their children to the maternal lineage. And maybe tease Dad a bit—I mean, men, am I right? Even if you don't get a monetary tip, you might snag a snack and a juice box, which is what I'd buy with the money anyway.
The Best-Regarded Clients Are the Ones Who Pick You Up on the Side of the Road
You won't hear any celebrity name dropping in the Baker locker room. Instead the best client may be the kid whose family gave you a lift to the base village that morning. With some help from your thumb and a family-friendly smile, it's usually easy to make it to work on time after waking up in a random house in Glacier (the closet town) wearing the same clothes from yesterday. Still, sleeping off the rest of your hangover in the back of a minivan while a ten-year-old gazes at you in a way that implies both curiosity and disappointment doesn't make for the best morning. That kid will only be more disappointed when they see you again in your green instructor jacket and realizes you've been trusted with teaching them a highly specialized skill in a formidable environment.
Après Is Nonexistent, But Sometimes You Get a Free Burger
Ah, Aspen's famed après scene, where champagne flows like water. This slope-side ritual is not really an option for Baker's instructors. If you happened to receive a meager tip, you could buy a beer at one of the two base lodges, but they would usually empty out by 5 P.M. As for sustanence, dinner was served at the employee lodge at the senior-citizen-special hour of 5:30 P.M. It happened that early because many employees were required to rise before dawn, and the rest were so burnt out that they were asleep by 8 P.M. anyway.
All the Other Employees Hate the Instructors Because They Think We're a Gang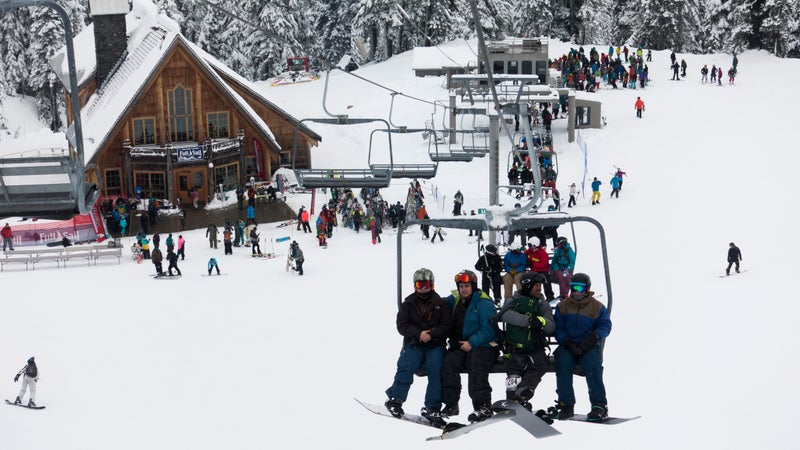 Presser equates Aspen's rival gangs of instructors to secret societies. That's not true at Baker, though it's certainly a popular opinion.
A friend once told me that he hated the instructors because "they're so full of themselves, always together, with their green jackets," before quickly adding that I was one of the few cool ones. I can confirm that I am in fact somewhat cool, and that instructors did in fact wear green jackets. But those jackets didn't mean we were some sort of exclusive group. We just stuck together because we did the same job on the same mountain. And I can tell you that if there was a secret society, I was definitely not invited.
Ski Patrol Is the Varsity Football Team
If there was one exclusive group on the mountain, it wasn't the instructors. Ski patrollers had their own shuttle, their own lodge, and they got all the girls and guys. But, they deserve it. The patrol at Mount Baker is a bare-bones staff of badasses. They have to be in order to keep this rowdy, gnarly, and amazing place under control.
Lead Photo: anatols/iStock
Trending on Outside Online