What Epic Snowpack Means for Summer 2019 in the West
How will a snowy winter affect your summertime high-country plans in the High Sierra and southern Rockies?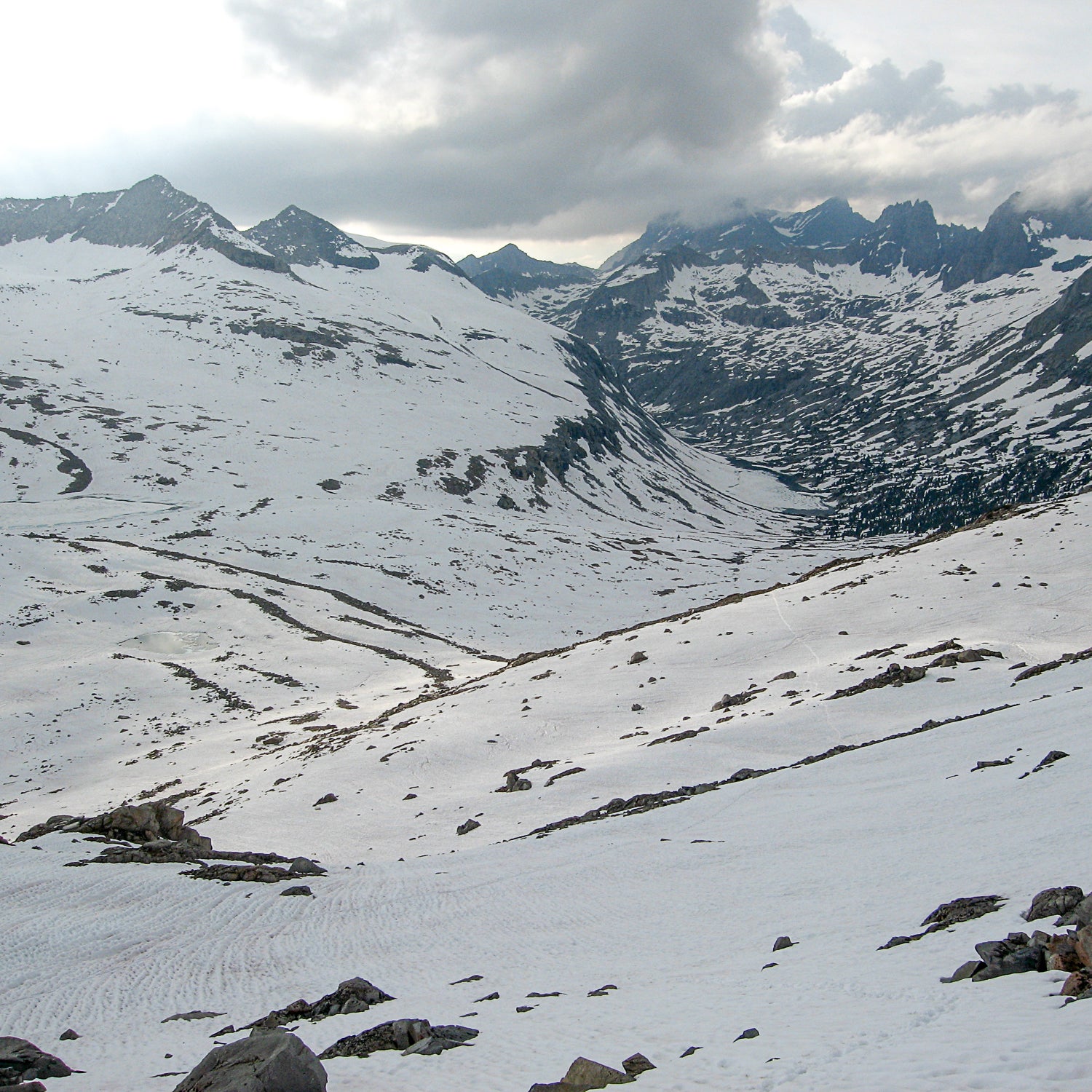 Andrew Skurka(Photo)
Heading out the door? Read this article on the new Outside+ app available now on iOS devices for members! Download the app.
It's been a wet winter throughout the American West and exceptionally wet in California, Oregon, Utah, Colorado, Arizona, and New Mexico.
The deep snowpack is great news for farmers and residents of these semiarid states, but it will create unique conditions and hazards for backpackers in the High Sierra and southern Rockies, specifically (but not limited to) the Pacific Crest, John Muir, Continental Divide, and Colorado Trails and off-trail itineraries like the Yosemite High Route and Pfiffner Traverse.
Snowpack Facts
For most of the West, the definitive source on snowpack information is the National Water and Climate Center, which provides maps and snow data.
California has an additional monitoring system, managed by its Department of Water Resources. 
California
This winter has been most extraordinary in California. The snowpack between Sequoia and Kings Canyon National Parks and the Oregon border ranges from 151 to 160 percent of normal levels as of March 22, as defined by its snow-water equivalent (SWE), or the amount of liquid water in the snow.
SWE is correlated with, but different than, snow depth, and it's the more important measurement for water managers. What does 150 percent of normal SWE look like? Well, the Slide Canyon sensor in northern Yosemite is currently reporting 131 inches (11 feet) of snowpack, which converts to 56 inches of liquid water.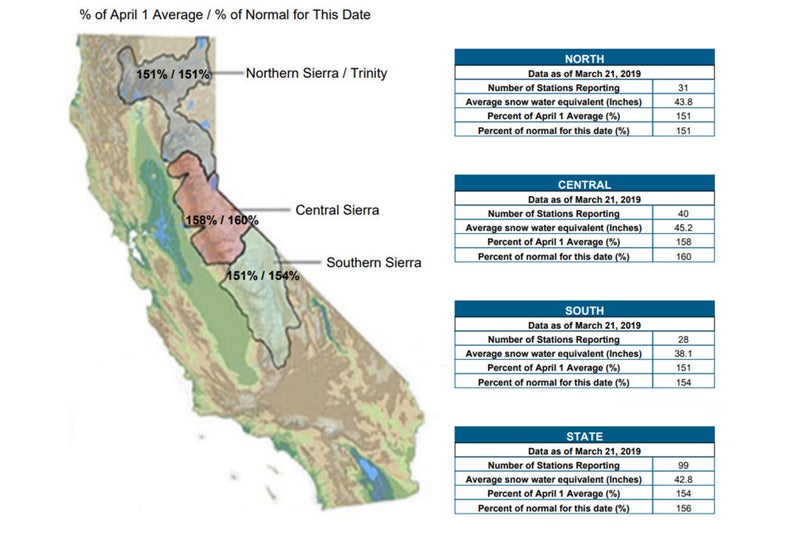 For an updated snowpack map, go here.
The Rest of the West
Northern states like Washington, Idaho, and Montana have reported generally average snowpacks this winter. But Nevada and the southern half of Oregon have received similar weather to California. The Four Corners states—Arizona, New Mexico, Utah, and Colorado—have also been drenched.
In Colorado, for example, snowpack is between 125 and 162 percent of normal levels as of March 22, with the state's southern ranges, like the San Juans, Elks, and Sawatch, on the upper end of that spectrum.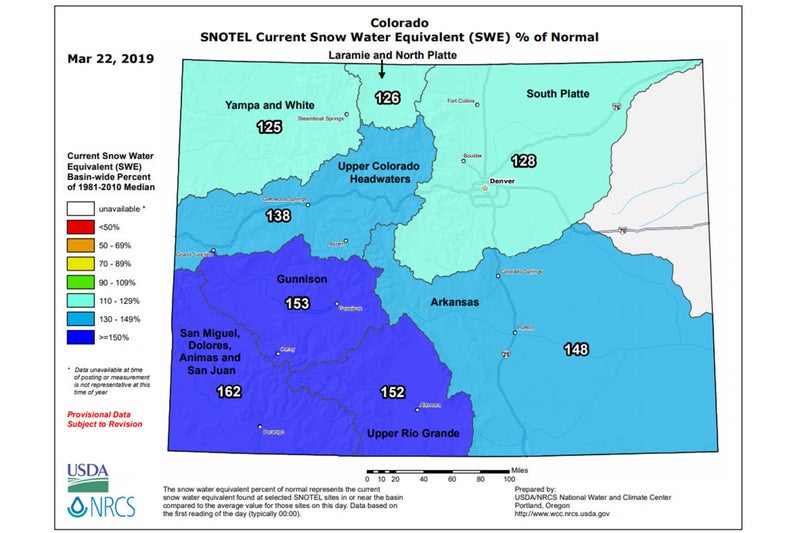 For updated state and regional snowpack maps, go here.
Historical Context
The snowpack in some parts of the West is exceptional, but it's still not a record-breaking winter. California is still a hair below the 2016–17 pace and not even close to its record 1982–83 winter. The statewide Colorado snowpack is similar to 2007–08 but less than its winter levels of 1996–97 and 1992–93.
Backpacking Expectations
Even though it's not record-breaking, the snowpack will have significant implications this summer for backpackers as well as day hikers, car campers, trail runners, fishermen, mountain bikers, and anyone else who recreates in the high country. Here's why.
1. A belated melt
After a normal winter, the high country transitions in June. In May, it's still ski season, but by July, hiking shoes are the norm. June is something in between, a time I refer to as the early season.
This year, however, "normal" conditions will be delayed by about a month, because the snowpack will require several more weeks of summer's high temperatures to completely melt off. June trips will entail extensive snow travel, and July trips will still have lots of snow on high, shaded, and leeward slopes.
2. High runoff
Unbridged crossings of swollen creeks prove to be the greatest danger to early-season backpackers. In 2017, two Pacific Crest Trail thru-hikers drowned in the High Sierra, where such crossings are common. 
3. Prolific mosquitoes
The mosquito season starts when temperatures finally get warm enough and ends when breeding areas dry up or after the first hard frost. Many breeding areas will stay wet this summer, meaning that mosquito pressure will extend into August and maybe even September.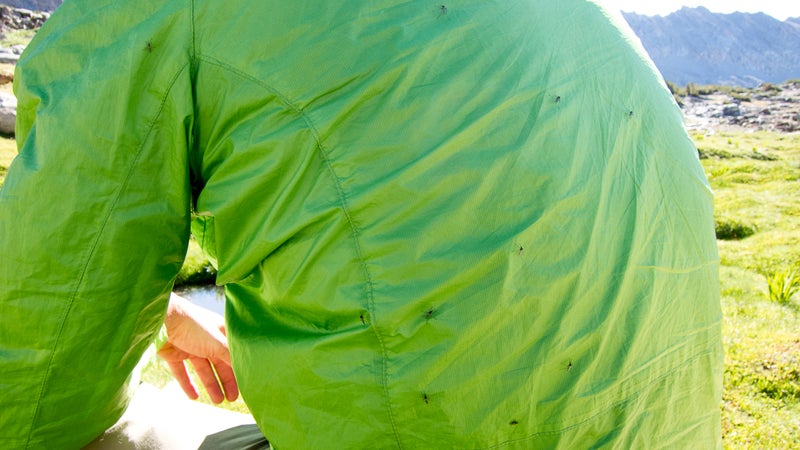 Required Gear and Skills
These early-season conditions are not trip stoppers—they can be successfully managed with the right gear and skills.
Clothing
The sun is always intense in the West. But it's turbocharged by lingering snow, which reflects like a mirror.
Protect your skin with full-coverage clothing. My hiking outfit will look something like this:
After the mosquitoes hatch, I swap my knit-polyester top for a permethrin-treated nylon long sleeve, like the ExOfficio Halo Shirt. Insect-resistant polyester or merino knits are harder to find but far more breathable than stuffy wovens.
Footwear and Foot Care 
To kick steps and hold edges in soft spring snow, it's helpful to have footwear made with durable materials, a stiff midsole, and an aggressive outsole. My favorite is La Sportiva Bushido II, but its slim fit may force you into other shoes with similar qualities.
Every day expect your feet to be damp, if not soaked, by saturated meadows, submerged trails, and swollen creeks. It will be impossible to keep your feet dry. Trust me on this one, not the manufacturers of "waterproof" footwear. Learn how to manage wet feet. My recommended techniques include:
Air out your feet regularly during the day.
Carry dedicated sleeping socks so your feet are warm and dry every night.
Apply a waxy balm like Joshua Tree Skin Care Climbing Salve to condition your skin.
Dry camp shoes are a luxury and recommended for more casual trips. Inexpensive sandals are ideal, but durable bread bags are the lightest option—wear them between your dry sleeping socks and your wet hiking shoes.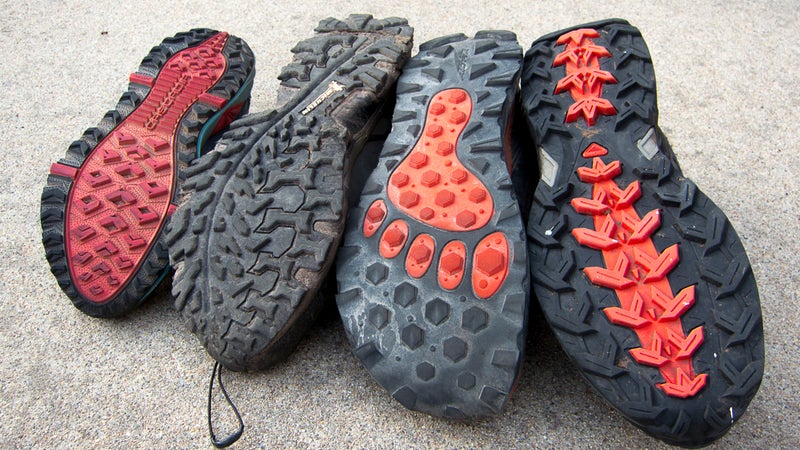 Tools
Spring snowpack is not like winter snowpack. It consolidates as it melts, and by June, you can normally walk atop it without punching through, especially in the morning and in areas that receive heavier snow (i.e., the High Sierra, not Colorado). So snowshoes are unnecessary.
I might recommend, however, carrying hiking crampons, like the Kahtoola K-10, and/or a lightweight ice ax, like the CAMP Corsa. The crampons will make steep slopes faster and safer. And the ax can be used to self-belay, chop steps, glissade, and self-arrest if you fall.
Navigation
If the hiking trail is buried under snow, you'd better know how to navigate without it. Do you know how to read a map, use a compass, approximate your location with an altimeter watch, or hike to a waypoint with a GPS? If not, start learning how, and master your skills in the field. I am guiding trips in July in Yosemite National Park, and I'm certain that navigation will be a daily focus.
River Crossings 
Two items will make river crossings easier: trekking poles and a lightweight pack. The former gives you additional points of stability, and the latter keeps you more agile.
But more importantly, creek crossings must be scheduled properly and done at the optimal location. Water levels fluctuate daily, coinciding with the rate of snowmelt. Normally, levels peak near the end of the day and bottom out in the morning. The location also matters. Trails often do not cross in the safest spot. Be willing to leave the trail for areas where the river slows down, widens out, or has a sandier bottom.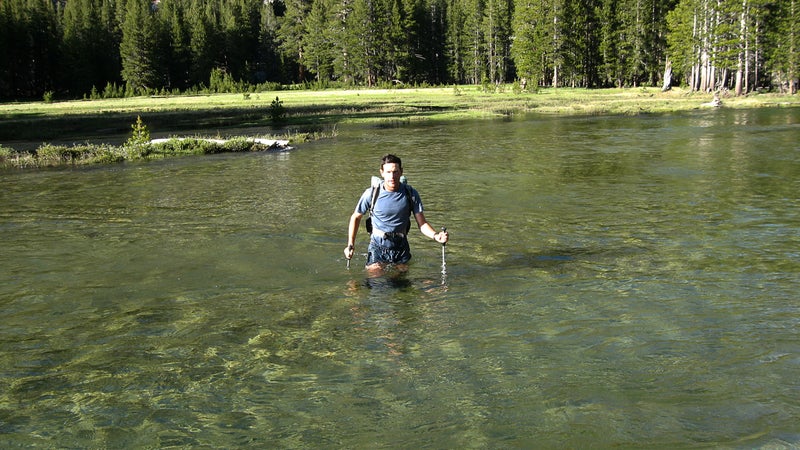 Get Excited! 
The early season is one of my favorite times to be backpacking. The conditions are challenging and force me to bring my A game. With these tips, I hope that you're on your way, too.
Lead Photo: Andrew Skurka