The Best Climbing Areas in the U.S.
A definitive list of the best climbing the United States has to offer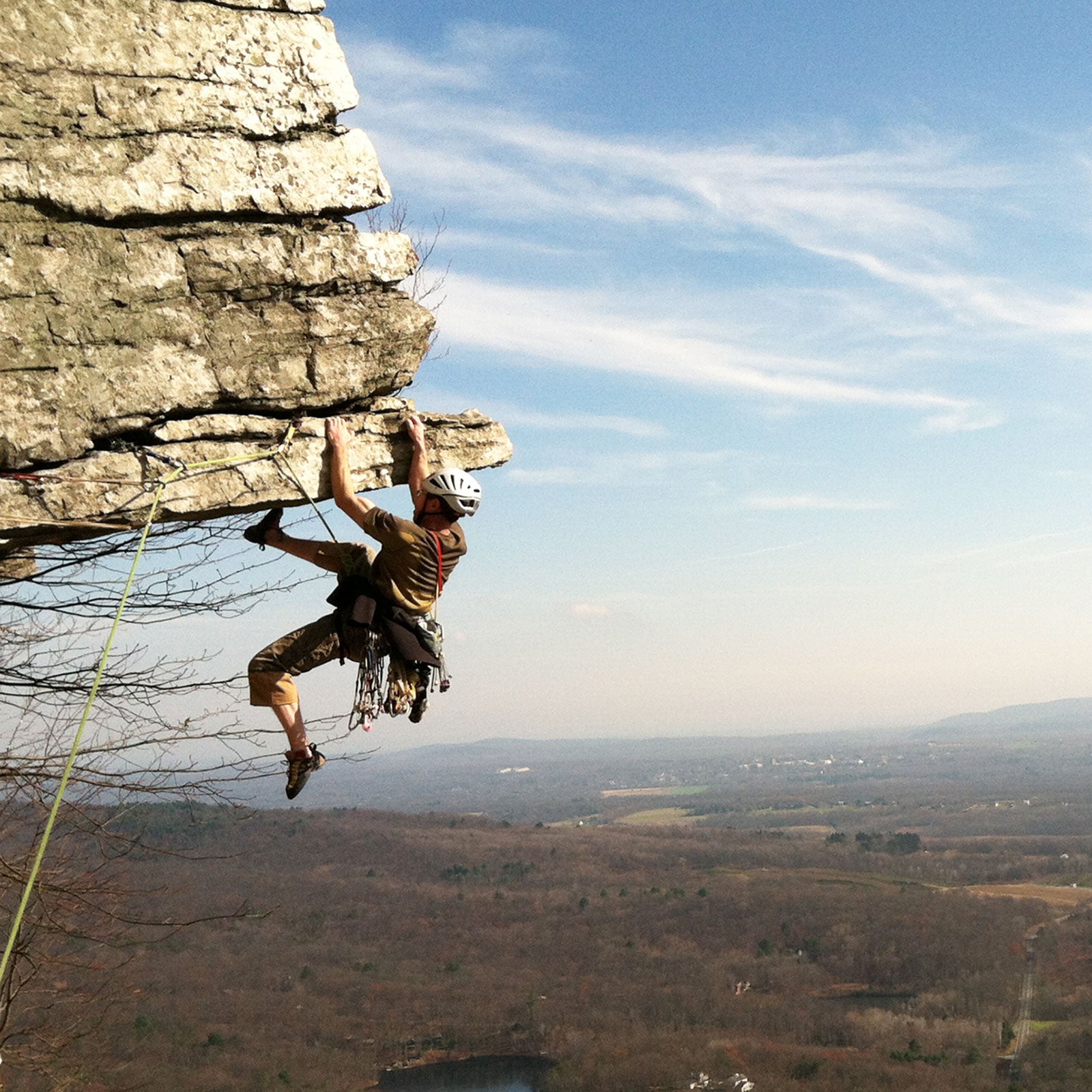 Heading out the door? Read this article on the new Outside+ app available now on iOS devices for members! Download the app.
Setting out to name America's top-ten crags is a dubious goal. For starters, you just know that somebody is going to get all huffy puffy when their stomping ground doesn't make the cut. And then there will be the wars over semantics. What qualifies as a crag? What doesn't? How important is history, aesthetics, rock quality? No matter what, you're bound to piss people off.
Still, you might as well try. Because YOLO.
For the purpose of this article, I am setting down some ground rules.
By crag, I mean an area used predominantly for single-pitch or Grade I–II routes. You know, the kind of multipitch where you don't bring a water bottle. That means that even though Alex Honnold can climb El Cap in a cool two hours, for most of us, places like Yosemite, Zion, and Red Rocks are out.
By cragging, I mean not bouldering. 
The past matters. There's something special about climbing at an area steeped in legend and lore. Places with long and storied histories get an extra nod.
Ambiance matters, too. That includes crowds, proximity to roads, and views.
Rock quality is paramount.
The only other rule you need to know is that this list is inarguable and definitive, and that anyone who disagrees with it, or me, is wrong.
10. The Shawangunks, New York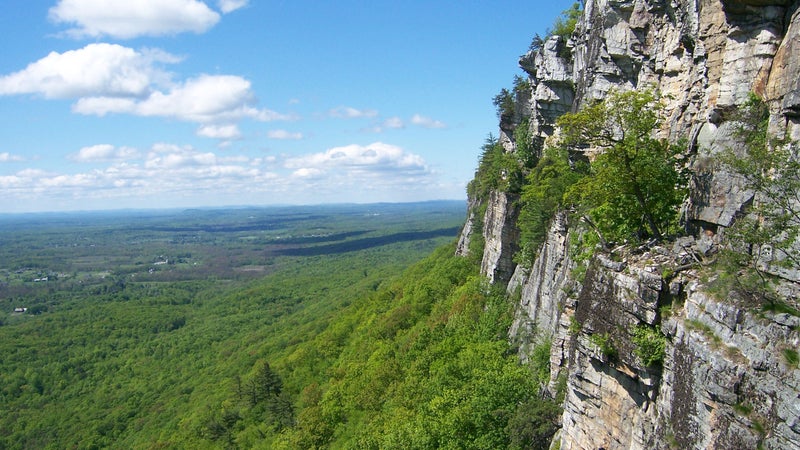 The 'Gunks is the seminal crag for the Northeast. For trad climbing under 5.10, it may be the best destination in the country, if not the world. The carriage road can be packed with gawkers, and popular areas such as the High Exposure buttress can get clogged with hordes of pseudo gumbies trying desperately to place all ten of their pink tricams. But the views of the Catskills will soothe the ire of even the crustiest dirtbag, and if you find yourself in the rarefied air above the 5.10 benchmark, you'll find far fewer people in line for the routes. Even if you do have to wait in line for a classic moderate, I promise it's worth it. Where else can you do 15-foot horizontal boulder problems above your pro and still call it 5.6? Add to that impeccable rock quality and a climbing history that dates back to the late 1930s, when European immigrants Fritz Weissner and Hans Krauss brought mountaineering skills gleaned from their homelands to bear on the steep white cliffs, and you have a bona fide worldwide destination.
9. Eldorado Canyon, Colorado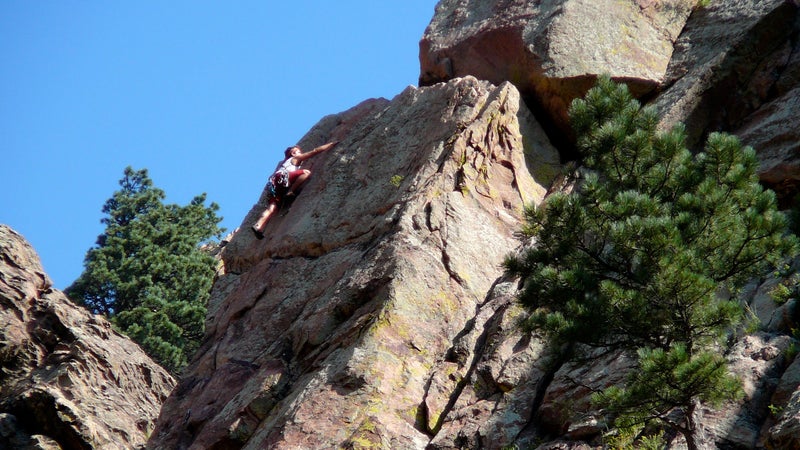 Eldo, as it's known, may be a contender for the best worst crag in America. Located a stone's throw from the climbing crucible of Boulder, Colorado—though we won't hold that against it— Eldo's towering walls of red sandstone are truly a climber's dream. Some of America's finest climbers cut their teeth here, most notably the infamous and prolific first ascensionist Layton Kor. The rock in Eldo is often friable, and the protection is commonly marginal, but what makes Eldo so great is the sheer volume of climbable rock. Almost anywhere you look, you're likely to find holds. It may be hard, it may be runout, the gear might be difficult to place (not to mention trust), but the climbing is fun, the approaches are short, and the setting is gorgeous. Such infamous classics as the Naked Edge, Rosy Crucifixion, Ruper, and the Bastille originally put Eldo on the map for American climbers. But it's the countless variations and linkups one can achieve with a little bit of creativity that truly cements Eldo as a top-ten crag.
8. Smith Rock, Oregon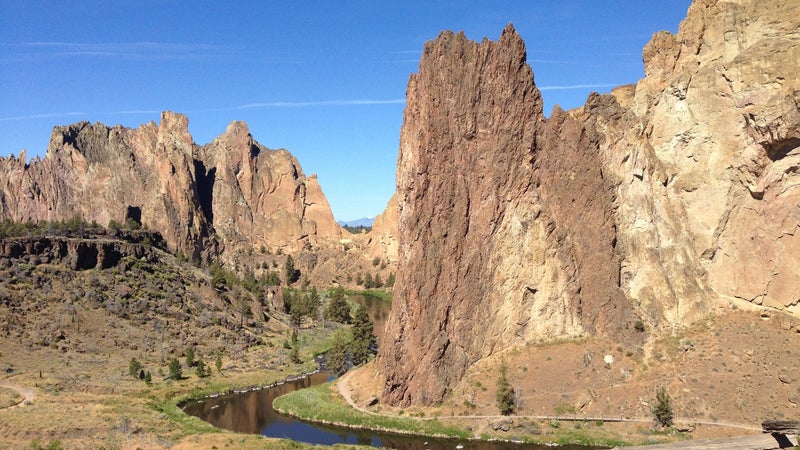 When French climbing ace J.B. Tribout came to check out the sport climbing in the United States in 1992, he went to Smith Rock. And when he managed to pull off Just Do It at 5.14c, it stood as America's hardest route for a solid five years. But Smith Rock and its cadre of pioneers had already earned a well-deserved reputation in the annals of climbing history by the time Tribout got there. The tall, steep fins of conglomerated volcanic rock lend themselves to intricate, technical climbing in the 5.12-to-5.14+ range. And the 400-foot Monkey Face pillar has got to be one of the most iconic monoliths in American climbing. As if all of that weren't enough, the climbing gods saw fit to bequeath unto otherwise rock-deprived Oregonians a lovely river full of trout and otters, a lower gorge full of basalt cracks and compression arêtes, and a convenient campground that's walking distance from the climbing to boot. Beautiful, delicate, and climbable for three seasons, Smith Rock is, as I believe Tribout said, magnifique!
7. Wild Iris, Wyoming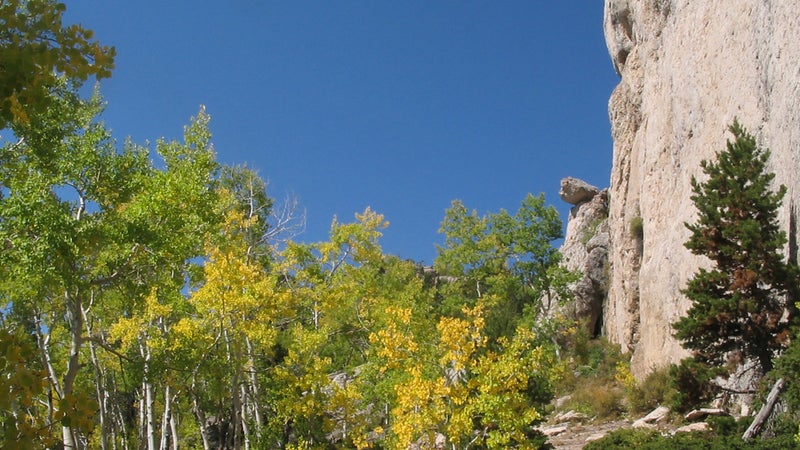 Speaking of the French, wouldn't it be great if the U.S. had one, just one, crag full of beautiful, clean, pocketed limestone à la Buoux or the Verdon? Oh wait, there is. Wild Iris is a crag as pretty as its name. Smooth-rolling buttresses of limestone waves cresting atop hills of flaxen grass and aromatic wildflowers—what's not to love? Rattlesnakes, maybe, and it can get crowded during busy summer weekends. But Wild Iris is really quite a bit more extensive than the Main Wall upon which "greenies" (the name bequeathed by locals to the ubiquitous visitors from Colorado) flog themselves ad nauseam. Locals in Lander might slip rattlesnake venom into my next whiskey if I say the names of the other areas, but they're out there. The camping is great, many of the routes were established by the legendary Todd Skinner, and most importantly, the routes have that certain ineffable quality that all fine limestone retains. Athletic, bouldery, and yet subtly tenuous sequences are the name of the game. For pure quality sport climbing, there are few places better in the States.
6. Joshua Tree, California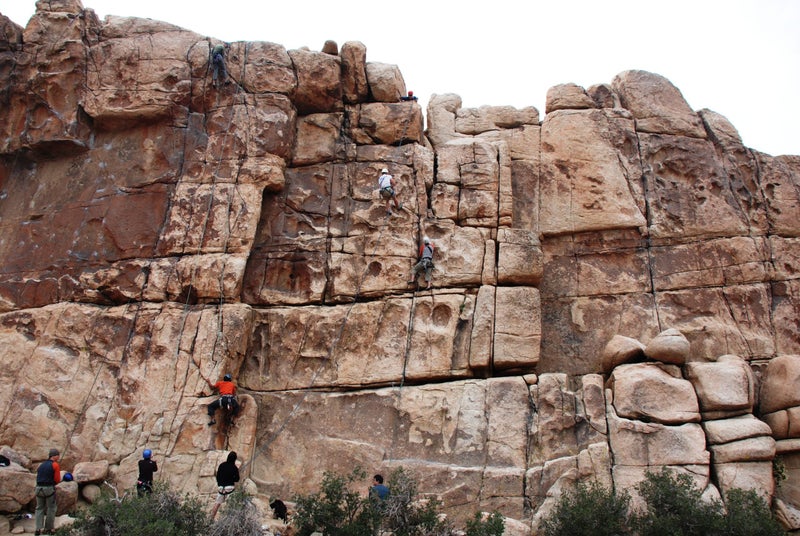 Picture rocks stacked upon rocks. Piles of house- and apartment-building-size rocks. Rocks with cracks, rocks with patina, rocks with caves in them, rocks with huecos. The only thing more ubiquitous in J Tree than the eponymous cacti of Seussical proportions is rock. There are rocks with roofs, rocks with slabs, rocks with bolts, and rocks without bolts. Rocks that were climbed by such golden-age demigods as John Bachar and John Long back when swami belts were de rigueur, and the answer to "Who wears short shorts?" was, apparently, climbers. It would take many lifetimes to climb to the top of all the rocks within the national park's boundary. And if you ever did, you could just hike a little further and climb the ones outside it, too.
5. The Needles, California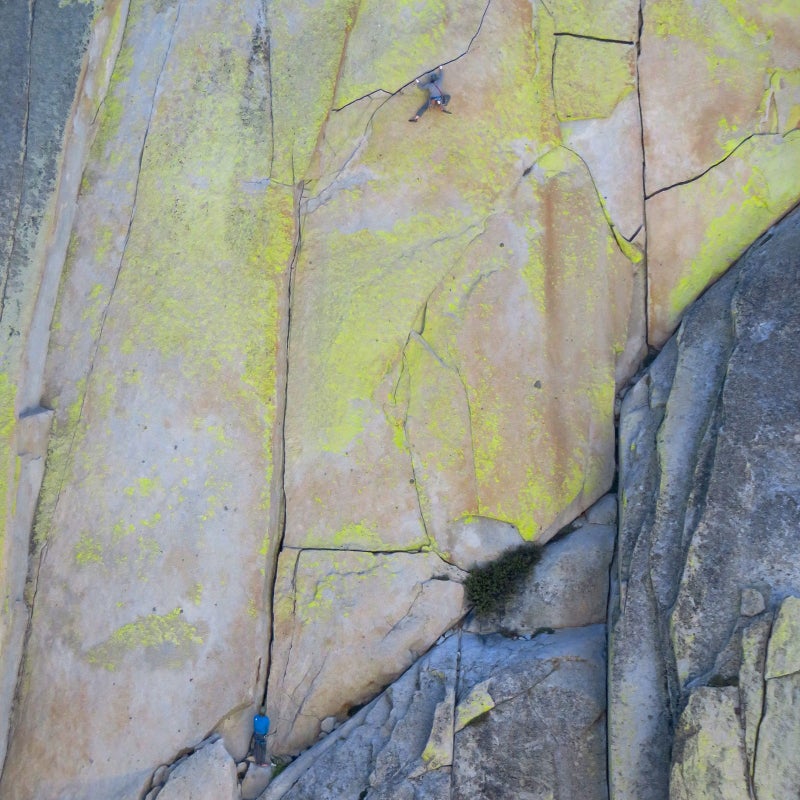 I add this to the list at the risk of angry locals defecating in my haul bag and slashing my tires the next time I find myself in the neighborhood. I do so because it would be criminal not to. From Lake Tahoe down to Joshua Tree, arguably the finest collection of granite in the world spills down the spine of the Sierra Nevada. And in all of that range, there is no lode of stone finer than that of the Needles. Remember in the rules when I said that rock quality was paramount? Well, you could toss the Needles into the middle of noisy and smog-infested Los Angeles, and I'd still put it on this list. The rock quality is simply without compare. A true trad-climber's crag, the Needles is not for the recently initiated gym climber, which may be part of what keeps the masses at bay. It's not exactly a secret anymore, but it's still fairly quiet. And unless Jimmy Chin and Chai Vasarhelyi make a top-grossing documentary about Bob Kamps and Herb Laeger's mind-melting yet obscure first ascent of Spook Book back in 1978, I'm pretty sure most visiting climbers to California will still eschew the Needles for Yosemite.
4. Red River Gorge, Kentucky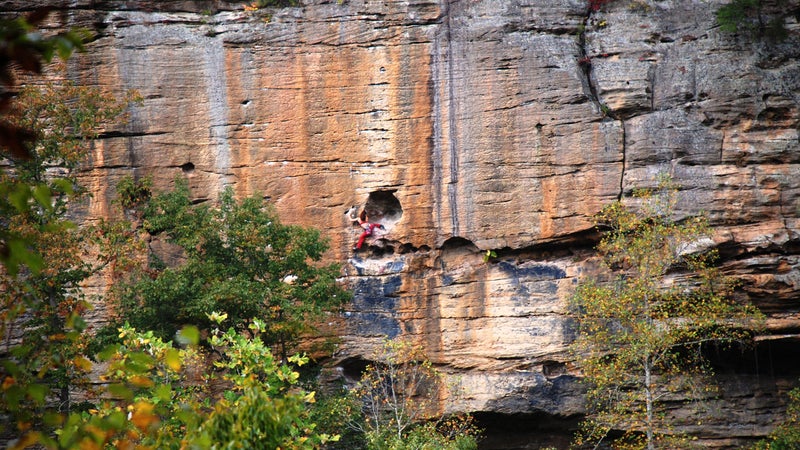 God must be a climber. I mean, just look at the Red River Gorge. Here's a place that was clearly created by a benevolent being with a giant ice cream scoop. The walls of the RRG feature jaw-dropping cirques of multicolored sandstone that look like an inverted stand of bleachers. But the geology of the gorge is not just staggering on a macro level. Seemingly every square inch of those enormous walls is covered in pockets, crimps, iron rails, jugs, slopers, and climbable features of nearly every variety. When it comes to sheer abundance of quality routes, the RRG is probably America's only legitimate sport-climbing answer to world-class zones such as France's Céüse, Spain's Siurana, or Greece's Kalymnos. But it's not just limited to sport climbs—the gorge is home to a plethora of fantastic cracks and traditionally protected routes as well. On top of all that, the RRG is really beautiful, particularly in autumn when the leaves change. I'd say the RRG is America's best climbing area… if it weren't for the next three crags on this list.
3. New River Gorge, West Virginia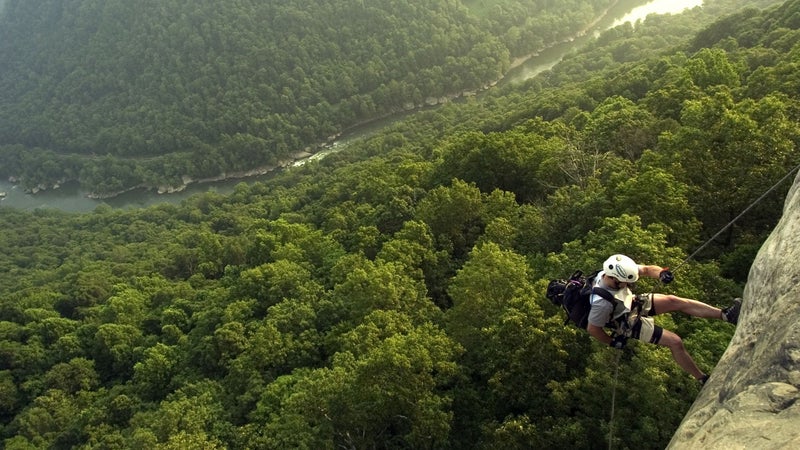 To the chagrin and outrage of Kentuckians, I am throwing the NRG on this list in the number-three spot. Why does the bronze medal for American crags go to the New River Gorge instead of the Red? For a few simple reasons: First, everybody and their mom talks about the Red, while the New maintains a much sleepier vibe, making it inherently radder. Second, the Red is so riddled with huge holds that you can climb darn near your limit in your approach shoes (footwork be damned), while the New features spare, devious, aesthetic lines that require not only superb footwork but also sequence-reading skill. And third, the stone at the Red is really good, but the NRG's Nuttall sandstone is 98 percent quartzite and harder than granite, making it as good as rock can possibly be for climbing. Mango Tango and Proper Soul are two of the prettiest sport climbs in the Western Hemisphere, while Endless Wall may be the best continuous section of cliff in the States. There's probably only one place in the world (OK, in America) with better stone than the New River Gorge. And that place is definitely not number two on the list.
2. Indian Creek, Utah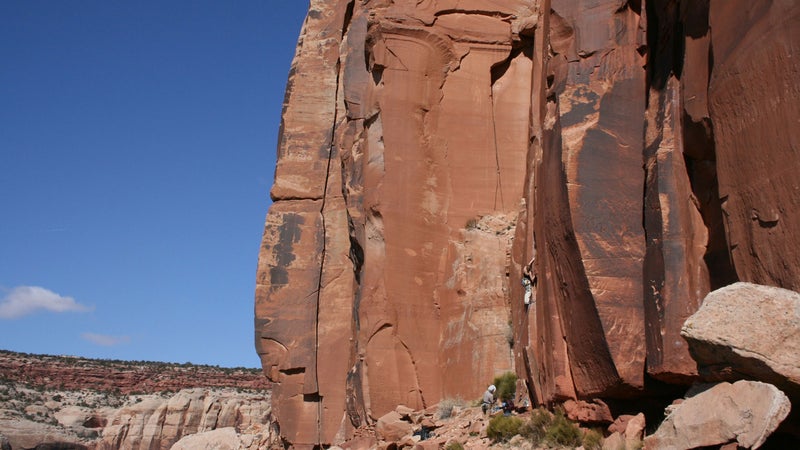 The Creek has a lot working against it: Wingate sandstone is softer than a baby's bottom, making for horrifying face climbing (not that that matters, since only about 0.00001 percent of routes at the Creek feature face holds at all); if you don't tape up, you're going to bleed; if you do tape up, some grizzled old guy is going to hiss at you; all grade objectivity is out the window, since it all depends on the size of your appendages and digits; the climbing hurts; splitters are boring, since you just do the same move over and over for 100 to 200 feet; and every route requires 20 pounds and approximately $5,000 worth of gear. Pretty lame, when you put it that way.
What Indian Creek has going for it, though, is that it's unique in the world. There is literally nowhere else like it. If you want to learn to crack climb, there's no better resource on the planet. And once you do learn the dark art of crack climbing, there's nowhere better to test your mettle. The climbing's really quite fun (once you kill the nerve endings on the back of your hands). It can even be pretty cerebral if you branch out from the plain-Jane splitters. But what really makes the Creek the number-two crag on this list is simply how beautiful it is there. The desert has a way of taking you in, holding you, making you feel all warm and fuzzy inside. You can (and many people do) spend weeks in the Creek just wasting time, not climbing at all.
1. Index, Washington State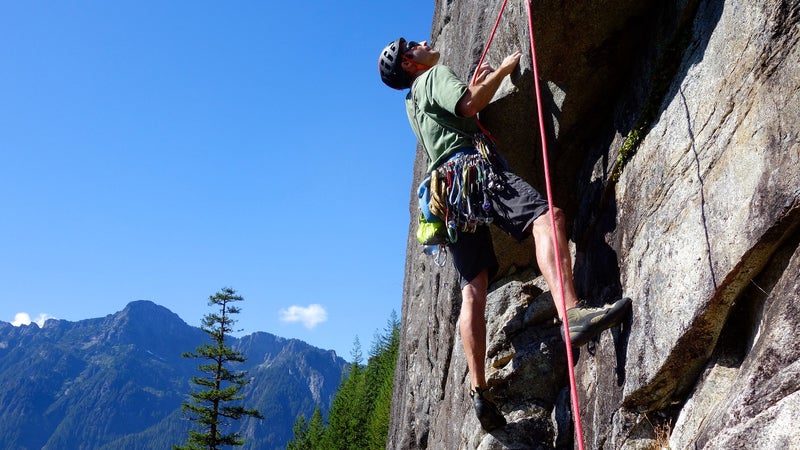 And let the social-media shitstorm begin. Oh, trust me, I know what's coming. I'm going to get it from all sides: From folks who have never heard about Index and can't believe what they're seeing. From Index locals who are convinced I'm ruining all that is sacred by giving away their secret paradise. From people who went to Index and got shut down by the stiff grades. From people who think the season is too short, the moss too thick, and the car break-ins too common. Will anybody be happy about this choice?
The problem is, Index is, objectively, the best crag in the United States. Honestly, it's probably the best crag in the world. Imagine the texture of New River Gorge sandstone layered over a smattering of 100-to-800-foot-tall walls of perfect, featured, spectacular granite. Index literally has it all. Sport, trad, and aid, single pitch and multipitch, cracks and faces, knobs and pockets, patina, edges, jugs, slopers, and tufas, corners and arêtes, slabs and overhangs, roofs and ledges. The whole nine yards and then some. There is nowhere else in the world with as dense a concentration of four-star climbs. The Skykomish Valley is jaw-droppingly beautiful. And the sandbag, oh, the sandbag! I'll say this much: nobody goes to Index to pad their resume. You can straight-up forget about grades there since 5.11 on the Index Decimal System covers everything from 5.11a to 5.13c on the more commonly used Yosemite Decimal System.
The best thing about Index is how few people get it. This article will do nothing to change that. The cat has been out of the bag, so to speak, for decades now, but climbers visiting the Pacific Northwest still fall for the tried-and-true traps of Smith Rock and Squamish again and again. What protects Index is the shroud of hyperbole that surrounds it. The harder Index aficionados like myself spray, the better. It just makes our opinions easier to discount and, ultimately, discard. And that's fine, because it will keep Index nice and quiet.
Lead Photo: chris_vultaggio/iStock