Gear Guy
Testing the Best Do-Everything Sunglasses
I prefer to not have to choose between looks and capability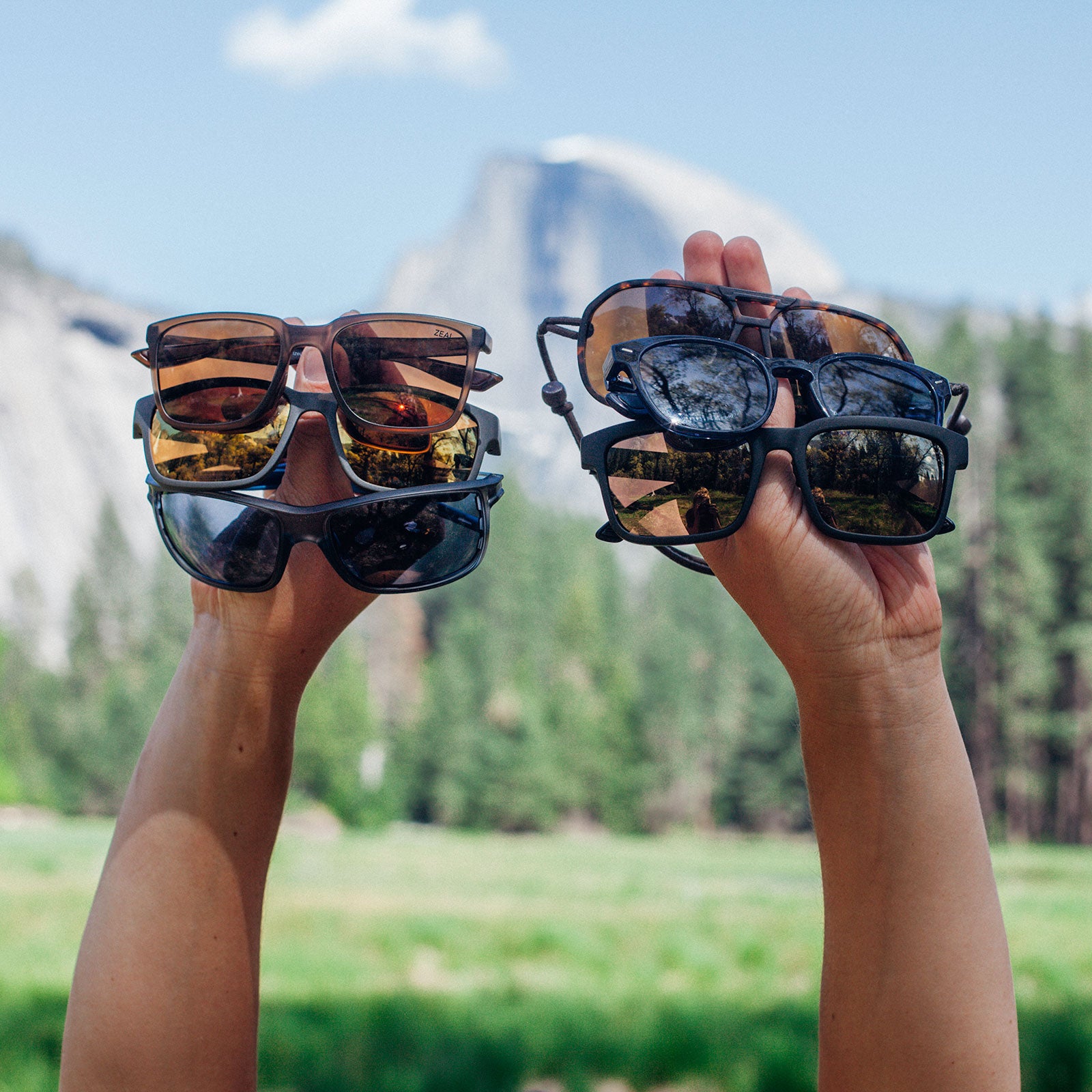 Sarah Jackson(Photo)
Heading out the door? Read this article on the new Outside+ app available now on iOS devices for members! Download the app.
You may have read the term "quiver killer" in Outside before. It refers to a product so capable that you only need one for everything instead of multiple versions tailored to specific styles or conditions. And it's especially relevant when it comes to picking the best sunglasses. Whether on the trail or in your car, the right sunnies work everywhere and look good doing it. So I tested these pairs for the past two months to gauge both their style and performance chops.
The Test
To determine their potential during more leisurely pursuits, I wore these sunglasses while walking around town and driving my car. My daily four-mile stroller run to the park with my daughter, Jojo, was a good opportunity to see if they'd stay put throughout exercise. Then, to determine how well the lenses worked, I hiked while wearing the sunglasses during a family vacation to Yosemite, as well as here in my hometown of Ashland, Oregon. (My routes meandered between shade from the trees and full-on sunlight.) After that, I took them to social gatherings—either a backyard barbecue or for a beer at my local watering hole, Gil's—and asked friends and my wife for opinions on their looks. Finally, for the durability test, I torqued on the frames and dropped them from about four feet up to see how they withstood the fall. These tests were randomly confirmed when Jojo occasionally grabbed a pair off my face and chucked them on the ground.
The Results
The Winner: Zeal Boone ($149)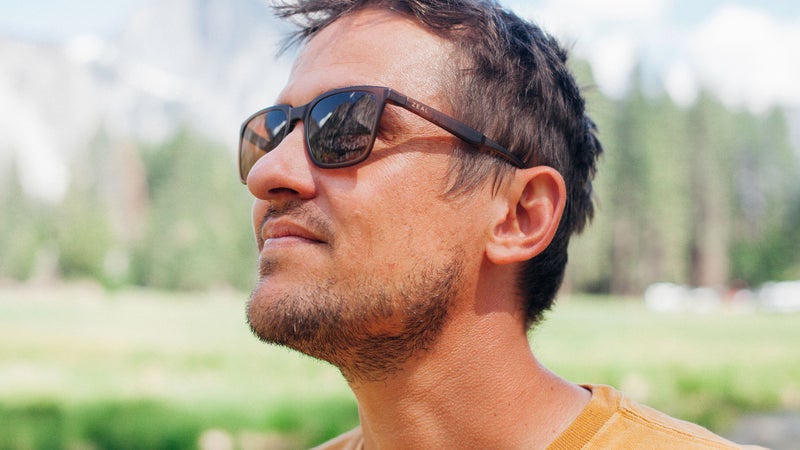 Style: 5/5
Comfort: 5/5
Physical Performance: 5/5
Optical Performance: 4.5/5
The Boone stole first place thanks to its robust yet featherweight frames. I genuinely forgot I was wearing it at points, and it didn't succumb to the beating of the stress test. Rubber padding at the nose and ears kept these sunglasses from slipping during runs and hikes, which, coupled with the fact that they tip the scale at under an ounce, made them the top performer. And the Boone isn't shabby on the optical front, either. The Ellume polarized copper lenses did a great job of boosting contrast while softening the harshness of direct rays. On an afternoon hike, I could see clearly into the shadows cast by Yosemite's granite monoliths, even as I was standing in the sun. And the thin frames gave the Boone an elegant style that dressed up more easily than any of the other glasses except AO and Tracksmith's Charles.
---
2. Smith Basecamp ChromaPop Polarized ($136)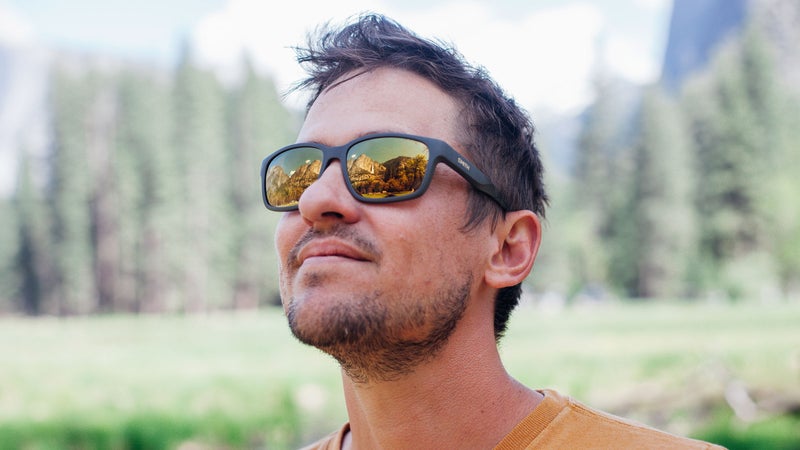 Style: 4.5/5
Comfort: 4.5/5
Physical Performance: 4.5/5
Optical Performance: 5/5
Throughout the test, the Basecamp was in a close race for second with Spy's Helm 2. But Smith won by a nose because of the unparalleled lenses, plus a few small performance details. Its ChromaPop polarized lenses are my favorite for high-speed sports. Contrast is king when I have to dodge roots on a run or mountain-bike ride, and the Basecamp was strongest of this test in this aspect. I especially appreciated the lenses when running on a dirt access road in variable light. Avoiding handball-size rocks (not incredibly noticeable, but big enough to jolt the stroller) was considerably easier with the Basecamp. The padding on the nose, half-inch-long megol (a hydrophobic rubberlike compound), made these sunglasses comfortable as they rested on my face and helped them stay put. And when it comes to looks, the Basecamp perfectly walks the line between performance and lifestyle. These are nice enough to wear with anything and don't appear too sporty but still offer full coverage.
---
3. Spy Helm 2 ($150)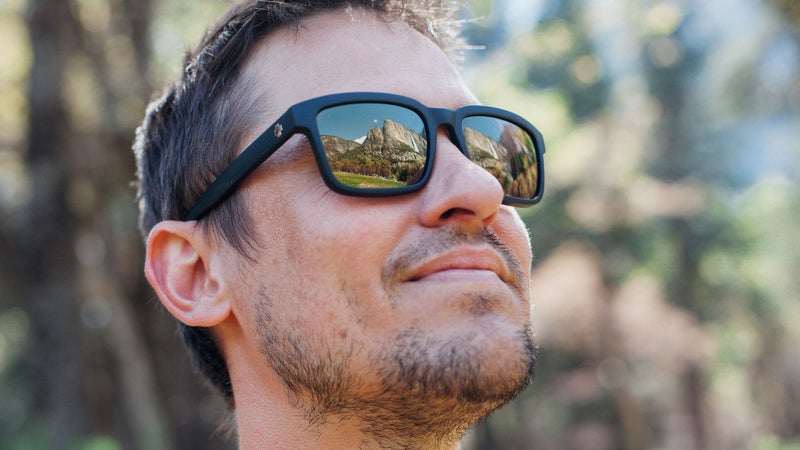 Style: 4.5/5
Comfort: 4.5/5
Physical Performance: 4/5
Optical Performance: 4.5/5
The first generation of Helms were among my all-time favorite sunglasses. Their boxy frames perfectly matched my bro aesthetic (read: they paired well with flannel), and the burly-yet-bendable Grilamid frames were impossible to kill. After testing, I wish the newest version had made more of a step toward performance to complement the looks. The Helm 2 doesn't have rubber at the nose, which caused it to bounce ever so slightly while I ran. And the frames got even boxier, earning compliments from the peanut gallery but letting in more light around the sides than the Basecamp and fatiguing my eyes after a full day. All that said, I'm a genuine believer of the Happy Lens technology, which allows in serotonin-stimulating blue light while blocking harmful wavelengths. I felt more chill when wearing the Helm 2, even if it didn't provide contrast as sharp as the first- and second-place sunglasses. Plus, it still has the freakishly strong Grilamid frames.
---
4. Julbo Arise ($220)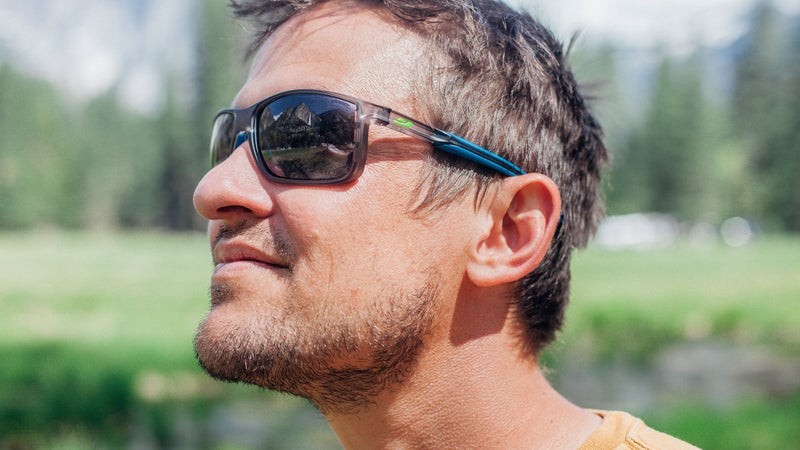 Style: 1.5/5
Comfort: 4.5/5
Physical Performance: 5/5
Optical Performance: 4.5/5
Julbo's Arise sunglasses use photochromic lenses—they change tint based on the available light. When I stepped from full sun into shade, the lenses would go from extremely dark to totally clear, and vice versa from shade into sun. (The change took about a minute.) This made them fantastic in terms of all-day performance but not when it came to style. My wife cringed when she saw me indoors with fully clear lenses. "You look like Ty Pennington in work glasses in those," she said. The frames offered fantastic coverage and minimized eye fatigue. And the Arise's lenses never fogged up, even during a sweaty uphill run in 78-degree weather, thanks to six vents. After multiple direct hits on dirt and asphalt, the polycarbonate lenses showed no scratches. These sunglasses performed so well, it pains me to put them so low in the ranking. They just looked a little too sporty for casualwear around town or to a bar. While the Arise won't be my quiver killer, I'm certainly excited to mountain bike in them.
---
5. AO and Tracksmith Charles ($255)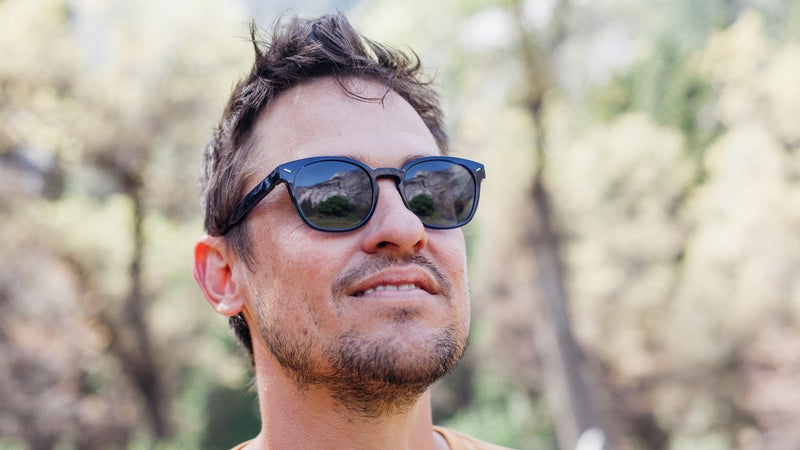 Style: 5/5
Comfort: 4.5/5
Physical Performance: 4/5
Optical Performance: 1/5
Article One and Tracksmith teamed up with the purpose of creating fashion sunglasses that perform really well while you're running. And they delivered. Thanks to the minimalist see-through frames, round lenses, and classy silhouette, these sunglasses are without a doubt the most fashionable sunnies I've owned. They look so fancy, in fact, that people treated me differently while I wore them. A valet called me "sir" despite the dust-covered Honda Element I drove up in. On looks alone, you'd assume the Charles would be a nightmare for anything active. But the lightweight frames and big rubber piece at the bridge of the nose—which spread the contact area for comfort while absorbing shock—really made running and hiking with it quite nice. I dinged it, though, because the lenses sit far off your face, which made it look super stylish but let large amounts of sun in on the sides. My eyes were fatigued after only a few hours. Even though the lenses were excellent at protecting my eyes from direct sun, they didn't come close to delivering the contrast of the four higher-scoring pairs—not good in variable conditions. And that price!
---
6. Ombraz Classics ($140)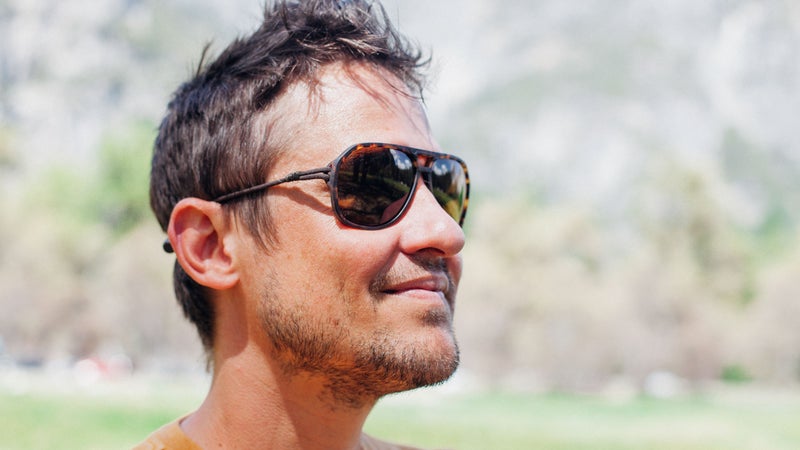 Style: 3/5
Comfort: 2/5
Physical Performance: 3/5
Optical Performance: 3/5
First off, I love the idea of these sunglasses; they eschew standard arms for an adjustable lanyard that wraps around your head and can be tightened to snug the frames to your face. In addition to dropping weight, this feature also makes for fewer moving parts that could potentially break in the field. In many ways, the Classics could be the perfect backpacking or backcountry ski sunglasses, because they're so light and take up so little space. Unfortunately, the lanyard forced them so close to my face that they trapped moisture and completely fogged up after half an hour of running. And the sunglasses depend on pressure on the bridge of your nose and forehead to stay in place, which made them pretty uncomfortable for a full day of use. The Carl Zeiss lenses did offer a nice clear view with plenty of shielding from the sun, but (like the Charles's synthetic) could've had better contrast. Points to the lanyard, though: I was concerned it would make the Classics look silly, but it surprisingly didn't appear much different from traditional fashionable glasses once on my head.
Lead Photo: Sarah Jackson