Sponsor Content: Carhartt
Inspiring the Next Generation of Makers
Meet three women building, growing, and designing a better future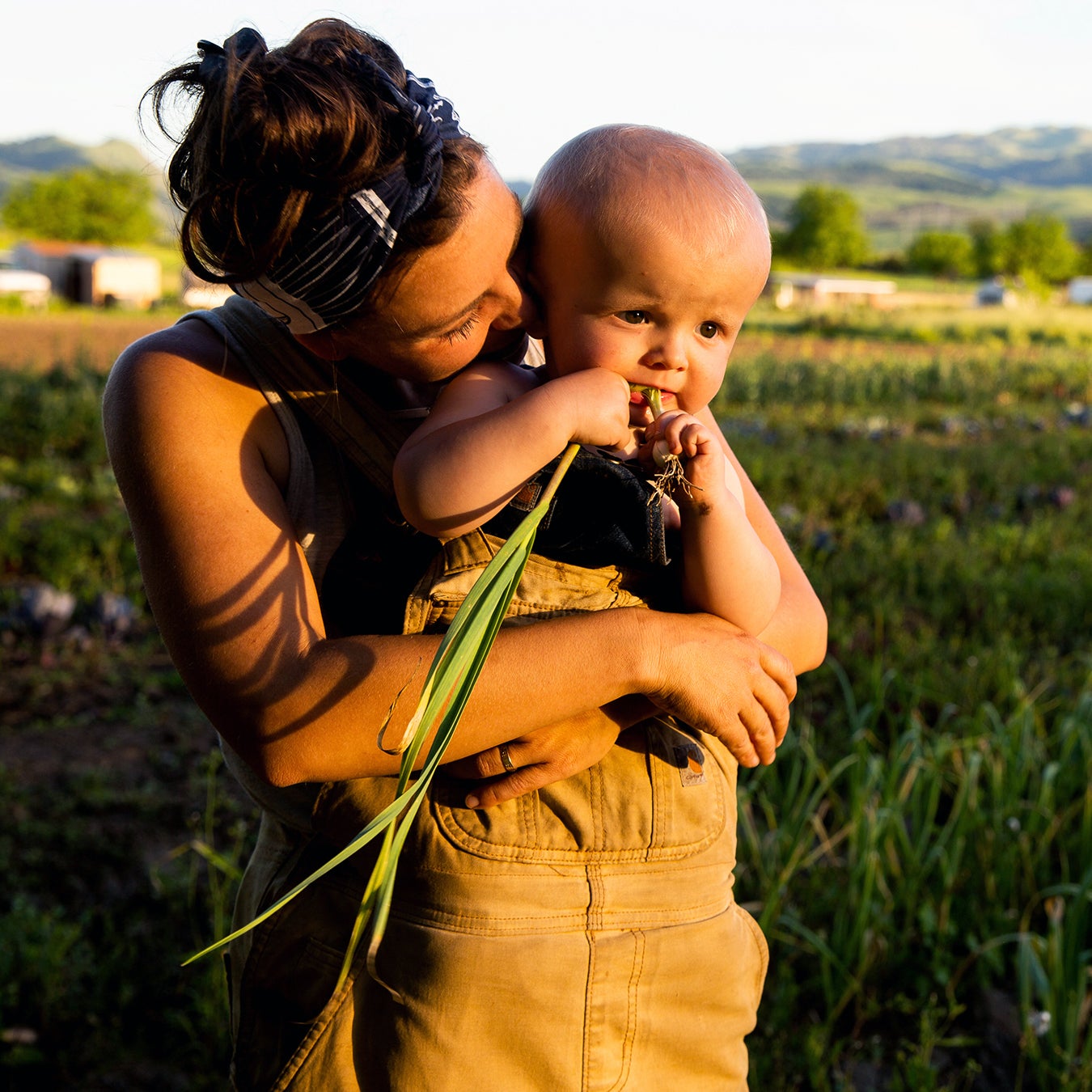 Few professions hold generational knowledge in as high regard as the carpenters, farmers, and skilled workers in almost every other trade. The tools, techniques, and skills that make the world go round have always been handed down from master to apprentice. But while the practice of passing on knowledge from one generation to the next is ancient, what's refreshingly cool is how many women are bucking traditional gender norms and getting involved. Meet three women who are proving that a life filled with hard work, handcrafted goods, and time spent outside makes for happy, complete days.
The Fixer
Joanie Sprague, a carpenter on TLC's Trading Spaces home improvement show, is wearing cut-off Carhartt jean shorts and building a deck made of wooden pallets she found near her home in Huntington Beach, California. It's a typical afternoon for Sprague, who grew up near Pittsburgh learning carpentry skills from her dad and building makeshift forts in her backyard. "I was always outside making stuff," she remembers. But the path she took from child fort builder to adult carpenter was not the obvious one.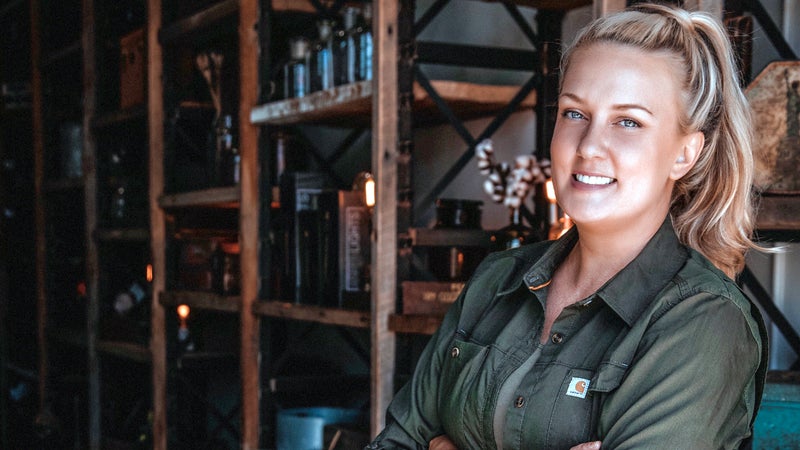 During college, she moved to New York City to pursue her dream of becoming a model. By 2006, she was runner-up on the reality show America's Next Top Model. But even as modeling took her to runways around the world, she put her hammer and nails to use, patching walls in the bathroom of her tiny apartment and building her own bookshelves.
At age 26, Sprague made a career pivot, landing a job on the DIY Network show Run My Renovation before eventually joining TLC's Trading Spaces. Sprague, now 38, also leads a women's power tools course out of her home. "There's a lack of skilled workers in America, yet we're told that's not a job for a woman, that it's too hard," Sprague says. "But truly, it's such a great thing to do if you enjoy working on your own, being creative, and using your hands."
Favorite Carhartt Gear: Sprague loves the full coverage and ample storage of her Crawford Double-Front Overalls. "I can put so many things in all the pockets and my cell phone stays put in the front zip on the chest."
The Farmer
Not long after college, Helena Sylvester watched a film about the problems with our country's food systems. It changed the course of her life, and she spent the next few years working on farms, shopping at farmers' markets, and dreaming of one day running her own operation. That vision came to fruition in 2013, when Sylvester found a one-acre plot of land in California's Alameda County, southeast of San Francisco. She named it Happy Acre Farm.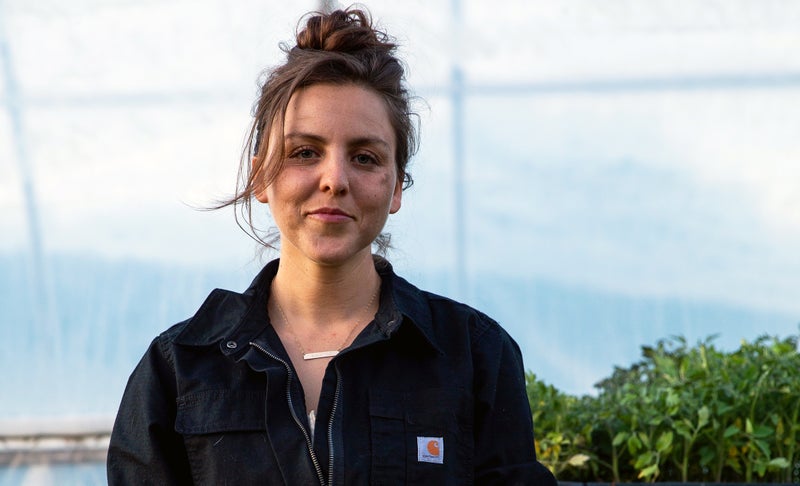 On the farm, which has since grown to 3.5 acres, she and her husband, Matthew, grow organic vegetables from seed to harvest. "We want to put a face to food to help remind people about eating regionally and seasonally," says Sylvester, 32. While growing food is far from easy, Sylvester says she believes anyone can do if they're curious about it. "Farming is pretty intuitive. People say they don't have a green thumb, but maybe they just need to try growing something else," she says.
In March 2018, the Sylvesters added another member to their farm crew: a baby boy named August, who now toddles around in tiny Carhartt overalls eating broccoli from the stem (and occasionally dirt). "It's really important to us to show him what honest work looks like, what dirty, cracked, hardworking hands look like," says Sylvester. But August isn't the only one learning from life on the farm. In raising both crops and kids, says Sylvester, it pays to be present. "If we spend too much time thinking about how things were supposed to go, rather than how things are going, we're going to miss out on this short moment in time."
Favorite Carhartt Gear: Sylvester can often be found harvesting radicchio in her Force Utility Leggings. "I realized that if you have double-lined knees, your pants will last more than a season, so now that's all I wear."
The Furniture Maker
Four years ago, Sam Wooddell wanted a new headboard for her bed. But the one she liked from a store was too expensive. So she walked into her grandfather's woodworking shop and asked him if he'd help her build one. He'd been waiting for her to ask for years.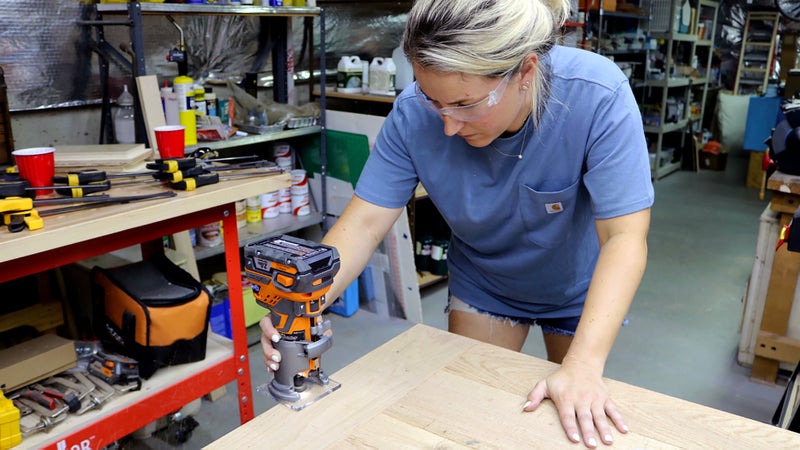 Wooddell was a quick study—and couldn't get enough. With help from her mom, a nurse who lends bookkeeping and design expertise, and mentorship from her grandfather, Wooddell launched an interior design and custom furniture business outside Washington, D.C., called SamRyan Designs (her middle name is Ryan).
Her business took off. Wooddell, now 29, designs and builds one-off pieces, like farm tables for families to gather around, sliding barn doors, and rustic hutches and bookshelves. "There's so much to learn, always a new technique," she says. "Having a mentor and finding someone who can give you helpful tips is key." When she's not in her workshop, Wooddell loves paddleboarding on nearby lakes and hiking with her dog on trails minutes from her house. "If I could have my workshop outside, I would," she says.
Favorite Carhartt Gear: Soon after launching her business, Wooddell asked for a Wildwood Jacket for her birthday. Today, it's well worn. "I like that the jacket portrays the hard-working aspect of the trade. To me, it's comfortable when I'm in the shop, but I also wear it when I'm not working."
---
No one's been part of more first days of work than Carhartt. That's why we've been working like a rookie from day one. Building rugged gear that's tougher than any first or worst days of work. So you can trust your Carhartts to keep doing their job long after you started doing yours. Since 1889, Carhartt's got your back 24/7.
Trending on Outside Online