California Has a New Equal-Pay Act for Athletes
The law will soon mandate equal pay for men and women in athletic events on California state lands. But legislators may have missed an opportunity to make broader inroads on gender equity in sports.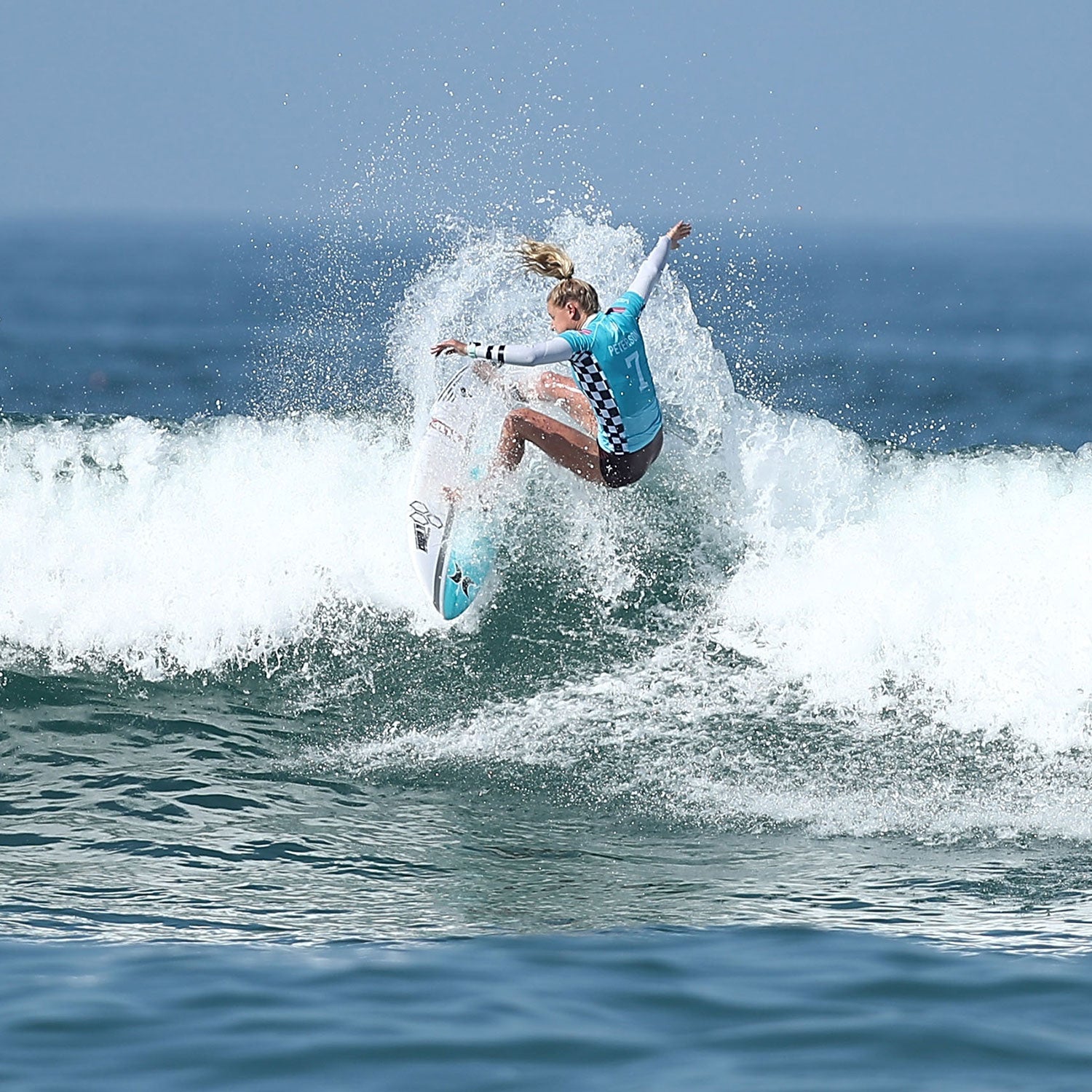 Joe Scarnici/Getty(Photo)
Heading out the door? Read this article on the new Outside+ app available now on iOS devices for members! Download the app.
In 2018, when women were finally invited to compete at the big-wave contest at Mavericks in Northern California, it was a major win for female surfers. Athletes and advocates had argued that use of public lands, including athletic competitions, shouldn't discriminate against women by prohibiting them from competition or paying them unequally. The Coastal Commission of California and the California State Lands Commission responded to the mounting public pressure, and both agencies changed their permit applications to require equal pay as a condition of approval. Now the 20 years of advocacy that led to that decision are rippling beyond the surf world and across many other sports. 
After the landmark Mavericks decision, legislators in California saw an opportunity to codify that precedent, expand the equal-pay requirement to other state agencies, and begin to close the gender pay gap in sports. In February, assemblymember Tasha Boerner Horvath (D-Encinitas) introduced Assembly Bill 467, dubbed the Equal Pay for Equal Play bill. It requires that any competition held on California state land, including the oceanfront, must award equal prize money for all athletes at all participant levels, regardless of gender, as a condition of receiving a lease or permit. 
The bill passed with zero opposition, and governor Gavin Newsom signed it into law in September. (It will go into effect in January 2020.) It will apply to permit and lease applications from the California Department of Transportation (Caltrans), the Department of Parks and Recreation, the Department of Fish and Game, the California State Lands Commission, and the California Coastal Commission. If an athletic event takes place on state lands, it falls under the jurisdiction of one of these agencies. 
In practice this means applications will include new language asking race or competition organizers if there are both men's and women's categories at their event—and if so, whether both groups are paid equally. Organizers must confirm that men and women will earn equal prize money at each participant level before the event can move forward. 
"These aren't privately held lands. When events are held on state lands, they should reflect state values," says Boerner Horvath. A key part of her argument when crafting the bill was positioning the competition arena as an athlete's workplace, making the gender-discrimination argument more tangible. "No other place in California would allow unequal pay. If this is their place of work, women shouldn't be paid unequally," she says. 
On the surface, the new law seems like a big win on long-standing pay disparities in sports. Equal Pay for Equal Play is one of the first bills to address inequality in sports since Title IX and one of the first to take on pay parity in sports at the state level, according to Cori Schumacher, a councilmember in Carlsbad, California, who worked as a policy adviser to Boerner Horvath. David Berri, a professor of economics at Southern Utah University, says government interventions like this one are necessary for progress on this issue. "Markets alone won't make it happen," he says. 
But policy-making is about consensus building, so Boerner Horvath and her team purposefully mapped out a narrow route to garner bipartisan support—equal prize money on state lands. She sees the new law as a starting point. "We need to set a baseline that we're not going to go below. Equal pay is that baseline," she says. Her goal is eventually to expand the legislation to encompass all city, county, and municipal lands. (And ultimately, to build in broader protections for female athletes.) In the coming months, Boerner Horvath has plans for a roundtable in Sacramento, where female athletes can share how discrimination affects them and what needs to change within the sporting arena as a workplace; she hopes to identify common areas that can guide potential new legislation and next steps. 
On the surface, the new law seems like a big win on long-standing pay disparities in sports. Equal Pay for Equal Play is one of the first bills to address inequality in sports since Title IX and one of the first to take on pay parity in sports at the state level.
In theory, taking a circumscribed approach makes sense. It's what politicians often need to do to pass legislation, and the new law is a much needed positive first step toward creating infrastructure that will support gender equity in sports. However, it's unclear how much impact the law will really have. 
The law largely affects sports like surfing, cycling, triathlon, skateboarding, and running, all of which are more likely to compete on public roads and highways, in state-owned parks, and in the ocean (which the state oversees) than sports like soccer or basketball, which tend to take place on private or municipal property. Yet many of the affected sports are already developing their own initiatives to support female athletes. Surfing, triathlon, BMX, mountain biking, alpine skiing, and climbing pay equal prize money at the world-championship level. UCI, the world governing body for cycling, is introducing minimum salaries for its Women's WorldTour riders next year, which will eventually equal the men's minimum salary by 2023.
By not including city, county, and municipal lands, Equal Pay for Equal Play will likely affect just a few hundred events each year across the state—only competitions that have a men's and women's division, offer prize money, and take place on state-owned lands. According to Caltrans, the agency permitted 214 athletic-related events in the last year; however, it's not clear how many offered prize money and would be affected by the law. 
For one thing, not all events held on state lands need a lease or permit. For example, the California State Lands Commission only requires a lease when an event restricts public use of the land, like closing a public beach for the competition at Mavericks. A representative of the State Lands Commission says that rarely occurs. 
Plus, there's the question of accountability: How will the new law be monitored and enforced? Who will keep tabs on the impacts, both positive and negative, such as if there are changes to the number of events permitted and if organizers choose to leave California entirely? 
The bill itself does not include explicit language regarding penalties, which could vary between agencies. For example, the Coastal Commission and State Lands Commission are further along in their thinking about how they will enforce the new law, such as through fines, thanks to the changes already implemented with the Mavericks decision. Other agencies have not yet laid out specific plans, and it's unclear how state officials will coordinate with city, county, and municipal entities when events cross multiple jurisdictions. (Councilmember Schumacher says that if an event crosses city, county, and state lands, state law takes precedence.) 
And while equal prize money addresses one facet of the gender-equality debate in sports, some advocates argue that legislators missed an opportunity to create the infrastructure needed to support nondiscrimination of women, especially if we're talking about sports and athletic competitions as a place of work. 
As part of the Mavericks lease, the State Lands Commission not only mandated equal pay for the men's and women's divisions, it required a minimum number of female competitors and multiple heats of the women's competition. In contrast, the new law continues to allow for men's-only and women's-only events. In other words, organizers could get around the new equal-pay provision by dropping the women's division altogether. They could also offer men and women the same compensation per day of competition but give women fewer opportunities to compete, like the Amgen Tour of California, in which men ride six days while women ride three days.
Equal prize money doesn't matter if women don't have the same access to competitions as men. Overall they'll still earn less, says Sabrina Brennan, cofounder of the Committee for Equity in Women's Surfing (CEWS) and one of the key figures who led the charge in the Mavericks decision. 
The truth is, we likely won't know the real impact of the law until years from now. Berri, from Southern Utah University, says that legislative action alone doesn't spur change. There also needs to be continued investment in women's sports before the playing field is leveled. "Men's sports got a huge head start, and it took time to build a fan base," he says. "Women's sports are still very young. When you keep the investment and attention going, women's sports are going to look a lot like men's sports."
But the debate around Equal Pay for Equal Play has spilled across state lines and forced government agencies, elected officials, and advocates to grapple with the issue of gender discrimination in sports and how to provide equal opportunity, which may be the biggest win. According to Schumacher, advocates from states like Arizona and Hawaii and from countries including France and Spain have reached out to Boerner Horvath's office to seek guidance on how to design legislation similar to Equal Pay for Equal Play. And the California State Lands Commission says the new law is making the agency think more broadly about equity and other uses of state lands outside of athletic competitions, like recreational docks, commercial facilities, and piers. 
And the conversation must continue. At the end of the day, city-, county-, or state-held lands are all public lands. If Boerner Horvath and other legislators are committed to ensuring that events held on public lands reflect state values, including nondiscrimination, there's more work to be done. 
Lead Photo: Joe Scarnici/Getty