Ikon Pass
Sponsor Content: Ikon Pass
8 Ways to Embrace Your Inner Unicorn This Winter
Synchronized snowboarding, secret shrine meet-ups, and tailgating karaoke parties? Whoever your people are, you can find them with your Ikon Pass.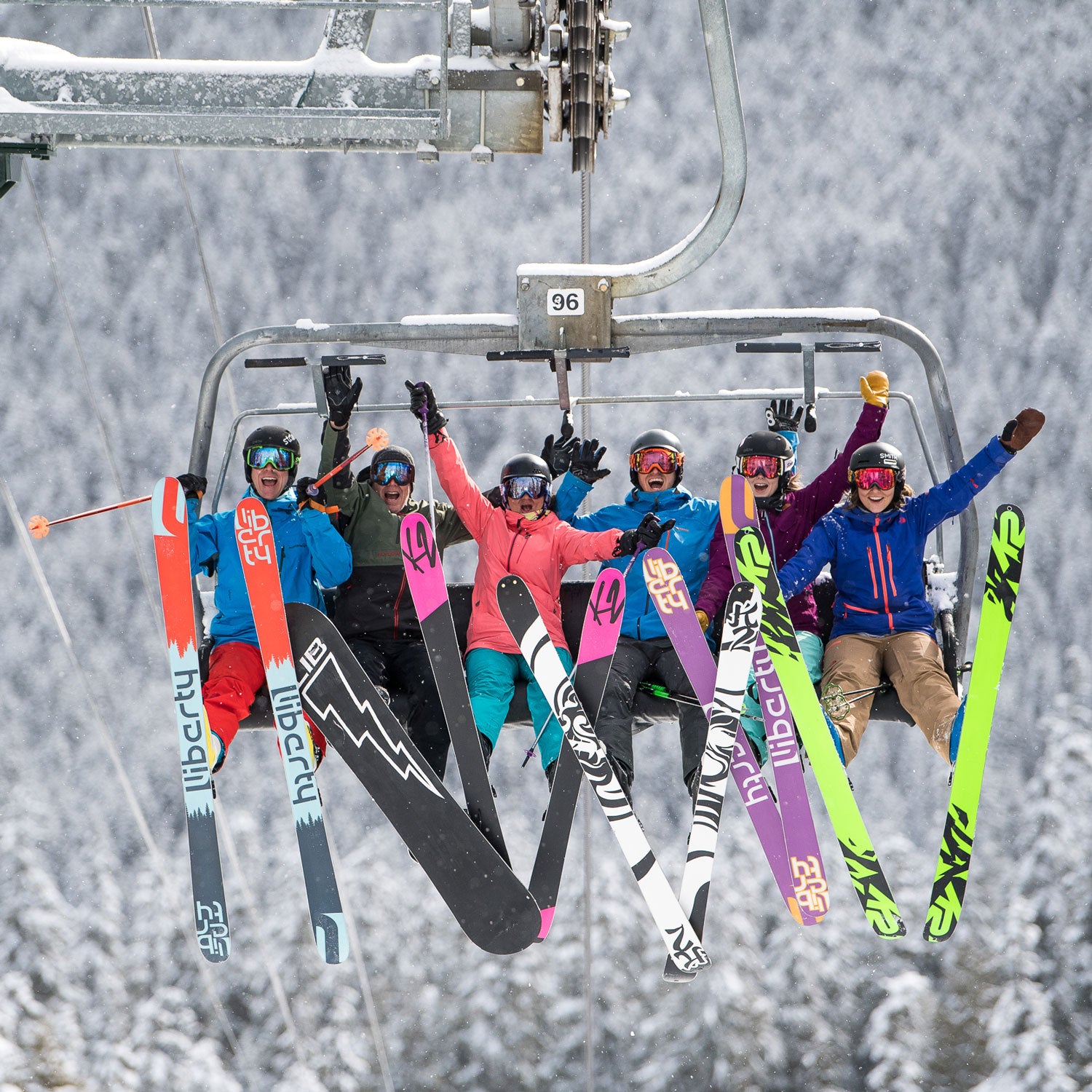 You've got the bumpers, the park kids, and the powder fiends. The mono-skiers, the parking lot karaokers, and the go-fast-on-the-groomers. The eclectic and inclusive nature of all these subcultures is what makes skiing and snowboarding so fun. And because there's no one right way to enjoy the mountain, everyone can do their thing, leaving plenty of space for everyone else to do theirs. The best part? With an Ikon Pass, which gets you unlimited skiing at 41 destinations, it's easier than ever to become part of the gang. 
1. Squaw Valley, CA: Huddle in the Dark with the Diehards
Because it accesses so much mind-blowingly awesome expert terrain right from the base of Squaw Valley, KT-22 is one of the most iconic ski lifts in the world. And on a powder day, there's a fanatical group of hundreds of skiers who religiously gather in the predawn hours, awaiting first chair. Leading that crew is Cheryl Varner, 68, who skis more than 100 days a season and almost always snags first ups on KT. She's earned the nickname "KT Cheryl" due to her dedication. "More than 20 years ago, I started lining up early on powder days," Varner says. "It's often the same crowd and we hang out and wait together." To join the crew, dress warm and show up earlier than you think. Varner will be there waiting for you. 
2. Alta, UT: Go Retro This Spring
Alta may be known as a powder-centric paradise—this throwback ski hill often gets over 500 inches of light, dry snow a year—but springtime brings a whole new sense of revelry. Take the Frank World Classic, an unofficial event started by a couple of guys from Alta's Deep Powder House ski shop on closing day in 2011 and continued every year since. The idea is to take skiing less seriously. Skiers don costumes, throw goofy tricks in an old-school hot-dog contest under the Wildcat double chair, eat actual hot dogs, and play eighties music. All are welcome to this ridiculous bash.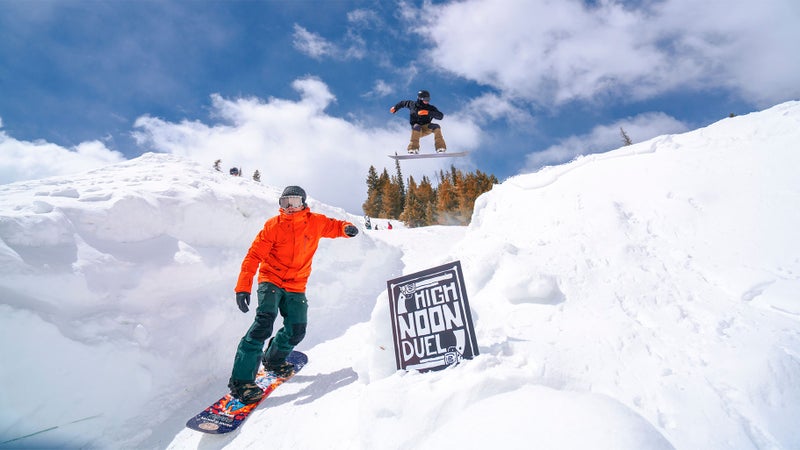 3. Winter Park, CO: Synchronize Your Sick Snowboard Moves
While the longtime Winter Park locals can be found crushing bumps in style on the mogul monument that is Mary Jane, the new-school crowd is in the terrain park. Local snowboarders Ben Lynch and Ryan Arrington met in middle school in 2013 and not long after launched Winter Park's High Noon Duel, a synchronized snowboarding contest held each April that borrows from slopestyle and banked slaloms but maintains its own unique style. Riders judge each other, and kids, teams, and newbies are invited to sign up. Afterwards, the shredders and the bumpers unite for après in the infamous C Lot, where spring tailgating karaoke parties are a regular occurrence.
4. Aspen Snowmass, CO: Discover the Secret Shrines
Duck into the trees around Aspen's four diverse mountains—Aspen Mountain, Snowmass, Aspen Highlands, and Buttermilk—and you'll eventually spot them: cobbled-together shrines made by anonymous locals and dedicated to Elvis Presley, Bob Marley, Jerry Garcia, the Boston Red Sox, the Simpsons, and more. Aspen's more than 100 homages include photos, mementos, and drawings, and some have been around since the late seventies. There is no map to find them. "The local custom is to not give directions," says Aspenite David Wood, author of the book Sanctuaries in the Snow. "But sometimes a ski instructor or ambassador will help show the way. Many people ski right by shrines hidden in the trees and don't know it."
5. Crystal Mountain, WA: Bunk Down in the Famous B Lot
In the B Lot at the base of Crystal Mountain, a temporary neighborhood pops up on weekends—makeshift slopeside "condos" that everyone can afford (overnight passes are $40). You'll find families in campers and RVs, couples in vans, and ski bums and their dogs in pickup trucks. Overnight parking isn't just tolerated here; it's celebrated. At the end of the ski day, familiar faces gather around outdoor bonfires, share meals in camp chairs, and wax skis on pop-up benches. Crystal Mountain's B Lot is for everyone—on any budget—who dreams of waking up at the base of the mountain, walking to the lifts with their friends, and enjoying a day under the shadows of Mount Rainier.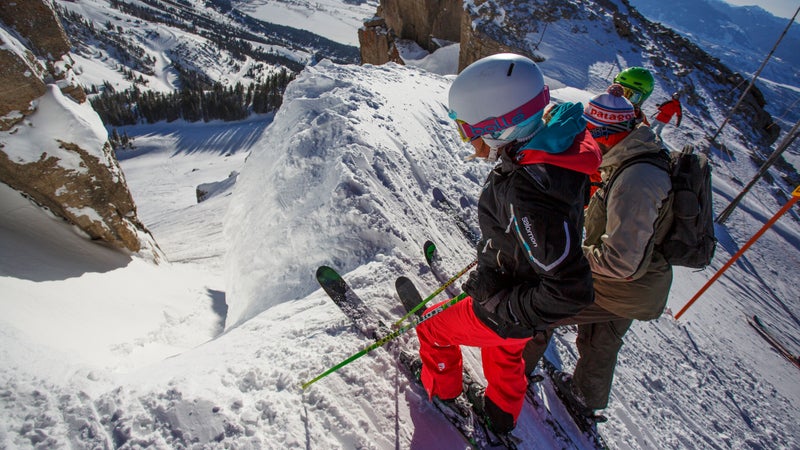 6. Jackson Hole, WY: Join Forces with Rad Local Women
The Jackson Hole Air Force was formed in the early eighties as a counterculture group of pioneering powder skiers—nearly all of them men. As a counterbalance, the Jackson Hole Babe Force, a women-centric organization, formed in 2011. What started as a casual meetup for all-women ski days has since grown into an official nonprofit that provides access to backcountry education and dozens of individual scholarships each year to support the young girls and women of the Jackson Hole community. You can still join for monthly ski days, too. "The goal is still to meet other women and break down those intimidation factors," says Crystal Wright, founding member of the JH Babe Force.
7. Big Sky, MT: Perfect Your Powder 8s—in Costume
A couple of ski patrollers threw Big Sky's first Dirtbag Ball at Buck's T4 Lodge in the spring of 1979. It started as a fundraiser for ski patrol to help pay for necessary rescue equipment. Forty years later, the party is still one of the finest bashes in skiing. You'll find costumed powder 8 contests by day and dancing in ski boots and barbecuing by night—anyone can buy tickets to the event, and the money raised still goes to benefit ski patrol. Each year, patrol names a king and queen dirtbag for their storied presence on the mountain. 
8. Sugarloaf, ME: Shred with the Elders
Every single day of the ski season—regardless of weather—in a blue-painted locker room at Sugarloaf, a group of retired locals meet up to take a few runs together. They call themselves the Locker Room Gang. They're usually ready by first chair, but nobody is in a rush. They've been doing this for years. "We come in the morning, we chitchat. We have a few jokes. And we go out for first chair," says Michael Tighe, a longtime member of the bunch. New members? They're allowed, too. Just be ready to show up in sleet or sunshine. 
---
The Ikon Pass is the ski & ride season pass that unlocks worldwide adventure and real community feel. Learn more at ikonpass.com.
Trending on Outside Online