The Media We're Consuming During Social Distancing
The books, movies, podcasts, games, and more that are keeping us sane indoors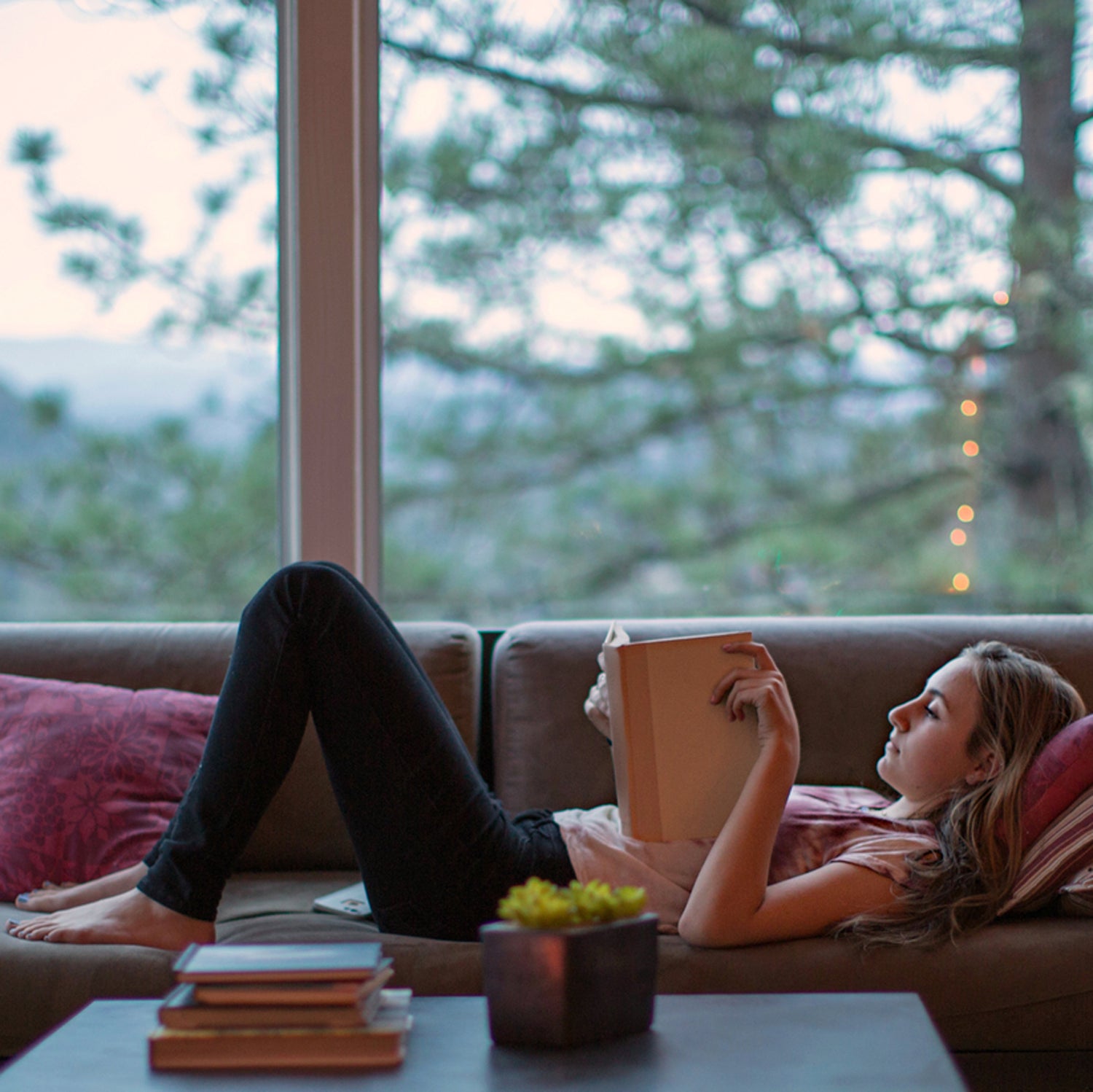 Carolyn Lagattuta/Stocksy(Photo)
Heading out the door? Read this article on the new Outside+ app available now on iOS devices for members! Download the app.
For obvious reasons, Outside editors aren't used to being inside all the time. But we're working remotely, doing our best to flatten the curve of COVID-19 by avoiding crowds (please do the same!), and making the most of our time at home.
These days, in between Zoom meetings, you'll find us cross-stitching, playing board games, dusting off books that have been on our reading lists forever, and generally trying not to climb the walls. Some of us also got really excited about Love Is Quarantine, but they haven't written about it (yet).
What We're Reading
I've been reading Kevin Wilson's novel Nothing to See Here, which received rave reviews when it came out last year. It is shockingly relevant to the bizarre, frightening, and poignant moment we're living through. The story follows ten-year-old twins who periodically burst into flames, posing no threat to themselves but quite a bit to others. The kids are effectively quarantined as they try to exert some control over their affliction. You'll be tempted to fly through these pages, but don't miss how quietly smart Wilson's writing is.
—Will Bostwick, editorial fellow
I read Ghosted, by Rosie Walsh, about a woman who meets a perfect guy and can't figure out why he soon disappears, in just two sittings this weekend. It's part romance, part mystery, and 100 percent distraction for these trying times. 
—Katie Cruickshank, senior digital marketing manager
Weeks at home and local libraries shutting down call for some big ol' books that can sustain speedy readers. I'm about three-fourths of the way through The Nix (620 pages), by Nathan Hill, a beautifully written novel with biting dialogue about a man investigating his absentee mother's past. Once you're done with that, switch gears and let John McPhee take you on a literary vacation with Coming into the Country (438 pages), a dense nonfiction book about Alaska that was originally published in 1976. If you're still looking for a challenge, I suggest Edmund Morris's Theodore Roosevelt trilogy (a combined 2,496 pages), a biography that excitedly follows the charismatic leader and noted conservationist's entire life. (It took Morris decades to complete.) 
—Kelsey Lindsey, associate editor
Even if you're a mystery skeptic like me, now is the perfect time to start Tana French's Dublin Murder Squad books, a series of literary murder mysteries that resist the clichés of their genre. French, an American living in Ireland, writes each novel from the perspective of a different Dublin detective, infusing the books with warmth and humor despite their dark subject matter. Consider downloading the audio versions, too: French writes in lush, overflowing prose that's perfect for reading aloud, and the audiobook narrators do a masterful job. My favorite is The Likeness, a delightfully implausible tale involving doppelgängers, murderous graduate students, and an old Georgian house full of secrets. 
—Sophie Murguia, assistant editor
Last year my graduate-school adviser recommended Kim Stanley Robinson's New York 2140 as a bit of light reading. It's a 624-page cli-fi tome about life in New York City after apocalyptic floods mostly submerge it (yes, this was tangentially related to my thesis). Robinson knows my hometown well enough to be delightfully snarky about its neighborhoods and residents. He also includes scientific, political, and economic plot points that sound kind of plausible, making this vision of New York City's future feel uncomfortably real. I never had time to finish it during school, but now I do! And there's no time like the present to catch up on dystopian fiction.
—Xian Chiang-Waren, associate editor
I've been reading She Said, Jodi Kantor and Megan Twohey's book about their reporting on Harvey Weinstein. It's not exactly uplifting, but it's still a welcome distraction from the current news cycle—especially now that Weinstein has been sentenced to 23 years in prison. Even if you followed their reporting closely, there's so much more backstory in the book about how their investigation came together. (I also ordered some new books from my local bookstore, to make a small contribution during this difficult time. If you're able, you should do the same.)
—Molly Mirhashem, digital deputy editor
What We're Listening To
I've been listening to the wonderful new podcast Poetry Unbound, produced by On Being (which puts out a regular podcast about art, spiritual science, and community that's also a great option). It's hosted by the Irish poet Padraig O Tuama, whose brogue was one of the first things I loved about the series, and consists of brief episodes that revolve around a different modern poem. O Tuama reads and discusses each one, then offers a story about how it resonates with his own life—so you feel like you're getting to know the poem as well as another person. Finally, he reads the selection a second time, which often takes on fresh meaning after having been parsed. I haven't found a book, film, or podcast I've enjoyed more in 2020. 
—Tasha Zemke, copy editor
When I'm cooped up in the house, my go-to activity is needlework paired with podcasts. Cross-stitch and embroidery are cheap and easy to learn, the process is meditative, and the end result is beautiful. There's something for any level of artistic ability: cross-stitch is like paint by numbers, while embroidery is more like drawing (or coloring, if you have a pattern). I'm currently working my way through the designs in Feminist Icon Cross-Stitch, but there are books and digital patterns available for every interest (including designs inspired by national parks). As for podcasts, I recommend The Anthropocene Reviewed, where John Greene rates all sorts of human-related things on a five-star scale; the episode "Capacity for Wonder and Sunsets" is a mercifully uplifting place to start. 
—Maren Larsen, Buyer's Guide deputy editor
A recent episode of the podcast Reply All made me laugh this week when I needed it. "The Case of the Missing Hit" follows a man's journey to track down a song from the late nineties that he distinctly remembers hearing on the radio but can't find on the internet (or anywhere else on the planet). It's a problem we've all had—a tune stuck in our heads that we can't remember the name of—taken to the extreme. The poor guy tries painstakingly to recreate the song, first at home on GarageBand, then in a recording studio with an actual band. By the end, the mystery earworm will be stuck in your head, too, and you'll beg for the conclusion. It won't disappoint.
—Claire Hyman, editorial assistant
What We Watched and Otherwise Experienced
I would honestly take a bullet for any of the characters in Cheer, a bighearted six-part documentary series from Netflix about the country's best cheerleading team: Navarro. The junior college is in rural Texas, and the squad is made up of insanely tough, talented athletes. You'll laugh, you'll cry, and you hopefully won't think about anything but bows, human pyramids, and national cheerleading championships for a solid six hours. 
—Abbie Barronian, assistant editor
I have a deep and long-standing obsession with board games. Throughout college and my adult life, I've been a part of many weekly tabletop game groups. (OK, sometimes more than weekly.) Here are my best recommendations, from simplest to most complex: Codenames, Ticket to Ride (you can play this one alone against an Amazon Alexa), Machi Koro, Galaxy Truckers, Settlers of Catan, and Pandemic Legacy (a little close to home, sure, but an incredible campaign game if you can handle the topic). If you're solo, pick up Tokaido and bliss out to the world's most meditative, joy-sparking game.
—Jenny Earnest, audience development director
As someone who wasn't a huge Hillary Clinton supporter during the 2016 election (but still voted for her!), I've really enjoyed the Hillary documentary series on Hulu. It's well shot, well edited, and gives the former First Lady her own voice in setting the record straight about what really went down four years ago. Democrat or not, this series is an absolute must-watch.
—Emily Reed, video producer
I've also been watching the Hillary Clinton documentary on Hulu, which is divided into four one-hour episodes. It's fascinating to witness all that went on behind the scenes of the 2016 election and hear how Clinton, her team, and her family feel about it in hindsight. Everyone interviewed, including Hillary and Bill, is very open. I'm two hours in and look forward to more.
—Mary Turner, deputy editor
Lead Photo: Carolyn Lagattuta/Stocksy
Trending on Outside Online