Our 12 Favorite Earth Day Reads
From poetry to nonfiction, these books celebrate everything we love about our planet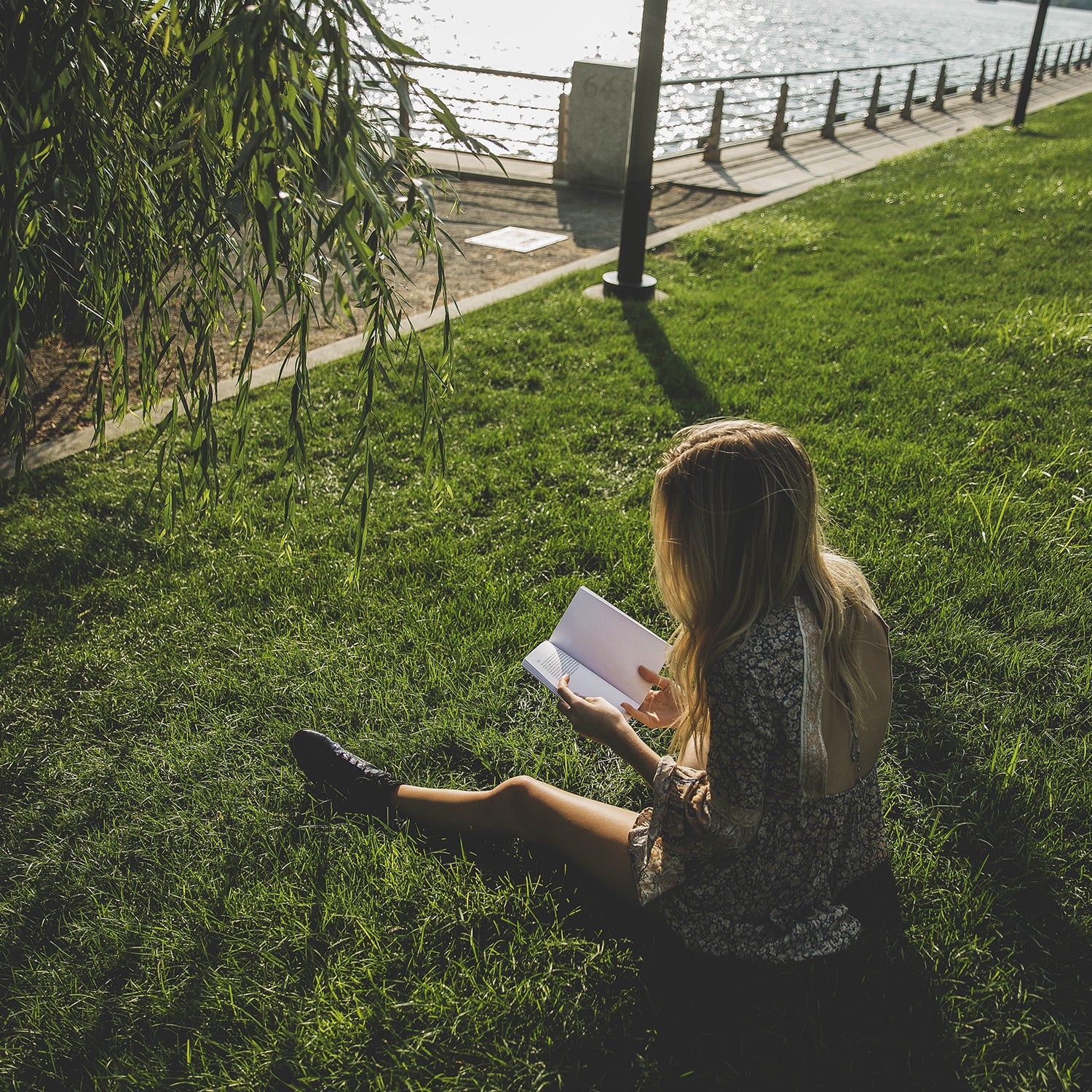 Thought Catolog/Unsplash(Photo)
Heading out the door? Read this article on the new Outside+ app available now on iOS devices for members! Download the app.
This year marks Earth Day's 50th anniversary, and to celebrate, we're revisiting some of our favorite environmental reads. Whether you're looking for a compelling work of nonfiction, a classic children's book, or even a philosophical novel, Outside's editors are here to recommend the books that remind us why we love our home planet and that inspire us to save it for future generations. 
'Devotions,' by Mary Oliver
Since April is also National Poetry Month, I recommend that you pick up Mary Oliver's Devotions, a compilation of more than 200 works by the late Pulitzer Prize–winning poet. Her verses praise all manner of flora and fauna that she regularly came across in Massachusetts, and her reverent awe of the mysteries of life and our connection to them is ever present. The well-known "Wild Geese" moves me most, but "When I Am Among the Trees" is particularly fitting for Earth Day: "I would almost say that they save me, and daily," Oliver writes.
—Tasha Zemke, copy editor
'Goodbye to a River,' by John Graves 
After losing sight in one eye to an enemy grenade on the island of Saipan during World War II, teaching English at universities in the U.S., and living abroad in Europe and Mexico, the writer John Graves returned home to Texas in 1957 to care for his dying father. In November of that year, he took a canoe trip down the Brazos River, which was slated for several dam-construction projects. Graves's account of that trip turned into Goodbye to a River, which was nominated for a National Book Award and which helped dissuade many of the proposed dam projects. Graves ultimately settled with his family on a ranch near Glen Rose, Texas, and he'd go on to write about ranching life, keeping bees, making wine, and his own religion (dubbed "bastard pantheism"), which espoused the holiness of dirt. He's a literary icon in Texas, where his legacy extends well beyond literature and into the free-flowing streams and grasslands he memorialized. Having grown up near the banks of the Brazos, I find myself returning to Goodbye to a River over and over again. 
—Will Bostwick, editorial fellow 
'Standing with Standing Rock,' edited by Nick Estes and Jaskiran Dhillon 
Environmental activists have accomplished a lot since the first Earth Day—and have also racked up some potentially planet-destroying defeats. But as Standing with Standing Rock: Voices from the #NoDAPL Movement demonstrates, some gains are impossible to quantify even when a loss is clear (the Dakota Access pipeline, after months of indigenous-led resistance, became operational in 2017). Edited by journalist Nick Estes and scholar-organizer Jaskiran Dhillon, this collection of stories, essays, interviews, and arguments by the movement's leaders writes history on its own terms, then offers lessons for future coalition-building.
—Xian Chiang-Waren, associate editor
'Beautiful Swimmers,' by William W. Warner 
A book I'll always cherish is Beautiful Swimmers: Watermen, Crabs, and the Chesapeake Bay, by the late William W. Warner, a Smithsonian administrator and writer who spent years immersing himself in the bay's legendary culture of catching and marketing blue crabs. The level of detail and the quality of writing is wonderful; the book was justifiably awarded the 1977 Pulitzer Prize for general nonfiction. The world Warner captured has changed a great deal, so there's a ghost world aspect to it now. A more recent look at similar subject matter is the widely praised Chesapeake Requiem, by Outside contributor Earl Swift.
—Alex Heard, editorial director
'Just a Dream,' by Chris Van Allsburg 
Not many children's books stay with you decades after exposure, but Just A Dream, by Chris Van Allsburg, is one that did for me. In the titular dream, a littering kid gets transported in his bed to a series of scenes from the future à la A Christmas Carol. He visits a hotel on the top of Mount Everest. From high up in a tree, he watches the forest around him get cut down bit by bit. The smoke from a factory burns his lungs. The illustrations of these ecological tragedies are foreboding but oddly serene, and the message is simple: don't litter, recycle, plant trees. Maybe that's considered a tame approach in today's world, but it's one that stuck with me for 20 years—it's still on the bookshelf in my childhood home today. 
—Maren Larsen, assistant editor
'Oceanic,' by Aimee Nezhukumatathil
Although I'll be spending this Earth Day stuck inside, hundreds of miles from the coast, I'll be savoring the chance to dive back into Aimee Nezhukumatathil's brilliant collection of poetry, Oceanic. Nezhukumatathil's poems cover a wide range of subjects, but they're united by a deep curiosity about all living beings: "red starfish who wiggle a finger dance at you," the ugly hagfish "that makes children burst into tears," "brave squirrels who now strut / the street with tiny blistered mouths." Throughout the book, she plays freely with form and perspective—for instance, in the collection's opener, "Self-Portrait as Scallop," the speaker imagines herself as a hundred-eyed mollusk, and Nezhukumatathil spaces the lines across the page like waves on the sand. Even when these poems hit notes of melancholy, they're infused with a sense of wonder and an appreciation for the many forms of life that inhabit the earth.  
—Sophie Murguia, assistant editor 
'Encounters with the Archdruid,' by John McPhee 
This one is a classic for many reasons. The book's subject, David Brower, was one of the fiercest environmental advocates of the 20th century. Its main event, a rafting trip down the Grand Canyon, gives McPhee an opportunity to examine Brower's famous fight (and ultimate failure) to prevent the damming of Glen Canyon. But what has earned it a permanent place in literary fame—and on my bookshelf—is how McPhee brings Brower's tale together with the stories of his archenemies, like former Bureau of Reclamation commissioner Floyd Dominy, and seamlessly weaves their warring perspectives into a nuanced narrative that makes you consider how a love of wild places can coexist with the needs of the modern world. 
— Ariella Gintzler, associate editor
'Lives of a Cell,' by Lewis Thomas 
This isn't an environmental book in the traditional sense, but it's one of my favorite collections of writing ever. In a series of essays written for The New England Journal of Medicine between 1971 and 1973, Thomas, a physician, an immunology researcher, and an etymologist, takes a wide-ranging, poetic look at biology. He writes about life on every level, from the cellular to the planetary, with pieces on bugs, pheromones, germs, and death, to name a few. By the end of it, you're reminded that everything is more interconnected than we like to admit, and that the imagined divide between humans and nature is just that: imaginary. In my favorite passage, he discusses the best way to initiate contact with an alien planet: "Perhaps the safest thing to do at the outset, if technology permits, is to send music," he writes. "This language may be the best we have for explaining what we are like to others in space, with least ambiguity. I would vote for Bach, all of Bach, streamed out into space, over and over again."
—Abbie Barronian, assistant editor  
'Ishmael,' by Daniel Quinn 
Ishmael is essentially one long philosophical dialogue about human existence between a student (the book's unnamed narrator) and teacher (Ishmael, a very wise, telepathically communicative gorilla). It's less fantastical than it sounds, and the discussion moves quickly through the culturally constructed truths—or myths, as Ishmael asserts—that underpin human civilization even as they have disastrous effects on the environment and all other life-forms. While the novel doesn't leave the reader with any solutions to the man-made problems it so clearly identifies, it serves as a good reminder to question the status quo and consider how the effects of individual actions ripple out across entire societies—and the planet.
—Brian Smith, content marketing manager
'Confluence,' by Zak Podmore 
The West is a land of contradictions: stunning canyons butted up against oil fields prickling with derricks, cottonwood-lined riverbanks bordering bleak desert, and bustling cities bleeding into vast public lands. Zak Podmore's 2019 book Confluence captures such timeless juxtapositions for the modern era. (Full disclosure: he's a former colleague of mine.) Podmore grew up a river rat in Colorado, with his parents taking the family down desert waterways at every opportunity, and his love for these silty rivers is clear throughout this essay collection. He takes us away from the water to visit uranium mines, canyon rims, environmental protests, and our southern border with Mexico, but the book is strongest when he's on the river, working through problems (the loss of his mother to cancer; overpopulation in the Southwest; and, of course, water use) with a paddle in his hand. He leaves you inspired to get outside and feel the sand in your toes at a crook in the river, no matter how heavy the world has become.
 —Will Taylor, gear director
'The Secret Wisdom of Nature,' by Peter Wohlleben 
I'm currently reading The Secret Wisdom of Nature, and it's one of the most poetic science books I've encountered. Peter Wohlleben takes incredibly technical facts about nature and makes them accessible for a general audience with no scientific background. I've been learning things about the world that I've wondered about for years, like why salmon is so important to a forest's ecosystem. Wohlleben teaches you just how fragile our world is and warns what will happen if we keep disturbing it. I've regurgitated every fact I've learned from this book to anyone who will listen.
—Mary Mathis, digital visuals editor
'Pilgrim at Tinker Creek,' by Annie Dillard
Over the past several weeks, many of us have been discovering our neighborhoods and backyards anew, noticing critters and appreciating blossoming trees we might have sped right by if our harried routines hadn't been interrupted by a global pandemic. Annie Dillard beat us to these revelations: she spent a whole year in her own backyard in Virginia's Blue Ridge Mountains in 1974, meticulously observing the flora and fauna around her. She turned her meditations into the Pulitzer Prize–winning nonfiction book Pilgrim at Tinker Creek. It's a masterful work of nature writing, full of fascinating natural dramas (like a giant water bug eating a frog) and spiritual ecstasy. Reading it (or rereading it) on Earth Day will inspire you to observe and celebrate what's around you, even if you can't go camping or visit a national park right now. "The answer must be, I think, that beauty and grace are performed whether or not we will or sense them," Dillard writes. "The least we can do is try to be there."  
—Luke Whelan, senior research editor
Lead Photo: Thought Catolog/Unsplash