63 Parks Traveler
Alaska Delivers the Goods in Glacier Bay National Park
Not much tops seeing the the massive glaciers and vast empty wilderness in Glacier Bay—that's the verdict of our 62 Parks Traveler about the 33rd stop on her quest to visit every national park in the U.S.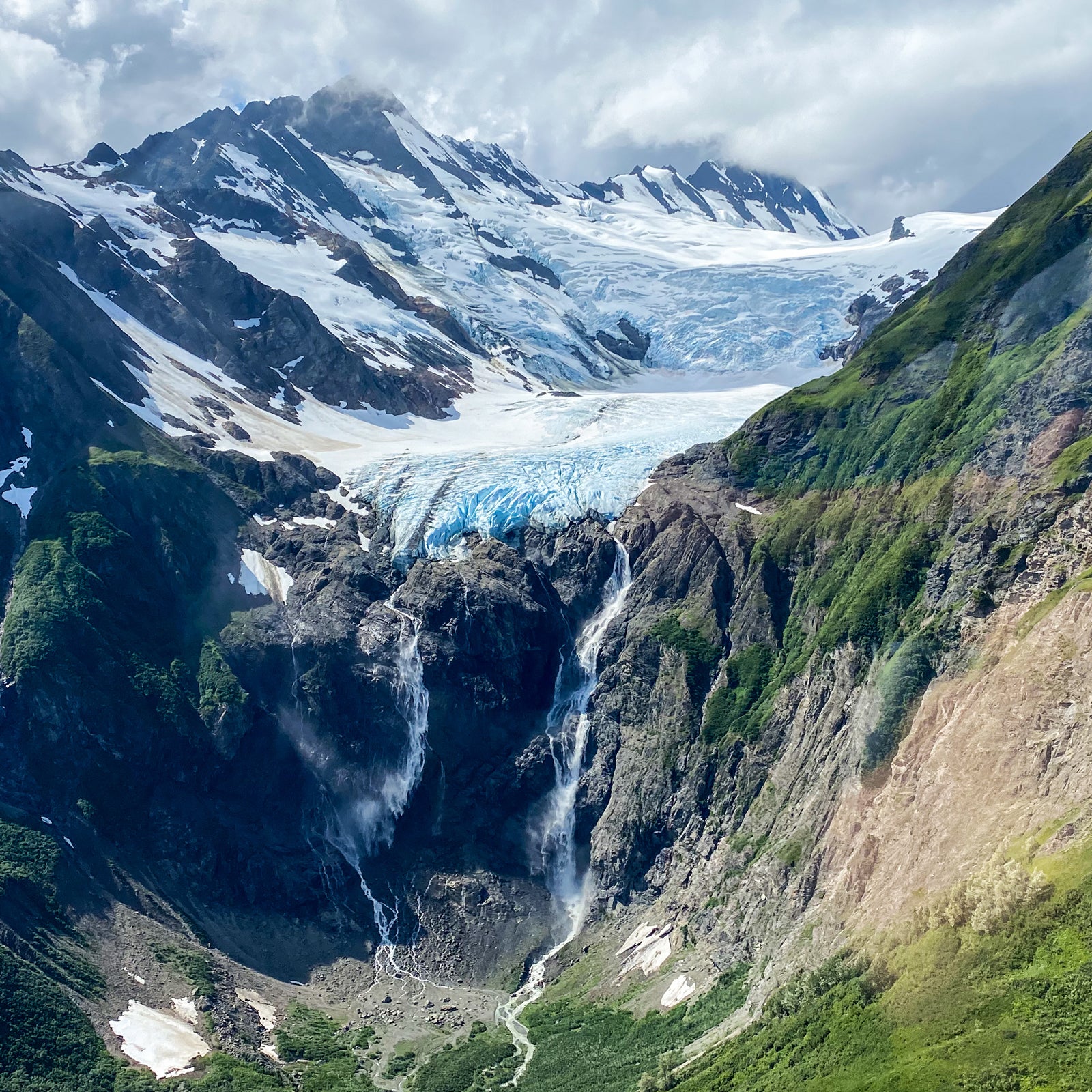 Emily Pennington(Photo)
Heading out the door? Read this article on the new Outside+ app available now on iOS devices for members! Download the app.
62 Parks Traveler started with a simple goal: to visit every U.S. national park. Avid backpacker and public-lands nerd Emily Pennington saved up, built out a tiny van to travel and live in, and hit the road. The parks as we know them are rapidly changing, and she wanted to see them before it's too late.
Pennington is committed to following CDC guidelines during the COVID-19 pandemic to ensure the safety of herself and others. She's visiting new parks while closely adhering to best safety practices.
---
Enormous blue tongues of ice crawled down the bleak faces of mountains and plunged headfirst into the sea. For miles I could make out the serrated edges of 400-foot-deep crevasses and glaciers spilling in slow motion toward the salty waters of the Muir Inlet. It was earth like I'd never seen it—furious, vast, unyielding. This was my first taste of Alaska—in a small plane soaring over Glacier Bay National Park—and it was everything I'd dreamed of.
Glacier Bay is one of those rare national parks that's only accessible by air or water. There are no roads to this southeastern part of the state. When visiting the park, most travelers arrive by boat from the tiny town of Gustavus, spending a full day on a ranger-narrated cruise around the western side, or West Arm. However, due to the pandemic, most commercial vessel outings had been canceled, so I had to get creative.
Eager to see the area's famous icefields, I messaged Paul Swanstrom, a veteran bush pilot and founder of Mountain Flying Service. I told him my dates, flew to the nearby small town of Haines, and prayed for a good weather window. If all went according to plan, this would be my first bush-plane experience.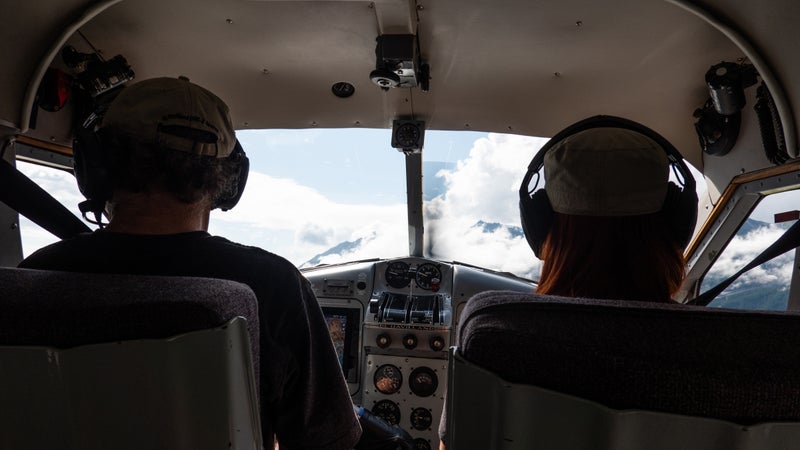 Upon my arrival in late July, though, the forecast wasn't great; rain was called for every single day. "The forecasts are more entertainment than accurate," a local told me. I crossed my fingers and waited.
Sure enough, on day two, the clouds opened up, and Swanstrom suggested we hop to it. Within the hour, I was catapulted into the air in a tiny metal aircraft, with huge hanging glaciers below and to my right. I had never felt more vulnerable when skyborne. We cruised up and over the Davidson Glacier, wind rattling us on the high-mountain pass. I took a deep breath, clenched every stomach muscle I had, and tried to focus on taking photographs.
We were met with cerulean water in every direction, as magnificent rivers of ice dropped off toward the sea. This sudden shock of scenery somehow cured my nerves, and I relaxed into the breathtaking beauty of the place as Swanstrom pointed out the more notable glaciers in the less traveled East Arm of the park.
"The McBride Glacier's the only one still touching the water. All the others have been receding quickly since the 1960s," he said, curving the plane nearer its colossal ice cliffs. According to a map provided by the Park Service, Muir Glacier extended far into the Muir Inlet as recently as 1976—but no more. The nearby Riggs Glacier has been receding 20 to 30 feet per year, ultimately retreating from the water in the late 1990s due to climate change.
So much of the majesty of this landscape is tied to these dynamic sheets of moving ice. I shuddered to think what would happen to the ecosystem were they to vanish altogether.
With clouds rolling in, we skipped the park's West Arm and made an impromptu photo stop, landing on a gravel bar just outside Haines. At peace on solid ground, I fell in love with the electric pink fireweed that popped out of nearly every opening in the trees. This was Alaska, a wild country of mind-boggling earthen drama. Though I worried for its future, I was grateful to explore its ever shifting present.
62 Parks Traveler Glacier Bay Info
Size: 3.3 million acres
Location: Southeastern Alaska
Created In: 1925 (national monument), 1980 (national park)
Best For: Boat cruises, flightseeing, whale-watching, kayaking, glacier gazing
When to Go: Summer (43 to 63 degrees) and early fall (29 to 54 degrees) are really the only times that boats and planes can be chartered into the park. The visitor center is usually open late May through early September. Summer is also the best time for whale-watching and other wildlife viewing.
Where to Stay: The park operates one walk-in campground, Bartlett Cove, and permit applications can be found on the park's website. For those visiting from the quaint, artsy town of Haines, the Aspen Suites Hotel is a wonderful home base.
Where to Eat: Though it doesn't serve food—just beverages—I'd be remiss if I didn't mention the Haines Brewing Company. It offers a selection of home-brewed beers Monday through Saturday and is centrally located in town.
Mini Adventure: Take a flightseeing excursion and soar over massive glaciers with Mountain Flying Service. These reasonably priced tours (starting at $200) leave from Haines or Skagway and give visitors a unique perspective by showcasing the incredible expanse from the sky.
Mega Adventure: Take a multi-day tour through inlets, islands, and ice. The park has authorized several companies to provide small, intimate cruises into Glacier Bay and the stunning scenery of Southeast Alaska.
Lead Photo: Emily Pennington