Sponsor Content: TINCUP MOUNTAIN WHISKEY
6 Creative Ways to Enjoy Whiskey While Camping
Refreshing cocktails? Whiskey-marinated steak? Yes, please.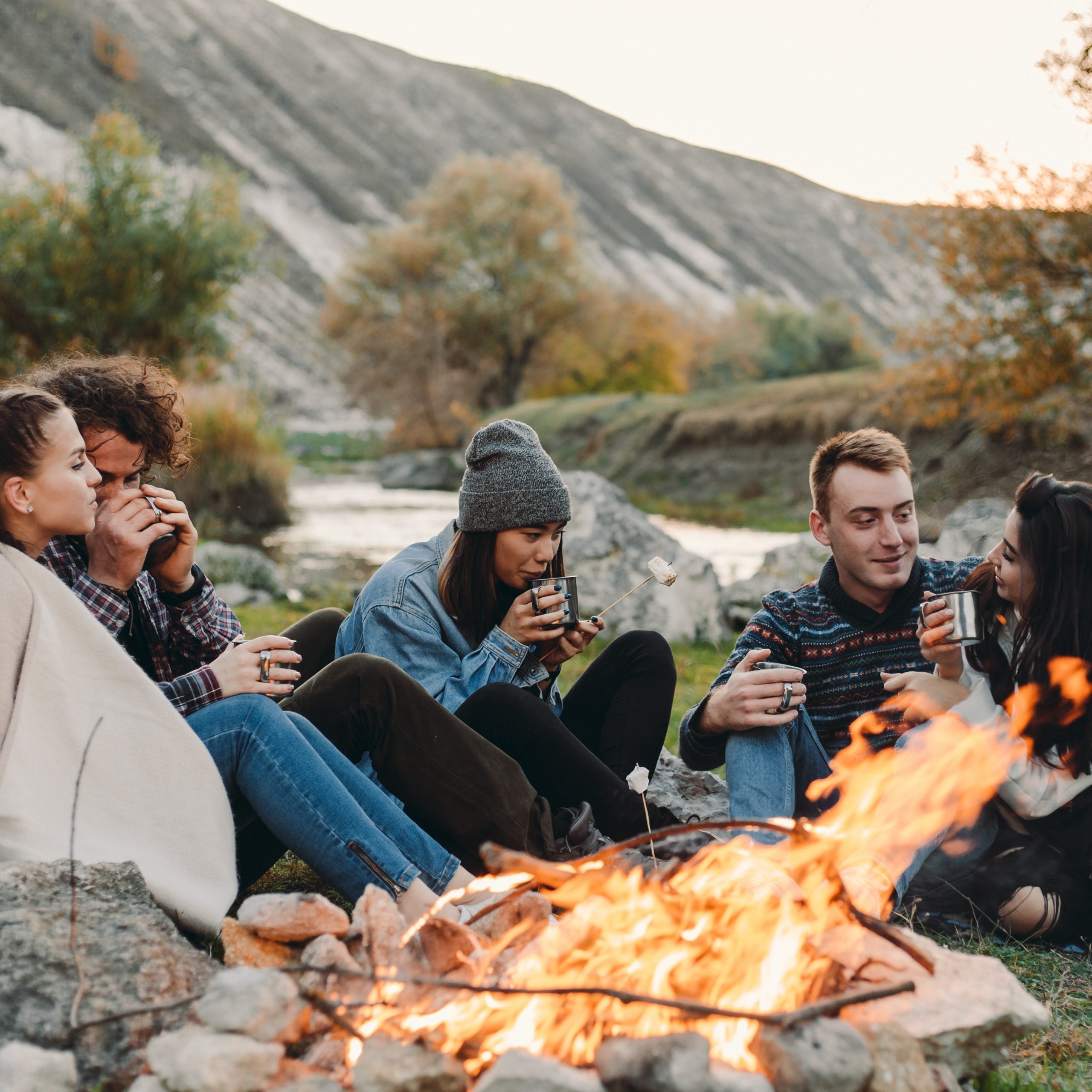 We're constantly on the hunt for new and interesting ways to up our camping game. And since whiskey is the official unofficial spirit of camping, we've tried just about every way to enjoy it around the fire. Here are six creative ways to incorporate whiskey into your next camping adventure, from refreshing cocktails to infusions that elevate camp-food staples.
The Wild Mule
This crisp cocktail is easy enough for beginners and uses local foliage for character.
 
Ingredients
4–8 oz. TINCUP Rye
4 oz. ginger beer
foraged white pine needles
lime wedge
Directions: Pluck a handful of white pine needles (they'll be in bunches of five on the end of the branch) and let them soak overnight in a mason jar with 4 to 8 ounces of TINCUP Rye. The whiskey will pick up a citrus note from the needles, which is perfect for this summer sipper. When you're ready to make the cocktail, strain the whiskey through a metal sieve and pour 2 ounces of the infused pine-needle whiskey in a tall glass over ice. Add the ginger beer, stir, and squeeze in a lime wedge. Add a sprig of white pine for a garnish and drink.
Whiskey Steak
Whiskey helps break down the fibers in meat, working like a tenderizer. You can make the marinade ahead of time and keep it in the cooler—separate from your steaks until it's time to start marinating. Don't forget to pack a cast-iron skillet.
 
Ingredients
⅔ c. TINCUP American Whiskey
½ c. soy sauce
½ c. brown sugar
3 Tbs. Worcestershire sauce
2 Tbs. lemon juice
1 tsp. garlic
 
Directions: Add all of the ingredients into a strong plastic baggie or leakproof Tupperware, stir, and add two steaks. Let it marinate for several hours. After you have hot coals on the campfire, add two tablespoons of butter to a cast-iron skillet and cook the marinated steaks to your desired temperature. Remove the steaks and pour the marinade into the skillet, adding some more butter, and simmer it down until it reduces to a sauce you can pour over the meat when you serve it.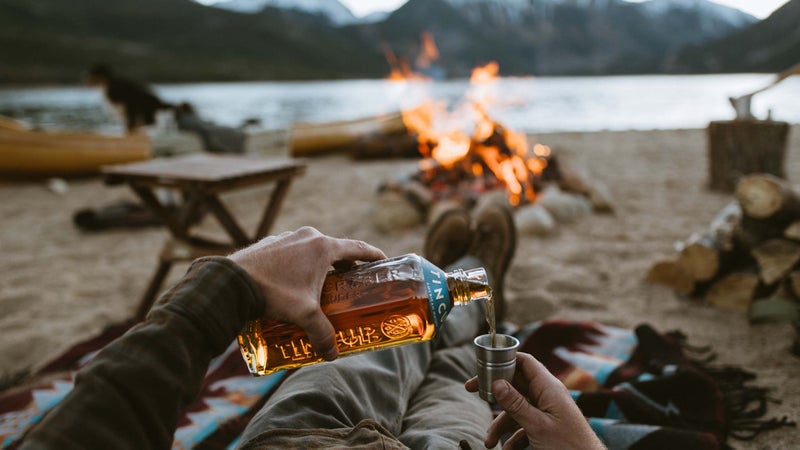 S'more Old-Fashioned
With this campfire-friendly twist on the classic cocktail, you can have your dessert and drink it too.
 
Ingredients
2 oz. TINCUP Rye
¼ oz. crème de cacao
4 dashes Bittermens Xocolatl Mole Bitters
chocolate syrup
½ oz. toasted marshmallow syrup (see below for instructions)
ice
toasted marshmallow garnish
 
Directions for marshmallow syrup: Roast 12 marshmallows over a fire, add them to a saucepan with 1 cup sugar and 1 cup water, and cook, stirring until you get a creamy sauce. Strain through a metal sieve and let it cool.
 
Directions for cocktail: Rim a rocks glass with chocolate syrup. In the glass, combine the marshmallow syrup with the TINCUP Rye, crème de cacao, and mole bitters. Stir, and add a chunk of ice. Serve with a toasted marshmallow garnish wedged on the rim of the glass.
The Better Hot Toddy
The Hot Toddy will warm you up after a cold wet hike or ease you into the evening. There are simple versions that just use hot tea and booze, but this one is far more complex and rewarding. 
Ingredients (makes two drinks)
4 oz. TINCUP American Whiskey
2 c. unfiltered apple juice
¼ c. orange juice
3 cinnamon sticks
mulling spices
orange slices
 
Directions: Combine the juices, the mulling spices, and one of the cinnamon sticks in a pot and heat over a stove, simmering for 10 minutes until the flavors from the spices infuse the juice. Divide the TINCUP between two mugs and pour the hot mixture on top. Garnish with orange slices and the extra cinnamon sticks and drink hot.
Cold Whiskey Flip
A flip is a milkshake-like cocktail that uses a whipped raw egg to create a creamy texture. You can "cook" the egg by stirring the concoction (sans ice) with a piping-hot poker before shaking it up and chilling it with the ice.
 
Ingredients
3 oz. TINCUP American Whiskey
1 whole egg, raw
1 tsp. superfine sugar, simple syrup, or agave syrup
2 tsp. heavy cream
½ c. crushed ice
1 cinnamon stick
dash of nutmeg
 
Directions: Combine all ingredients except spices in a shaker with ice and shake like hell. Strain into a glass and add a few dashes of nutmeg and a cinnamon stick for garnish.
Hot Cocoa with Whiskey Cream
The perfect fireside dessert is an adult take on a childhood classic.
 
Ingredients
Instant cocoa
1 c. whipping cream
1 Tbs. TINCUP 10 Year
2 Tbs. powdered sugar
 
Directions: Add whiskey, whipping cream, and powdered sugar to a mixing bowl and whisk until the mixture thickens. Add instant cocoa powder to a mug with hot water and stir. Then spoon a healthy portion of the whiskey cream on top of the hot cocoa and serve.
---
TINCUP® is a classic American Whiskey – cut to proof with Rocky Mountain water and bottled at elevation 5,251'. TINCUP® is a nod to Tin Cup, CO, an old mining town nestled in the Rockies and named for the tin whiskey cups from which the miners drank. Try the three expressions: American Whiskey, Straight Rye, and 10-Year Aged. Learn more @tincupwhiskey and tincupwhiskey.com
©2021 TINCUP Whiskey, Denver, CO