The Most Dog-Friendly National Parks in the U.S.
From miles of accessible trails to nearby boarding services to dog safety, these are the best (and worst) parks to visit with your best friend
Heading out the door? Read this article on the new Outside+ app available now on iOS devices for members! Download the app.
Ah, the great outdoors. The sun on your face, the wind at your back, and (hopefully) a space to explore with your furry pal. While a walk in the park might seem like the most obvious place in the world to bring a dog, most U.S. national parks have strict rules regarding if and where pets are allowed. Guidelines can vary greatly, so we've compiled a list of each one, ranking them from most to least dog-friendly, to help you plan where to take your next parks adventure with your canine companion.
First, a few universal guidelines: keep your pet on a six-foot (or shorter) leash at all times, always bag and throw away your dog's waste, and never leave an animal unattended in a locked vehicle.
The metrics we used to rank the parks included miles of accessible trails, pet-friendly boarding, nearby kennel services, wildlife safety, travel restrictions, alternative hikes, and viewpoint access.
1. Acadia National Park, Maine
In Acadia, dogs rule. They're allowed on 100 miles of trails and 45 miles of carriage roads, except steep, ladder-heavy trails like Beehive and Precipice and gardens like Sieur de Monts. Also, there's no swimming in lakes (people aren't allowed to either), since they're public water sources. All campgrounds allow pets except Duck Harbor.
2. Shenandoah National Park, Virginia
Shenandoah boasts over 500 miles of hiking trails, only 20 of which are inaccessible to pets. This means the 115.5 miles of the Appalachian Trail that run through the park are fair game for a pooch-friendly thru-hike. Not only that, dogs are allowed in all campgrounds and in pullouts along the famous 105-mile Skyline Drive, an ideal road trip where Fido can feel the wind on his face.
3. Petrified Forest National Park, Arizona
Inside Petrified Forest, pets are allowed on all park trails and roads and in official wilderness areas, but they must always be kept on a six-foot leash and cannot enter buildings. If you're a backpacker, there's no better place to watch the sunset than in the park's northern Painted Desert with man's best friend.
4. New River Gorge National Park and Preserve, West Virginia
At America's newest national park, dogs are allowed on all trails within the park and preserve. Highlights include the 2.4-mile Endless Wall Trail, with fantastic vistas into the gorge, and the 3.2-mile Grandview Rim Trail. Waterfall lovers won't want to miss Sandstone and Brooks Falls. Pets are even allowed at the crag with you (on a leash).
5. White Sands National Park, New Mexico
Unlike most national parks, White Sands allows pets basically anywhere people can go, except inside buildings, which means nine miles of trails and backcountry dune exploration to amble through with your furry friend. Just be mindful of high sand temperatures so your pup's paws don't get scorched.
6. Cuyahoga Valley National Park, Ohio
Leashed pets are welcome on 110 miles of trails at Cuyahoga, including 20 miles of the multi-use Towpath Trail. Just steer clear of the East Rim mountain-bike area, park buildings, and the Scenic Railroad. Meander through historic towns and brilliant fall foliage at this midwestern park.
7. Wrangell–St. Elias National Park and Preserve, Alaska
Sometimes it feels like there are fewer rules up north. At Wrangell–St. Elias, pets can visit the backcountry, trails, and the Kennecott Mines National Historic Landmark area, but they cannot enter visitor centers. That being said, the park recommends keeping your dog leashed at all times, because trapping is common in the national preserve.
8. Mammoth Cave National Park, Kentucky
Though pets are not permitted in the caves or cave buildings, Mammoth Cave Lodge runs a kennel for to house your pup when you go on a cave tour. Plus, the park's Woodland Cottages have pet-friendly rooms, and the campground allows pets. After you've seen the cave, there are over 70 miles of surface-level trails that you and your leashed pooch are free to explore.
9. Congaree National Park, South Carolina
Take Fido along with you all of Congaree's trails, including the famous boardwalk. Pets are also allowed in park campgrounds. And Carolina Outdoor Adventures welomes dogs that fit and stay in kayaks on its guided trips.
10. Hot Springs National Park, Arkansas
Similar to many other more urban national parks, Hot Springs is very dog friendly. Leashed pets can trek all 26 miles of trails, and pet-waste stations are located on both ends of Bathhouse Row, as well as in the campground. Pets cannot go inside park buildings or bathhouses, however.
11. Grand Canyon National Park, Arizona
Pets are allowed on all of the highly visited trails above the Grand Canyon's South Rim, including the 13-plus-mile Rim Trail, which features outstanding panoramas of the rust-colored ravine.
Pets can't ride shuttle buses or go below the rim but are welcome at both Mather and Desert View Campgrounds, as well as at Trailer Village and throughout developed areas. The Yavapai Lodge has pet-friendly rooms. Board your pup at the South Rim Kennel should you want to hike into the canyon. On the North Rim, pets can walk the Bridle Path (greenway) and the portion of the Arizona Trail that runs to the entrance station. No kennel on this side is available.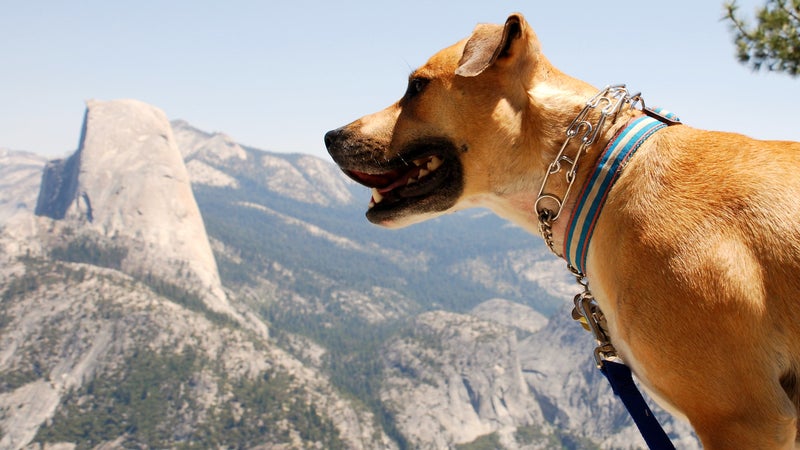 12. Yosemite National Park, California
At Yosemite, dogs are allowed in all developed areas and on paved roads, sidewalks, and bicycle paths, including the 11.5-mile Yosemite Valley Loop Trail, which passes by Yosemite Falls, El Capitan, the Merced River, and Bridalveil Fall. Pets can explore the easy 2.25-mile Wawona Meadow Loop, plus all campgrounds except walk-ins (like Camp 4) and group sites.
Pets are not permitted in buildings, on shuttles, or in lodges, but Yosemite Hospitality runs a kennel service if you want to go off on a dirt trail or backpack overnight.
13. North Cascades National Park, Washington
Dogs can't go on most trails in North Cascades, but the few they can hike are incredible. Pets are welcome along all 18 miles of the Pacific Crest Trail in the park and are allowed in the adjoining Ross Lake and Lake Chelan National Recreation Areas, giving you plenty of room to adventure. Pro tip: pets can walk the few miles of national forest bordering North Cascades Highway, making a few famous. North Cascades trails perfect for an afternoon outing.
14. Olympic National Park, Washington
Dogs are not welcome on most Olympic trails; however, the park has gone to great lengths to list a few that are fine for puppers—and some are pretty stellar. Pets can visit the first half-mile of Rialto Beach and the beaches between the Hoh and Quinault Reservations. The Peabody Creek, Madison Falls, Spruce Railroad, and July Creek Loop Trails are OK for them, too. Campers, rejoice! All park campgrounds, picnic areas, and dirt and paved roads are Fido friendly.
15. Gateway Arch National Park, Missouri
It might not have the allure of some of America's wilder national parks—no Half Dome or craggy peaks here—but Gateway Arch is an impressive sight on its own, and leashed pets are welcome on the park's many paved routes, including the winding 1.6-mile Gateway Arch National Park Trail and the extensive Riverfront Trail. Leashed dogs can even hop aboard the one-hour scenic riverboat cruises. Just don't bring your pet inside the arch itself.
16. Indiana Dunes National Park, Indiana
Indiana Dunes allows leashed dogs to frolic on many beaches and cool down in Lake Michigan. Check the dates before you head out, though: pets can't visit certain beaches from the Friday of Memorial Day to the Monday of Labor Day. That said, they can explore every beach east of the adjacent Indiana Dunes State Park and all trails and beaches within the state park year-round. Dogs are allowed on all national-park trails except Great Marsh, Pinhook Bog, and Glenwood Dunes. We recommend the 0.7-mile Dune Ridge Trail.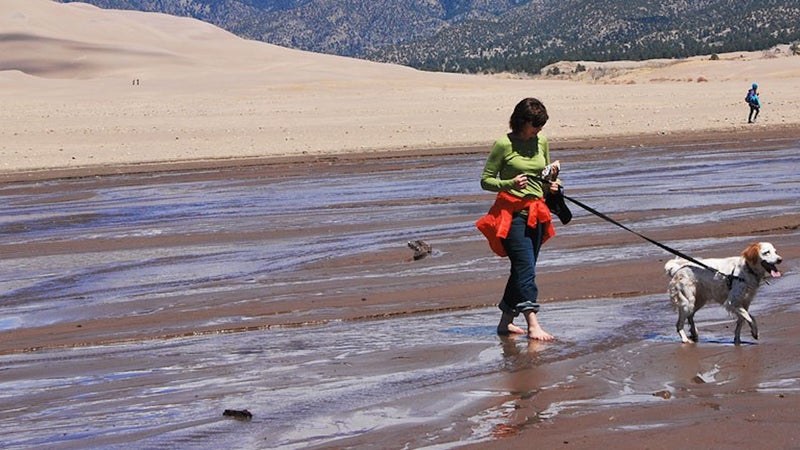 17. Great Sand Dunes National Park and Preserve, Colorado
Dune-loving doggos will adore this Colorado destination, as pets are permitted to play on the massive, sandy hills up to the first high ridge, allowing for miles of off-trail exploration. Afterward they can cool off in Medano Creek. Just pay attention to the temperatures as the afternoon sun swells—sand can get as hot as 150 degrees in the summer. Away from the dunes, pets are welcome on the Dunes Overlook Trail and the Mosca Pass Trail, as well as at the developed campground and all picnic areas.
18. Crater Lake National Park, Oregon
Leashed pets can walk several stunning trails within this national park (though none of them overlook the lake itself). Currently, you can take your pup along on Grayback Drive and on the Godfrey Glen, Lady of the Woods, and Pacific Crest Trails (just not the alternate PCT section, which has a lake view but is not pet friendly). Thirty-three miles of the PCT traverses the park, giving you and your pup ample options for overnight backpacking. If you're looking for those sapphire-hued lake vistas, you'll want to leash up your pooch and take them for a stroll along the park's quarter-mile paved promenade at Rim Village. Leashed pets are allowed in the campground at Mazama Village and within 50 feet of any paved area, so feel free to circumnavigate the lake and enjoy those magical pullouts with your pet.
19. Voyageurs National Park, Minnesota
As one of the few water-based national parks in the system, it may seem counterintuitive to bring your pup along for the ride up to Voyageurs, but dogs are allowed in all front-country campgrounds within the park and on private boats. Ebel's Houseboats is a great dog-friendly option for families to get out and about in the park ($50 per pet, maximum of two).
20. Zion National Park, Utah
Only a few of the country's most visited national parks allow dogs to roam their trails, and at Zion, the one pet-friendly trail is a stunner. Furry companions are welcome on the spectacular 3.4-mile Pa'rus Trail, which borders the Virgin River and has epic views into Zion Canyon. Pets can also share campgrounds and picnic areas, along with all public roads and the grounds of Zion Lodge. Dog boarding is available nearby, should you desire to go on a longer adventure within the park.
21. Bryce Canyon National Park, Utah
At Bryce Canyon, you can bring your pet on all paved roads and pullouts and in the campgrounds, but pets are also allowed (leashed) along the paved shared-use path between the park entrance and Inspiration Point, and on the breathtaking one-mile (round-trip) path between Sunrise and Sunset Points, offering some of the park's best viewpoints of the canyon.
22. Lake Clark National Park and Preserve, Alaska
Lake Clark is very dog friendly, and pets are allowed on all trails—that is, if you can get them there. Just making it out to this remote sanctuary requires a small commercial or privately chartered flight from Anchorage. Be mindful of the risks of bringing a dog into the Alaskan wilds. Wolves, grizzly bears, and moose are all incredibly dangerous to both humans and pets, and dogs should be kept on a leash at all times.
23. Capitol Reef National Park, Utah
In Capitol Reef's central hub, there are a few dog-friendly trails, like the stunning jaunt from the visitor center to the Fruita Campground and along the Fremont River Trail from the campground to Hattie's Field. Pets can also visit unlocked orchards, so your fruit-picking dreams can be fulfilled with Fido in tow. Check the orchard map summer through fall to see what's in season. Pups are allowed in all car campgrounds, including primitive options like Cedar Mesa and Cathedral Valley. And if a long bout of exercise is what you're after, you'll love that pets are allowed along all paved and dirt roads open to public vehicles (which Capitol Reef is full of), both graded and off-road. Take your dog out for a stroll on the rugged end portion of the breathtaking scenic drive or along Notom Bullfrog Road to see the scale of the 100-mile long Waterpocket Fold firsthand.
24. Badlands National Park, South Dakota
Anywhere a car can go, so can pets at Badlands, which means you and your dog can explore the Badlands Loop Road and soak up all the incredible sights of the Wall formation. They are also allowed on dirt byways, like the Old Northeast Road near popular Cedar Pass, a great place to get away from the highway noise. Just steer clear of any prairie dog areas, such as Sage Creek Campground and Roberts Prairie Dog Town.
25. Death Valley National Park, California and Nevada
As in most parks, pets at Death Valley are not allowed on trails or in backcountry areas (yes, this includes boardwalks and paved trails). However, the park itself boasts a wealth of dirt roads with spectacular panoramas of the rugged mountains that are just as fun as singletrack for walking your pooch. The park recommends 20 Mule Team Canyon, Devils Golf Course Road, Cottonwood-Marble Access Road, Mustard Canyon Road, Titus Canyon Road, and the Father Crowley Point spur road, all of which afford extraordinary sights of the things that make Death Valley famous: colorful badlands, rocky canyons, and crumbling geological oddities. At night, snuggle up in any of the park's developed campgrounds with your furry friend.
26. Black Canyon of the Gunnison National Park, Colorado
Wind through striking overlooks of sinister-looking Black Canyon with your dog as your copilot. Pets are welcome on park roads, in campgrounds, and at all pullouts, as well as on a handful of trails, including the Cedar Point Nature Trail, North Rim Chasm View Nature Trail, and Rim Rock Trail. Just check the park website before you go: during the summer (from approximately June 1 to August 15), pets are prohibited on the Rim Rock Trail and in some areas of the South Rim Campground, due to potentially aggressive deer.
27. Great Smoky Mountains National Park, North Carolina and Tennessee
When visiting Great Smoky Mountains, it's helpful to know you can bring pets to campgrounds, picnic areas, and along roads, but not on any dirt trails. One of the best roads for dog walking is the famous Cades Cove Loop Road, which goes car-free on summer Wednesdays. The park is also full of viewpoints along its scenic drives, a fantastic way to take in fall's color show. If you're dying to get out on a trail, pets can walk two that are multi-use: the 1.9-mile (one-way) Gatlinburg Trail and the 1.5-mile (one-way) Oconaluftee River Trail.
28. Denali National Park and Preserve, Alaska
If you're planning to bring your dog to this Alaskan park, know that adventure options here will be limited. Leashed pets can visit Denali Park Road and two trails near the park entrance: the Roadside Trail and the bike path. Pets are also allowed in park campgrounds but may not be left tethered and unattended, due to wildlife concerns. Want to spend a day exploring the park on one of its notable green buses? Dog-boarding options can be found nearby.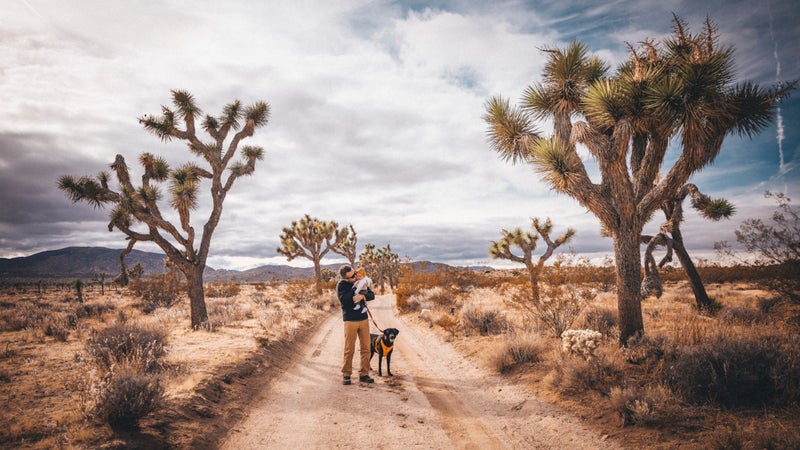 29. Joshua Tree National Park, California
While dogs can't go on park trails or in the backcountry in Joshua Tree, they are permitted within 100 feet of roads, picnic areas, and campgrounds. A few of the park's most iconic crags are located within popular campgrounds, meaning your pup could potentially hang out while you climb if you have a friend or two to help keep them under control. In addition to paved roads, Joshua Tree has several graded dirt roads that are just as good as a singletrack stroll with your dog. We recommend Geology Tour Road, Queen Valley Road, and Desert Queen Mine Road. Nearby communities have boarding options if you want to go for a longer hike during your stay.
30. Theodore Roosevelt National Park, North Dakota
Bring your pup onto roads and sidewalks, as well as to picnic areas and campgrounds at Theodore Roosevelt. Enjoy all 36 miles of the South Unit's Scenic Loop Drive and stop for views and pee breaks. Another great place to roam with your dog is the sidewalk near the Painted Canyon Visitor Center, an ideal place to take in epic sunsets and the painted badlands. From the town of Medora, hikers can wander out of the park and onto the historic (and pet-friendly) Maah Daah Hey Trail. Kennel services are located nearby if you're itching to get out in the park on your own.
31. Wind Cave National Park, South Dakota
Wind Cave is known for its miles of rolling, golden prairie. Dogs are allowed in the grassy areas near the visitor center and on the Prairie Vista and Elk Mountain Campground Trails. Pets can also stay at the campground but may not be left unattended. Boarding options exist in nearby Hot Springs and Rapid City, if you're planning to venture into the cave on a ranger-led tour.
32. Yellowstone National Park, Idaho, Montana, and Wyoming
Yellowstone is tricky for a dog owner. While pets are not allowed on trails, boardwalks, in the backcountry, or in geothermal areas, they can accompany you within 100 feet of roads, campgrounds, picnic spots, and parking areas. Given that Yellowstone is such an expansive, road-trip-friendly park, that means there's still plenty for you to see if you choose to bring your pup. Check out the lovely drive through Lamar Valley, and spot a bison or take in the view at Gibbon Falls. Boarding is also available in many communities outside the park, should you want to go geyser gazing along the park's many trails.
33. Glacier National Park, Montana
Par for the course, pets are not allowed on any trails or in the backcountry at Glacier National Park, but they can accompany you along any of the picturesque paved roads and at pullouts when you park. Glacier's front-country campgrounds and picnic areas are also Fido friendly. Since one of the premier activities at this park is driving the well-known Going-to-the-Sun Road, you can still enjoy much of it with your pup in tow. Just outside the park, boarding opportunities are available if you want to go for a hike or an overnight backpacking trip.
34. Saguaro National Park, Arizona
Due to its highly sensitive ecosystem, only leashed pets are able to accompany you along roadways, in picnic areas (except Mam-A-Gah), and on paved pathways in Saguaro, like the 0.3-mile Desert Ecology Trail and the 0.4-mile Desert Discovery Trail. Pets cannot be left in vehicles or tied up unattended—a precaution that could save them from extreme heat. But there are still plenty of options to see the park's notorious giant saguaro cacti, whether you're driving the West District's Bajada Scenic Loop or the more famous Cactus Forest Scenic Loop in the East District. Saguaro is also a stone's throw from Tucson, where boarding options are plentiful.
35. Redwood National Park, California
Leashed pets are allowed to roam on beaches, in developed campgrounds, in picnic areas, and along roads at Redwood. But if you'd like to walk your dog among old-growth forests, the park recommends Cal Barrel Road and Walker Road, both located in nearby state parks.
36. Great Basin National Park, Nevada
Great Basin has strict pet rules: they're not permitted on trails or in the backcountry, except when leashed on the trail from the town of Baker to the park's visitor center and on the Lexington Arch Trail (where a four-wheel-drive vehicle is required). There are several dirt roads you can exercise your dog on within the park, or simply enjoy the views from the switchbacks of Wheeler Peak Scenic Drive and set up a picnic at the top with your pup.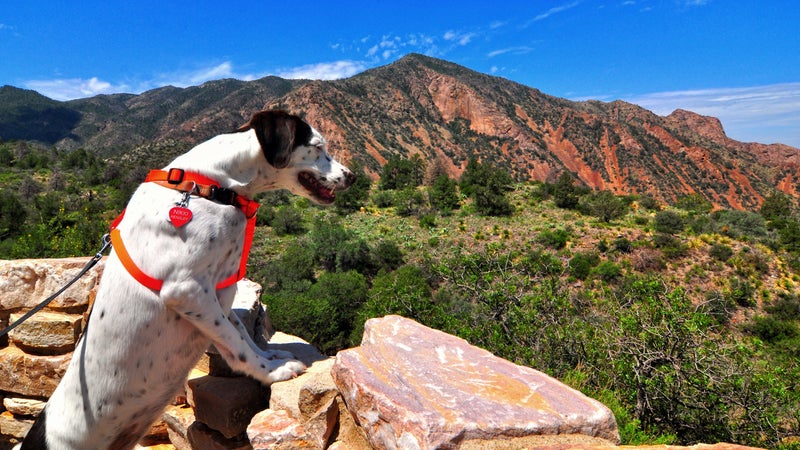 37. Big Bend National Park, Texas
A simple rule of thumb in Big Bend is that your pet can only go where your car can go. You're free to walk your dog along the park's many dirt and paved roads, and they are welcome at car campsites. Dogs can't, however, walk on park trails, head into the backcountry, or join you on the river. Kennel services are available in nearby towns for those taking river trips. If you're dying to hike with your doggo, there are pet-friendly trails in nearby Big Bend State Park.
38. Carlsbad Caverns National Park, New Mexico
Though pets can't come on trails, in the caves, or in the backcountry here, Carlsbad Caverns is still an easy park to visit with a dog in tow, thanks to the concession-run kennel located right next to the cavern entrance. This makes it a breeze to enjoy a one-to-two-hour cave tour and know your pet is safe at ground level.
39. Virgin Islands National Park, Virgin Islands
Surprisingly, leashed pets are welcome on all trails within the Virgin Islands, just not along those dazzling beaches. However, given its remote location, getting your dog to the park can be a hassle. Follow state and local guidelines regarding rabies certificates, and make sure you're allowed to fly with your animal.
40. Guadalupe Mountains National Park, Texas
Like many parks on the back half of this list, you can't walk your dog on park trails or into the backcountry at Guadalupe Mountains, except the three-quarter-mile Pinery Trail and the Pine Springs Campground Connector Trail. That being said, visitors can still take in amazing views of the "top of Texas" and colorful sunsets on the west side of the park. Consider a stroll along the dirt road near Salt Basin Dunes.
41. Grand Teton National Park, Wyoming
At Grand Teton, pet rules are a little hardcore. They aren't permitted on trails, in the backcountry, on multi-use pathways, or along lakeshores. They are, however, allowed to ride inside boats on Jackson Lake. Luckily, there are a wealth of roads with outstanding panoramas of the Tetons that you can drive or walk along with your dog and still get a good sense of the park. We recommend River Road or the road to Lupine Meadows Trailhead for a stroll. You can also bring your dog to all campgrounds, turnouts, and picnic areas.
42. Lassen Volcanic National Park, California
The golden rule at Lassen: dogs can go wherever your car can go, so campgrounds, pullouts, and picnic areas get the green light and are all great places from which to admire Lassen Peak along the park's 30-mile scenic highway. Pets are not permitted on any hiking trail, in the backcountry, or in any body of water. For a more rustic, wooded experience, check out the Butte Lake area.
43. Everglades National Park, Florida
As in many lower-ranked parks on this list, pets in the Everglades are generally only allowed where vehicles drive. Leashed pets are welcome at picnic areas, along roadside stops, and on private boats touring the park. Some airboat tour companies will even let you hold a small dog in a carrying case between your legs, if you want to go on a proper adventure.
44. Rocky Mountain National Park, Colorado
Rocky Mountain is serious about its pet policy. You can't bring your pup on or off-trail or walk them on the sensitive meadow and tundra areas. Leashed pets can wander the roads and parking lots and are welcome at all developed campgrounds and picnic areas. Centrally located Moraine Park is a great area to stretch your legs on a roadside jaunt and admire the view.
45. Gates of the Arctic National Park and Preserve, Alaska
Gates of the Arctic's low standing on this list has less to do with its pet-friendliness and more to do with accessibility and safety. Dogs are allowed all over this 8.4-million-acre expanse in northern Alaska, but visitors must be hypervigilant about wildlife hazards, and unrestrained pets are not permitted to kill wildlife. Lastly, you'll have to find an aircraft that will take you and your pup. Check with your charter before flying.
46. Kobuk Valley National Park, Alaska
Much like Gates of the Arctic, pet restrictions are stricter in this remote wilderness park. But getting you and your dog to the area safely will be tricky. Check with Brooks Range Aviation or call the area's flight services before embarking on your trip.
47. Mount Rainier National Park, Washington
It's a common refrain at this point on the list: dogs are not allowed on park trails or in the backcountry here, but as in most parks, they are allowed in campgrounds, picnic areas, and within 25 feet of paved roads. One exception to this rule is the Pacific Crest Trail, which undulates along the park's eastern boundary. Hikers may walk north or south from Chinook Pass if they'd like to exercise their pupper on trail.
48. Mesa Verde National Park, Colorado
There are a few places where leashed dogs may explore Mesa Verde, primarily on marked trails in the Wetherill Mesa section of the park, which includes the five-mile Long House Loop. In other areas, pets are only allowed along paved roadways, in parking lots, and in the campground. They cannot visit archeological sites. Morefield Kennel is available nearby, should you wish to go on a ranger-lead tour of the ruins.
49. Sequoia National Park, California
Due to wildlife and ecosystem concerns, in Sequoia and Kings Canyon, pets are only welcome along paved roads and in campgrounds, parking lots, and picnic areas. If you'd like to see the massive trees with your pup in tow, check out the Crescent Meadow Picnic Area, or go for a scenic drive along General's Highway.
50. Kings Canyon National Park, California
Given that Kings Canyon is more of a backcountry park, we've nestled it here, right underneath its sister park, Sequoia. The same rules apply. If you're itching to get out on trail, nearby Sequoia National Forest allows leashed pets.
51. Pinnacles National Park, California
Pinnacles follows the car rule, meaning your pet can go anywhere a car goes, which includes paved roads, picnic areas, parking lots, and the campgrounds. The park's namesake pinnacles are best viewed when entering from the west side, so keep that in mind as there is no through road at this park.
52. Biscayne National Park, Florida
Although Biscayne is primarily a water-based park, what land there is is surprisingly animal friendly. Furry friends are welcome on the grounds surrounding the visitor center, where you'll find mangroves and vistas of several small keys. Pets are also allowed to camp and hike around with you on the developed areas of Elliott Key as long as they are leashed.
53. Katmai National Park and Preserve, Alaska
Bring your dog to all areas of this national park and preserve with one exception: pets may not come to Brooks Camp or within five miles of Brooks Camp, due to high visitation. Those planning backcountry trips into the park are more than welcome to bring well-behaved dogs with them but will likely need to charter their own flights.
54. Hawaii Volcanoes National Park, Hawaii
If you can work within the state's strict pet policies, Hawaii Volcanoes is a great spot to road-trip with your pup as your copilot. All paved roads, pullouts, and parking areas are dog friendly, so you can explore Crater Rim Drive and most of Chain of Craters Road relatively unhindered. Pets can also hike up Mauna Loa Road and hang out in Namakanipaio Campground.
55.

 

Haleakala National Park

 

, Hawaii
At Haleakala, dogs are not permitted on trails, but you can bring them to paved parking lots and drive-up campgrounds and walk them along paved pathways. This means that you and Fluffy can enjoy some seriously sweeping crater views at the Kalahaku Overlook and take in that famous sunrise glow from the volcano's summit.
56. Arches National Park, Utah 
The pet policy at Arches is strict. Leashed pets are allowed on all park roads (both paved and unpaved), at picnic areas, and in the Devils Garden Campground, but that's it. No pets are permitted on trails or at any overlooks. Boarding is available in nearby Moab if you're interested in taking a trail adventure.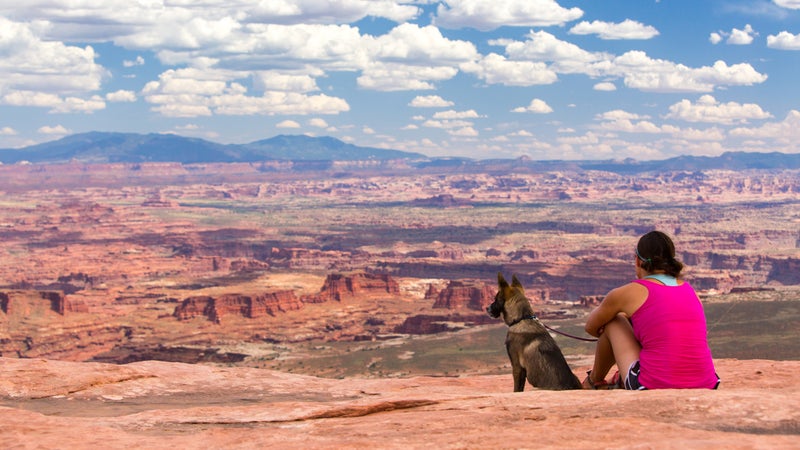 57. Canyonlands National Park, Utah
Similar to Arches, the pet policy at Canyonlands is quite stringent. Leashed dogs are welcome in both the Willow Flat and Squaw Flat Campgrounds, as well as on paved scenic drives and in parking lots. Pets are not allowed (not even in your vehicle) on any backcountry roads, trails, or on the river. People looking to exercise their dogs may do so on Potash and Shafer Canyon Roads between Moab and Island in the Sky. Boarding is available in Moab, should you want to go on a bigger adventure in the park.
58. Kenai Fjords National Park, Alaska
In this southern Alaska park, you're unable to bring Fido on any park trails, but you may walk the road to Exit Glacier and around the Nature Center parking lot. Pets can frolic in the park's backcountry, but not on the coast from the mean high-tide line to a quarter-mile inland.
59. Dry Tortugas National Park, Florida
If you've got a private charter or a permitted tour guide who'll bring them, your pets are welcome to camp and hang out with you on Garden Key. However, they may not enter Fort Jefferson. Be aware that neither the commercial ferry nor seaplane will take your pet to the island, so plan accordingly.
60. Glacier Bay National Park and Preserve, Alaska
Glacier Bay is not a pet-friendly park. Leashed pets are only allowed within 100 feet of the developed areas of Bartlett Cove and on the public-use dock. They may also stroll the beach between the Bartlett Cove Public Use Dock and the National Park Service Administrative Dock or sit aboard a private vessel in the water and watch those icy blue glaciers pass by.
61. National Park of American Samoa, American Samoa
If you wish to bring your dog to this park, they essentially have to stay inside your vehicle, except for quick pee breaks on roadsides. At the National Park of American Samoa, pets must stay out of public buildings and off of swimming beaches and trails.
62. + 63. (tie) Isle Royale National Park, Michigan, and Channel Islands National Park, California
Both of these island-based parks do not allow pets of any kind, including aboard vessels in the water near the islands themselves. However, if you complete the necessary paperwork, service dogs can come into both parks. Check the parks' websites for details.