Desert X Is the Artsiest Drive in the U.S.
An outdoor art exhibition in California's Coachella Valley tackles subjects like Indigenous land rights, migration, and embodied memory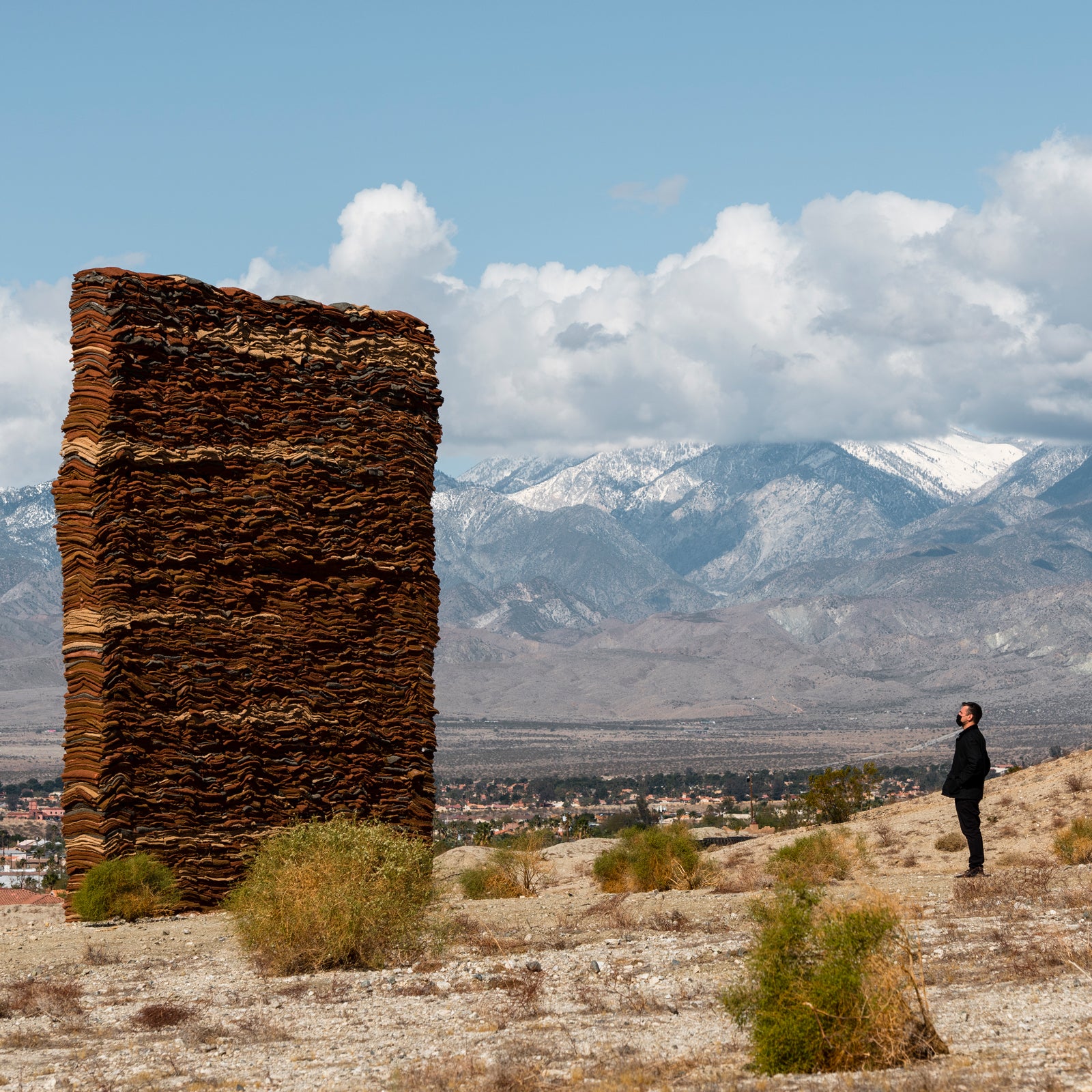 Heading out the door? Read this article on the new Outside+ app available now on iOS devices for members! Download the app.
Every other spring, curious sights pop up throughout the arid landscape of Southern California's Coachella Valley, and we are not going to turn this into a joke about flower crowns. Envision something more like a glowing red structure or a house made of mirrors. They're all part of Desert X, an event that started in 2017 as a series of art installations around Palm Springs, each meant to thoughtfully interact with its desert location. Artist Jennifer Bolande, for instance, created a series of billboards depicting the mountains behind them; the image and the mountains themselves would perfectly align at one point as viewers drove by. Desert X is a biennial event, and little did its organizers know that the year of its third iteration, 2021, would be the most perfect year for outdoor art exhibitions. This spring's projects touch on a range of themes, including migration, desert life, and Indigenous land rights. Those who are lucky enough to live nearby can drive around the exhibits for free through May 16, though tickets must be reserved for certain exhibits every Thursday through Sunday for social-distancing purposes. For everyone else, here are some highlights of the artsiest drive in the U.S. right now.
'ParaPivot (Sempiternal Clouds),' by Alicja Kwade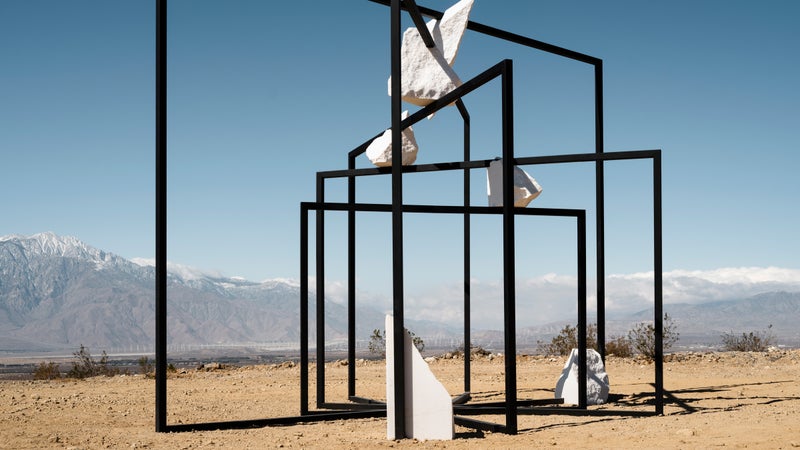 Polish artist Alicja Kwade's work stands at the top of a hill, where a winding path leads to a sculpture of multiple square metal frames supporting white marble chunks (intended to evoke bits of glaciers). The walk up to the exhibit is intentionally part of the viewing experience: the sculpture appears to move, and almost wobble, with every turn. The overall effect is a commentary on a principle of physics that says observing something can change it—each person looking at the piece is experiencing an entirely different sculpture. Kwade often plays with illusions of movement and questions of reality in her work. Feel free to ponder the physics of it all while taking in the surrounding grassy hills.
'What Lies Behind the Walls,' by Zahrah Alghamdi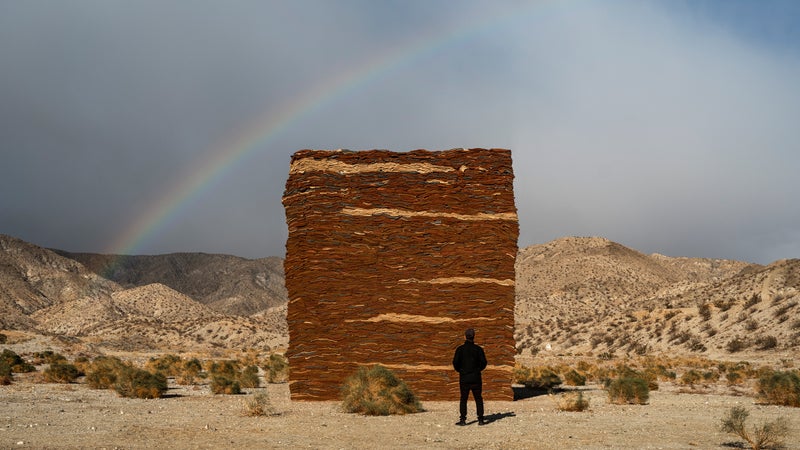 Zahrah Alghamdi's work is a natural fit for an outdoor art show: she usually uses organic materials like clay, rocks, leather, and water to explore her interests in memory, landscape, and architecture. For Desert X, she constructed a massive, squishy-looking wall of stacked squares, each filled with various cements, soils, and dyes. There is, yes, the obvious commentary on building walls (and why it's bad), but the bigger idea Alghamdi tackles here, and in most of her work, is embodied memory. History is situated in the wall itself; each layer contains natural substances actually found in the surrounding area. Alghamdi, who hails from Saudi Arabia, draws comparisons between the desert landscapes of her home and that of Palm Springs, and says that the wall's stratified composition represents deserts all over the world that are changing due to development.
'Never Forget,' by Nicholas Galanin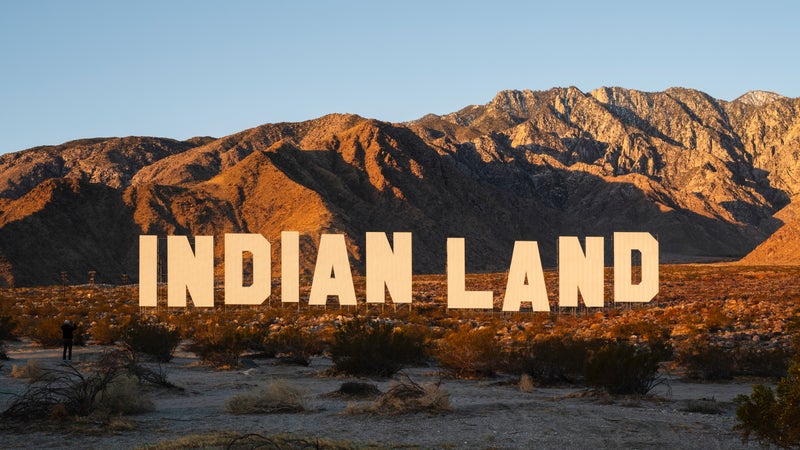 The original Hollywood sign actually read "Hollywoodland" and was a real estate advertisement for whites-only housing. The Tlingit and Unangax̂ artist Nicholas Galanin, who's from Sitka, Alaska, pokes at the mythology of the land surrounding his piece with a sign in the same block style that reads "INDIAN LAND." (Specifically, all Desert X sites are on the ancestral lands of the Cahuilla.) It's no accident that the piece is Instagram friendly. Galanin hopes it gains attention on social media and encourages people to learn about the LandBack movement, which aims to return Native American land to Native American ownership. "This work is trying to invite everyone to understand these histories and participate," he says. He also invites donations to a fund that helps Indigenous communities acquire legal titles to their homelands.
'The Passenger,' by Eduardo Sarabia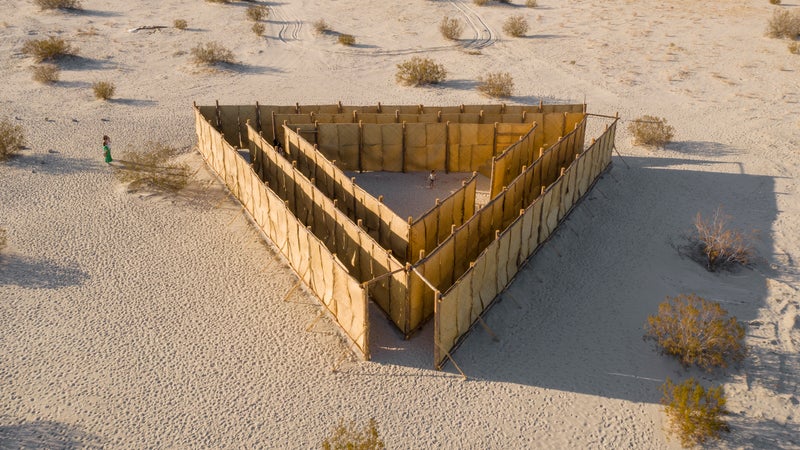 From above, this triangular maze looks sharp and sleek; on the ground, it surrounds visitors who wander inside it with walls of woven palm-fiber rugs called petates. Sarabia is from Los Angeles and works in Guadalajara, Mexico, and his work focuses on the lives of migrants and the identity of having two homelands. He chose petate because it's often used in travel items; he sees the experience of The Passenger as a representation of the journey trope, specifically for immigrants. Visitors eventually find their way to the open center of the triangle, and when they do, Sarabia says, "I'm hoping they're willing to contemplate their situation and have a little bit of perspective on somebody else's situation. You're imagining all the possibilities before you see the light at the end of the tunnel."
Lead Photo: Lance Gerber