63 Parks Traveler
Kayaking with Giants in Kenai Fjords National Park
Plan a trip to this Alaskan treasure to explore vast glaciers and to see huge whales and a diverse array of other fauna, says our 62 Parks columnist about the 35th stop on her quest to see every U.S. national park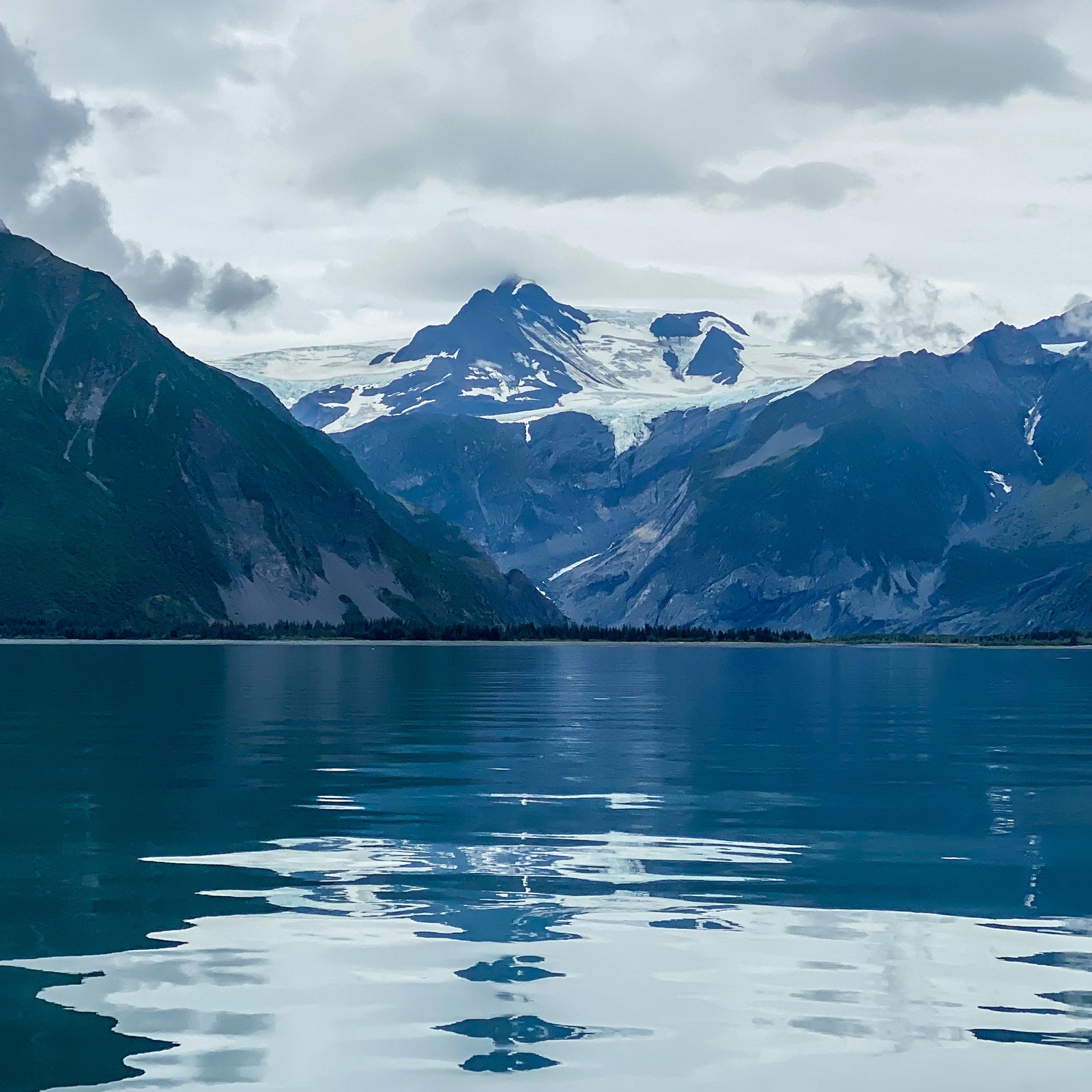 Emily Pennington(Photo)
Heading out the door? Read this article on the new Outside+ app available now on iOS devices for members! Download the app.
62 Parks Traveler started with a simple goal: to visit every U.S. national park. Avid backpacker and public-lands nerd Emily Pennington saved up, built out a tiny van to travel and live in, and hit the road, practicing COVID-19 best safety protocols along the way. The parks as we know them are rapidly changing, and she wanted to see them before it's too late.
---
"It's called Kenai Fjords National Park, but it could just as easily be called Harding Icefield National Park," said my guide, Emily Burke, as we gazed out over the jagged, frozen expanse, a wall of clouds creeping slowly into the basin. "The glaciers pull minerals from these mountains, which melt into the ocean, which in turn provide nutrient-rich waters for humpback whales and krill, their main source of food."
When I first arrived in Alaska, I knew little about the complex ecosystems that allowed for such a massive and diverse array of wildlife. The state is famous for its whales, seabirds, and brown bears, sure, but their existence always seemed pretty happenstance to me, and easy to take for granted. Staring down at rows upon rows of serrated crevasses that looked like giant blue teeth, it was hard to imagine the landscape as anything other than a barren wasteland of ice and rock.
Still, my surroundings were vibrant and in constant motion, whether or not I could see it with my naked eyes. This was made clear the morning I drove into the Exit Glacier area of Kenai Fjords, a park that sits a mere 2.5 hours south of Anchorage. I passed a series of signs with dates on them, each one marking points where the glacier had extended to over the years. As I neared the visitor center, the signs became more frequent until I arrived at a former overlook, built in the 1980s, that is now surrounded by dense forest. Since then the glacier has already receded another third of a mile. "When people talk about climate change and glaciers melting, this is why it's so important," Burke continued. "We don't know how badly fish and mammal populations will be affected if they disappear."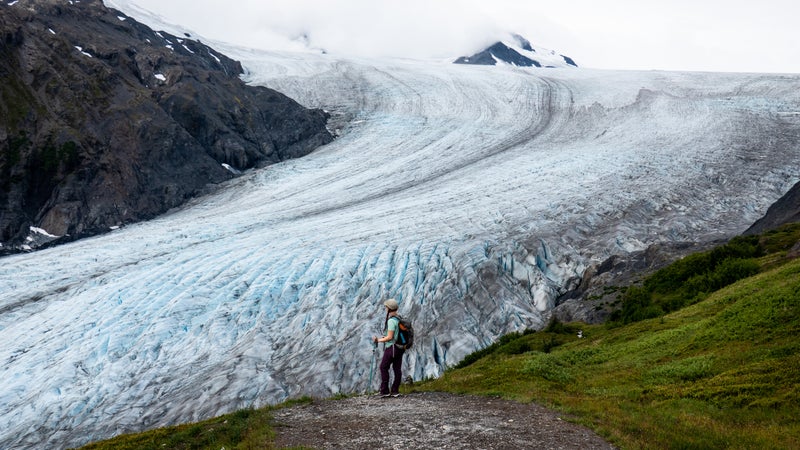 I took that knowledge with me the next day on a kayaking tour out to Aialik, the park's most active and rapidly calving tidewater glacier. The wildlife was astounding. On the two-hour boat-taxi ride alone, my group caught glimpses of sea otters, bald eagles, Steller sea lions, Dall's porpoises, a humpback whale, and too many nesting seabirds to count.
"This is the birthplace of kayaking," our guide, Sid Smullen, said in a reverent tone. "People have been hunting and fishing in these waters for thousands of years. The word kayak comes from an Aleutian Indian word qayak." His speech gave a new sense of mystical importance to exploring these waterways in what might have otherwise seemed like ordinary red plastic boats.
We paddled for three miles, the behemoth glacier sitting impossibly huge on the horizon as we grew closer. Suddenly, an enormous crashing sound split reality in two. I spun my head around frantically, trying to see if I could catch the tail end of the ice splashing into the ocean. No dice. Soon my group would become accustomed to this "white thunder," a term for the earth-shattering roar of building-size hunks of ice as they careen away from the glacier's cliffs.
Somehow, even floating half a mile away, I found myself straining my neck and squinting my eyes to take in the skyscraper-high, blinding white mass of the thing. To my right, I could hear bits of ice cascading down into the turquoise water until, finally, a massive 300-foot-tall column broke away from the glacier and smashed down onto the water with a deafening thud that echoed across the mountains for many seconds.
"That was one of the best calving events I've ever seen!" yelled our guide, as the entire group whooped and hollered. We caravanned back to our water taxi, paddling delicately between ice chunks and translucent moon jellies as we passed the nest of a watchful bald eagle.
My heart felt stirred and shaken up, as if massaged by some great, unknowable force. That this dynamic landscape could at once be so powerful and so fragile left me wondering what other natural travesties might occur if we fail to slow our planet's warming.
I left ready to fight for it.
62 Parks Traveler Kenai Fjords Info
Size: 669,983 acres
Location: Southern Alaska
Created In: 1978 (national monument), 1980 (national park)
Best For: Kayaking, whale-watching, hiking, boating, wildlife sightings
When to Go: Summer (46 to 62 degrees) is when Kenai shines, with wildlife on full display. Fall (27 to 56 degrees) is less busy, and tours begin to shut down. Best avoided during the long winters.
Mini Adventure: Hike to the Harding Icefield. The Seward Wilderness Collective offers excellent guided day trips out of Exit Glacier that will leave you with heaps of newfound knowledge about the area's history, flora, and fauna.
Mega Adventure: Go kayaking. Kayak Adventures Worldwide, run locally in Seward, has fantastic guides and a wealth of trips, ranging from half-day to multi-day overnight adventures to explore the park's famous fjords and rivers of ice.
Lead Photo: Emily Pennington
Trending on Outside Online