The 15 Best Winter Island Escapes
Start planning where to warm up this winter. We've made it easy with these 15 adventure-packed, off-radar island hideaways.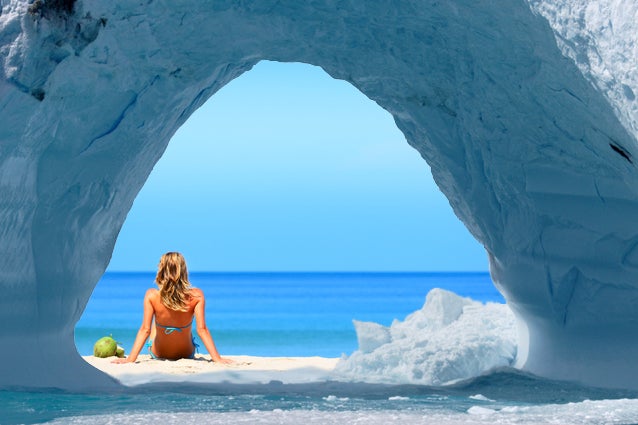 Heading out the door? Read this article on the new Outside+ app available now on iOS devices for members! Download the app.
Winter is on the way. While that may be good news for skiers, it means the beginning of months of confinement for beach bums. Fortunately, for the colder-blooded among us, warmer weather is just a plane ride away. So as the cold sets in, get ready to head south with the birds to these winter island escapes. There's something here for every snorkling enthusiast, casual fisherman, and super surfer.
Winter Island Escapes: Tobago Cays, The Grenadines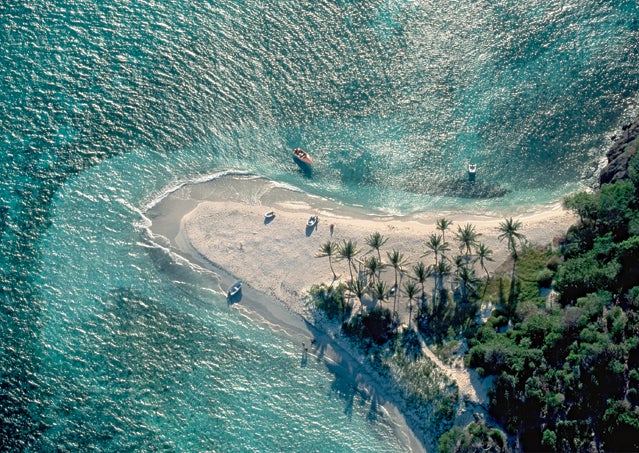 POPULATION: 0
SIZE: 25 square miles (five islands)
TAGS: Uninhabited, hawksbill turtles, Mr. Fabulous
There may be no better place than the Tobago Cays for pinballing among a cluster of Caribbean islands on a sailboat. Grab some friends and book a crewed yacht for a five-day cruise ($12,000 all-inclusive for six people). You'll anchor in deserted coves, like tiny Petit Tabac's, and wake up to the voices of locals from nearby islands surrounding your vessel, selling just-caught fish and freshly baked bread from brightly colored runabouts. Ask for Tuffer, who has the tastiest lobsters, or Mr. Fabulous, who will prepare a seafood beach barbecue for you. Be sure to have the boat stocked with windsurfing or kitesurfing gear—unimpeded trade winds rip outside the mooring zone around Baradal Island. And don't miss the dozens of green and hawksbill turtles gliding through the shallows near the sand-spit beach jutting off Baradal; they'll let you swim within feet of them. Prefer to stay on land? Dennis's Hideaway ($85), a modest guest house three miles away on Mayreau Island, arranges day trips to the cays and supplies dive and snorkel gear.
ACCESS: Fly to Grenada and charter a boat to the Cays, or arrange for transportation with Dennis' Hideaway.
Winter Island Escapes: Cabbage Key, Florida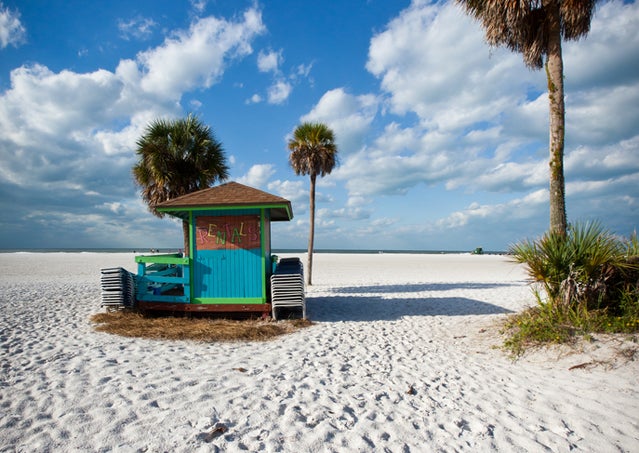 POPULATION: 25
SIZE: 100 acres
TAGS: Primitive barrier island, no roads, big tarpon
Turns out you don't have to fly halfway around the world to disappear. In the early 1930s, the family of mystery novelist Mary Roberts Rinehart built a sprawling home on a 28-foot shell mound amassed by the Calusa Indians on an island off Florida's west coast. Not much has changed on Cabbage Key since. In 1976, the Rinehart home was turned into the Cabbage Key Inn, the only lodging on the island (from $119). The front porch looks out onto Pine Island Sound; there are no roads, cars, or even room keys here. But there's plenty of action offshore, starting with America's best big-tarpon waters. Local captain Tommy Locke will put you onto 200-pound fish ($700 per day). Or borrow one of the inn's 12-foot tandem sea kayaks and paddle 20 minutes over to Cayo Costa, a pristine six-mile barrier island. Afterward, indulge in Cabbage Key's peel-and-eat Gulf shrimp and a Cabbage Creeper (a piña colada-like concoction with coffee liqueur), and toast one of the few places left in Florida where doing nothing is totally acceptable.
ACCESS: Fly to Fort Myers, taxi 20 miles north to Pine Island, and catch a 20-minute water taxi ($32) to Cabbage Key.
Winter Island Escapes: Isla Bastimentos, Panama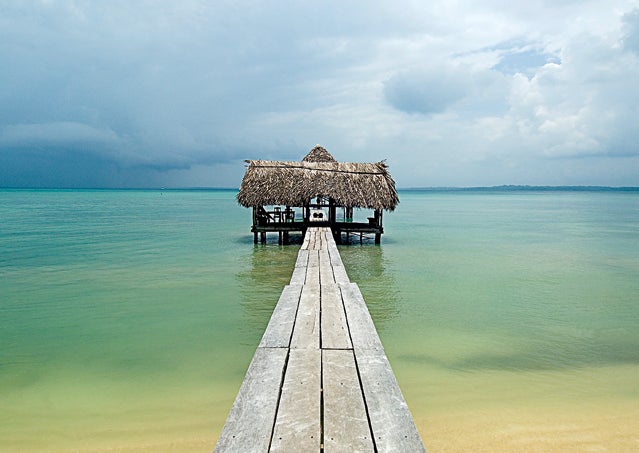 POPULATION: 200
SIZE: 20 square miles
TAGS: Mangrove tunnel, open-air bungalows, empty surf breaks
Unlike the nearby party town of Bocas, hardly anybody knows about Isla Bastimentos. A water taxi will drop you in Old Bank, where most of the island's residents live. Head straight to Al Natural, an eco-lodge on the western tip with seven seaside open-air bungalows (doubles from $310 all-inclusive). Spend your days hiking nearby jungle footpaths to the long swaths of beach at Wizard and Red Frog's, or grab one of the resort's kayaks and paddle 30 minutes through a mangrove tunnel to the village at Salt Creek. For ridiculously good snorkeling—74 of the Caribbean's 79 coral types occur in the Bocas archipelago—have the resort book a boat to the fish-riddled Zapatilla Cayes. Experienced surfers: head to Silverbacks, a reef break with one of the heaviest waves in the Caribbean. For mellower rides and excellent instruction, ask the resort where to find local Javier Lijo (half-day, $170).
ACCESS: Fly to Panama City, taxi over to Albrook airport, and fly Air Panama to Bocas Town on Isla Colón. Then catch a water taxi ($3 to $5) at the Bocas Marina for the 15-minute ride over to Bastimentos.
Winter Island Escapes: La Graciosa, Canary Islands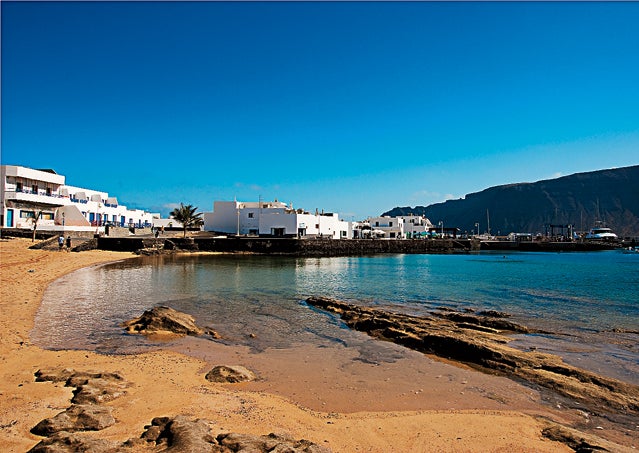 POPULATION: 600
SIZE: Ten square miles
TAGS: Wild beaches, volcanic peaks
There are few cars or roads this far out in the Atlantic. Locals still haul most goods by wheelbarrow. And not only are there no Club Med-scale resorts, but there are no hotels whatsoever. In other words, it's our kind of place. Rent an apartment (from $43) or stay at a small pension (from $43) in the island's hub of Caleta del Sebo, a simple cluster of whitewashed stucco buildings. On land: hike the island's four volcanic peaks for God's-eye views of the surrounding seascape and the feral Playa las Conchas and Playa Francesca. To get on the water: ferry over to Lanzarote and head to charter-boat company Rubicon Fishing; its guides will take you to the best spots to catch-and-release the area's abundant marlin (from $600 for a half-day). The staff at Manta Diving has all the knowledge and equipment you need to encounter bluefin tuna, hammerhead sharks, and dolphins at El Canal, the junction of the Atlantic Ocean and Mediterranean Sea (one-tank dive, $48). Ferry back to La Graciosa and join locals at Meson de la Tierra or El Marinero for grilled shellfish and a glass of local white wine made from grapes grown in the volcanic picón soil.
ACCESS: Take a two-hour direct flight from Madrid (Iberia Airlines) or a four-hour one from London (British Airways or Air Europa) to the neighboring island of Lanzarote. Go to the Orzola main pier, and hop a 35-minute ferry ($18) to La Graciosa.
Winter Island Escapes: Anegada, British Virgin Islands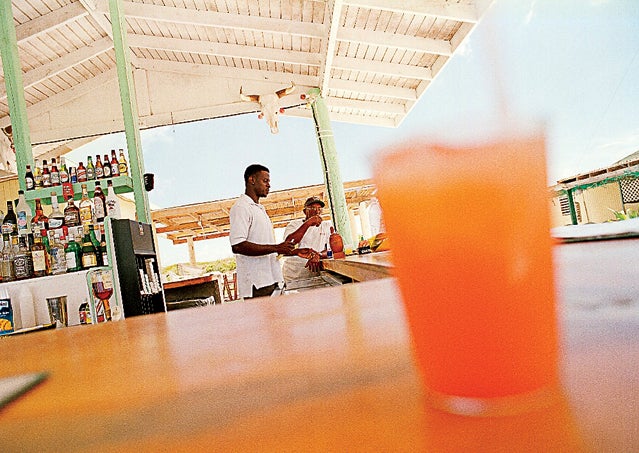 POPULATION: 200
SIZE: Nine miles long
TAGS: Empty Caribbean, adventure packed
Once you embark on the ferry from Tortola, say goodbye to party bars and yachtie swagger and hello to empty beaches, abundant snorkeling and diving, and some of the best bonefishing in the Caribbean. Anegada is scalloped by 16 miles of perfect white sand and one of the Caribbean's largest, most intact coral reefs: the 18-mile Horseshoe Reef. We Be Divin' (one-tank dive, $85), which operates out of the laid-back Anegada Reef Hotel (from $175), rents gear and offers certification courses. To snorkel, ask the hotel staff to point you toward one of many isolated coves and explore the reef's maze of winding channels among octopuses, reef fish, barracudas, and jacks. Horseshoe Reef also creates acres of sand flats where bonefish swarm—schools can be 100 strong—all year long. Bring your nine-weight rod and hire one of two crack local guides: Danny Vanterpool ($550 per day) or Garfield Faulkner Jr. ($600 per day). If you strike out, a Painkiller at the Cow Wreck Beach Bar should dull the humiliation.
ACCESS: Fly to Tortola and take the hour-long ferry to Anegada ($50).
Winter Island Escapes: Siladen, Indonesia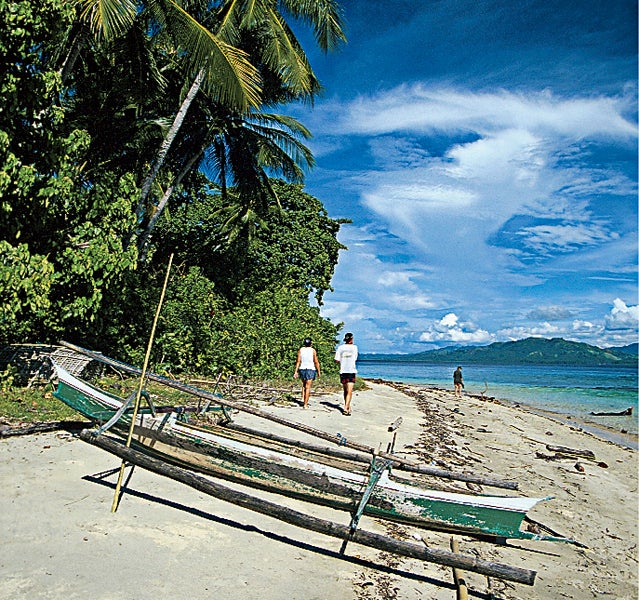 POPULATION: 300
SIZE: 80 acres
TAGS: Empty Indo, resident dugong, night snorkeling
Indonesia's more than 17,000 islands range from overpopulated (Java) to overvisited (Bali) to overhyped (Sumba). But tiny Siladen is a largely ignored corner of the archipelago and a gateway to one of the world's great underwater wonders—the 305-square-mile Bunaken Marine Park. The island has three guest houses, a small village, a school, and the Siladen Resort (from $217), which is the perfect base camp from which to explore. From its serene beachfront villas, it's an easy swim out to snorkel the marine park's clear water—with 100 yards of visibility—and its intact reefs. Seventy percent of the fish species in the Indo-Pacific are found in Bunaken, in addition to five species of sea turtles and a resident herd of dugongs. Tuna, wahoos, and sharks charge up from the 3,000-foot depths. The resort has the best dive shop in the area; be sure to take its spooky guided night snorkel to see nocturnal marine species like bamboo sharks and pygmy sea horses.
ACCESS: Fly 3.5 hours from Singapore on SilkAir to Manado and arrange for a water taxi through your Siladen accommodations.
Winter Island Escapes: Rangiroa Atoll, French Polynesia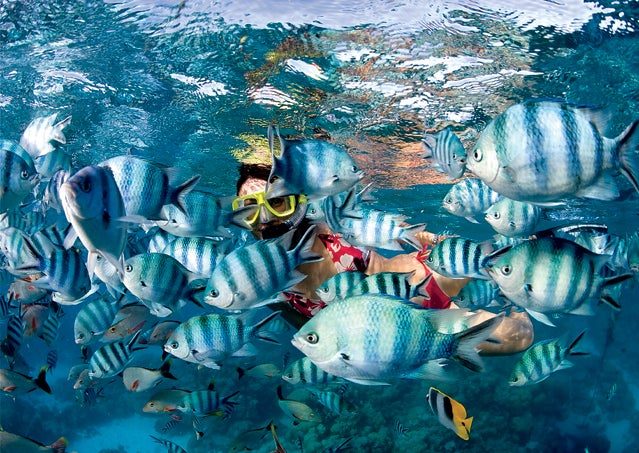 POPULATION: 3,300
SIZE: A ring of coral never more than a mile wide and often only several yards across
TAGS: Ten-pound bonefish, unreal diving, fresh Pacific mahi-mahi
Make the trip to Rangiroa to be submerged—very few of the island's activities occur on land. Its 50-mile-long-by-20-mile-wide lagoon has accumulated a massive shelf of finely ground coral sand in the remote southeastern tip, creating miles of pink-tinged sand flats. Here six-to-10-pound bonefish cruise solo or in small groups, easily visible against the sandy bottom, and many of them have never been cast to. To find them, acquaint yourself with the expert local guides hired by Tahiti Expeditions (day trips, $460). Almost anywhere you plunge into Rangi's water, you'll find world-class snorkeling and diving conditions. Go with Top Dive, whose staff has been exploring these depths for years (one-tank dive, $88). You'll be surrounded by blacktip reef sharks, sometimes hundreds in a day, and they're completely uninterested in you. Or snorkel the narrow Tupita Pass between the lagoon and the Pacific Ocean during an incoming tide, drifting along in a seven-knot current with a mind-blowing array of marine life. Stay at the swanky, refurbished Hotel Kia Ora resort (from $625) or the simple water-front Tevahine Dream guesthouse (from $125) near the sleepy village of Avatoru. Dinner is fresh mahi-mahi with vanilla sauce at Le Magic Kaikai.
ACCESS: Take a 90-minute Air Tahiti flight from Papeete.
Winter Island Escapes: Ikaria, Greece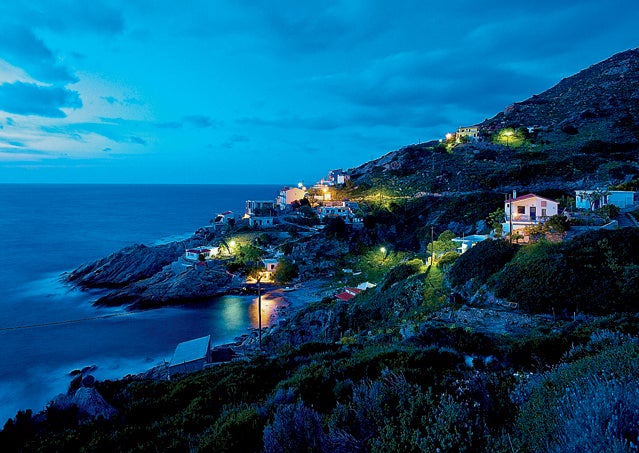 POPULATION: 8,000
SIZE: 99 square miles
TAGS: Aegean Sea, local red wine, dedicated napping
One in three natives on Ikaria reaches the age of 90, and for good reason. There may be no healthier or more relaxing olive-and-wine-fueled place in the Mediterranean. Base out of the quiet coastal village of Armenistis, staying at the seaside Toxotis Villas (from $111), a short stroll from Livadia, one of Greece's most stunning sandy beaches. Spend your days sampling that life-extending vibe: eating stuffed grape leaves and fresh-caught red mullet, sea bream, and octopus at local tavernas, drinking a daily dose of stout local dark red wine and antioxidant-rich teas made from wild greens, swimming in the Aegean, hiking the island's steep paths, and resting—a lot. On Ikaria, the locals sleep late and nap every afternoon. The nearby Round of Rahes footpaths are perfect for day hikes, winding through pine and oak forests to ancient mountain villages, where you'll find some of those nonagenarians playing dominoes in the town square.
ACCESS: Catch a 35-minute Olympic Air flight from Athens.
Winter Island Escapes: Tasmania, Australia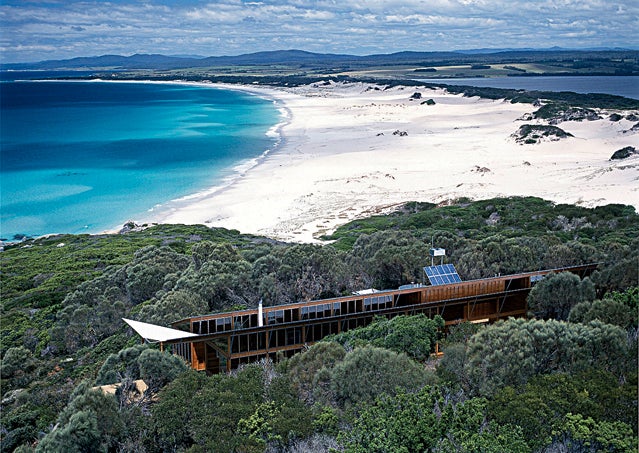 POPULATION: 500,000
SIZE: 26,410 square miles (about the size of West Virginia)
TAGS: Untamed beaches, rugged wilderness, rock climbing
Tasmania is often overlooked by Americans, since there's so much to do on mainland Australia. But the place is basically a mini New Zealand, complete with crack climbing, empty Tasman Sea beaches, large wilderness tracts, and a crazy amount of wildlife. The way to do Tassie right is on a two-week road trip. Arrive in the harbor city of Hobart on a Friday and rent a car at the airport (from $45 a day). The next morning, pick up a couple days' worth of fresh meat, cheese, and wine at Saturday's Salamanca Place outdoor market, then drive two hours northeast to Freycinet Eco-Retreat ($360), a series of modern wood cabins where you'll cook your own meals. Climb the nearby sea cliffs in Freycinet National Park or hike the dragon-back rock formations of the Freycinet peninsula before hitting the crisp water at the Coles Bay beach. (Be sure to ask locals about any recent shark sightings first.) From Freycinet, drive 90 minutes north to a 16-mile swath of beach at the Bay of Fires, check into the cozy Bay of Fires Character Cottages B&B (from $180), and spend a day or two trekking the coastal forest to see Bennett's wallabies, wombats, and Tasmanian pademelons. Then lounge on the bay's stunning secluded beach. In nearby St. Helens, don't miss the fresh Tassie oysters at the Blue Shed. Next up, drive four and a half hours west to the lodge at Cradle Mountain–Lake St. Clair National Park (from $400), where Tasmanian devils scurry through a mountain wilderness of King Bill pines.
ACCESS: Take a two-hour flight from Sydney or a 75-minute flight from Melbourne (Jetstar, Virgin Blue, Qantas) to Hobart.
Winter Island Escapes: Caye Caulker, Belize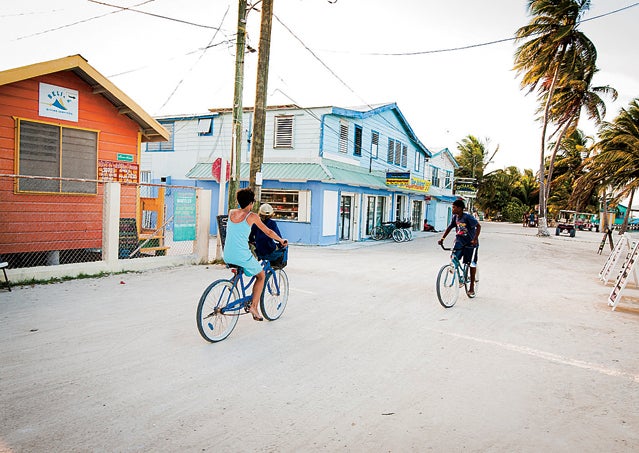 POPULATION: 1,300
SIZE: Five square miles
TAGS: Manta rays, reggae bars, permit fishing
"Go Slow" is Caye Caulker's official motto for a reason. A long, narrow scythe of land in the Caribbean, it has just three streets—Back, Middle, and Front—all of them unpaved. Fishermen and local shop owners join visitors to wade and swim at the Split, a channel where decades ago storms bisected the island. Several boats make the trip to Shark Ray Alley—where you can snorkel with rays and nurse sharks—but none with more adventurous spirit than Raggamuffin Tours ($50). The ecotourism pioneer Lionel "Chocolate" Heredia, now in his eighties, still poles clients around the Swallow Caye marine reserve to observe manatees without spooking them. All year round, there's unparalleled fly-fishing for bonefish, tarpon, and permit; go with the guides at Anglers Abroad ($330 per day). Front Street has punta and reggae bars and lodgings—like Colinda Cabanas (from $50), where you should request a beachfront room, and the Iguana Reef Inn (from $140). One block over, the Little Kitchen cooks up traditional Belizean salbutes (small, spicy tostadas) and garnache (fried tortillas with refried beans, cabbage, and the ubiquitous Marie Sharp's hot sauces). Afterward, follow the locals to the Lazy Lizard for a cold Belikin beer.
ACCESS: Ten minutes from Belize City by prop plane (Tropic or Maya Air).
Winter Island Escapes: Easy Outs
Only have a few days but need an island fix? Here's where to go.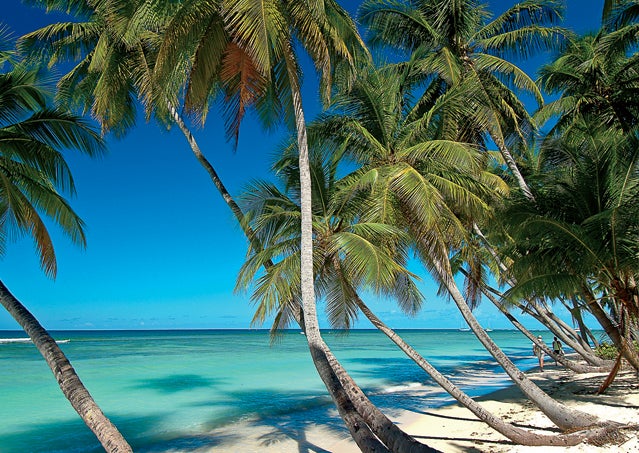 ISLA MUJERES, MEXICO
No fewer than 30 U.S. cities (Seattle, Chicago, and, in 2013, Minneapolis, St. Louis, and Dallas) offer nonstop flights to Cancún. Isla Mujeres, a dialed-down Caribbean island and one of Jacques Cousteau's old haunts, is just a 20-minute ferry ride away. Stay at the Ixchel Beach Hotel (from $139), which sits smack on Playa Norte's pristine beach, and snorkel the nearby Manchones Reef.
RINCON, PUERTO RICO
Warm winter surf is easy to get to in Puerto Rico. Fly nonstop from New York City (JetBlue), Newark (Continental), or Atlanta or Ft. Lauderdale (Spirit Air) to Aguadilla, a 30-minute drive from Rincón. The charming Casa Islena Inn (from $125) is reasonable and on the beach. Surfing instruction is ubiquitous here, with Surf 787 ($90 for a two-hour lesson) and Surf Lessons Puerto Rico ($175 per day) topping the list.
TOBAGO
Nearly on the shore of Venezuela, Tobago is reachable nonstop with a four-hour Caribbean Airlines flight from New York. Stay at the relaxed Kariwak Village (from $165), bask at the secluded beach at Englishman's Bay, dive Buccoo Reef, or hire Newton George to show you some of the island's 470 bird species.
KAUAI, HAWAII
With direct flights from San Francisco and Los Angeles (United and American), Phoenix (America West), and, starting this month, Portland, Oregon (Alaska Airlines), Kauai is closer than you might think. Stay at the boutique Koa Kea hotel ($369) at Poipu, on the island's sunnier south shore. But explore the stormier north shore's surf breaks—like Hideaways and Tunnels Beach in Hanalei—and the wild Na Pali Coast, on a guided sea-kayaking trip with Na Pali Kayak Tours ($200 per day).
BONAIRE
Three hours nonstop from Miami on InSel Air or five-plus from Newark on Continental Airlines lands you in Bonaire, a divers' island in the Dutch Antilles, just off the coast of Venezuela. Dive at Angel City or windsurf at Taylor Maid. The owners of the six-room Coral Paradise Resort (from $1,886 per week for two, including dive package and vehicle) can make it all happen for you.