The 7 Best Island Escapes
Looking for your own private hideaway? This is it.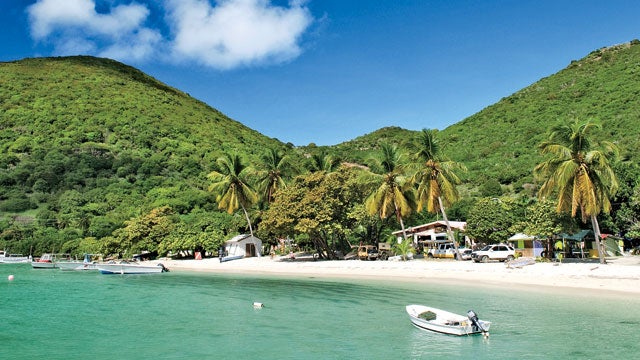 Heading out the door? Read this article on the new Outside+ app available now on iOS devices for members! Download the app.
7 Perfect Island Getaways Around the Globe
From cheap hideaways to epic fishing and diving spots, we dug up seven crowd-free island escapes for every type of adventurer.
Maalifushi, Maldives
Great Abaco, Bahamas
Corn Islands, Nicaragua
Mumbo Island, Malawi
Niihau, Hawaii
Niue, South Pacificu
Jost Van Dyke, British Virgin Islands
Water World: Maalifushi, Maldives
7 incredible island getaways from around the globe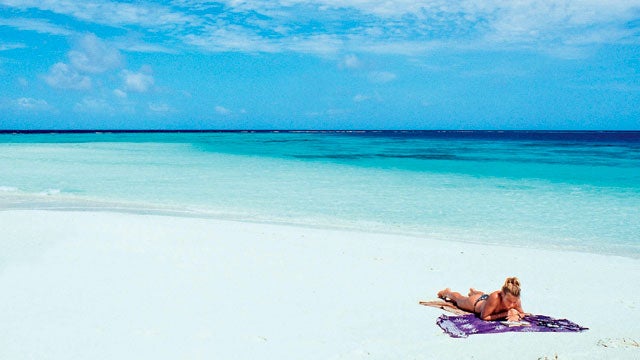 The English word atoll comes from ­Dhivehi, the official language of the Maldives. And with good reason. This nation consists of 1,192 islands spread across 35,000 square miles of Indian Ocean. Turquoise ­lagoons, pearlescent beaches, and coral gardens teem with over 1,900 species of fish, 400 species of mollusks, and 350 species of crustaceans, making it an aquaphile's paradise. But it can be tough to put together a DIY trip in a place where the easiest way around is by boat or seaplane. Base yourself at Maalifushi, which can ­arrange your ­adventures for you (doubles from $650).
The hotel opens in December and is one of only two resorts in the rarely visited, pristine Thaa Atoll. You'll stay in one of 66 thatched-roof bungalows and villas on the 20-acre ­island, half of which are raised on stilts above the water. When you're not in one of the eight spa rooms, there's plenty to do: fish for ­wahoo and grouper or go sailing in 25-knot winds, or snorkel or scuba with hawksbill turtles, schools of bluestripe snapper, or a few dozen manta rays at one of the island's 40 dive sites. And while the December swells aren't as good as the high season's (April to October), you can still surf gentle three-footers (from $160 per person).

Access: Fly to the capital of Malé, then take a barefoot-piloted Maldivian air taxi to the resort.
Trophy Heaven: Great Abaco, Bahamas

7 incredible island getaways from around the globe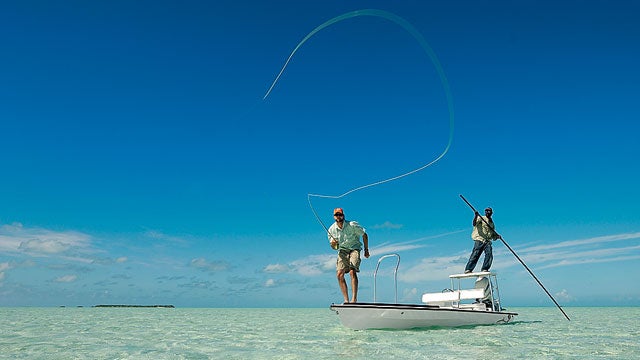 The Bahamas are famous for their beaches and bonefishing. The Blackfly Lodge has both—with a little luxury thrown in. Blackfly, located in Schooner Bay, opened in March 2013 and is co-owned by Vaughn Cochran, a retired fishing guide, a marine artist, and an original member of Jimmy Buffett's Coral Reefer Band. Each room has a broad veranda (with even broader views) and a custom-made colonial-style bed. Dinner is snapper, tuna, and mahi-mahi caught locally, complemented by organic fruit, vegetables, and eggs from nearby Lightbourn Farm. But all that is just an afterthought to the fishing. Blackfly has use of the only Atlantic-facing harbor in South Abaco—20,500-acre ­Abaco National Park practically abuts it—which means that anglers can stalk 30-pound permit and occasional 80-pound tarpon from six separate fishing zones, along with 12-pound bonefish from schools of up to 200 thick. From $2,300 per person for three nights, all-inclusive.
Access: Several airlines fly to Great Abaco from South Florida (Palm Beach is 175 miles east) and Nassau (106 miles south).
Two for One: Corn Islands, Nicaragua
7 incredible island getaways from around the globe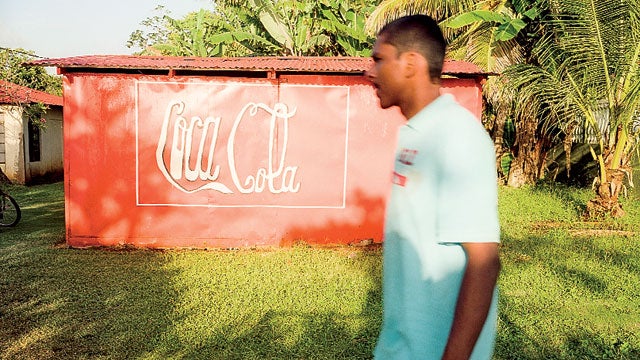 There was a time when visiting the Caribbean meant empty beaches, limpid waters, plentiful fish to catch (and eat), and ample cheap rum and beer. That idyll still exists on Nicaragua's Big and Little Corn Islands. You can still score a $10 room on the combined five square miles of land—43 miles off the Caribbean coast­—and $70 gets you a ­bungalow with private veranda (and ­electrical outlets) at La Princesa de la Isla. Start by beach hopping on the Big Island: try Long Bay for bodysurfing, Sally Peaches for snorkeling, or South West for vegging out with a coco loco—a coconut and rum cocktail—at Martha's bar. You can walk to any of them, but a cab is just 70 cents per person, no matter where you go. Then watch a Sunday baseball game in the ­island's 2,000-seat Karen Tucker stadium for $1. ­
After you've had enough of the Big ­Island, take the daily water taxi 30 minutes to roadless Little Corn Island, and rent a bungalow with Wi-Fi, fans, mosquito nets, and hot showers ($30). Little Corn's position in the Caribbean makes for consistent winds that are perfect for kitesurfing ($50 for an intro course). You can also fish for tarpon or troll for sailfish from a panga outfitted with two fighting chairs ($50), or take all that money you saved and splurge on a lobster dinner—it's only $14.
Access: Fly round-trip from Managua to Big Corn on La Costeña ($165). Then take a water taxi between Big and Little Corn ($12 round-trip; head to the Municipal Wharf in Brig Bay).
Simple Solace: Mumbo Island, Malawi
7 incredible island getaways from around the globe
Lake Malawi, a 2,300-foot-deep, 11,400-square-mile gem in southern Africa, is home to 1,000 species of fish—one of the highest concentrations on the planet. It's also the site of half-mile-wide, 250-acre Mumbo ­Island, one of our favorite out-there getaways. The lake was declared a Unesco World Heritage site in 1984, and once you get underwater it's easy to see why. There are more than 400 types of brilliantly colored freshwater tropical fish, like damsels, angelfish, and wrasses. Guests can snorkel or scuba with them past sunken knolls of granite boulders or kayak to the lake's dozen islands for what Cape Town, South Africa–based Kayak Africa calls the top sea-paddling route in southern Africa.
Best of all, the outfitter limits occupancy to 14 guests at a time, putting them up in six furnished bungalows and tents with hammocks, thatched-reed roofs, and hot bucket showers. It's bare-bones—there's no electricity—but that's by design. Wilderness Safaris claims that if all tents and decks were removed, there wouldn't be a human trace within a year. There's also plenty to do on dry land. You can watch the hundreds of white-throated cormorants that nest on Mumbo or hike its five one-to-two-mile ­nature trails past rock fig and baobab trees. But after you've had a full day in and on the water, we won't blame you if you just want to rest in that hammock. From $195 per person per night, all-inclusive.
Access: Fly to Malawi's Lilongwe Inter­­national Airport (South African ­Airways connects through Johannesburg), drive four hours to Cape Mac­lear, on Lake Malawi's southern end, and take the 45-minute ferry ride to the island.
Out of Bounds: Niihau, Hawaii
7 incredible island getaways from around the globe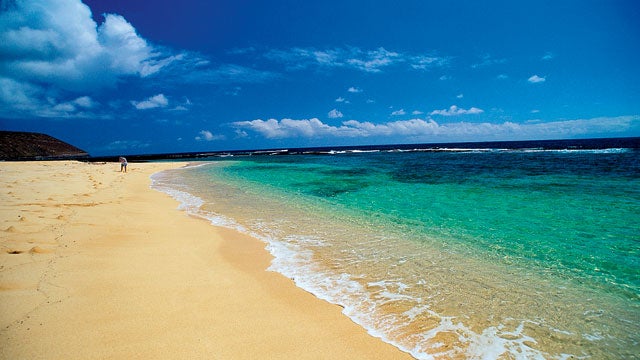 Ever since this 70-square-mile spit of land was purchased in 1864 by Elizabeth Sinclair, a wealthy Scottish farmer, Hawaii's Forbidden Isle has been most famous for being off-limits. But the wild landscape of arid, red-tinged volcanic terrain is easier to reach than you think: you can still take day trips from Kauai. Join Niihau Helicopters, which will land you on secluded beaches with nothing but shells, translucent water, and a few endangered monk seals ($400 per person; niihau.us). Or scuba through 100-foot-wide lava tubes with monk seals, spinner dolphins, Galapagos sharks, and humpback whales (three-tank dives from $315).
Access: Trips start and end in Kauai. The 17-mile crossing takes 2.5 hours by boat. Stay at Koa Kea (from $346).
Wild Thing: Niue, South Pacific
7 incredible island getaways from around the globe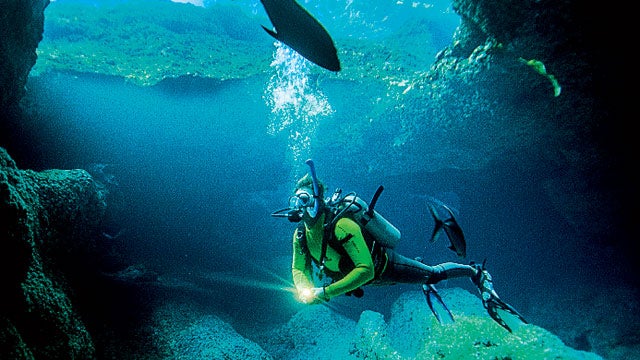 Eighteen hundred miles northeast of New Zealand, Niue can feel isolated. News on the island is only broadcast twice a week, swimming is frowned upon on Sundays, and, with just over 1,600 people on 100 square miles of the largest uplifted coral atoll in the world, it's the least populated self-governing ­nation on the planet after the Vatican. But the quirks are part of the allure of this rocky cave-ridden island. Visitors can angle for reef fish from traditional vaka sailing canoes ($55) or snorkel with humpbacks from July through September ($101).
But don't ignore the land. Chasms and caverns perforate the island by the thousands. ­Until the early 1800s, Niueans inhabited them instead of houses, and even today there are fewer than 100 ­accommodations on Niue. Go for the large studios at the recently opened oceanfront Matavai Motel, each of which has a private balcony perched on the rocky shore (from $106). The Huvalu Conservation Area tropical forest covers 13,000 acres, nearly one-quarter of the island, and has plenty of cycling oppor­tunities. Mountain-bike the eight-and-a-half-mile Alofi-Liku and ­Vinivini Bush Roads rainforest circuit or ride the 42-mile road around the island past beaches and along limestone cliffs (bike rentals, $12 per day).
Access: Air New Zealand flies from Auckland weekly—the 3.5-hour flight crosses the ­International Date Line, arriving 20.5 hours before it departed.
Easy Living: Jost Van Dyke, British Virgin Islands
7 incredible island getaways from around the globe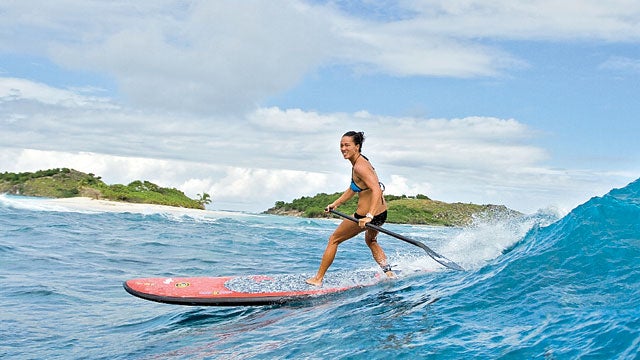 Many know Jost Van Dyke, one of the handful of inhabited islands in the BVIs, as the barefoot island. Fifteen years ago, it had no electricity and few paved roads. That's changed, but the atmosphere hasn't. There are still no brand-name hotels—stay at White Bay Villas, which offers essential amenities like iPod docks and charcoal grills (from $135). Then start with the adventure: rent 12- or 13-foot SUPs from Jost Van Dyke Scuba, then head into Great Harbor to paddle near surfacing dolphins ($20 per hour). But take the island's nickname to heart and spend some time padding between the 50-odd seasonal bars.
The Soggy Dollar, located on White Bay, claims invention of the Painkiller (rum, pineapple juice, OJ, cream of coconut) and serves four-course dinners to the yachting set; Foxy's Taboo boasts one of the biggest Caribbean New Year's Eve parties in Great Harbor; and Ivan's Stress Free does barbecue every Thursday—and offers campsites for the inevitable postprandial collapse (equipped sites from $45).
Access: Fly to St. Thomas directly from the East Coast, and charter a boat to Jost—or take the 75-minute public ferry from Red Hook, which is 25 minutes by cab from the airport.