Sponsor Content: Greater Zion
Greater Zion Is a Multisport Paradise
In Southwest Utah, those who look beyond the national park will find every flavor of adventure, from slickrock mountain biking to red-rock canyoneering and climbing
Few places in the country—or the world—can hold a candle to Utah's bounty of wild geography and epic natural playgrounds. And within the Beehive State, it's hard to beat the awe-inspiring dreamscape that is Zion National Park. But you knew that already. What you might not know is that Greater Zion, the region surrounding the iconic park, is similarly blessed and even more ripe for adventure. Take Snow Canyon State Park, often referred to as "Mini Zion," for example: you can hike it, bike it, climb it, rappel it, SUP it, ogle it. Whatever your goal, here's how to adventure in the best corner of red-rock country.
Mountain Bike a Mesa-Top Slickrock Playground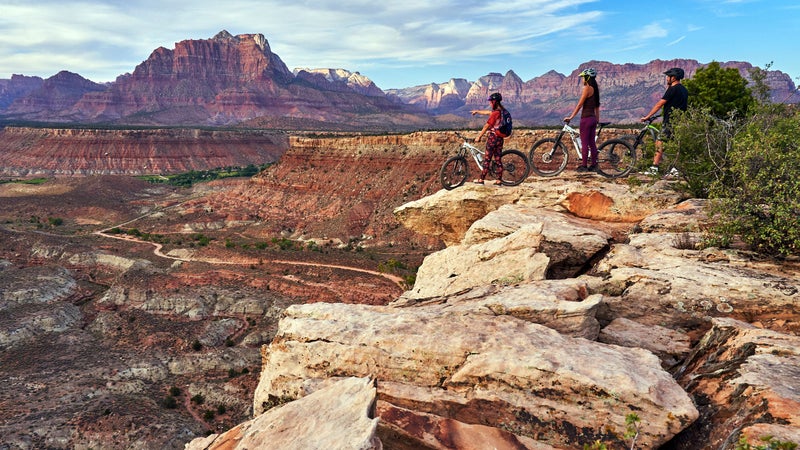 Not only is Utah's sandstone slickrock gorgeous, but it comes with a bonus: the kind of unbelievable friction that makes you a better mountain biker. In Greater Zion, the slickrock riding doesn't get better than on Gooseberry Mesa, where the renowned 13.1-mile Big Loop gains and loses about 500 feet, mostly in short spurts up and over the continuously wavelike sandstone. It's best suited for intermediate or better riders (a stint on the Practice Trail will tell you how you fit in) but the techy stretches are short and the views of Zion National Park and the Virgin River Valley are well worth the effort.
If even more slickrock riding is what you crave, set your GPS for Zen Trail, a 5.7-mile loop near St. George with a decidedly newer-school approach to the area's sandstone bounty. You'll question the trail builder's choice in name during the nearly uninterrupted—and at times, very technical—climb but it will all make sense when you point down the masterfully routed descent, which ekes every drop of available flow out of the seemingly momentum-killing landscape. 
Climb Red Rock Walls at Lambs Knoll
Just west of Zion National Park at Lambs Knoll, you'll find nicely featured sandstone rising in a maze of canyons and spires, few crowds, and plenty of routes to keep you busy. The guides from Red Desert Adventure sing the praises of what locals call Climbing Corridor, where routes sidle up both sides of a narrow slot canyon. Climbing a desert tower is a Utah rite of passage, and a great one here is called Up and Over—two 5.7ish pitches up, then four rappels down into a slot canyon for the walk-out.
Go Canyoneering in Yankee Doodle Canyon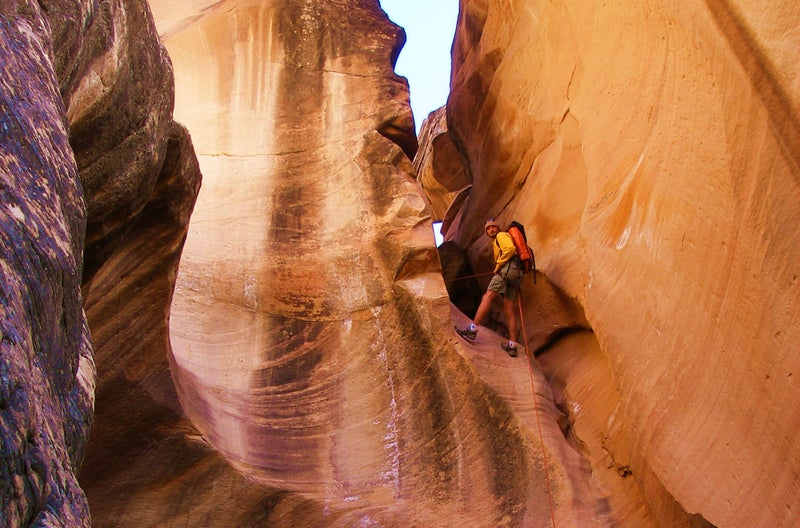 The closest to St. George of all Zion-area canyoneering sites is Yankee Doodle, which has everything you want in a half-day adventure. The first rappel is 30 feet, then you descend another 80 en route to many more drops in the 20-foot range. It's a great venue for a Canyoneering 101 tutorial (Paragon Adventures guides the canyon), with its greatest-hits array of walks, downclimbs, stemming, and, yes, frigid sloshes through icy water, all surrounded by the so-smooth beauty of the red-tan sandstone.
Pilot an ATV at Sand Mountain OHV Area
Not just sand dunes. Red sand dunes, 6,000 acres of them, in the 16,000-acre ATV playground that is Sand Mountain. "It's not a pony ride," though, cautions a guide with local operator ATV & Jeep Adventure Tours. In other words, you get to exercise some newfound skills whether you choose to pilot a single, side-by-side, or four-seater as you weave your way up and over dunes, navigate around rococo sandstone formations, and throttle your way up to three-state views. All of the company's veteran guides are as passionate about the flora, fauna (dog-size jackrabbits!), history, and geology as they are their powerful fat-tired rigs. So expect some elucidation breaks in the course of a half-day trip that can also include an optional thrill—a zipline that drops more than 600 feet into a remote box canyon.
Hike Through Zion's Secluded Corner
Way northwest of Zion's exceedingly popular namesake canyon are the Kolob Canyons, where you'll find some of the most stunning and secluded viewpoints in the park. From one of those viewpoints, Lee Pass, you can make the 14-mile round-trip hike across a high, sage-dotted plateau that gently drops to La Verkin Creek. This may be the Zion you were dreaming about—big horizons, solitude, a verdant creek—but the highlight lies ahead. From the creek, a half-mile side trail leads to Kolob Arch, spanning 287 feet, among the largest natural arches in the world.
Have a Multisport Day at Quail Creek State Park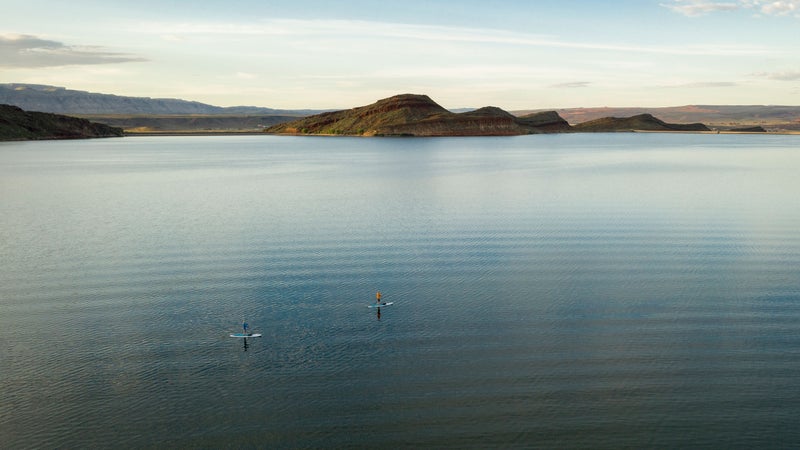 Water in the desert always adds a dash of magic, and at Quail Creek State Park it also adds the chance to do some red-rock exploring by SUP or kayak. Stop by Dig Paddlesports, located right on the shore of the park's sparkling 680-acre reservoir, for rentals and lessons. On dry land, twisty singletrack trails wind between the lake and nearby sandstone cliffs for challenging but not death-defying mountain-bike rides or casual hikes. Then there's no doubt where to jump in to wash off the trail dust.
Qualify for Kona or Take In the Ironman Action
Even the swim is a red-rock wonder in the IRONMAN North American Championship, in and around St. George on May 2, 2020. The full-distance Kona qualifier commences in the impossibly blue Sand Hollow Reservoir before a 112-mile bike jaunt to and through St. George, where the marathon finale takes place. "The landscape is epic, incredibly challenging, and the town is always excited to have us there," says Ben Hoffman, who won the last full IRONMAN held in St. George. To Hoffman's last point, a jaw-dropping course also makes for premium spectating. So grab your camp chairs, head for basically any part of the course, and unwind between your own adventures by cheering on the competitors.
---
To learn more about Greater Zion and start planning your next trip, visit greaterzion.com.