Africa's Most Hidden Gem
Mountain gorillas, Pygmy guides, and idyllic lakes are hidden in southwest Uganda. And almost no one is going!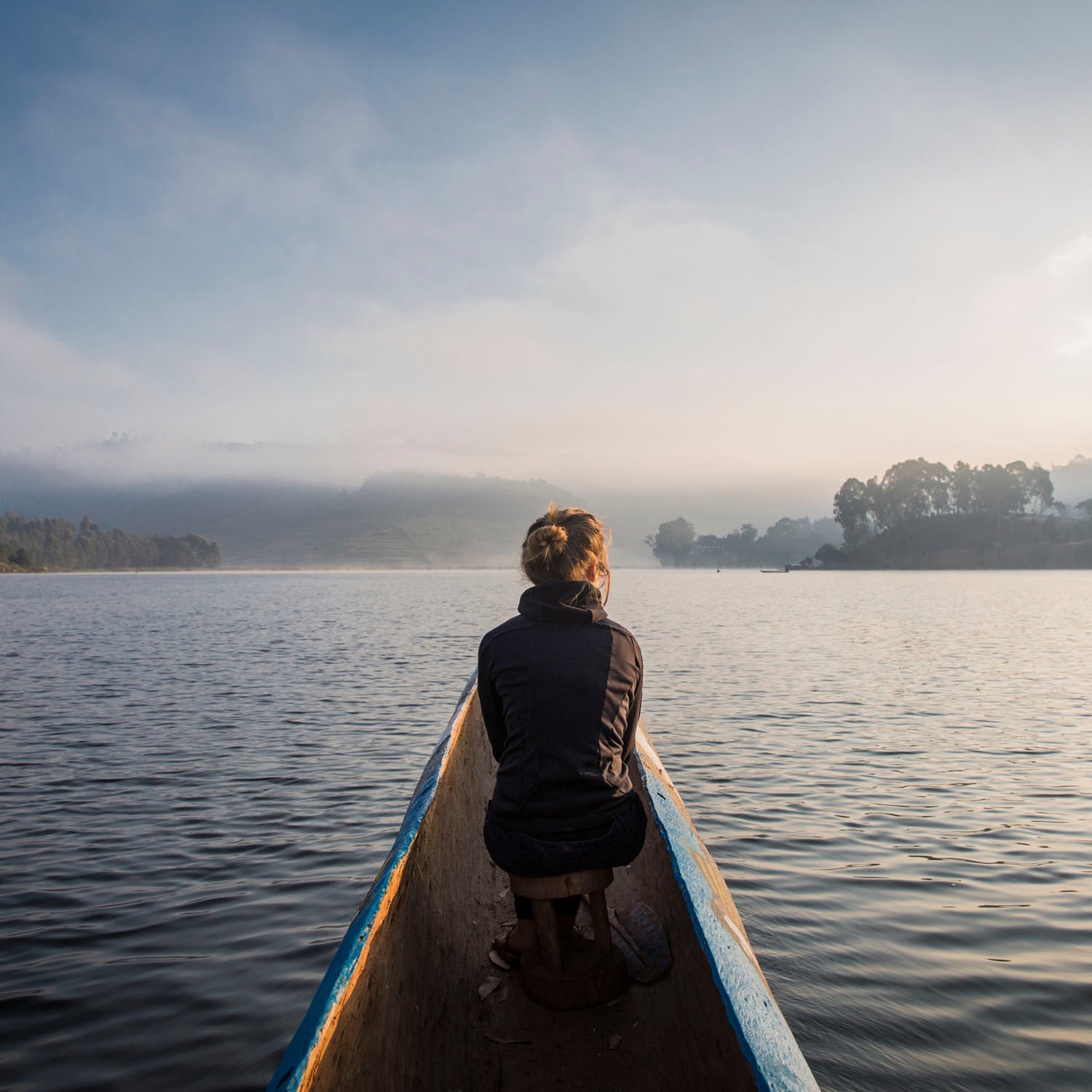 Heading out the door? Read this article on the new Outside+ app available now on iOS devices for members! Download the app.
Viewed from a hilltop, southwest Uganda spreads out in an emerald patchwork of terraced agriculture and primeval forest. To the north and south, in the Bwindi Impenetrable and Mgahinga National Parks, about half the global population of mountain gorillas (792 at last count) call those forests home. 
In the wet season, elephantine clouds roll in from the Congolese interior and the land glows with startling fecundity. In the rarer dry months, the Virungas, central Africa's volcanic chain, make great shadows in the haze. At its heart, Lake Bunyonyi, 6,500 feet up, with its 29 hilly islands, is a jewel. 
Populated with a diverse tapestry of hospitable tribal groups, it's the sort of special place you might expect to entice hikers and wildlife watchers from around the world. But that's just the problem: The few people who come to this paradise stay for a day or two to see the gorillas and then move on.
Miha Logar, a 41-year-old Slovenian transplant, is trying to change that. In 2011, he founded the Gorilla Highlands Project, a private-sector initiative that is working to rebrand Lake Bunyonyi and the surrounding region as a destination to rival the golden savannahs of Kenya and Tanzania, Uganda's eastern neighbors. In time, Logar hopes the name "Gorilla Highlands" will become southwest Uganda's de facto label. He's taken on the responsibility of marketing the region—a job usually shouldered by a government agency—from his straw-roofed hut headquarters on the shore of Lake Bunyonyi.  
A self-confessed IT nut with an infectious smile bracketed by a cropped goatee, Logar first came to Uganda in 1999 as a student researching the potential of computer technology to transform lives in the developing world. A year later, he moved permanently to the country to start the nonprofit Edirisa, an organization that fosters business in the local community through tourism. 
From the outset, Edirisa's goal has been to nurture cultural self-respect by encouraging alternative ways of earning money in a region that's overreliant on farming. To Logar, tourism seemed like an obvious industry to grow. In 2003, Edirisa opened up a hostel, employing indigenous workers and offering locally led hikes and lake tours—both incredible add-ons to the typical gorilla safaris offered in the region.
"It's always the same: two nights, off they go. People come for the gorillas, then leave," Logar explains. "We are trying to position this place as a destination by itself."
In more visible parts of the world, that job would be easy. But here, eight hours by road from the capital of Kampala, farther still from Uganda's adventure travel hub of Jinja, remote geography keeps visitor numbers low.
Proximity to the ever-volatile DRC and tragic but rebounding Rwanda doesn't help. Negative perceptions have a tendency to leak over frontiers. The U.S. State Department issues warnings only for the DRC side of the border, noting that Americans traveling in Uganda should be aware that tensions have the potential to leak into the area in the form of refugees. But locals are proud to say that Lake Bunyonyi, free of bilharzia, crocodiles, and hippos, is one of the safest lakes on the continent.
There's evidence that Logar's efforts are paying off. Over the past decade, Edirisa's hiking and dugout canoeing tours, run not-for-profit and providing employment opportunities for dozens of local people, have become a byword for culturally sensitive travel that goes beyond the guidebooks. Around 300 independent travelers a year, including this writer, have joined the group's local guides to explore Lake Bunyonyi's islands and the surrounding backcountry.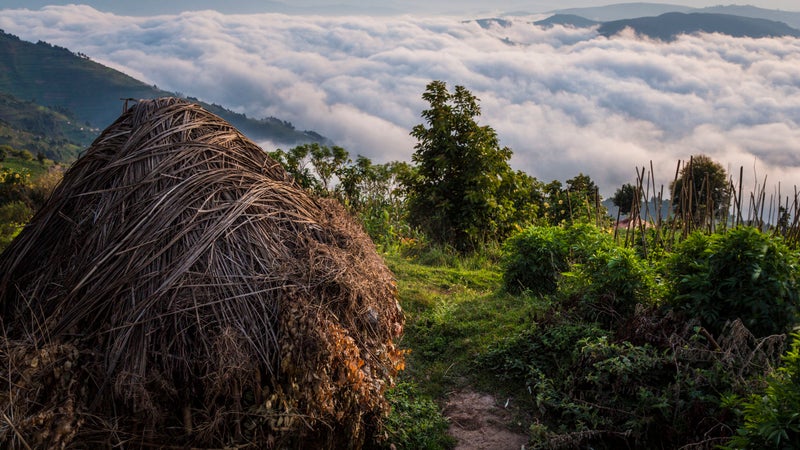 "We're not allowed to hunt in our forest, but by guiding tourists we still get benefits from it," says John Kanusu, whose community of 120 Batwa Pygmies have scratched out a meager agricultural livelihood since being displaced, like many of Uganda's marginalized Batwa, from their ancestral lands by the government. "We never expected that we would earn money from selling decorated walking sticks!" For Kanusu's tribe, and countless others living on the margins in southwest Uganda, the Gorilla Highlands Project holds the promise of dignity and an essential source of income. 
Logar's other sphere of expertise, multimedia, is also playing its part. To date, disseminating the new brand has owed much to the steady trickle of volunteers—filmmakers, photographers, designers—who Logar, himself an ex-journalist, has tempted to Bunyonyi. An award-winning Gorilla Highlands ebook, currently running to almost 400 pages, becomes more comprehensive every year. A video map, featuring what Logar promises will be "amazing footage" of the region's places and people, is nearing completion.
These tools aside, the project's success will rest on word of mouth: the everyday work of cajoling tour operators, hotels, and government agencies to adopt the Gorilla Highlands rubric when discussing southwest Uganda. 
It's an ambitious plan, but with such a bewitching part of the world on his doorstep, the Slovenian has every right to be optimistic. It's just a case of spreading the word.
Lake Bunyonyi is located near the town of Kabale, 250 miles southwest of Kampala. To find out more about the region, you can download the Gorilla Highlands Pocket Guide for free.
Trending on Outside Online