In the Market for an Airstream? Try Before You Buy
These Airstream hotels let you test #trailerlife before taking the plunge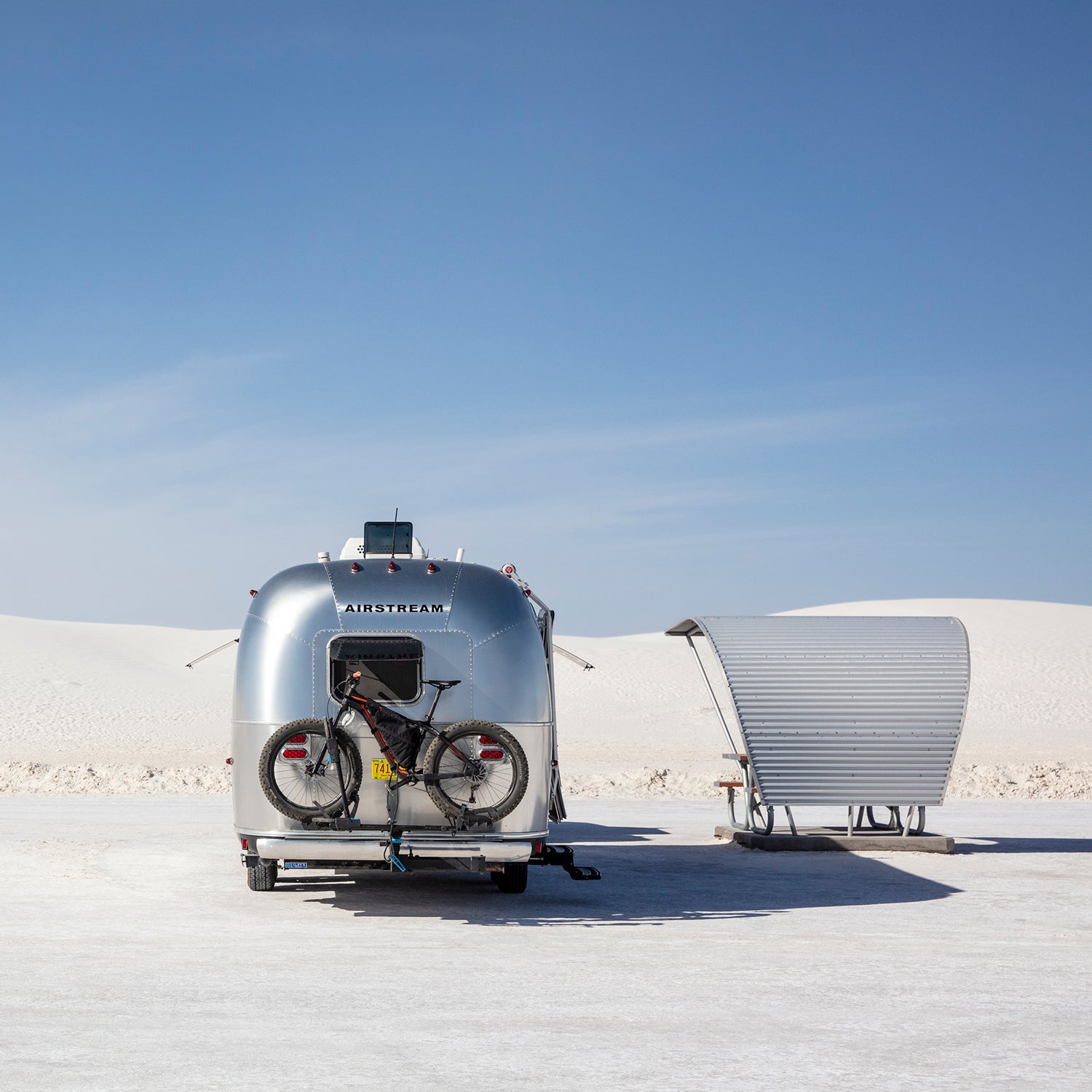 JJAG Media(Photo)
Heading out the door? Read this article on the new Outside+ app available now on iOS devices for members! Download the app.
Five years ago, when Jen and I began talking about purchasing a trailer, I was drawn to Airstreams but was aghast at the prices. Brand new, a Flying Cloud 23FB like ours starts at $75,400—and that's before add-ons like solar panels and upgraded batteries. An Airstream seemed like a total extravagance. We looked at comparable trailers from other brands that cost a third of that price or less. And yet, the more we shopped, the more we were won over by Airstream's superior fit and finish, reputation for robustness and longevity, and high resale values.
We eventually found a two-year-old model on AirstreamClassifieds.com that was like new but cost about half the original price. Still, it felt scary to plunk down north of $40,000 for a tiny space—and an itinerant lifestyle—that we didn't know if we could tolerate full-time. As a litmus test, we took a trip to Hicksville Trailer Palace, a quirky trailer motel in Joshua Tree, California. There, a couple days of climbing supported by nights in a vintage 22-footer persuaded us that we really would love living in a tiny silver bullet and gave us the confidence to purchase the used model that would eventually become Artemis. We're now in our third year of happily working and living our nomadic lifestyle across the West. A host of Airstream hotels have since popped up around the country, making it easier than ever to try out trailer life before you shell out the big bucks.
Hicksville Trailer Palace and Auto Retreat (From $110/Night)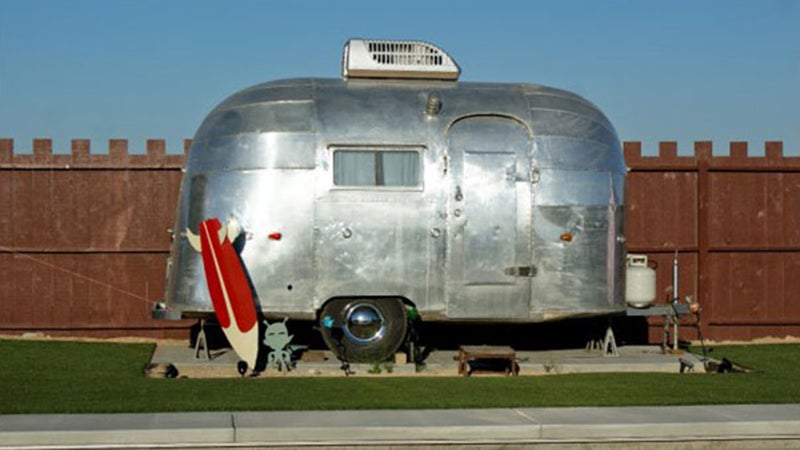 Joshua Tree, California
A scrum of ten themed trailers huddled around a pool with an Astroturf-lined deck, Hicksville Trailer Palace and Auto Retreat is eccentric. Only two of the trailers are Airstreams. The 1970s-themed 22-footer called the Sweet has a wraparound couch arrangement better suited to one person than two, and the galaxy-themed 19-foot Bambi called the Integratrailor is an homage to a nearby New Age observatory/shrine. On the property are cornhole and table tennis, an archery and BB-gun range, a rooftop deck with a hot tub, a mini-golf course, and a bar trailer to fuel the festivities. Just down the road is Joshua Tree National Park, with world-class climbing, bouldering, and desert adventuring.
Lakedale Resort (From $188/Night)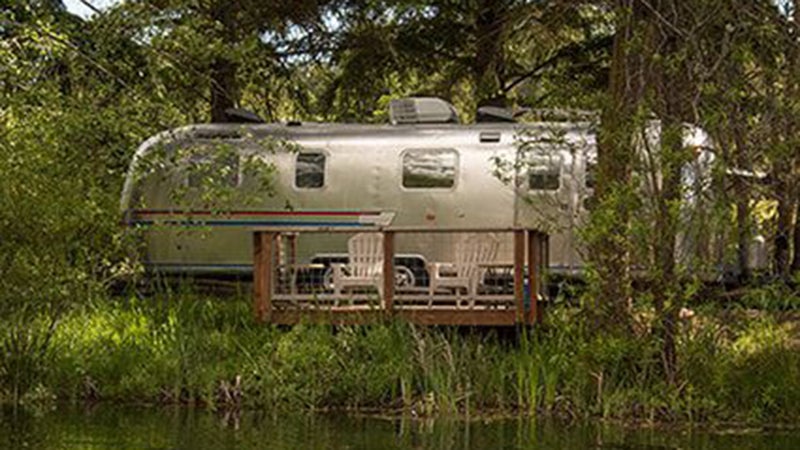 Harbor, Washington
Set on a trio of lakes on San Juan Island, a quick hop from Seattle, Lakedale is an eclectic outdoor resort with campsites, RV spots, canvas tents, yurts, log cabins, rooms in the lodge, and one Airstream option. The 31-foot 1978 Excella, available from May 1 through September 30, sits on a prime lakefront site and includes a double bed, shower, toilet, full kitchenette, and a sofa that folds into a full-size bed for kids or guests. You can fish, canoe, and swim at the lakes, and you'll have your own private waterfront deck for whiling away the summer afternoons.
Caravan Outpost ($200/Night)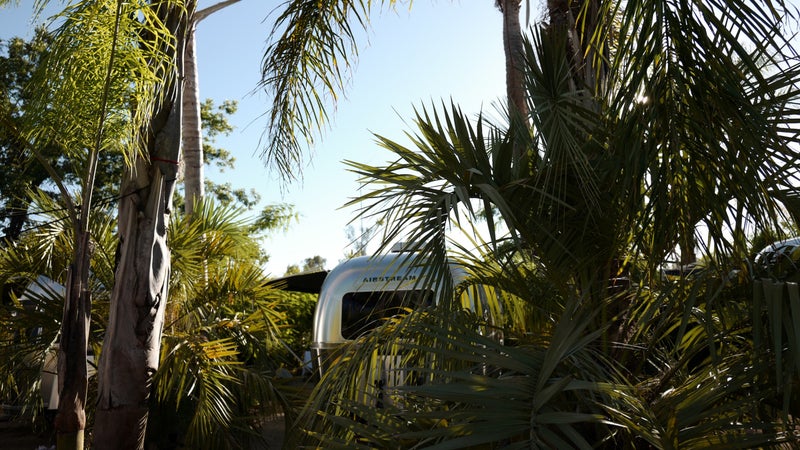 Ojai, California
Ten Airstreams and a two-story Wheelhaus squat beneath rattling palms around a central patio at Caravan Outpost, a Southern California hideaway that feels secluded despite its in-town location. All trailers are fully remodeled with every modern convenience, including fine linens and air conditioning, and unlike many other Airstream hotels, the Outpost is dog-friendly. During the day, you can hike Shelf Road for a view over town and out to the Pacific or pedal the Ojai Path on the property's complimentary bikes. When weather permits, there are open-air movie nights, pop-up dinners, and outdoor concerts on the property.
Hotel Luna Mystica (From $75/Night)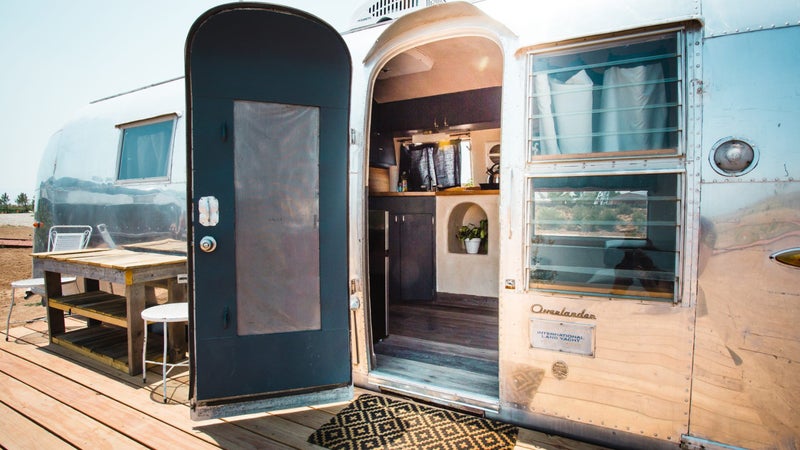 Taos, New Mexico
Hotel Luna Mystica, a vintage trailer hotel in northern New Mexico, bills itself as "eight miles from the heart of Taos, 12 feet across a dirt road from the Taos Mesa Brewery, and 4.2 light-years from our nearest stellar neighbor, Alpha Centauri." Culture, mysticism, and craft beer—what more do you need? Of the 14 trailers, all lovingly and carefully renovated, only one is an Airstream: a 1962 Overlander named Ralphie, complete with double beds, tiled bathroom and shower, comfy sitting area, outdoor deck and fire pit, and built-in nichos with houseplants. Perched on the rim of the Taos Gorge, the property offers hiking and mountain bike trails within spitting distance and excursions into the Sangre de Cristo Mountains just a quick drive down the road.
El Cosmico (From $150/Night)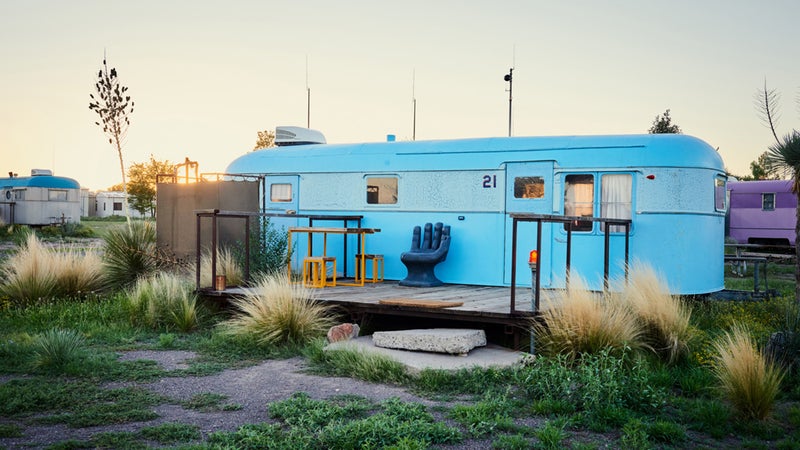 Marfa, Texas
This artist getaway only has one Airstream, but the 13 vintage trailers at El Cosmico will still give you a good idea of what it's like to live in a pull-behind. In the artistic spirit of the place, each abode is individually styled and decorated with cedar decks, personal fire pits, and imaginative touches, including sculptures turned furniture. With a population just over 2,000, the town is stuffed with more galleries and good restaurants than places ten times its size (imagine oversized breakfasts at Buns N' Roses or a mesquite filet at Cochineal). It's situated between the Davis Mountains and Big Bend National Park, so there's no shortage of hiking, biking, boating, and pretty much any other diversion you could want.
AutoCamp (From $146.25/Night)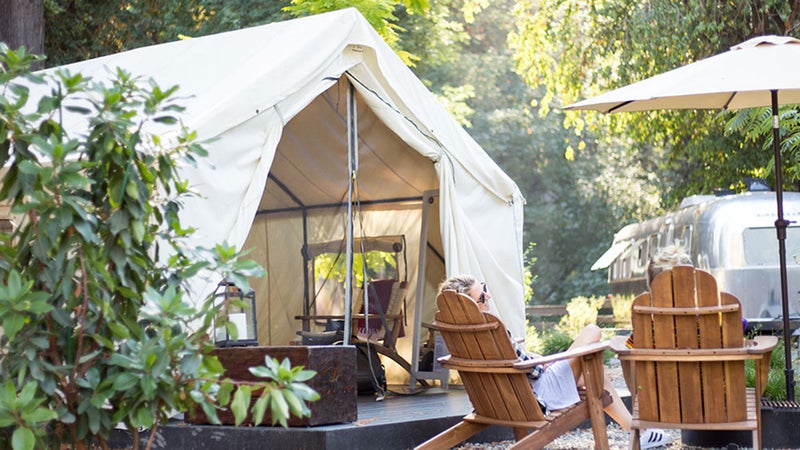 Yosemite, California
An hour southwest of Yosemite Valley, AutoCamp is a NorCal glampground with canvas-wall tents, A-frame cabins, and 31-foot Airstream suites. The accommodations are all dark wood, bright linens, and "spa-inspired bathrooms," meaning if you don't fall for Airstreaming like this, you never will. In addition to canoeing on the local pond and hiking in the surrounding forest, there are wine tours in nearby Mariposa and daily shuttles into Yosemite National Park. AutoCamp Yosemite is the latest of three California locations, the other two being a waterside spot in Santa Barbara and a Sonoma wine country hideaway tucked in the Russian River Valley.
Lead Photo: JJAG Media
Trending on Outside Online