Any advice for what to do in Indiana?
I've never been to Indiana and will be attending a wedding there this fall. How about a little advice on what to do during my stay? Michael S. Phoenix, AZ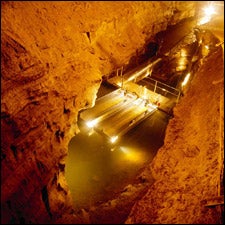 Heading out the door? Read this article on the new Outside+ app available now on iOS devices for members! Download the app.
Considering Indiana's highest point is 1,257-foot Hoosier Hill, there isn't much to explore in terms of higher elevations. After all, you're headed to the Midwest, home of corn husk-covered fields, and Hoosier basketball, but don't be so quick to assume that there's nothing to explore. My advice to you: Go down under. Underneath acres of all that Midwest farmland lies some of the most renowned spelunking opportunities in the United States. Rent a car and get yourself a map, then head south to tour one or all of Indiana's four commercial caves, guides and headlamps provided.
Bluespring Caverns

Float along the longest underground river in the U.S.
Marengo Cave, a U.S. National Landmark located in Crawford County, was discovered in 1883 by an adventurous teenage girl. Over 2,000 feet long, this underground wonder contains a habitat of subterranean lakes, waterfalls, and streams. Explorers will find troglobites—creatures that have lived their entire lives in complete darkness—such as millipedes, cave shrimp, and blind crayfish. Geological formations also abound here, the most popular being stalactites and stalagmites. Formed by water droplets on the ceiling, stalactites hang like fossilized icicles. Stalagmites sprout upwards from the floor, and the two formations often grow together to form solid columns. You'll also find rimstone dams that have developed around pools of water, and cave popcorn, which are knob-like outcroppings on cave walls. You can even get your feet wet (quite literally) in an undeveloped cave off of Marengo's main passageway during one of their cave exploring adventures. Unless you're likely to succumb to a bad case of claustrophobia, chances are you'll enjoy the muddy two-hour excursion. Safe caving techniques are reviewed as part of the tour, as well as cave conservation and ecology. Trips start at $22 per person and include helmet, light, secondary light, and are offered all year long (marengocave.com, 888.702.2837).
Just 30 minutes from Marengo Cave, Wyandotte Caves are located in the Harrison-Crawford State Forest and lay claim to the discovery of the first Indiana bat. Over the past century, the numbers of bat species have dwindled because of human disturbance inside the caves during winter hibernation. Currently listed on the endangered species list, the population has dropped over 50% in the last 10 years. Because of their sensitive habitat and the fact that the cave is home to 30,000 bats in the winter, Wyandotte Cave is closed after Labor Day. But from Labor Day through October 31st, Siberts Cave (the other cave at Wyandotte) offers a Flowstone Falls Tour, a 30-minute adventure highlighted by fallen stalagmites, crystal blue lakes, rimstone dams, flowstone walls, and all the stalactites you can handle. Tours start at $12 per person and no equipment is required, although warm clothing is recommended as cave temperatures remain a constant 52 degrees (wyandottecaves.com, 888.702.2837).
If crawling through cramped spaces isn't quite your style, leave the bobbing and weaving behind at Bluespring Caverns. The longest subterranean river in the states, Bluespring's cave system stretches over 20 miles. Here you'll climb aboard custom cave boats for a more relaxing way to view the subterranean realm. Tour guides take you along the placid White River that extends throughout the passages carved by the river's flowing currents. You'll glide over glacial waters at depths of up to 50 feet, lit only by the electric lights on the tour boats. Visitors can enjoy a one-hour Myst'ry River Voyage for just $14. Bluespring is located just five miles from Bedford and is open from Memorial Day through October 31 (bluespringcaverns.com, 812.279.9471).
But if calm waters don't satiate your thirst for adventure, travel to the caverns that Squire and Daniel Boone first discovered in 1790—the Squire Boone Caverns. Located in Mauckport, rapidly rushing rivers and waterfalls flow through a cool, dark cavity just below the earth's surface. The year-round, hour-long tours take you throughout the underground water world along lighted pathways with an abundance of stalagmites and stalactites as a backdrop. These caverns are the perfect place to finish your whirlwind cave tour. And at a price of $12.50 per person, they're easy on the wallet if you want to have some above-ground, post-wedding fun. (squireboonecaverns.com, 812.732.4381).
–:Amy A. Clark