Can you suggest some 20- to 30-mile backpacking trips in Glacier National Park?
My wife and I are planning a weeklong trip to Glacier National Park this year, including a three-night backpacking trip. Any ideas for a good 20- to 30-mile trip that will take us into the wilderness and away from the crowds? Jason Elk River, MN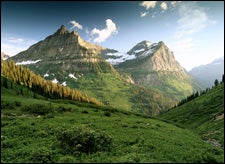 Heading out the door? Read this article on the new Outside+ app available now on iOS devices for members! Download the app.
Glacier National Park's gorgeous, glacier-carved landscape makes for a perfect backdrop to your trip. And it's a good thing you're going now because, tragically, the number of pre-historic ice caps in the park has dwindled rapidly from 150 a century ago to less than 30 today. Scientists predict that if the effects of global warming aren't curbed, all of these glaciers will be gone by the 2030. So now's the time to see all that President Roosevelt marveled about 75 years ago: towering mountains, glassy alpine lakes, abundant wildlife, breathtaking vistas, and over 700 miles of hiking trails—all tucked into Montana's northwester corner. Plan ahead using the park's online backcountry camping resources (www.nps.gov/glac/planyourvisit/backcountry.htm), and you'll be better prepared to spend your well-earned vacation time in what many call the Last Best Place.
Glacier National Park

Epic views at Glacier National Park
Upon entering the park in West Glacier on Highway 2, make the 56-mile drive over to East Glacier on the Going-to-the-Sun Road. Or ditch the vehicle and let Amtrak do the driving. You can hop on the train in West Glacier and take the scenic ride along the edge of the park to East Glacier. You'll pass the Flathead River, Walton Ranger Station, and Goat Lick Overlook on your way to Three Passes trailhead, an 18.8-mile trail that may be relatively short, but packs a punch when it comes to rewarding views. The trail begins at Two Medicine Lake campground with views of the 9,224-foot Flinsch Peak along the western skyline and follows Dry Fork Creek until reaching the first of three passes, Pitamakan (elevation 7,557 feet), at mile eight. You'll endure a steep, 1,000-foot climb across 1.8 miles, and may want to set up camp at Oldman Lake where 20-inch Yellowstone cutthroat trout are known to dwell (one of the main reasons this is also prime grizzly habitat). Just another half mile west is the next pass, Cut Bank, at 7,134 feet, as well as portions of the renowned Continental Divide. Hike south along the Continental Divide another four miles and you reach 7,598-foot Dawson Pass. Mountain goats frequent the area and a short, steep hike up to Flinsch Peak between the two passes offers another staggering view of the surrounding landscape. Another two miles east and you'll reach No Name Lake at the base of Pumpelly Pillar, a tempting turquoise splash beneath a towering piece of granite. Once you've passed the picturesque landmark, you'll follow Two Medicine Lake another five miles back to the trailhead at Two Medicine Campground (www.nps.gov/glac/planyourvisit/hikingthetrails.htm).
If you're up for something a little more off the beaten track, try the Nyack Loop, a longer hike ten miles southeast of West Glacier. This 37.3-mile trail takes an average of four nights to complete, but it will take you to the most remote and least traveled section of the park. The loop offers plenty of backcountry bounty as there's more wildlife than other areas, and you can camp just about anywhere. But the trip should only be attempted in August when the waters of the Middle Fork of the Flathead River are at their lowest, because you'll have to cross the water to begin your journey. After wading through the Middle Fork (no bridges out here), the trail continues another three-quarters of a mile to Nyack Creek, where you'll find another wet crossing. Be advised that wearing waterproof shoes will keep your feet happy and protected, and you may want to pack plenty of moleskin for impending blisters. (The same goes for bear spray, but we'll cover that later.) After passing Nyack Trail Junction, the trail gains a little elevation and after reaching Surprise Pass at 5,760 feet, you'll get spectacular views of beefy 10,142-foot Mount Stimson. Nyack Falls could well be the highlight of this adventure, with glacial water cascading over rust-red bedrock. Descending Surprise Pass to Coal Creek, I highly recommend detouring right to Martha's Basin. There you'll discover two backcountry beauties, Buffalo Woman and Beaver Woman lakes. Enjoy the freshwater at this stop, because it's another 15 miles back to the trailhead. A note about this trek: There's usually an abundance of huckleberries along the trail, but where there are berries, there are also bears, and Nyack Loop has the best grizzly habitat in the world. When preparing for your trip, make sure to visit Glacier National Park's website on backcountry camping (www.nps.gov/glac/planyourvisit/backcountry.htm), as the site provides all the information needed when entering grizzly country (like how to use bear spray), as well as a downloadable 2008 Backcountry Guide.
For Glacier's famed take-your-breath-away views, however, you'll want to do the 30.5-mile Fifty Mountain hike, which truly tops the list of Glacier's backcountry trips. Fifty Mountain, a moderate hike with few steep ascents, takes four days to complete and begins across from the Logan Pass Visitors Center, northeast of the park's West Glacier entrance. The trail ends at Waterton Lake where you hop a water ferry that will shuttle you back to your car at Waterton Marina—meaning you've got to shuttle a vehicle or make other arrangements (and also check the ferry schedules and plan accordingly—www.watertoninfo.ab.ca/m/cruise.html). The first three miles of the trail are directly below Going-to-the-Sun Road, rising to an elevation of over 9,600 feet. Hikers then climb to Granite Peak Chalet where they can stop and spend the first night, enjoying views of Mt. Gould to the north. Reservations for lodging at the chalet can be made by contacting Glacier Guides (www.glacierguides.com); otherwise, tent camping is available. To the south, views of Heavens Peak (8,987 feet) and Longfellow Peak (8,904 feet) span the horizon. The swiftly-flowing McDonald Creek in the valley below creates a perfect contrast to the jagged peaks above (and the perfect place to spot grizzlies). From the chalet, the trail descends into Cattle Queen Creek, which is also the lowest point on the Continental Divide in the park. A quick climb up to Fifty Mountain Pass (elevation 7,700 feet) will have you looking over Fifty Mountain Camp—see if you can count the 50 peaks from here. Definitely make time to take the 0.3-mile side trip to Sue Lake, which promises the best view in the entire park. Upon leaving camp you'll pass through a wildflower mecca just before reaching Kootenai Lake. The descent can be tricky, so be prepared for a little overgrowth and some steep terrain. You're also near the end of the trail and boat launch times must be kept in mind, as this is your taxi home.
-Amy A. Clark