The Case for Adventuring Local
You don't have to travel far to find inspiration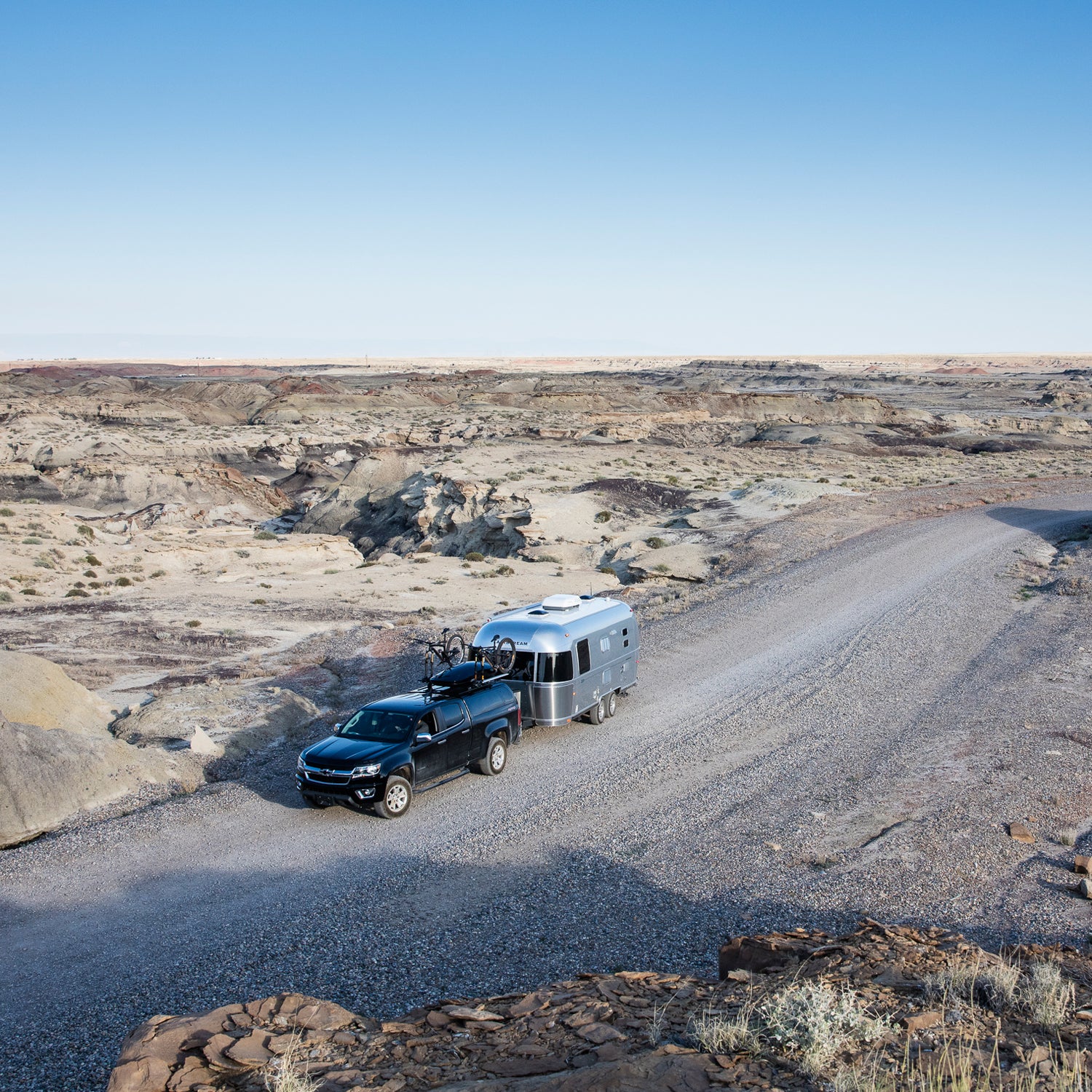 Heading out the door? Read this article on the new Outside+ app available now on iOS devices for members! Download the app.
The plan when we bought Artemis was to hit the road, see distant sites we'd long neglected, never look back. We'd visit friends in Lander, Wyoming, hit Mount Rainier and the Pacific Northwest, maybe overland to Alaska.
One thing you quickly discover while vagabonding: the road is never straight.
Road life affords some freedoms over being stationary, but work commitments and other day-to-day obligations still guide the course. Over the summer, I ended up in Sweden for two weeks for an assignment, and Jen went to Canada when I returned. After that, we headed to central Europe together for a story. It was all fantastic, but we were inching forward on our envisioned route so slowly that we decided to confine our summer and fall to New Mexico and Colorado.
 
That felt like a comedown at first, but not for long. Too often we chase far-off, exotic places while overlooking what's around the corner. And in the last few months, Jen and I have discovered—once again—that our Rocky Mountain backyard is full of compelling spots just as worthy a visit as anywhere.
Too often we chase far-off, exotic places while overlooking what's around the corner.
Just an hour north of Santa Fe, Abiquiu Lake is one of those places that we have sped by a million times on our way to the mountains of Colorado and Utah. But earlier this summer, as we were once again cruising past, we nosed in and found a sweet little campground offering $12-a-night sites with million-dollar views. The spot we scored sat on a rock promontory with views over the water to the scraggly Jemez mountains on the horizon, and singletrack cut the hillside just 50 feet below us. We thought we'd stay a night, but with work-friendly 3G service, lots of trails and forest roads to explore by bike, and warm water temps for paddling and floating, we didn't pull up anchor for over a week.
We also ticked off a longtime ambition to visit Chaco Canyon, the Pueblo ruins situated in a hard-to-reach stretch of desert in New Mexico's northwest corner. This national park is only 175 miles from Santa Fe, but it's guarded by a rugged, dirt-road approach, which has always made the trip seem too long for a weekend. With Artemis, though, we rolled out one afternoon, spent a handful of nights that allowed us to explore the sites at our leisure, and continued rolling when we felt like we'd seen enough. We travel almost as herdsman, moving to fresh pastures once we've gleaned what we can from a place. 
One of my favorite stops since we set out is an almost unknown site in the far northwest corner of New Mexico called Bisti Badlands. Years ago, I swore we'd go someday after seeing a photo, which made it look like a cross between Bryce Canyon and the salt flats of Bolivia. But it's on the way to nowhere.
Signage to get there was almost nonexistent, and though Google Maps led us to a dusty parking lot, the metal BLM information booth and area map was so faded that we still wondered whether we were in the right place. But wandering out into the open desert, it was clear this was the spot.
We found a kaleidoscope of colorful sands and dunes, crumbling towers and hoodoos, and wild, sculpted rocks that looked like fantastical creatures. We were told by a Navajo friend in Gallup that the place is sacred to her people, and it's easy to see why. Wind and rain have strafed the land over millennia into a gorgeous, geographic atlas, and the silence was so bracing that it almost stunned us. This empty land, devoid of human touch, is a wilderness like it must have been hundreds and thousands of years ago. It's not grandiose like a national park, but monumental like a calm sea reaching to the horizon. Visiting felt like someone had whispered us a secret. We spent several nights under a vast, black sky sprayed with stars and, when we finally had to peel away, swore we'd return. I hope Bisti never gets cell service, but at the same time, we had to connect and get back to work.
 
We've been wandering our home country like this for almost six months, and the landscape seems to perpetually expand. I can study the New Mexico map ad infinitum, and each time I discover a new state park, a sliver of wilderness, a promising scenic monument. Experience, it turns out, isn't measured in landmarks or miles. Adventure is a mindset. Exploration does not have to equal exoticism.
Someday in the not-too-far-off future we'll make it to Lander and the Pacific Northwest. I'm certain those places will be as compelling as I've imagined them. But I'm no longer convinced they'll be any better than the places within a few-hours drive.  
Lead Photo: JJAG Media