Rediscover Arizona
Sponsor Content: Arizona Tourism
Chip Thomas Is Telling Navajo Stories with Street Art
As a young National Health Service Corps physician, Chip Thomas moved to the Diné Nation to help build a community of wellness. Today, his public-art installations are bolstering that mission.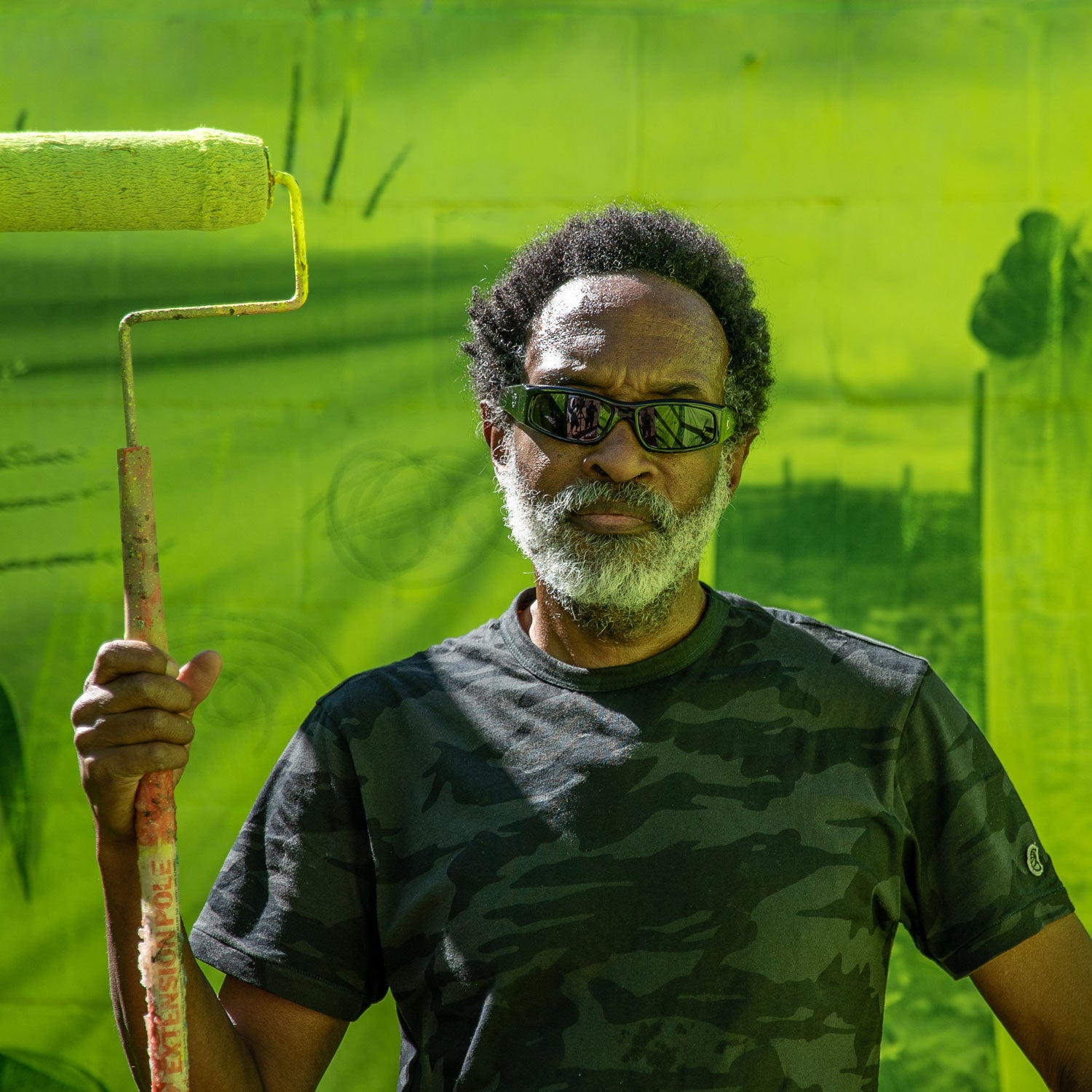 Head north on Highway 89 out of Flagstaff, Arizona, and before long the dignified and sturdy ponderosa pines that blanket the foothills around the city give way to rockier badlands as you descend toward the Diné (Navajo) Nation and the Painted Desert, the huge swath of northern Arizona stretching from Grand Canyon National Park to Petrified Forest National Park.
As the landscape opens up, the high desert's rolling hills and craggy ridgelines unfurl in dusty hues that beg to be Instagrammed. And that's just what you can see from the highway. Venture down any of the region's backroads and you'll find forgotten canyons, massive arches, sand dunes, and ancient, unmarked ruins. There are other gems, too, many of which are hiding in plain sight just off the road, such as the series of public-art installations created and curated by Chip Thomas, a 62-year-old local physician, activist, and world-renowned public artist.
The installations dot roadsides across the region, telling pieces of its rich and complex history. There's the Green Room, a small abandoned building behind a dilapidated trading post, roughly 30 minutes north of Flagstaff, that addresses the effects of uranium extraction. The exterior features black-and-white photos of sheep; the inside walls practically glow with pictures of corn highlighted with translucent neon-green paint.
Several miles down the road, large-scale black-and-white photos and a series of vibrant murals transform the walls and fuel tanks of an abandoned gas station. The photographs are Chip's, but the murals are part of his Painted Desert project and were created by renowned street artists from around the world whom Chip invited to come hang out for a bit and make art. A few miles farther north, on the east side of the highway, an arresting portrait of an elderly Navajo man in declining health looms on the wall of an old building.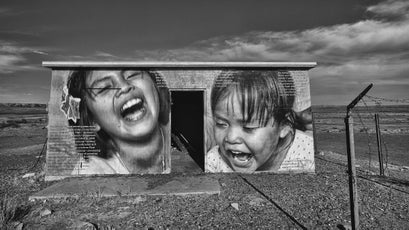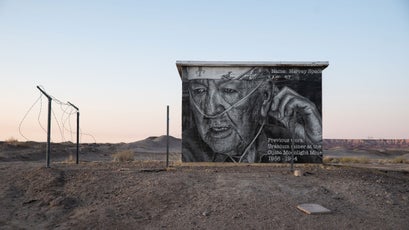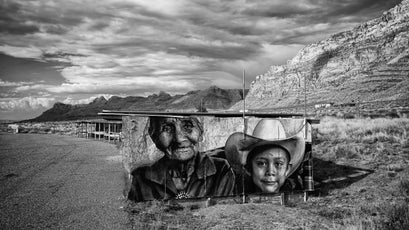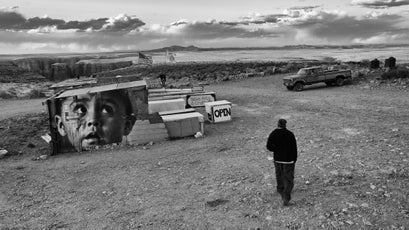 There are others, too, and not just along this stretch of Highway 89. They're behind roadside stalls selling Navajo arts and crafts; beside Highway 64, near the Little Colorado River Gorge; along Highway 160 at Black Mesa Junction; and in at least a half a dozen other places. The work, which Chip has described as his "love letter to the Navajo Nation," reflects the 30-plus years he's been living and working in and around the reservation.
I try to use my art to tell stories, to share some of the humanity that's here. And so that people passing through get a better and deeper understanding of who's here.
Chip, who grew up in North Carolina, first moved to the Diné Nation in 1981 to repay a National Health Service Corps scholarship by volunteering his skills in a community with limited health care. By the time he'd made good on his four-year obligation, he had fallen in love with both the people and the landscape. "Being here has just kind of given me the time and space to pursue all my interests and curiosity," says Chip, who still practices family medicine four days a week at the Inscription House Health Center, a clinic outside the village of Shonto.
Although not formally trained as a photographer, Chip, who works under the moniker Jetsonorama and was influenced by the graffiti hip-hop scene in New York City in the early eighties, started documenting the lives of the community early on. "I'd just go out with people when they were out herding sheep, hauling water, hauling coal—just being with them and seeing what life is like for them and appreciating some of the challenges."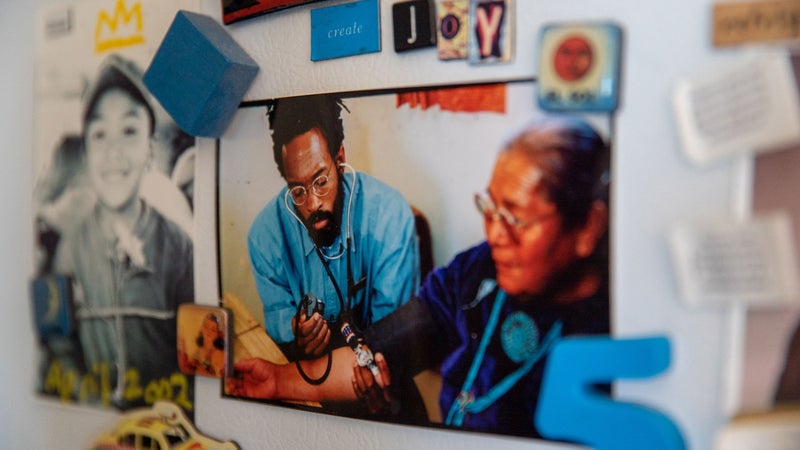 And while street art and medicine might seem like completely different worlds to most, to Chip, they're one and the same. "In my medical practice, when I see people, I'm attempting to create an environment of wellness within the individual. And in the community, with the pictures I'm putting up, I'm reflecting to the community the beauty they've shared with me. I'm attempting to create an environment and then a wellness within the community."
Nearly all of Chip's images, which he pastes onto structures using a special adhesive and massive roller brushes, capture scenes from everyday Navajo life and address social and environmental issues like land disputes and mining. The goal, says Chip, is twofold: "I try to use my art to tell stories, to share some of the humanity that's here and to have a conversation of sorts with the Diné. The work also gives people passing through get a better and deeper understanding of who's here."
It's an endeavor that Chip has approached with patience and tact. "There's not a tradition of muralism on the reservation and it took time to gain people's trust and figure out how to present my photographs and thoughts in a way that I think reflects their beauty and strength," he says.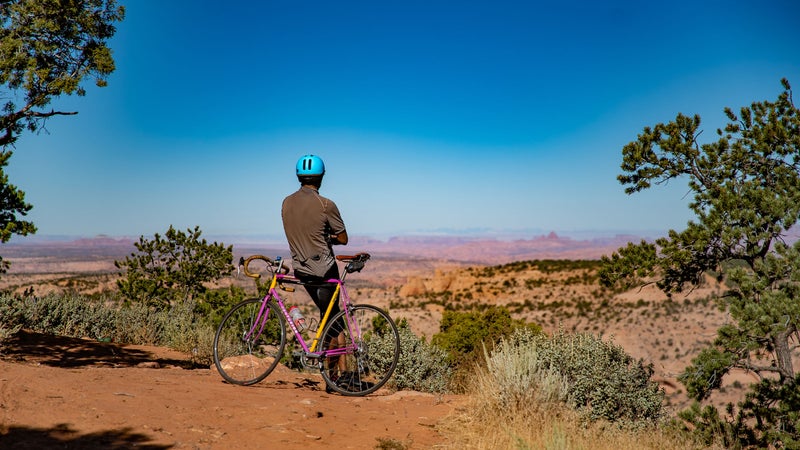 Spend any amount of time rambling around the Diné Nation with Chip and it's immediately clear what a positive effect he's had on the community. Everyone either knows him personally, is familiar with his artwork, or has been a patient of his at the clinic. It's also clear how much he loves this part of Arizona. He can road-ride from his house to an overlook of a beautiful canyon, hike to a spectacular arch on some friend's property, or explore one of his favorite spots in the state, like the Little Colorado River Gorge. "A lot of times tourists are really focused on getting to sites like Monument Valley, Canyon de Chelly, or some of the other beautiful spots around here," says Chip, who hopes his work will catch their attention and perhaps make them slow down and appreciate the culture and landscape they're passing through.
"It's a fascinating place because you think, 'Oh, it's the desert. Everything's the same color, everything's brown.' But there's so much life here," Chip says. "It's insane what you can do here. There's a lot of slickrock sandstone if you're into mountain biking. There are arches and canyons, great hiking, paddling up Lake Powell. It's a super-beautiful place. Just the fact that you can see such a distance, in my mind, creates a sense of endless possibility."
---
To plan a trip to Arizona or learn more about the area's rich culture and history, go to UnRealAZ.com.