Ditch Your Car, Find Adventure with Transit and Trails
Heading out the door? Read this article on the new Outside+ app available now on iOS devices for members! Download the app.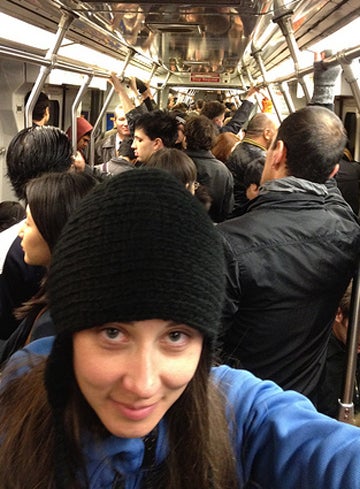 Kate Kernerman on her way to a campground. Photo: Ryan Branciforte
It was a brisk and sunny morning, typical for the dry winter we're having in San Francisco. As I locked my bike up to a sturdy fence and started down the escalator to the 24th Street subway station, I realized how odd I looked, in my running tights, fleece, and hat. I looked even more out of place as I sardined into a crowded subway car full of workaday commuters, headed east. 
Ryan Branciforte, co-founder of Transit & Trails, joined me a few stops later. Our destination: Joaquin Miller Park, high in the Oakland hills. My goal: to find out whether ditching my car in order to stitch together various modes of public transit to get me from my home in SF to an awesome trail would be as annoying and as tedious as it sounded.
It wasn't. In fact it was kinda fun (see the footage below). Fun enough that we followed it up with a 9-miler a few days later, taking a bus north to Marin County and then running through the Marin Headlands and back into the city over the Golden Gate Bridge. 
Of course, it's Branciforte's job to make car-ditching appealing. He and co-founder Jereme Monteau started with a paper map and turned it into an interactive website and community hub for carless lovers of the outdoors, or (like me) guilt-ridden drivers. Based on your location and the transit systems nearby, Transit & Trails links users to trailheads, campgrounds, or planned (round trip) excursions. Using the Android or iPhone app, you can plan or adjust your plans on the move from anywhere with cellular service. 
I've always known I could get out of town without my car, I even looked at some transit time tables and pondered the possibilities. But what I hadn't considered is that, aside from eliminating the guilt I felt about driving to a trail (often alone, often with my mountain bike in the car), using transit affords much more flexibility than driving. Ride your bike out of town, lock it up near a trailhead, run a trail that connects to the next town, take a bus back to your bike. Or go subway to bus to bucolic countryside and run all the way home. Mass transit is basically a shuttle. 
And while the trips you take can be as tame or ambitious as you want, Transit & Trails is out to prove they can also be epic. In June, it's hosting Alt. Ride, in which road cyclists will scale the three tallest peaks in the Bay Area (4,196-foot Mount Hamilton, 3,864-foot Mount Diablo, and 2,574-foot Mount Tamalpais) in one day, linking each ride through commuter rail, subway and bus systems.
Urban Jumble
We're living, increasingly, in cities. And that trend is expected to continue. 
"As cities get more dense and crowded, more people will want to get outside, and out of the cities," says Branciforte. He and Monteau look at the networks of transit systems — not just around San Francisco but in all urban areas — and see huge possibilities. "There are over 30 transit agencies in the Bay Area, which makes trip planning really complex. If we can do it here, then in other cities with fewer systems, such as Portland, it'll be even easier."
Because it pulls data from Google Transit, you can use Transit & Trails to find your way to regional parks and open space in any of the hundreds of cities that Google Transit covers—though you'll be limited to the transit agencies that Google Transit includes. Branciforte says they're looking to also link up directly with transit systems in other cities, to add more detail and options outside of the Bay Area. And the concept isn't limited to cities—resort towns like Aspen and Whistler have transit systems that link visitors to the ski slopes. We don't often think of them as summertime transportation, but why not? 
Not every city has the wealth of nearby open space and parkland that San Francisco has, nor the multitude of transit options. But there are some places—say, New York City—where residents are already really used to the transit systems, and many don't even own a driver's license. In those spots, it's a matter of breaking out of the home-to-work, work-to-home routine. The website offMetro.com offers trips and tips for carless travel in NYC and, more recently, SF, but its focus isn't outdoor sports. 
"I've connected with a group in Minneapolis called Transit to Green Space and they are actively getting folks outside, on transit," says Branciforte. "Portland Metro is working on this a bit, as well."  
It's not an all-or-nothing proposition, and I'm not about to completely cut my petroleum addiction. But I'm psyched that I can now confidently leave my car parked (and save money) and still get out of town. It has forced me to think more creatively about outings, too. Next up for me: a camping trip, by way of subway, bus, and maybe, a ferry.
–Mary Catherine O'Connor
@mcoc 
Trending on Outside Online