Don't Camp at Walmart
Big-box parking lots are an easy stopgap, but there's so much public land waiting for those willing to look a little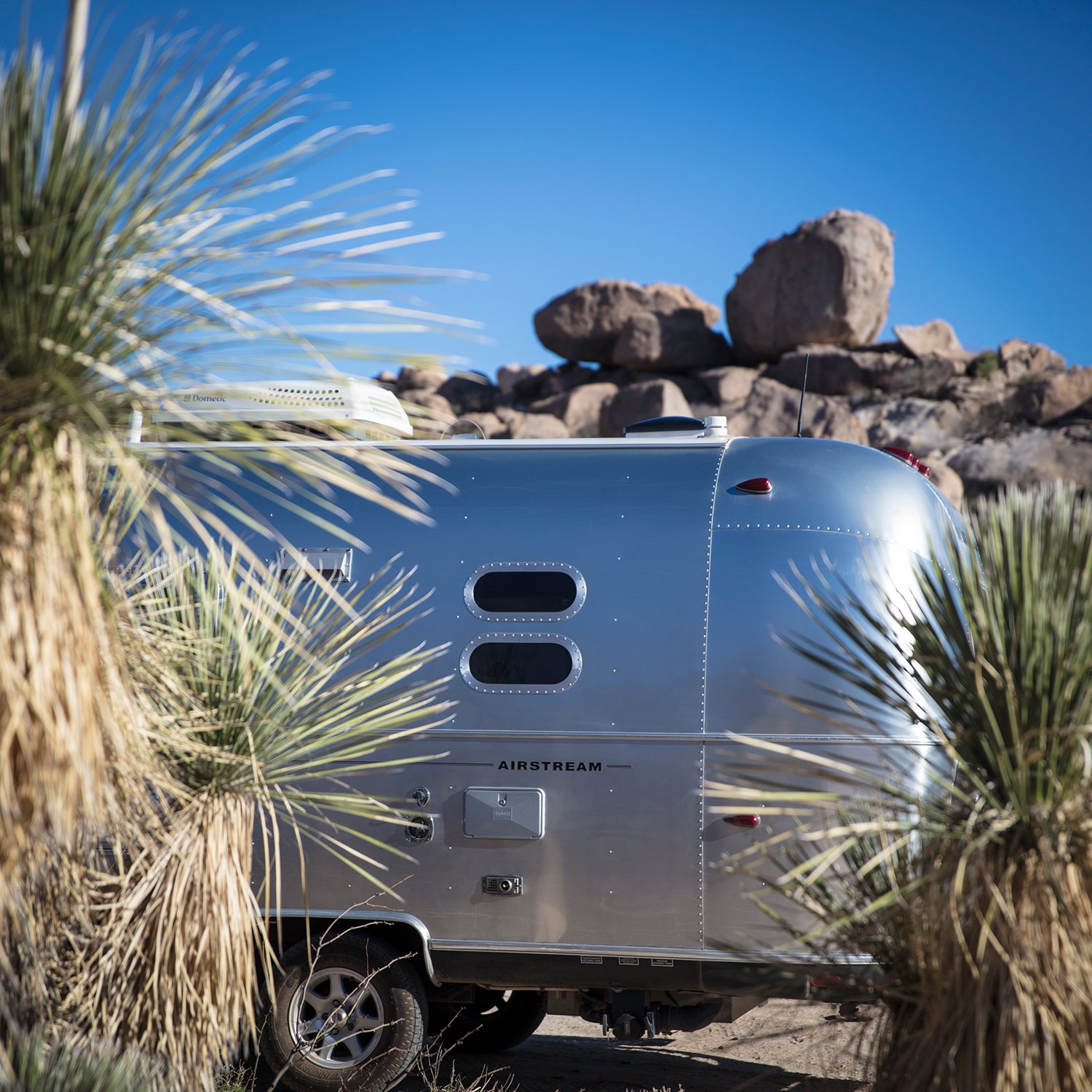 Heading out the door? Read this article on the new Outside+ app available now on iOS devices for members! Download the app.
A few weeks ago, we were headed east on I-10 across southern Arizona en route to Rockhound State Park in Deming, New Mexico, when it became clear that we were going to have to drive into the night if we wanted to make our destination. We'd already been on the move since dawn, the low tangerine sun behind us cast long shadows from the saguaros, and Deming was still three hours up the road. In these pinch moments, when we're tired, short on time, don't want to hassle with setup—and only in these moments—it's tempting to pull Artemis, which is what we call our Airstream, into a Walmart. Many of the company's stores (though not all) allow RVs and trailers to camp in their lots, providing simplicity and succor to weary travelers. Scanning my phone, I discovered one just a few miles ahead, in the town of Benson.
Despite our fatigue, we did not stop. And neither should you.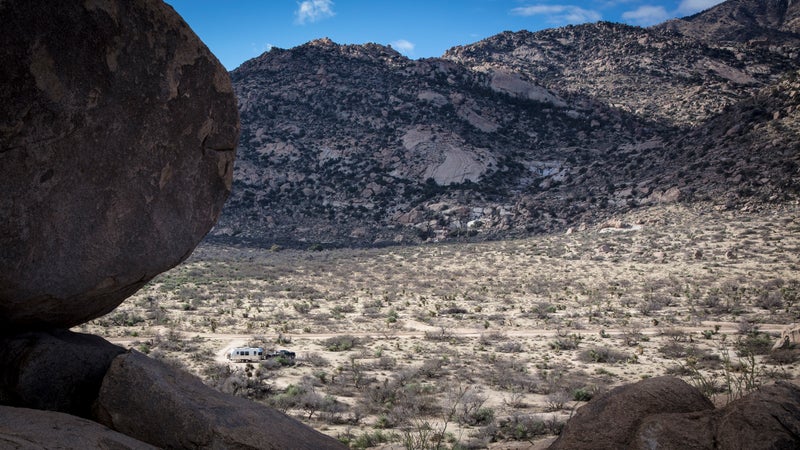 This is nothing against Walmart. I'm no big fan of the superstores, but these days, when more cities are legislating against mobile dwellers, it's actually pretty cool that the company permits RVs and campers. (Aside: the stores are also often the only source of organic food in rural settings.) However, we avoid them because the experience is pretty much the antithesis of what we want out of road life. Staying in a parking lot with others is like eating fast food: sure it's easy, but a visit to the grocery store will produce healthier—if simpler—food and leave you feeling better afterward. The one time we took refuge in a big-box parking lot, we were anxious and exposed all night beneath the blue fluorescent lights, and felt cheap and dirty in the morning. Besides, camping in a parking lot is simply unnecessary, at least not in the American West.
After scanning my phone for a Walmart and resisting the temptation, I flipped over to the OnX app and discovered that we were surrounded by mountains. The Dragoons, the Chiricahuas, the Rincóns, the Galiuros, the Pinaleños—they were all within an hour's striking distance. And from the look of it, each was replete with public land. A quick cross-reference to AllStays produced a promising option: a place called Indian Bread Rocks, just south of Bowie, was less than an hour up the road and, judging by a satellite view, there were plenty of dispersed campsites tucked in a spray of rock outcrops. Plus, it looked to be only 15 minutes off the highway.
When we pulled in, the place was more stunning than we could have imagined: granite domes and boulders balanced in topsy-turvy piles like prehistoric sculptures. Since we'd only be staying overnight, we didn't even unhook the trailer, which meant there was just enough time to pull out the camp chairs and sip some bourbon before the sun dropped below the jigsaw horizon. After dinner, we re-emerged into the desert-night chill to a spray of bone-white constellations on a black sky. And when we woke the next morning to a craggy view of the Dos Cabezas Mountains Wilderness spread to the south, we couldn't resist a hike into the hills. Less than half a mile from Artemis, we discovered Indian Bread Rocks's eponymous mortar and pestle holes in the granite shields, where Apaches and others once ground grain. These weren't on some tourist circuit or even on a trail—like all the best things, they're out there to be found by anyone willing to poke around.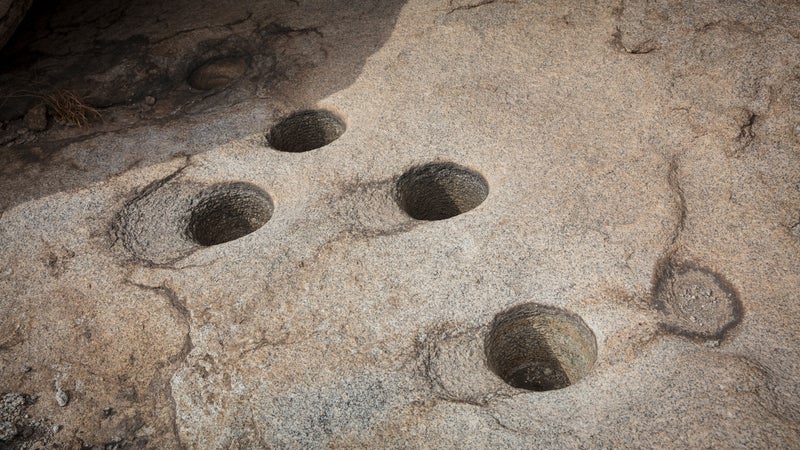 I'm tempted to say that the experience beat the one we would have had at Walmart, but that's an absurd understatement. Sandwiching between a dozen campers in a concrete parking lot is as close to our experience at Bread Rocks as tract suburban housing is to a bucolic country bungalow. But you can't spend every day in a vacation home, you might say. And that's where you'd be wrong. Artemis is our mobile manor, and though we work from her as we go, a big reason we moved in was to escape the humdrum of daily life. Though the ease of road-side parking—or pushing hard and rushing to the next destination, or even returning to our fixed address when things aren't going smoothly—sometimes seems appealing, silent mornings in wild places like Indian Bread Rocks, drinking coffee with a stunning view, and hiking into the hills even when we tell ourselves we don't have the time, are precisely what make the tradeoffs worthwhile.
The next day as we drove through Deming we passed another Walmart, and I counted at least a dozen trailers and RVs lined up in the far reaches of the lot. Down the road, Rockhound State Park, our missed destination the night before, was overflowing with a scrum of fifth wheels crowded together on the free gravel spots outside the gates. The camp host offered us a patch in the group site with four other rigs, but we declined. The mountains to the south were a patchwork of state and Bureau of Land Management acreage. By early afternoon, we'd found another isolated backcountry site, rolled out the awning, and were in for a week alone in the hills.
Lead Photo: JJAG Media