Sponsor Content
The Expert's Guide to Colorado
Wild, off-the-beaten-path outings in one of Colorado's most rugged corners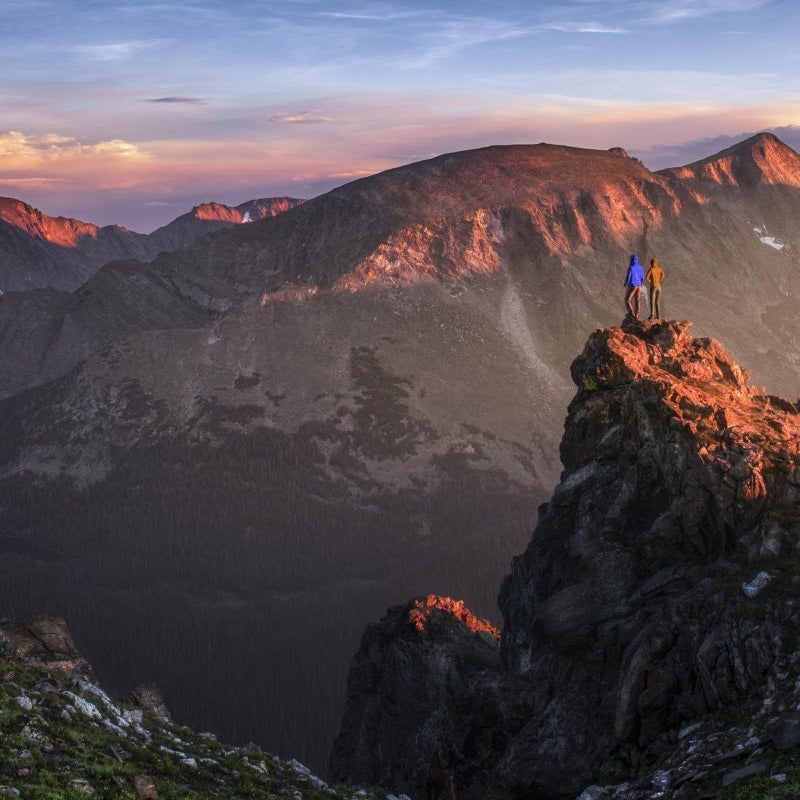 It's difficult to narrow down a list of the most epic outdoor adventures in Colorado, mainly because there are so many of them, but perhaps the highest concentration of wild adventures is in the San Juan Mountains, in the southwestern corner of the state. Nobody knows this rugged and challenging terrain better than Colorado locals Heidi Wirtz, who's been guiding rock climbing for over two decades, and Jennings Hester, founder of the nonprofit Fishing the Good Fight. From burly backpacking routes to rowdy sections of whitewater, here are a few of the state's spiciest test pieces for experienced adventurers.
Rock-Climb in the Black Canyon
One of the lesser visited national parks in the country, Black Canyon of the Gunnison is a true sight to behold (the canyon is a staggering 2,722 feet deep at its tallest point). The most epic way to explore the "The Black," as locals call it: hike down into it and then rock-climb back out. "You want to have quite a bit of experience to go down there. It's pretty extreme," says Wirtz, who is a certified rock guide. She says the north rim offers some more moderate options, like Maiden Voyage (five pitches; 5.9+), but that "nothing in the Black should be taken lightly." Your best bet is to hire a local guide, like Wirtz, to show you around the walls of Precambrian granite and keep you safe. Find a guide for the Black Canyon at Peak Mountain Guides.
Bag a San Juan Fourteener
From Lake City, head for Wetterhorn Peak to knock out a fourteener with a fun, slightly exposed Class 3 scramble guarding the 14,015-foot summit. The route is only seven miles round-trip, but gains a butt-burning 3,000 feet of elevation. You'll be rewarded by a seemingly endless view of rugged peaks in every direction.
Scale the Ouray Via Ferrata
Adventurous families shouldn't miss clipping into the Ouray Via Ferrata, which hugs the walls of the stunning Uncompahgre Gorge, just opposite the famed Ouray Ice Park and right above the Uncompahgre River. There are fewer than a dozen via ferrata routes in North America, and this is one of the coolest. The route has more than 4,000 feet of exciting climbing and traversing. Climbers wear harnesses and other safety gear and stay attached to a safety cable while stepping on steel rungs to navigate steep, blank faces of rock. (If you're new to via ferratas, hire a guide from San Juan Mountain Guides to show you the way.) After you're done, pay a visit to the rooftop at Ouray Brewery and grab a pint of the award-winning Camp Bird Blonde Ale.
Pro Tip: In Colorado, even late spring can bring snowstorms, so be aware of the latest weather forecasts as well as news of road and trail closures.
Raft the Unruly Animas
If you're looking for real-deal rapids in an incredibly scenic setting, try out the Upper Animas and its continuous Class IV and V whitewater. From Silverton raft 12 challenging, spicy miles with Mountain Waters before the finale: a two-mile section of sustained, heart-pumping whitewater. The fun isn't over at the takeout either. Board a historic train on the Durango & Silverton Narrow Gauge Railroad for a beautiful (and vintage) ride through the Rockwood Gorge back to Durango.
Pro Tip: Don't book it out of town right away—smaller towns like Silverton have amazing festivals and tons of character, like the town's Grand Imperial Hotel, which originally opened as an opulent accommodation in 1883 by New York perfume and lumber magnate W.S. Thompson.
Adventure Back in Time at Canyon of the Ancients
This national monument has the highest density of archeological sites—some 30,000—in the country. You can see everything from kivas to villages to sweat lodges, all while learning about the Ancestral Puebloans who inhabited the area for 10,000 years. Stay in one of the cabins at the unique Canyon of the Ancients Guest Ranch, an idyllic farm nestled among sandstone cliffs. Get the pulled-pork nachos and order a Monkey Wrench Pale Ale from WildEdge Brewing in downtown Cortez.
Fish Durango's Mountain Lakes and Rivers
What makes pike such a rewarding species to hook? Not only are they large—they're also fighters. It's best to go with the pros, so book a trip with Duranglers and see if you can snag a 20-pounder at Vallecito Lake. The lake, just 18 miles from Durango in the San Juan National Forest, sits at 8,000 feet and is one of Colorado's largest bodies of water. If you're looking to test your technical skills, head to the San Juan River. "It's one of the most challenging rivers in the country," says Jennings Hester, whose nonprofit uses fly-fishing to support men struggling with mental health issues.
---
Colorado is a four-season destination offering unparalleled adventure and recreational pursuits, a thriving arts scene, a rich cultural heritage, flavorful cuisine and 28 renowned ski areas and resorts. The state's breathtaking scenic landscape boasts natural hot springs, the headwaters of seven major rivers, many peaceful lakes and reservoirs, 12 national parks and monuments, 26 scenic and historic byways and 58 mountain peaks that top 14,000 feet. For more information, visit Colorado.com/Summer.