Got any ideas for a road trip in the Pacific Northwest?
I'm planning a one- to two-week road trip up to northern Washington, possibly Canada. Do you have any suggestions of good places to cp/stay and interesting things to do? Any goods hikes and or bike rides? Tim O. San Luis Obispo, CA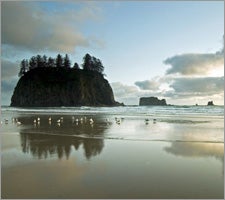 Heading out the door? Read this article on the new Outside+ app available now on iOS devices for members! Download the app.
As you likely realize, the Pacific Northwest hosts literally thousands of trails that wind old growth forests that typify hiking and mountain biking, along with campgrounds everywhere in between. The trick is deciding where to stop.
Olympic National Park's Second Beach

THE TIDE IS RIGHT: Olympic National Park's Second Beach
Driving through northwest Oregon into southern Washington, it's hard miss the towering beauties of the Cascade Mountain Range: Mt. Hood (11,429 feet), Mt. St. Helens (8,365 feet), and Mt. Rainier (14,411 feet). All three offer hardcore hiking, but if you prefer speed and technical adventure, rack the knobby tires and head up to Mt. Rainier National Park. Past the entrance, the roads at the base of this volcanic beast are primarily dirt or gravel, and many are closed to vehicle traffic. Stretching anywhere from five to 20 miles, riders won't find much single track, but the elevation makes for steep, narrow terrain. Venture to the northwest corner of the park where you'll find Carbon River Road. Years of flooding has kept this road open strictly to bikers and pedestrians. Get a taste (literally) of Washington's deep dewy woods with a ride through the rain forest alongside the Carbon River to Ipsut Creek Campground. The road is just five miles, but the scenery is well worth it. Want more of a road challenge? Make your way to the park entrance on Highway 706 and begin your ride at Nisqually—19 miles and 3,400-foot elevation gain make for a quad-burning ride with a finale finish in Paradise. Located at the base of Nisqually Glacier, you'll be able to rest your tired legs at the Paradise Inn. With a breathtaking view at 5,400 feet, the rooms are a steal starting at just $104 per night. Entrance to the park is just $15 per vehicle.
If you'd rather break in your hiking boots, head northwest to Olympic National Park. Located on the Olympic Peninsula just two hours west of Seattle, the park spans 922,561 acres, including the sub-alpine meadows at the base of Mt. Olympus (7,980 feet), protected rain forests, and coastal shores. Hiking opportunities span the park, but you'll want to hit the peninsula's rocky and wild coastal shores where 73 miles of shoreline draws park visitors for camping and hiking along sandy beaches and rocky trails, complete with views of towering headlands and sea stacks. Beginning at either Ozette or Mora campgrounds, and then hike from Sand Point or Rialto Beach for a 20-mile adventure. While the trail is safe, hikers are advised to time their trip according to the tide table. Sheer cliffs and narrow trails will literally keep you on your toes and it's best if the tide isn't lapping at your heels. Plus, tide pools and other marine treasures are uncovered and open for exploration as the tide retreats. Highlights include clearing headlands trails by way of wooden ladders such as Norwegian Memorial, even during low tide. You'll also likely spot seals, eagles, otters, and whales cruising the area. Sites at both campgrounds are $12 per night and wilderness permits for camping are $5 per group plus $2 per person, per night. Entrance into the park is $15 per vehicle.
Or head further north to British Columbia's Vancouver Island. Home to world-class mountain biking, Vancouver Island has thousands of miles of single track, freeriding, and a lift-accessed mountain bike park. Trails range from moderate to extreme alpine downhills, and terrain spans across the island's mountains, forests, canyons, valleys, and beaches. Mount Washington Alpine Resort has the only lift-accessed runs on the island, soaring a vertical mile above sea level. Riders will find views of the Pacific Ocean, Strathcona Provincial Park, and the Cascade Mountain Range, 18 trails, and over 20 miles of single track. Riders of all levels will find trails that suit their skill. Summer mountain bike lift rates are $36, and if you decided not to load the bike racks, full-day mountain bike packages start at $89. Pay a little more and get the Mile High Mountain Getaway; packages that include one night in a luxury condo, chairlift ride, breakfast, and dinner start at $79. Upgrade to include unlimited riding on all the resort's freeride and downhill trails for another $20.
–Amy A. Clark