How Can I Get Upgraded When I Fly?
How do I get cheap airline upgrades from economy class?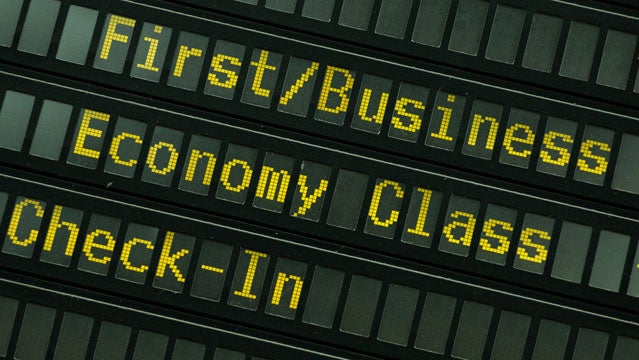 Heading out the door? Read this article on the new Outside+ app available now on iOS devices for members! Download the app.
If I knew some easy way to work the system for automatically getting bumped up to business or first class, I'd keep the secret to myself—but I don't. So instead, I'll give you tips on how to at least improve your chances for an upgrade. I wouldn't bother with domestic flights, where the difference between first class and economy isn't significant enough to really matter. But on long international flights, when sitting up front means much better food and drinks, more attentive service, and seats that fully recline into beds, you should do everything within your power—just short of begging—to try to get bumped up. Give these tactics a try.
FREQUENT FLIER MILES
It usually takes around 35,000 frequent flyer miles for one person to upgrade to business class on a flight to Europe. If you're traveling with your better half, that's a steep price—unless you know the tricks to accrue miles. The best way to do it is through an airline credit card. You can often earn up to 65,000 miles just for signing up for one, and you can earn even more if you ask for a companion card. The airlines will also often give you bonus miles on top of what you normally earn through the credit card if you charge a certain amount each month.
SEARCH FOR BUSINESS DEALS
When you use an airline or travel aggregation website for fare searching, you probably only look for economy tickets. But there are also business class deals to be had. Delta has its own dedicated Web page that lists cut fares for high-end travelers on international flights. American Airlines also does something similar.
DRESS BUSINESS CLASS
Wearing nice clothes won't get you bumped up, but it makes you a better candidate for an upgrade at the airport. If you've got flip-flops, sweatpants, and a ratty T-shirt on, your chances are less than slim.
BE WILLING TO GET BUMPED
You'd be amazed at the benefits you can receive if you're flexible enough with your schedule to volunteer your seat on an overbooked flight. One of them is often an upgrade to business or first class on your rescheduled ticket.
ANGLE FOR THE COURTESY UPGRADE
If you missed a connecting flight due to airline delays, walk to the airline's customer service desk inside the terminal and politely tell the person behind the counter about the supreme inconvenience the situation has placed on you. Then work together to find a way for the airline to make amends—namely through a business or first class upgrade.
DUMP THE KIDS
If you're traveling with little ones, no one at the airport is bumping you up. It's that simple. Make them walk or hitchhike to your ultimate destination. It builds character.
ASK AT CHECK-IN
Sometimes cheap last-minute upgrades are available, especially if you paid close to full fare for your initial ticket. You never know if one is available—and at worst, you're letting the person at the check-in counter know that you're hoping to get bumped up.
Lead Photo: T-Design/Shutterstock