How can I go about climbing Mount Kilimanjaro?
Next year, I would like to climb Kilimanjaro with my brother to celebrate his 30th birthday. Can you recommend any tour organizers who have a particularly good reputation for treks up Kilimanjaro? We are hoping to cp instead of staying in huts and will probably select a moderately intense route up the mountain.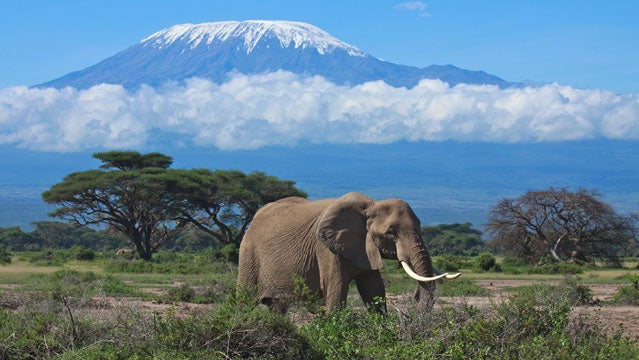 Heading out the door? Read this article on the new Outside+ app available now on iOS devices for members! Download the app.
Like a sore thumb rising from Tanzania's open plains, 19,336-foot Mt. Kilimanjaro is Africa's tallest peak and arguably the world's highest hikeable mountain. While no technical gear is required, you'll have to hire local guides and porters to reach the Uhuru Peak at the summit. Many outfitters both local and foreign do just that, and have quality reputations. Below are a few with histories of happy clients. Just be sure to book your climb well in advance; you'll want to hit the high season (January to March), to avoid becoming an unhappy mountaineer during rainy season (April to June).
Mount Kilimanjaro

Mount Kilimanjaro
There are a total of six routes up Mt. Kilimanjaro, and, as the nicknames reflect, each comes in a different flavor. The Marangu, or "Coca Cola" route is the easiest and most popular. The trail alone gets almost 90 percent of all visitors, and includes overnight lodging in huts. Instead, consider the more advanced Machame or "Whiskey" Route, which allows for tent camping. Zara Adventures offers a six- to seven-day trek up Machame for those who like a bit of a challenge and scenic panoramas. The route ascends the southwest side of the mountain and reaches a net gain of 14,450 feet. Highlights include the 15,190-foot Lava Tower and the Great Barranco Walls rising just above camp, which are often adorned in ice. Days three and four will be set aside for acclimatization hikes before the final leg to the summit on day five. Descending to the south on the Mweka Trail, hikers will get to see the western slope of the mountain after summiting. Porters transport tents and equipment, setting up camp prior to your arrival each afternoon. Meals for hikers will be cooked and served in a dinner tent or on a blanket outside. Price for the Machame Route is $1,447 per person and includes meals, tents, guides, transportation to and from the mountain, lodging in Moshi, and park fees. You'll just need to spring for your own sleeping bag, along with tips for guides and porters.
If you'd rather book your trip with a company in the States, Alpine Ascents International offers a 14-day Kilimanjaro/Safari Adventure. Hikers are transported through coffee fields to reach the Machame trailhead at the edge of a rainforest at 5,800 feet. Farther up, hikers cross 12,300-foot Shira Plateau at the halfway point, crossing into another climate, a 14,650-foot high desert plateau. After summiting Uhuru Peak in sub-arctic temperatures, you traverse through a dense jungle further down the mountain during the final descent. While there is an option of completing just the climb, Alpine lets you round out this Africa adventure with a safari. On days 11 to 14, tour Tarangire, Lake Manyara, and Serengeti national parks, as well as Ngorongoro Crater. Get up close and personal with baboons, gazelles, lions, cheetahs, hyenas, herds of zebra, antelope, elephants, and hippos while experiencing some of Africa's most renowned wildlife sanctuaries. For an extra $475, take a sunrise balloon ride over the Serengeti on your last day. Price for this Kilimanjaro safari begins at $4,800 (climb only) and $5,700 for both the climb and safari. Prices include all transportation, meals, equipment, lodging, guides, and fees.
For the truly extreme, take the Lemosho Route, the longest and most difficult way up Kili. Abercrombie & Kent offers a ten-day adventure up Lemosho, beginning at Arusha National Park and winding through tall grass savannah segues into volcanic caves and landscapes. Led by an experienced guide with over 170 Kilimanjaro summits under his belt, the trip up Lemosho is unlike any other route. As the most remote trail, a limited amount of foot traffic makes wildlife encounters more than likely. Lions, leopards, giraffes, and elephants are often seen wandering up the slopes during the day, so don't be surprised to see armed guards watching your back they are often hired to accompany outfitters on this route. Further up you'll encounter craters, glaciers, and a few other geological wonders like the Western Breach, formed by a breach of lava flows along the outer crater. After summiting on the eighth day, you'll return down Mweka for your final night stay. Price is $5,995 per person. Book early, as there are only two scheduled departure dates.

Lead Photo: Graeme Shannon via Shutterstock