How can I physically challenge myself in Ecuador and still see a lot?
How can I physically challenge myself in Ecuador and still see a lot?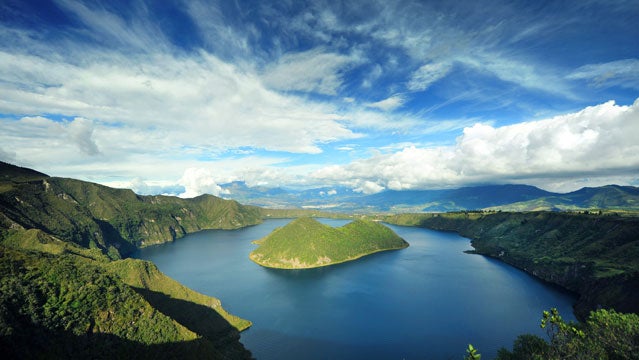 Heading out the door? Read this article on the new Outside+ app available now on iOS devices for members! Download the app.
The Andes cut across cross Ecuador from north to south, and the equator runs east to west, which means almost any climate in the world can be found within the diverse terrain of this South American country. From ice-capped glaciers to the Amazon, alpine valleys to tropical beaches, visitors looking for an adventure are literally bound to run, bike, or hike into one.
Galapagos

Sea Lions frolicking in the Galapagos
Cotopaxi National Park, the most visited park in Ecuador, is an hour and a half south of the city of Quito. While the main attraction is viewing the highly-active Cotopaxi Volcano at an elevation of 19,347 feet, hiking, climbing, and mountain biking are also popular. Park visitors will also find a cultural museum, rustic cabins, Inca ruins, and camping sites (Visit thebestofecuador.com/pncoto.htm for additional info). Once you've arrived and have acclimated to the change in elevation, be sure to attempt an ascent of to the volcano. Hook up with a guide in Quito, and plan on an early rise for the six- to eight-hour attempt as sun-melt on the snow in the later half of the afternoon can create avalanche danger. But once you reach the top, you'll find yourself gawking down at a crater 2,624 feet in diameter and peaks such as Uilidaña (15,977 feet), Rumiñahui (15,492 feet, and hiker-friendly), Sincholagua (16,067 feet), and Pasochoa (13,845 feet). Climbing season for Cotopaxi is December through April, although experienced guides will take you during the off-season months. Surtrek (+593.22.231.534; surtrek.com) offers a five-day acclimatization tour that will help prepare you for the higher elevations and a summit of Cotopaxi.
The Incas were known for their trail-making skills, and many indigenous people use bikes for their main mode of transportation today, so you'll find Ecuador to be an extremely biker-friendly country. Just 30 minutes from Quito, access the Pululahua Cloudforest Reserve for singletrack trails that wind through valley meadows, and old-growth forests that lie among the clouds. Quilotoa Crater Lake in Ilinizas National Park near Cotopaxi, is biker-friendly simply because of the sandy terrain and breathtaking views of the Andean Mountains. But if you'd rather climb up (or descend down) some chain-snapping elevations, visit the spa town of Baños site of the 2004 PanAmerican Mountain Biking Championships. At an elevation of almost 6,000 feet, you'll find trails around 16,475-foot Tungurahua Volcano, which erupted back in April 20047. Hike during the day, then relax in the natural hot springs pools at night. From here, find your way to the Pastaza Gorge, Ecuador's gateway to the Amazon River. And if you'd rather descend Cotopaxi Volcano on a bike instead of climbing to the summit, there's a trail for that, too. Laid-back rides from village to village more your style? Head to Otavalo, site of Ecuador's famous Indian Market. Woven baskets, wool clothing, and locally crafted rugs are all sold here. Or ride through the Chota Valley and tour some of the local sugar cane plantations. Plan ahead for self-supported bike travel if that's your goal. Maps can be found at the Instituto Geografico Militar (+593.02.252.2066; igm.gov.ec) behind Casa de la Cultura in Quito. If you'd like your trip mapped out for you, book a bike tour with Adventure Planet Ecuador (+593.22.871.105; adventureplanet-ecuador.com). They offer 3- to 15-day packages that will take you to one or more of the places above.
But ask anyone who's visited Ecuador where to go and they'll probably tell you to head straight for the Galapagos Islands. Consisting of 13 main islands and six smaller islands, the otherworldly terrain and the plants and species of the Galapagos inspired Charles Darwin's first theories of evolution. To really appreciate the gob-smacking biological diversity of this archipelago, sign up for a tour package that will let you sea kayak, hike, scuba, and snorkel throughout the islands for up-close-and-personal encounters with iguanas, sea lions, marine turtles, and blue-footed boobies. While most visitors end up sight-seeing from the deck of some ultra-yacht, the folks at Sea Kayak Adventures (800.616.1943; seakayakadventures.com) offers a tour that takes you off the beaten path and into places only kayak can reach. Sign up for their 11-day multi-sport adventure and you'll visit the terrain and wildlife of over ten of the archipelago's islands. Highlights include day three, when you'll venture into the highlands of Santa Cruz to observe the 200- to 500-pound Galapogos Tortoises, and day six, when you'll hike up to 4,890-foot Sierra Negra, a volcano with the world's second largest caldera at a diameter of six and a half miles, as well as multiple opportunities to dive below the water's surface and swim with hammerhead and white-tipped sharks, eagle and golden rays, and hundreds of tropical fish and wildlife species. You'll pay a pretty penny (approximately $3,390 per person, not including airfare or the $100 national park entrance fee to the Galapagos), but this diverse adventure is well worth it.

Lead Photo: Eleonora Kolomiyets via Shutters