If you had three to four days to hike Belize, which area would you choose?
If you had three to four days to hike Belize, which area would you choose? -Cindy Evansville IN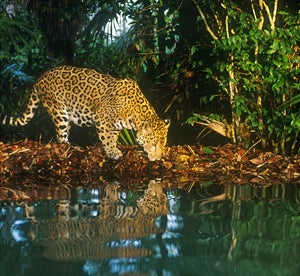 Heading out the door? Read this article on the new Outside+ app available now on iOS devices for members! Download the app.
You're not giving yourself a lot of time, are you Cindy? Even though Belize is only the size of Massachusetts, roughly, a large majority of its land—which hugs the sugary Caribbean shore between Mexico and Guatemala—is forested. For the best slice of the country's diverse natural inland wonders, head to the Cockscomb Basin Wildlife Sanctuary, in south-central Belize. Stretching across 150 mountainous square miles of jungle, waterfalls, and broad rivers, and overflowing with wildlife, it's the world's first jaguar preserve. Cockscomb is fringed by the towering Cockscomb Ridge to the north, and the Maya Mountains to the west. Most of its 20-mile network of self-guided footpaths lies in the park's slightly less rugged and more accessible eastern portion. The length of most trails varies between one and five miles, extending outward from the visitor's center like spokes from a wheel. On your hikes beneath the tropical broadleaf canopy, you may spot spider monkeys, black howler monkeys, macaws, deer, otters, hawks, peregrine falcons, and red eyed tree frogs. As for jaguars, they're alive and well among the 55 different mammal species there, but given their night-prowling, human-avoiding nature, are very rarely seen.
The elusive Jaguar in Belize

The elusive Jaguar in Belize
The best self-guided hike follows the Waterfall Trail to a 20-foot-high (you guessed it) waterfall that empties into a swimming hole about 1.5 miles from the visitor's center. From there, you can hike another couple of miles, climbing steeply above the rainforest into pine groves that lead to the top of Ben's Bluff, where you can get sweeping views of the park's eastern section. To tackle Cockscomb's epic hike, the multi-day 30-mile round-trip climb up 3,680-foot Victoria Peak—Belize's second-tallest mountain—you're required to hire a local guide service. The Belize Audubon Society, which oversees the preserve, can refer you to one, they also maintain the only campsites within Cockscomb, which cost $10 per person per night.