Is it safe for women to travel solo in Thailand?
I'm pondering going to Thailand in the winter—I'd like to do a lot more than just stay in Bangkok—but I'm a 25-year-old female wanting to travel alone. Do you think this is safe? Do you have any recommendations where to go? Kyle San Francisco, CA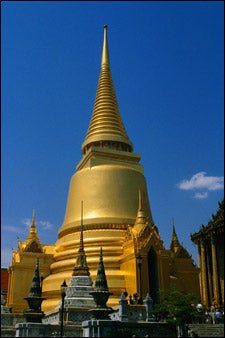 Heading out the door? Read this article on the new Outside+ app available now on iOS devices for members! Download the app.
Thailand can be a place of endless adventure thrills or big-city bustle, and you should mix and match according to your whim. As for traveling alone, fret not. Even if you want to travel alone, there are so many like-minded travelers around that companionship is never far from hand, if only for a boat ride to the islands or an info-gathering beer. The real issue? How do you temper the impulsive urge to head immediately to the Thailand of vacation lore—Krabi's pristine white-sand beaches and crag-perfect limestone cliffs, for starters—before even sloughing off the jet lag? In a word: Bangkok. From temples and markets to haute spas that don't charge a bhat and a leg for a traditional Thai massage to bustling Khao San Road—the happening place for backpackers—it's definitely worth your while spending just a few days getting your bearings in this cauldron of seven million souls. And besides, Bangkok's frenetic yin will only help propel you headlong into the yang of the country's other more laidback locales.
Bangkok's Grand Palace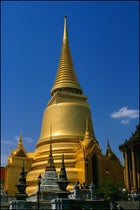 ALL THAT GLITTERS IS GOLD: Bangkok's Grand Palace
Known as the "Land of Smiles," Thailand is one of the easier countries to navigate for lone adventurers. But as with any country, travelers should keep alert. Women don't need to take any special precautions in Thailand, but as always, be careful while wandering around at night. Stick to populated areas and make sure someone at home knows your basic itinerary before you leave for your trip, plus communicate any sudden changes in your itinerary if circumstances lead you down a heretofore unknown road (email access is readily available). There are the usual tourist scams—the selling of fake gems, for instance—but they are not always easy to spot, nor do they specifically target= women. Also make sure when hailing a tuk-tuk, Thailand's ubiquitous three-wheeler taxicab, that you set a price and a specific destination with the driver before climbing aboard. Don't worry—he'll likely ignore whatever you said, and take you to a friend's shop anyway or tell you the temple's closed. If that happens, ask to head to your original destination immediately, and if that doesn't work, there's always another tuk-tuk. No traveler is immune from the tricks of pocket pickers, so keep your cash tucked safely away in a money belt hidden under your clothes. Leave it dangling around your neck or in a backpack and you're likely to have it snatched by a passing motorcyclist or other thief. The simple rule of thumb: If something seems fishy or too good to be true, it probably is. Better to be rude and walk away than be polite and get robbed.
Now for the fun stuff. After you fly into Bangkok you'll definitely want to take some time to explore this ancient city. Crowded streets will gobble up weary travelers, so set your sights instead on the Grand Palace (www.palaces.thai.net). Built in 1877, this historic compound is candy to the architectural buff's eye with its golden facades and mosaic-covered walls. Used by the royal family for ceremonial purposes, it is also open to the general public. Make sure you've got on your comfy khakis because shorts, sleeveless shirts, and flip-flops are forbidden within its walls. Located just ten minutes from the Grand Palace is Khao San Road, Bangkok's backpacker's Broadway, a place that's poised for adventure both day and night. Take the opportunity to try some Thai cuisine such as banana pancakes and spicy Tom Yum Gung soup at one of the stalls located along the street. The trick: look for places with lots of people. (The faster the cook's working, the less time ingredients have to spoil.) There are plenty of guesthouses, but the Sawasdee (+66.2.256.0890) near the National Library on Sriayatthaya Road is one of the nicer in the area. Expect to pay anywhere from $5 to $50. Generally, you get what you pay for.
After just a few days, you'll probably be ready to wash off the oppressive city heat. Time to head south. After an hour-and-a-half flight from Bangkok to Krabi, you can find yourself within driving distance of Khao Sok National Park. There, you'll find mountain trails, emerald lakes and, uh, barking deer. Booking an adventure package with a local guide will help you see the most in the least amount of time. Limestone Lake Tours (+66.72.688.017; limestonelaketours.com) offers a "Jungle Magic" package with nights in both a treehouse and floating rafthouse, and your choice of elephant jungle treks, guided canoe trips around Chieow Laan Lake, and jungle walks. And the Thai meals are cooked from scratch. The best time to visit is during the low season (June to October) to catch all the foliage, such as the giant Rafflesia flower that blooms just once a year.
Jungle adventures aren't for everyone, and if you're determined to get in some serious R&R before your trip comes to an end, visit Railay Beach for some of the world's most velvety white sands, as well as world-class rock climbing. Some of the nicer resorts, such as Railay Bay Resort (+66.1.9152.700; railaybayresort.com), will only set you back about $32 per night and include a long list of luxe amenities—private bathroom, television, and pool with an ocean view, to name a few. And if you're craving a few more endorphin highs, try some sea and mangrove kayaking or cave spelunking.
In the end, as with any trip, Thailand is best experienced by following your fancy. Maybe you'll want to head up to Chiang Mai and take an elephant trek, or head down to Phuket for diving. There's nothing wrong with having an itinerary, but in a place like Thailand, leaving your schedule open to whim will be your best asset. That way, when you meet up with that rowdy group of expats who're heading out to start their own island colony with a Leonardo DiCaprio look-alike, you won't be tied into staying three nights at some hotel. Keep your head on your shoulders, but remember you're really there for only one reason—to relax.
-Amy Clark
Additional Info:

The Secret of Savings: Travel in Thailand's Shoulder Season

All About Thailand: Top 20 Adventures, Screensavers, Best Spas, Interactive Maps, and More!