Sponsor Content: LAND ROVER
The New Rules of Adventure: Upper Midwest
Full of scenic woodlands and more lakes than you can count, the Midwest is vastly underappreciated as a haven for modern adventure.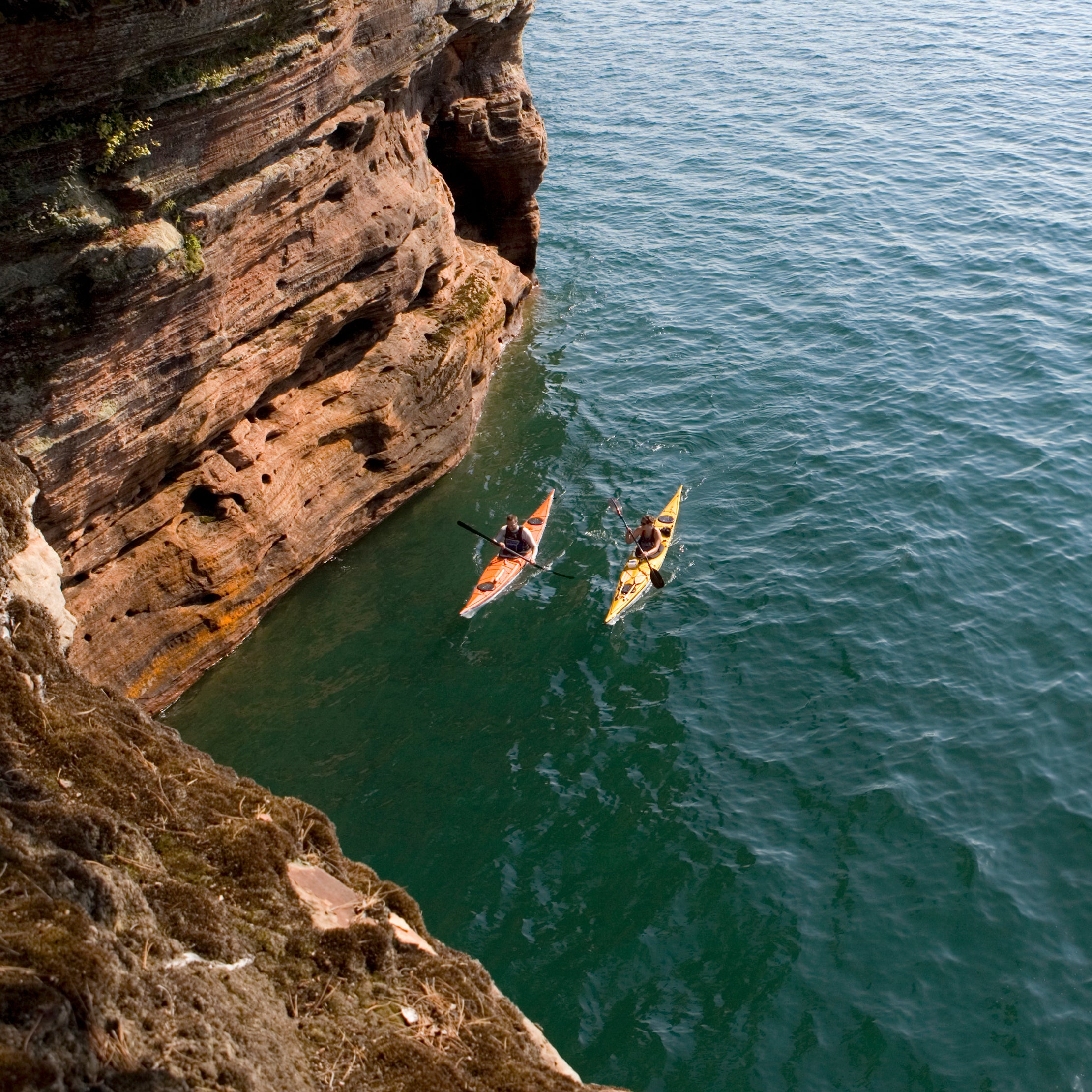 That anyone would consider the Midwest "flyover country" is perplexing. From the ocean-like Great Lakes to vast seas of forest, the region is home to some of the country's most inspiring landscapes. Midwesterners know that better than anyone—and they're inventing new and unique ways to explore their backyards. In celebration of this modern adventurous spirit, we've partnered with Land Rover Defender to highlight the newest and coolest adventures in the country's heartland and beyond. These are the New Rules of Adventure.
Rule #1: The Best Accommodations Are Accessed By Dogsled
Dogsledding might be the closest you can come to flying without actually leaving the ground. On the plains of Minnesota and Wisconsin, many kennels offer half-day and full-day dabbles in a form of transportation thousands of years old. But for an exhilarating, multi-day journey full of modern comforts, head to Wintergreen Dogsled Lodge in Ely, Minnesota. Each night, you'll sleep either in a cushy camp set up by your guide or in one of Wintergreen's cozy lodges, complete with saunas, which are prime for social distancing as each couple gets its own floor of a cabin.
Rule #2: Snow No Longer Means the End of Singletrack Season
Fat biking may once have seemed like a funny winter fad, but it's grown so popular that manufacturers can't churn the rigs out fast enough. Once you've got your hands on one, head for the snowy Northwoods of Wisconsin. There you can find trails groomed specifically for fat bikes, like those at the Minocqua Winter Park—which also has trails for skijoring, or dog-powered cross-country skiing—and the seven-mile Enterprise Winter Trail near Rhinelander. Keep your eyes peeled in and out of town for the Hodag, a mythical creature rumored to sport the head of a frog, the tusks of an elephant, and the back of a dinosaur.
Rule #3: Treehouses Aren't Just for Kids 
In the forests of Ohio's Mohican Valley, about halfway between Cleveland and Columbus, lies The Mohicans, a luxury treehouse resort unlike any other. Choose from a handful of rentals nestled among the trees, turn off your phone, and settle in for a quiet weekend retreat. You won't find a more picturesque place to read, reflect, and romp than the woods on the property or the nearby Mohican-Memorial State Forest. The resort will expand its Treehouse Provisions catering company to deliver to cabins starting this spring, so ask about having your meals cooked by an expert chef when you book.