Precious Cargo
Here's how to ship your ride without snafus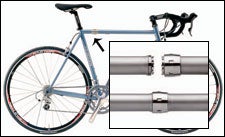 Heading out the door? Read this article on the new Outside+ app available now on iOS devices for members! Download the app.
FLYING WITH A BIKE can be a financially and emotionally fraught experience. According to the Department of Transportation, the top 20 domestic airlines showed a 26 percent jump in reports of mishandled baggage in 2005—10,000 lost or damaged bags a day. But with a little preparation and packing tape, most disasters can be avoided.
Suite Ride
Click here
to discover the top bike-friendly destinations.
bike transport

Almost all airlines insist that checked bikes be in a protective box with the handlebars, pedals, and seat removed and wrapped in padding. Your main priority is to crush-proof the bike and prevent metal-on-metal contact. Per FAA regulations, the tires must also be removed and deflated to prevent any nasty midair blowouts.
Individual airlines offer different deals. Delta (800-221-1212, www.delta.com) will ship a boxed bike up to 62 inches for free. Go over that and you'll be charged $100 each way. American (800-433-7300, www.aa.com) will ship for free if your bike is less than 62 inches and 50 pounds—or it's $80 each way. United (800-864-8331, www.united.com) charges $80 for bikes under 62 inches and 50 pounds; you'll pay $105 for anything larger. Bikes shipped on Continental (800-523-3273, www.continental.com) rack up an $80 service charge regardless of size, but two bikes in one box counts as a single item. Southwest (800-435-9792, www.southwest.com) offers the best deal if you're traveling with an oversize rig: Bikes less than 62 inches and 50 pounds travel free; otherwise it's just $50 each way.
If you have the time, ship your bike to a shop near your destination, so that it's ready to roll when you arrive. Shipping ground via UPS and FedEx generally costs between $45 and $70 each way. sportsexpress.com, a company that specializes in shipping sporting goods, will ground-deliver your bike from Los Angeles to New York for $62—saving you the hassle of airport manhandling.
Breakdown
Want to travel light and still spare your rear the agony of an underpowered folding frame? Enter S and S Machine's Bicycle Torque Coupling, an ingenious lug system that installs in the top and down tubes, allowing them to separate and make transport a snap. The patented system is lightweight (less than eight ounces), silent, and doesn't add any extra frame flex. S and S Machine supplies the coupler to more than 100 independent frame builders, who can install it on most models or retrofit the couplers on an existing frame. It's available in stainless steel, chrome-moly, and titanium. For a complete list of builders, go to www.sandsmachine.com.
Hardcore Soft Shell
Plastic bike containers offer ultimate protection but are unwieldy in crowded airports. The polyester Dakine Bike Bag is a softer but no less rugged solution. Built like a rolly bag on steroids, the bag has a stout pullout handle and widely spaced, oversize ball-bearing wheels. The 48-by-14-by-30-inch interior features a removable padded divider to protect your frame from the wheels. Hard plastic lining in the sides, back, and zippered top provides ample protection. Four large, zippered pockets accommodate shoes, pedals, tools, and armor. $300; 541-386-3166, www.dakine.com—Andrew Vontz