Put Your Foot Down
Presenting eight romantic, spontaneous, epic, and quest-driven cruises down America's emptiest highways.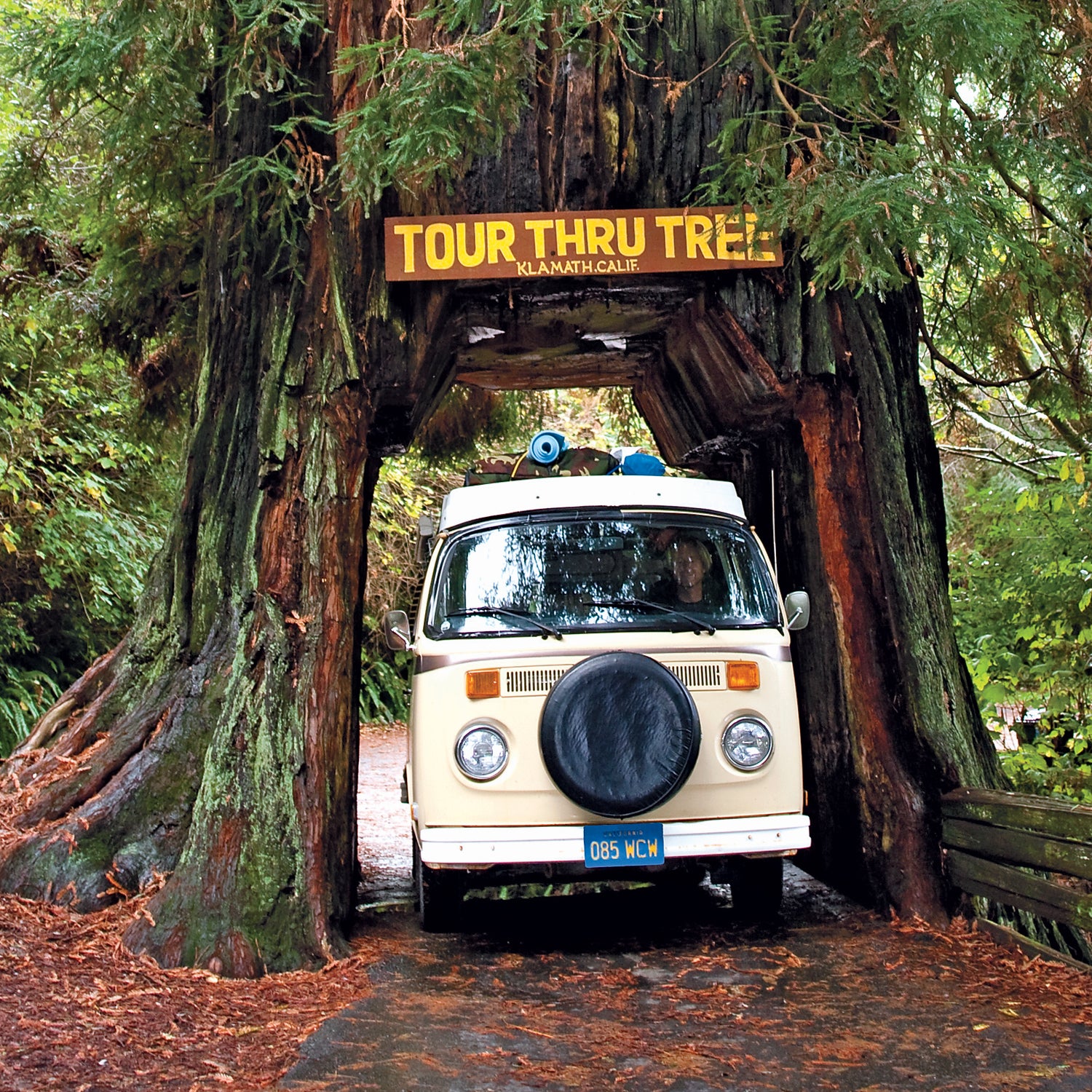 Heading out the door? Read this article on the new Outside+ app available now on iOS devices for members! Download the app.
There are four essential types of road trip: the spontaneous ramble; the quest; the romantic journey; and the nuclear option. Which is right for you? Consult our guide, then fill 'er up. Plus: our favorite car-camping location, a must-bring gear list, and sage advice on driving to Alaska.
---
Option #1: The Half-Baked Plan
Because there's nothing so rejuvinating as a spontaneous outing sketched on the back of a napkin.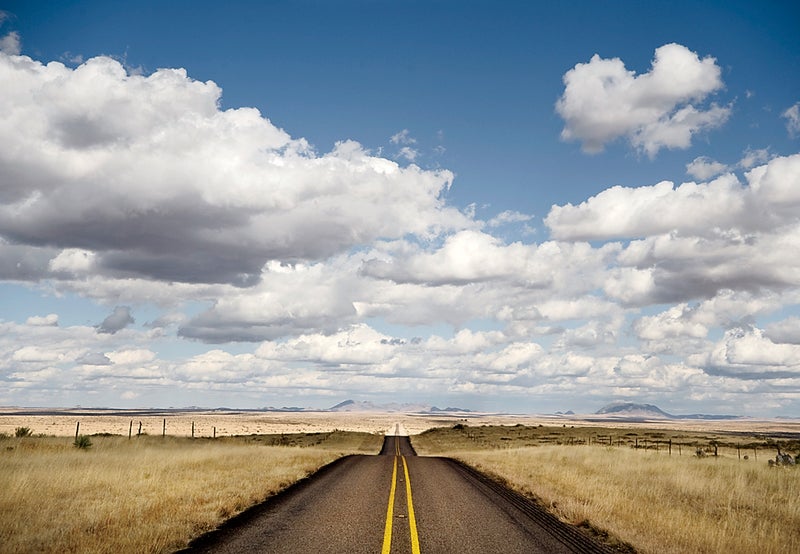 West Texas Swing: Away from It All on Highway 67
I once redlined a rental car at 130 miles per hour on a Boy Scout–straight section of Texas State Highway 17 between Fort Davis and Marfa. This is not bragging. I'm simply trying to convey how empty the desert uplands can seem in the Big Bend region of West Texas—and how fun they are in a V-6. You feel like you can get away with things here. Begin and end your trip in Balmorhea, just south of I-10, where you can cool off in 74-degree spring water in the massive Balmorhea State Park swimming pool. From there it's roughly 150 miles to the Mexican border at Big Bend National Park's southern tip, and you can leave your itinerary as open as the terrain. The best attractions are the small towns in between (Marfa, Marathon, Alpine, Terlingua), each separated by perfect 30-to-80-mile sections of blacktop. I could list the obvious stops in each one—the Marfa Book Company, the Gage Hotel in Marathon, the Railroad Blues bar in Alpine—but these towns are so small that hearing the highlights up front is like seeing a Hollywood trailer that spoils the whole plot. The only musts are as follows: keep water in the trunk, don't miss River Road through Big Bend Ranch (FM 170), and when the rental agent asks if you want comprehensive insurance, say yes. —Christopher Keyes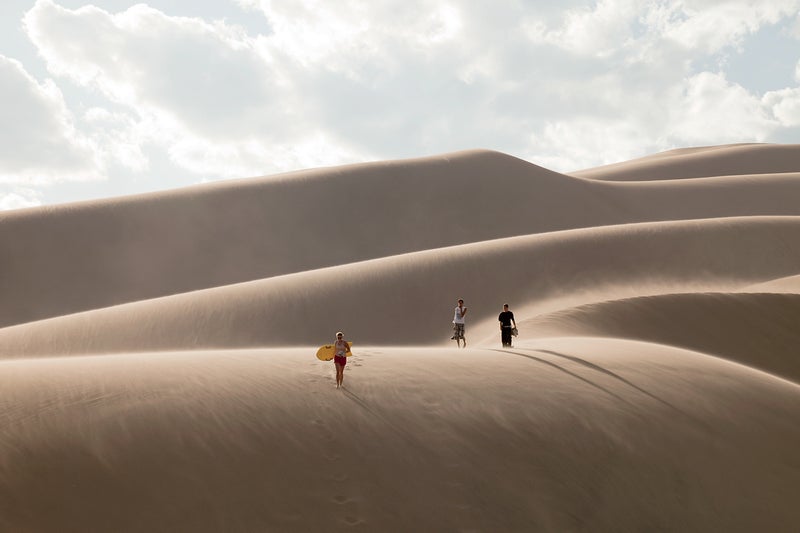 Rocky Route: A Rocky Mountain Road Trip
The beauty of south-central Colorado, where the Rockies flare into the San Juan and Sangre de Cristo mountains, is that you're always within two hours of world-class, well, everything. When I come here, I pack my mountain bike, climbing shoes, and kayak. The hard part is deciding which to grab first. Crag rats: start 90 minutes north of the New Mexico state line at Penitente Canyon, a climbing area on the east slope of the San Juans filled with 5.5—5.13 sport routes (plus a sweet rock painting of the Virgin of Guadalupe). Camp at the canyon's foot ($5 per night; Bureau of Land Management Saguache field office), then drive 90 minutes east to Great Sand Dunes National Park and spend a day hiking up and rolling down the mammoth 750-foot drifts. Next stop: the funky mountain town of Salida and the ridgetop Tudor Rose Bed and Breakfast (doubles from $100), which puts you within spitting distance of the epic 36-mile mountain-bike ride across the Continental Divide on the Monarch Crest trail (shuttle to the trailhead, $20 from High Valley Bike Shuttle). The next day, cool off with a quick float down the Class IV Arkansas River—a Colorado classic just minutes from Salida ($95 per person). —Kyle Dickman
---
Option #2: The Quest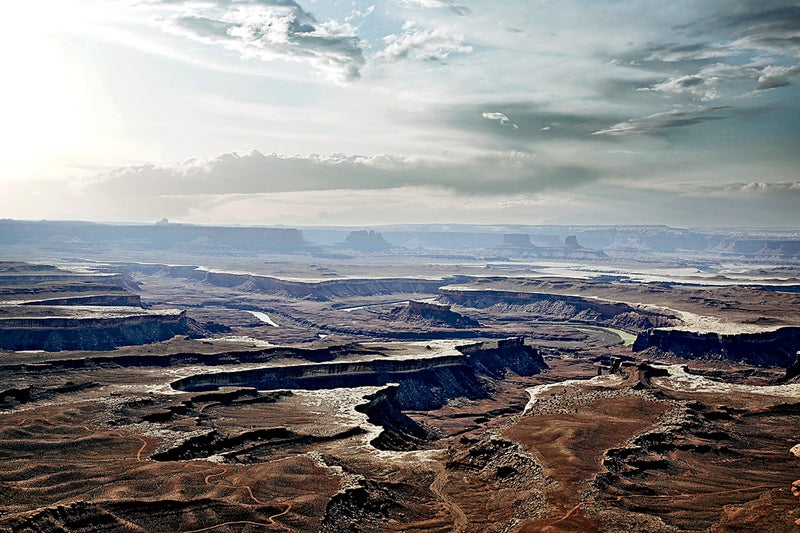 The destination can be epic or quixotic. But it has to be specific, so the journey takes over. 
Panhandle Oyster Shuck: Eat Your Way Through Apalachicola Bay
Look, I'm no food snob. I like Cheez Whiz and soft-baked cookies. But some meals should run you more than the price of a Netflix subscription. Like oysters—specifically, the wild oysters of Florida's Apalachicola Bay. I once drove 380 miles from New Orleans to get my fill (a bushel, roughly ten dozen, split between myself and a fishing buddy). We bought our first bag of 30 for $26, and they came coated in seaweed and wet sand—bycatch. The meat was impossibly fresh, briny, and totally worth the expense, including $60 in gas and a sleepless night in a noisy Panama City hotel overrun with spring-breakers. Of course, this was before a certain oil leak ravaged the Gulf of Mexico. Maybe you heard about it. The thing is, Apalachicola Bay was largely spared: not only are the oysters edible, but they're bigger and better than ever, thanks to a recently ended precautionary ban on harvesting them. The other thing about Apalachicola Bay is that there's no easy way to get there, making it the perfect end point of a long drive. From the northeast, you'll arrive via Tallahassee. Tate's Hell State Forest, a backwoods swamp full of carnivorous plants, makes for a nice pit stop. Or, if you come from the west, as I did, drop in and gawk at the retirees and college kids at the legendary Flora-Bama, a rowdy 12-bar complex that straddles the Florida-Alabama state line. Either way, buy your shellfish in bulk from Island View Seafood and shuck them next to a grill at St. George Island State Park. You'll be able to taste what connoisseurs call terroir. And you'll do it in bare feet. —Ryan Krogh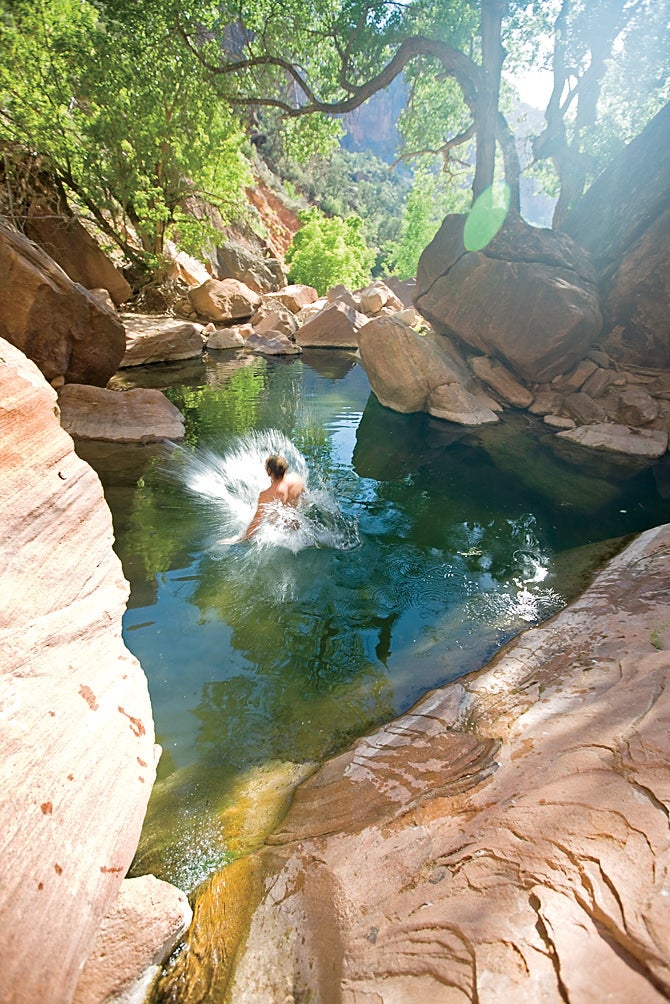 Desert Blitz: Navigating Utah's Deserts
The deserts of southern Utah are home to five national parks, and with a little fortitude and planning you can hit them all in one 400-mile swoop. Start in Moab. Arches National Park, just north of town, is mostly easily accessible, day-trip-friendly country; opt for the park's longest maintained trail, the Devil's Garden Primitive Loop, which winds seven miles through rows of giant sandstone fins. From Arches it's an hourlong drive on Route 313 to Canyonlands' Island in the Sky, where the eight-mile Syncline Loop Trail drops 1,300 feet from a mesa overlook to the edge of the Upheaval Dome crater. Day three: grab a falaco (falafel taco) from Moab's Wake and Bake Cafe and leadfoot it 145 miles to Capitol Reef National Park. It's best seen from a mountain bike: the Cathedral Valley Loop covers 60 miles of dirt, sand, and rock roads (rentals from $40 from Backcountry Outfitters in Torrey). From Capitol Reef, it's a 2.5-hour drive to Bryce Canyon, a natural amphitheater; check out the odd rock formations on the eight-mile Fairyland Loop trail. Last stop: Zion National Park, two hours southwest. Pitch your tent at South Campground ($16 per night; first come, first served) and get a crash course in canyoneering from Zion Adventure Company, located just outside the park in Springdale ($149 per person). Then strike out for Keyhole Canyon, where you'll negotiate 20-foot rappels, chimneys, and cold-water swims. —Adam Roy
---
Option #3: Love on the Run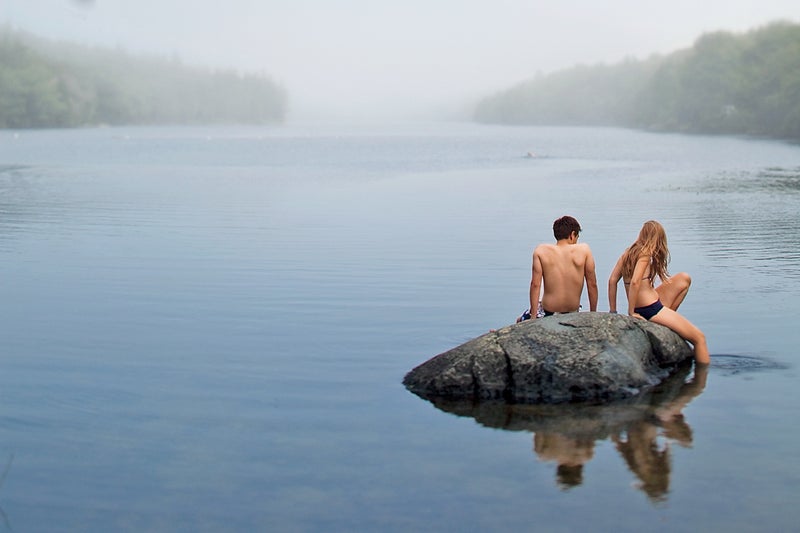 How do you maximize adventure on a romantic trip? All you need is a swanky camper, a laid-back partner, and—most important—a wild coast. 
The High Road: California's Highway 1
California's Highway 1, from Malibu to Big Sur, is beautiful. It's also dotted with overpriced, mediocre restaurants and a lot of tourists. So last spring, my husband, Ian, and I borrowed a 22-foot Airstream and headed north from San Francisco. The farther up the coast you travel, the grittier and wilder everything becomes. As we passed the Humboldt County sign, the scent of marijuana wafted through the vents, making us laugh out loud. (Maybe it was a contact high.) North of Humboldt up Highway 101, the redwoods started jutting up, making us feel small. One had a tunnel through it for cars; another, just a stump, contained a house. Then we made for Jedediah Smith Redwoods State Park, the least logged redwood park in the state. After camping for a night under the canopy ($35 per night), we continued north into Oregon, where the beaches look utterly foreign, with three-story sea stacks jutting up from the sand. Just north, in the town of Bandon, we spilled into the Wheelhouse Restaurant and Crowsnest Lounge, wet from the rain, for some fresh, vinegary halibut (541-347-9331). From there it's a five-hour drive to the end of the road in Portland. Along the way, stop in at Cape Lookout State Park (from $19 per night), at the northern end of the old-growth-covered Wilson River pass. Anyone who says camping isn't romantic has never camped here—40-foot waterfalls stream from cliffs about a mile down the beach from the oceanfront campground. With the Airstream's awning and a bottle of wine, we weren't exactly roughing it. But it was just a short walk to an empty beach where we felt like the last two people on the planet. —Alicia Carr Troxell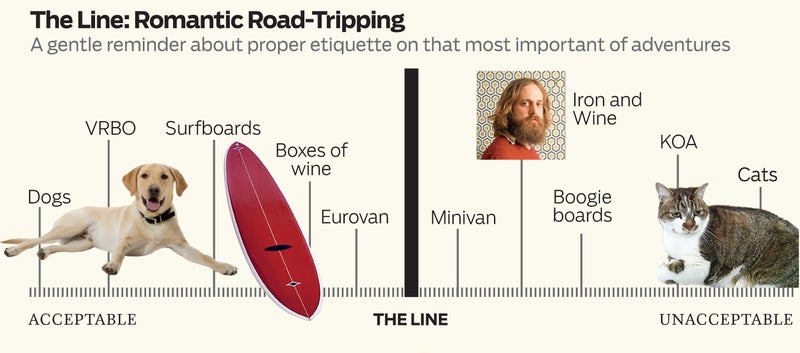 Atlantic Ramble: Trippin' the Coast of Maine
Nothing kills romance like gridlock. Our advice? Pack a couple of sweaters and drive up the Maine coast this September, when lighthouse-mobbing crowds have dispersed but businesses haven't yet closed for the winter. Start in Portland and aim for Acadia National Park, 160 miles north—three days will suffice, but a week is better. After a stop at Yordprom Coffee Co. (207-221-2347), move north on serpentine Route 1, which rivals its left-coast namesake for views. (Fact: Maine has 51 more miles of coastline than California.) In Wiscasset, chow down at Red's Eats (207-882-6128), a waterfront lobster shack famous for its Falstaffian portions (each roll is jammed with the meat of a whole lobster). Then make for Rockland, a true fishing village with battered motels and ancient taverns where you can feast on chowder full of oysters that the rubber-overalled guy next to you pulled in that morning. Crash at the Glen Cove Inn (doubles, $99) or, for more pomp, old-money Camden's Norumbega Inn (from $275), a 125-year-old castle where you can get your own turret. Once in Acadia, hook up with National Park Sea Kayak Tours, whose guides will show you hidden spots like Seal and Clark coves (half-day trips, $48). Secluded? Yes. Uncivilized? Never. You can get a good bottle of local wine at nearby Bar Harbor Cellars, crash at the simple, clean Acadia Hotel (doubles from $130), and catch local bands at nearby Lompoc Cafe. All that and you're minutes from 125 miles of deserted beaches and old-growth conifers. —Cole Louison
---
Option #4: Go Nuclear
Once in your life you get to pack up all your toys and hit the road for months on end. You'd better do it right.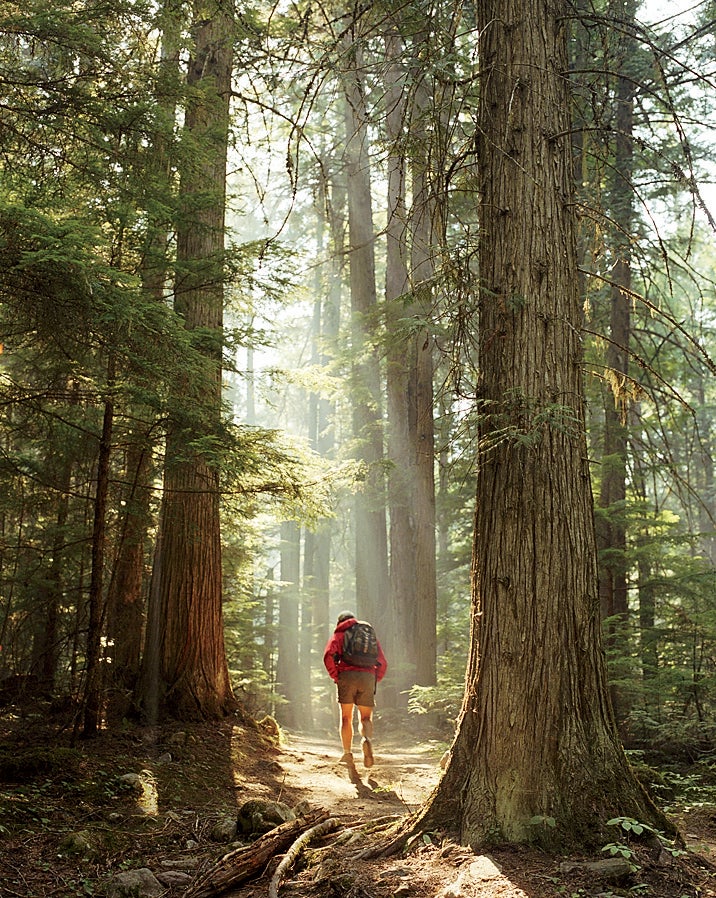 How Nuclear Road Trips Begin
Career change—voluntary or involuntary.
Acceptance to grad school. 
Breakup. 
Excessive Google News searches involving the terms "forest fire," "tornado," "hurricane," or "oil spill."
Close examination of 401(k) reports.
Big Country: Alaska by Highway
Until 1992, the 1,400-mile Alaska Highway featured a dearth of fuel, people, and pavement. These days, though, the road is mostly blacktop. Which meands you don't need three spare tires and the best adventures are found off the beaten path. Pick your detours using the route's mile markers, which start at Dawson Creek, British Columbia, 810 miles northeast of Seattle. At mile 497, stop at Liard River Hot Springs, where a boardwalk takes you to a 107-to-125-degree pool. At mile 805, fish the Teslin River for Arctic grayling, lake trout, and salmon. (Guided trips, US$60 per hour with Nisutlin Outfitting.) The highway is also home to a raft of renowned lodges. Our pick: Northern Rockies Lodge, with its chalets alongside Muncho Lake, at mile marker 462 (doubles, US$270). The best hiking? You'll find it in the Yukon's Kluane National Park and Reserve, at mile marker 1,053. Try the Bullion Plateau Trail (15 miles round-trip) from the Tachal Dhal Visitor Centre for a spectacular day hike with views of the Kaskawulsh Glacier. Once you cross into Alaska at mile 1,221, it's all big peaks (check out Johnson Glacier in the Alaska Range), caribou (Tetlin National Wildlife Refuge hosts the 30,000-head Nelchina herd), and braided rivers (the Tanana Delta is cold and not suitable for tubing). Once you reach the end of the road at Delta Junction, it's a 390-mile drive south to Whittier, where the five-day ferry (from $2,340 for two, with a car) back to the world—or Bellingham, Washington—awaits. —Will Grant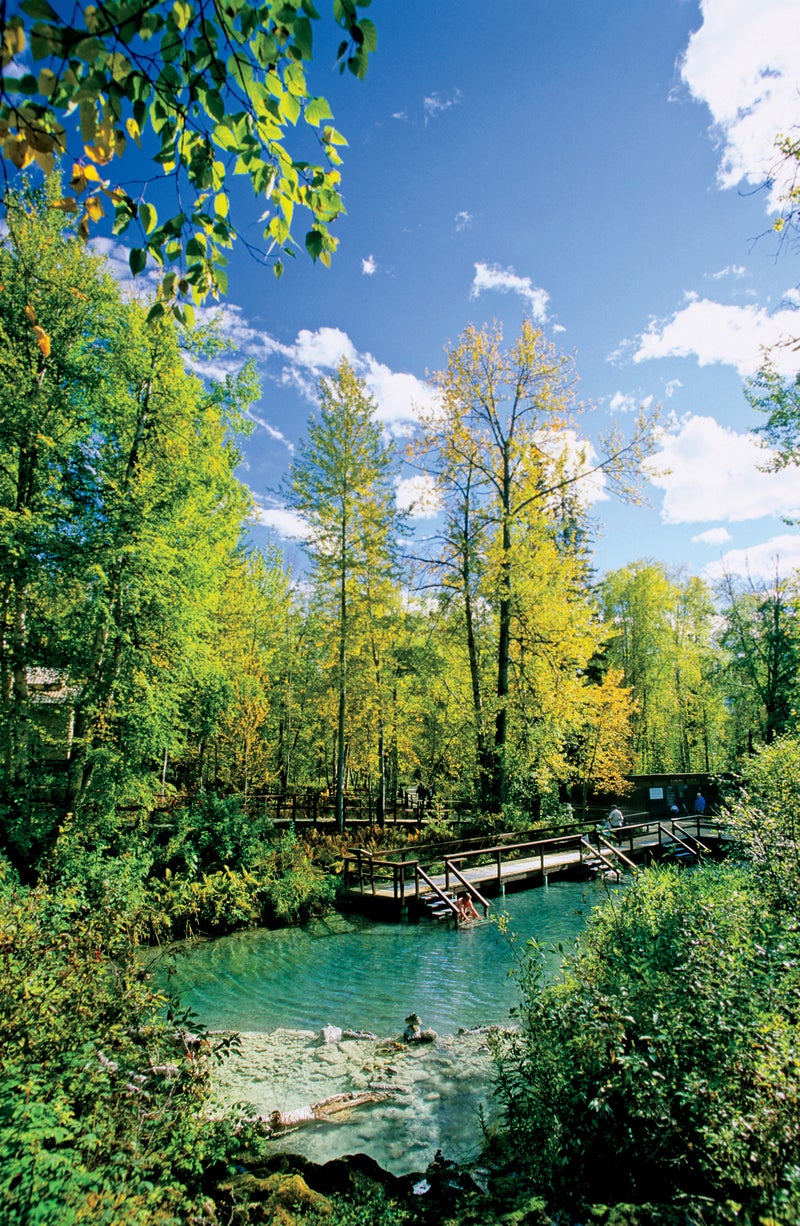 Manifest Destiny: From the East Coast to Montana
If you live in an eastern city, at some point you've got to take a month (minimum) off and head west. Specifically, to Montana. How to get there? The crow's route, I-90, cuts through Pennsylvania, Ohio, and Indiana. It's also about as exciting as an expense report. Instead, go through Canada. Head to Syracuse and take a hard right on I-81 north, which leads to southern Quebec and Ontario. Canoeists, make for Algonquin Provincial Park, three hours west of Ottawa. With more than 1,200 miles of designated canoe routes, it's like the Boundary Waters, only with fewer people (rentals, US$25 per day from Algonquin Outfitters). If sea kayaking is more your thing, head west to Killarney Provincial Park and the thousands of islands that dot Lake Huron's Georgian Bay (rentals from US$32 per day from Killarney Outfitters). Then pick up Highway 28, south of Sault Ste. Marie, reenter the U.S., and explore Michigan's rugged Upper Peninsula with route maps from the U.P. Mountain Biking website. Follow the St. Croix River across northern Wisconsin until you hit the Twin Cities. Then make up time: North Dakota's badlands are 7.5 mostly forgettable hours west on I-94. Once you pass Billings, Montana, you have options: for megafauna, head south to Red Lodge, on the boundary of Yellowstone National Park, then drive through the wolfy Lamar Valley and end your trip 162 miles south in Jackson, Wyoming. Or, if you have a fly-fishing problem, stay on 90 and crash in Big Timber. It's the perfect base camp for fishing the October caddis hatch on Sweet Grass Creek. From there you can make for the Gallatin River, near Bozeman; the Blackfoot, outside Missoula; the Bitterroot, south of town; or, well, you get the idea. —Sam Moulton and Abe Streep