Traveling to See the Total Solar Eclipse? These Are the 7 Best Places.
Spring's cloud cover makes things tricky. We've got a map and excellent suggestions from an eclipsophile about where to head within the path of totality come April 8—and why you'd better book your stay now.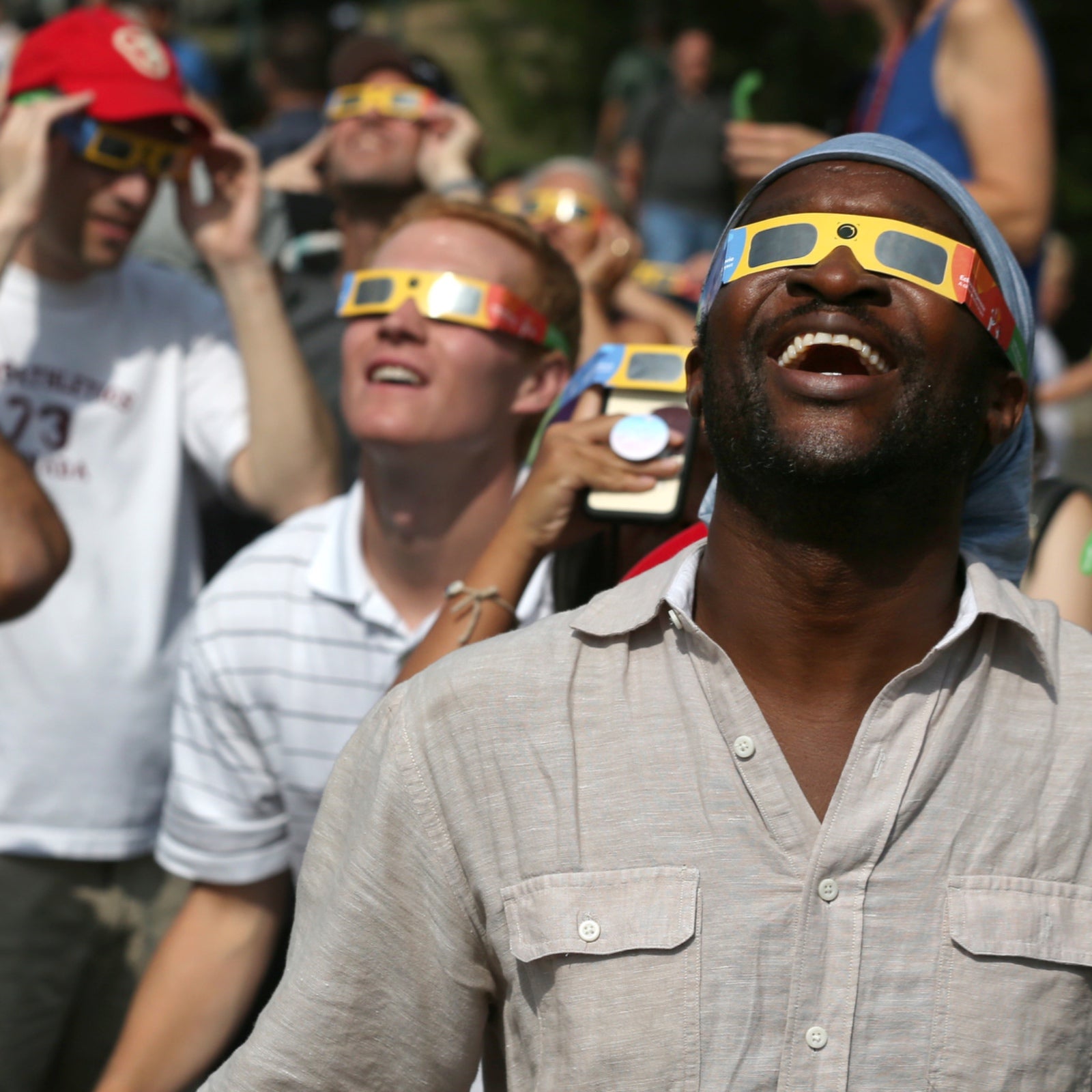 MediaNews Group/Boston Herald via Getty Images
Heading out the door? Read this article on the new Outside+ app available now on iOS devices for members! Download the app.
The last time a total solar eclipse was visible in America, in 2017, I watched it from atop a small butte on BLM land west of Lander, Wyoming. The scene couldn't have been more surreal: a handful of friends and strangers and I stood in the axis of the earth's umbral shadow as the moon crossed the sun's path, an event that lasted for less than two minutes from my vantage point. I stared at the corona—the wispy outer layer of the sun's atmosphere, not visible at any other time.
The eclipse was a bewildering experience, because it incorporated elements I'd known my whole life— the sun, the moon, light on a landscape—and yet felt so entirely new that I imagined myself to be on another planet, or perhaps in another dimension.
No photo or video footage can do this phenomenon justice. Telescopic shots of the eclipsed sun look like digital art. Wide-angle images capture only one static moment of a dynamic progression that elicits new astonishment with each change, from the sunset light in every direction to the confusion of insects and wildlife as night descends in the middle of the day, to each singular phase: the diamond ring, Baily's beads, and totality—that moment when the sun is fully obscured, the corona is visible and you can take in the sun's prominences, or loops of plasma rising from the sun's surface.
So find your most difficult-to-impress friend (or maybe you're the skeptic) and place them beneath this show of shows come April 8—and start looking now for prime dark-sky viewing destinations, because, as we've seen with this fall's annular eclipse, the best spots book up fast—and I guarantee they will involuntarily gasp in awe. I was so transfixed that I immediately identified as an eclipsophile, and made plans to watch the next total eclipse, which as fate would have it, fell on my 40th birthday. On July 2, 2019, I watched it from a Buddhist temple in Chile's Valle de Elqui, and it was no less glorious the second time: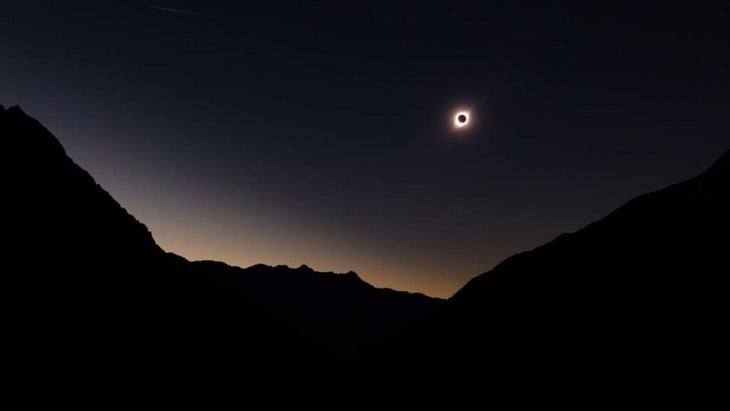 Why Is a Total Solar Eclipse in the U.S. So Special?
When the total solar eclipse crossed America from coast to coast in August 2017, touching 14 states during its 70-mile-long path of totality, it whet the appetite of a nation that hadn't seen a total eclipse so widely viewed since one crossed the country in 1918. This spring, 32 million people living in the 115-mile path of totality are poised to experience the event, which will be visible in North America beginning in the Mexican state of Sinaloa before continuing its spectacle all the way east to the Canadian province of Newfoundland and Labrador. The next one won't happen until 2044.
Many who witnessed the phenomenon in 2017—as well as those who missed out—will be making pilgrimages to the path. Adding to the hype is the annular eclipse crossing the Southwest on October 14, the first since 2012. (In an annular eclipse, the moon passes directly between the earth and the sun but doesn't fully cover the sun, a startling effect coined the "ring of fire.")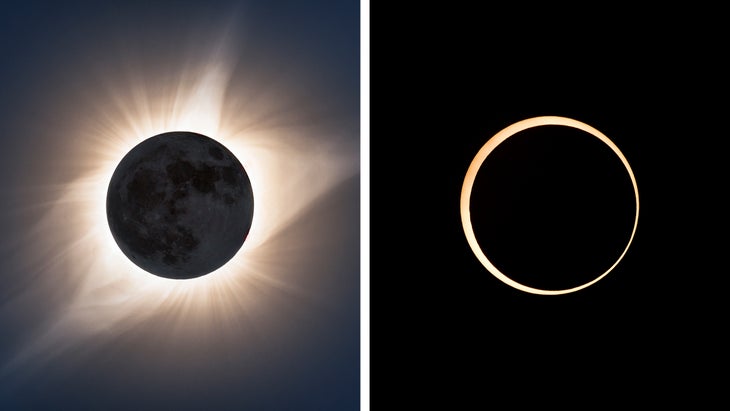 April's total eclipse will also last longer—a maximum of 4 minutes 28 seconds—than the one in August 2017— a maximum of 2 minutes 41 seconds. (While a total solar eclipse is visible anywhere within the path of totality, the speed of the moon's shadow varies depending on location; points along the very center of the path will enjoy the longest viewing times, according to NASA.) Complicating matters, however, is the fact that weather in April is cloudier and rainier than August, making the selection of an ideal viewing location more challenging. But as it is the last eclipse to touch the lower 48 until 2044, many people, including me, will go to great lengths to make the effort.
Where Are the Best Places to See the Total Solar Eclipse?
Twenty years' worth of climate data indicates that Mexico will offer the clearest skies for the event, with Texas the likely runner-up. Pair historical cloudiness info with this detailed eclipse-planning map and you can stake out a sweet spot for successful viewing within the path of totality at many places along the route of the umbral shadow.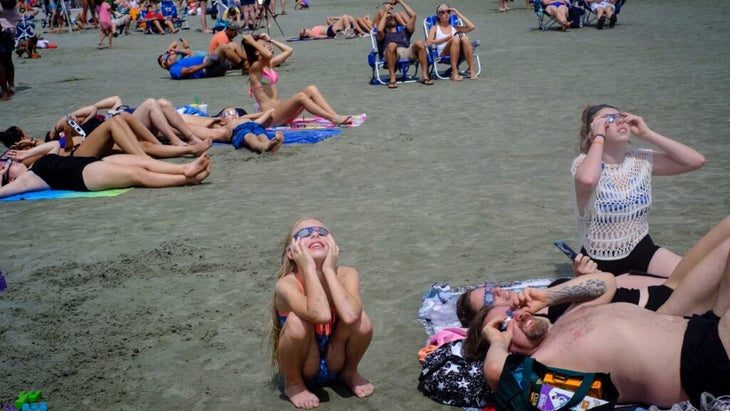 I personally wouldn't make travel plans anywhere north of Missouri, based on the probability of cloud cover. (According to Weather Spark, for example, St. Louis is cloudy approximately half the time in April.) This means that as much as I would love to see an eclipse on my home turf in the Northeast, I'll be heading to Mexico or Texas. Live up north and can't travel far? Take a gamble on lodging reservations and hope for good weather, or day-trip to the path of totality if you live within a reasonable distance.
No matter where you decide to watch from, just know that you likely won't be able to find affordable last-minute accommodations. In fact, lodging for April 6 through April 9 in most locations along the path of totality is already difficult to come by.
Here are my top seven picks to view the eclipse along its route.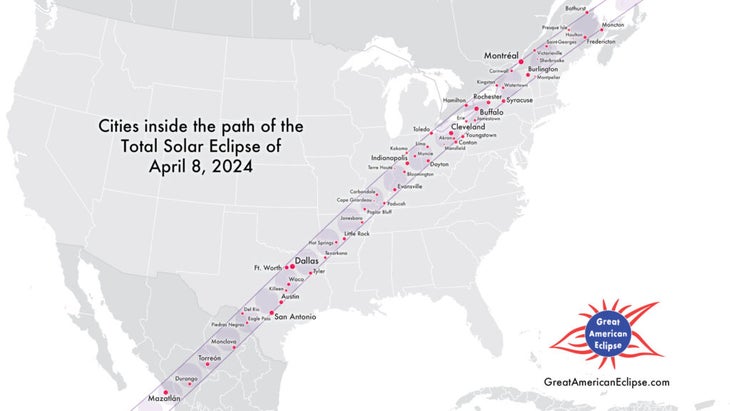 Mazatlán, Mexico
Start Time of the Total Eclipse: 11:07 A.M. PST
Duration: 4 minutes 16 seconds
This Pacific coast resort town is arguably the best place to view the total eclipse of any location along the path of totality, based on median data over the past two decades, indicating only a 25 percent chance of cloudy skies. You can watch the event from the beach or while strolling the malécon, preferably in well-touristed areas like the Golden Zone and historic Old Town. The State Department has a "Do Not Travel" advisory in place for the state of Sinaloa, due to violent crime and threat of kidnapping (check back for updates here); however, it does permit government employees to visit the city as long as they stay in the aforementioned tourist areas. Securing accommodation in those quarters might not be cheap, especially considering that the total eclipse also falls during the height of spring break and this destination remains among Mexico's most popular. Airbnbs in the greater Mazatlán area are priced around $400 per night from April 6 to 9; in comparison, a room at the Courtyard by Marriott Mazatlán Beach Resort currently runs for $1,800 during those dates.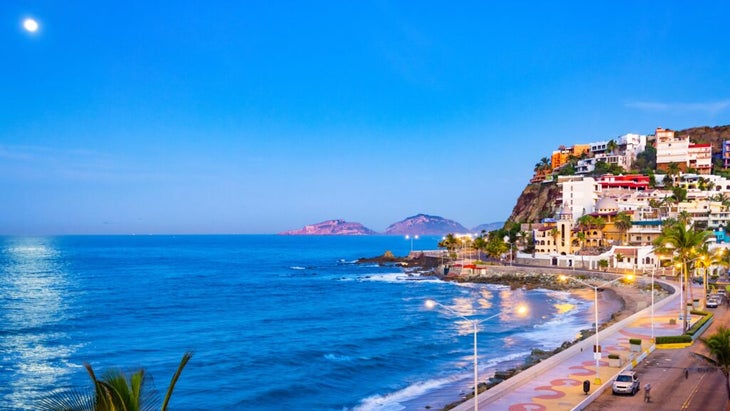 Durango, Mexico
Start Time: 11:12 A.M. PST
Duration: 3 minutes 47 seconds
The dry air of this Mexican state's high desert equates to an ideal climate for eclipse viewing—something eclipsophiles are well aware of, as many accommodations in this preserved colonial city are already nearing capacity. This is another destination where you should heed State Department advisories (currently suggesting "Reconsider Travel"). Stroll the Plaza de Armas, across from the iconic Catedral Basilica de Durango, which dates to 1695, enjoy dishes prepared with hyperlocal tornachiles, and seek out lodging in major tourist areas.
Kerrville, Texas
Start Time: 1:32 P.M. CT
Duration: 4 minutes 24 seconds
Hill Country arguably provides the best chance of clear skies in the U.S., and both the annular and solar eclipses will pass through this rolling ranchland. NASA has selected Kerrville, 65 miles northwest of San Antonio, as one of three locations along the centerline of the eclipse path to set up shop. The free Kerrville Eclipse Festival will feature scientist speakers, kids activities, a NASA live stream of the eclipse. Early April is also a great time to get outdoors in Kerrville: temperatures are in the seventies and the bluebonnets are beginning to bloom. Most Airbnbs in this area are currently running for more than $1,000 per night, so why not camp? The local KOA is already fully booked, but as of press time there were still tent and cabin sites available at the San Antonio KOA, starting at $70 and $160 per night, respectively.
Buffalo National River, Arkansas
Start Time: 1:34 P.M. CT
Duration: 4 minutes 2 seconds
The weather prospects in Arkansas are nearly as strong as those in Texas, so I'd make a beeline to Buffalo National River, an International Dark Sky Park in the heart of the Ozarks, to watch the eclipse. Campsites in the park range from $16 to $20 per site per night and reservations for most sites open six months in advance. There are first-come, first-served sites as well. Check out this helpful county-lodging page page, which lists accommodations that still have availability. In the run-up to the event, enjoy top-notch biking trails and hikes to waterfalls, such as this short, popular hike And plan to celebrate in the nearby town of Leslie, which is hosting Eclipse Over the Buffalo from April 4 to 8 with folk music, food, and a quilt show called "Solar E Clips."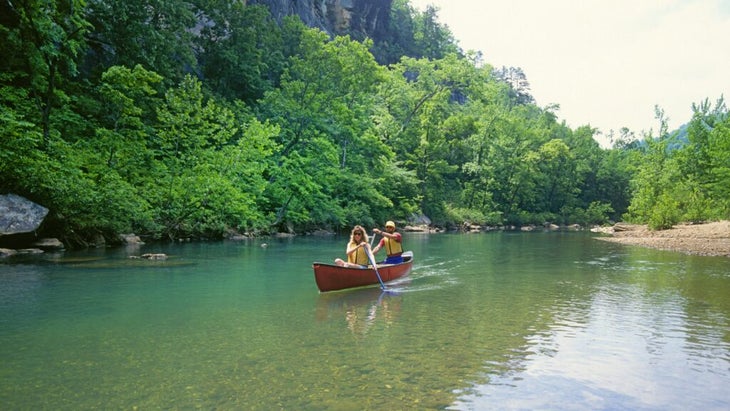 Sandusky, Ohio
Start Time: 3:12 P.M. ET
Duration: 3 minutes 45 seconds
You might not expect a city on the Great Lakes to be a prime candidate for viewing the total eclipse at this time of year, but forecasters are bullish on Sandusky for the total eclipse, thanks to weather effects over Lakes Erie and Ontario that improve the clear-skies outlook by 15 percent compared to the surrounding area. Sandusky is an ideal base camp for an eclipse-day mission, with many communities in the Shores and Islands region gearing up to host pre-eclipse festivities: gather with the masses at the Total Eclipse of Sundusky Festival on Jackson Pier; hop a ferry (unless the lake is frozen) from the village of Marblehead to Kelley's Island for a quieter experience, hiking along its sandy beaches or on forested trails before the skies dim; or watch from the shore at Lakeside Chatauqua, a historic recreational community hosting a family-friendly eclipse event. Rooms at the Fountain Inn in Lakeside are booked, but cottages in town are expected to open soon. Camping will be quite chilly in Ohio in April, but the hardy can book cabins and tent sites at Camp Sandusky starting from $67 per night.
Lake Placid, New York
Start Time: 3:13 P.M. ET
Duration: 3 minutes 20 seconds
The Adirondacks will witness totality for the first time in recorded history, and the festive Olympic mountain town of Lake Placid will be ready with activities and amenities. I recommend watching the spectacle from one of the region's 46 high peaks. Expect full-on winter conditions at elevation, though, so if this peak experience is on your list, enlist a local guide service like High Peaks Mountain Guides. For more laid-back (but crowded) viewing, gather by the lakefront Mid's Park. Or venture west 30 miles to Tupper, whose Wild Center is hosting an ellipse event, including a solar-powered silent disco, naturalist sessions, maple tasting and tours, and a community mural creation. The dog-friendly High Peaks Resort in downtown Lake Placid still has rooms available from $333 per night, or try the more economical TMaxTopo's Hostel for as low as $32 per night.
Rangeley, Maine
Start Time: 3:29 P.M. EST
Duration: 2 minutes 24 seconds
Rangeley is where I'd be if I could guarantee clear skies. Unfortunately, cloudiness here could be as high as 90 percent, but if the sun gods grace this popular skiing destination, even this late in the season you might be able to get some turns in at Sugarloaf or Saddleback Mountains before the sun and moon do their thing.  Or climb to one of the summits of the rugged, beautiful Bigelows–4,145-foot West Peak and 4,088-foot Avery Peak, overlooking Flagstaff Lake, are two of my favorites. The hiking in the Carrabassett Valley is excellent, with nine peaks above 4,000 feet on the Appalachian Trail. If you're not an experienced winter hiker, go with a registered Maine guide. Hostel of Maine is popular, with rooms starting at $59 per night.
Tips and Tools That Will Enhance Your Experience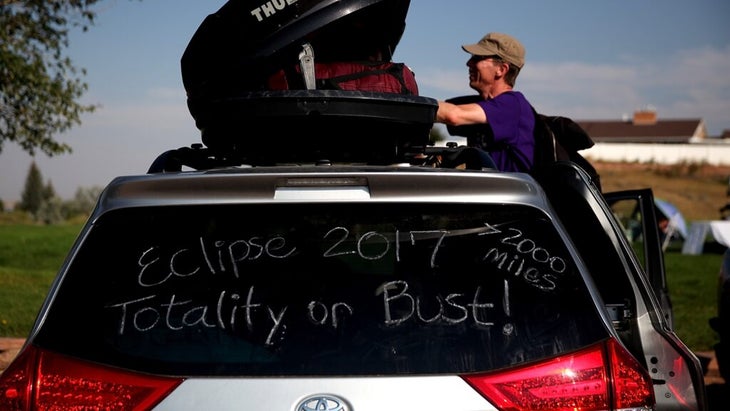 Given the changing spring weather, you may want to have a car and the time to pivot and drive to another nearby location with better weather if need be. Expect unique traffic and congestion even in the most rural of places, and plan to get to your selected viewing site as early as possible.
Book now. Many accommodations in towns within the path of totality are already sold out. If you're up for a few days of camping, check out the website Hipcamp for more options.
An important note on safety: Never stare directly into the sun, ever, including during the partial eclipse which precedes and follows the total eclipse.It's only safe to look at the sun when it is completely eclipsed. I protect my eyes with ISO-certified eye protection, which you can purchase here.
Finally, if you'd like to take a deep dive, like I do, on this subject, there are several fantastic sites that will take you into the weeds of eclipse-related climatology and meteorology. To better help you plan where skies might be clearest in your area, NASA provides satellite snapshots of the earth's cloud cover for each day dating back a few years. NASA also has a trustworthy eclipse website with fun facts, cool images and video footage, more safety information, and definitions of some of the many terms you'll hear mentioned as the event draws close. And finally, this definitive interactive eclipse-path map is the most functional such map out there; you'll find yourself referring to it again and again.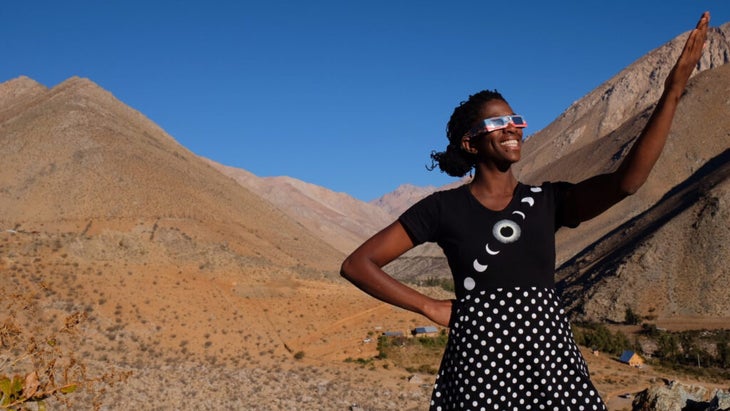 Mardi Fuller has fanciful travel dreams for all the upcoming total solar eclipses worldwide, but she's living one celestial event at a time and has a hotel room booked in Dallas for the April event.
Boston Herald via Getty Images
Lead Photo: MediaNews Group/