What are the best spring backcountry ski spots?
I'm not ready for the winter to end. What are the best spring backcountry ski spots? Kevin Burlington, VT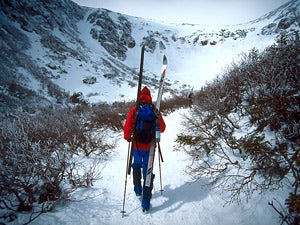 Heading out the door? Read this article on the new Outside+ app available now on iOS devices for members! Download the app.
I feel your pain, Kevin. Sad is the day each year when I deposit my skis and helmet in the Disorganized but Impressively Stocked Adventure Adviser Gear Shed for the summer. Being in the East, you've only got one choice within driving distance—though it's a classic one. Head out West, your options are nearly limitless, from the Tetons to the crusty volcanic peaks of the Cascades and to the 14ers of Colorado. Here are four specific options that you can access easily, and won't necessarily require advanced mountaineering skills for the ascent up the slope. But keep in mind that before you set out on any backcountry ski trip, talk to local outfitters and guides. They'll know the best routes and access points, and are well-versed in the area's many hidden dangers.
Tuckerman's Ravine in New Hampsire
Tuckerman's Ravine in New Hampsire
EAST
Tuckerman Ravine, Mount Washington, New Hampshire
Folks have been riding two planks down the East's ultimate spring skiing bowl since the 1890s—and for good reason. It's fast to reach once the weather turns milder, and the snow can be as deep as 40 feet in spots, with runs that vary from 40 degrees to near-vertical, depending on the line you choose along its 1,800-foot elevation drop. Don't let the large crowds lull you into a false sense of confidence, though. Tuckerman's ever-changing terrain is extremely treacherous.
Resource: Chauvin Guides
WEST
Teton Pass, Wyoming
Follow Route 22 outside of Jackson through the Teton Range toward Idaho, and you'll climb through the 8,400-foot Teton Pass. Trailheads are interspersed alongside it near the parking lot at the pinnacle, allowing for fast access to tremendous backcountry skiing. A local favorite is Mount Glory. Follow the boot-packed trail for about an hour to the 10,000-foot summit, and you're rewarded with a challenging and fairly open 1,600-foot drop. Other Teton Pass options lie on Mount Oliver and Mount Taylor. Resource: Teton Village Sports
Mount Shasta, California
This immense 14,162-foot volcanic peak is a backcountry playground. But the most iconic run is Avalanche Gulch on the southern slope. Starting at the Bunny Flat Trailhead, you can climb the six-mile John Muir Route all the way to the mountain's summit—depending on the weather and conditions—and drop an astounding 7,000 feet back to your car. The higher you go, the more difficult the run becomes. For a quieter experience, head to the Hotlum-Wintun Ridge on the east side. Resource: Shasta Mountain Guides
Red Mountain Pass, Colorado
This 11,099-foot-high pass in the San Juan Mountains of Colorado is accessed by US 550 between Ouray and Silverton, which—despite being implausibly steep and treacherous—is open year-round, weather permitting. Step into your skis at the parking lot by the pinnacle, and climb up County Road 14 to access the popular routes on the fir-garnished 12,800-foot McMillan Peak.
Resource: Southwest Adventure Guides