What are the summer's best, off-the-beaten-path adventures in Europe?
What are the summer's best, off-the-beaten-path adventures in Europe?—MikeFramingham, MA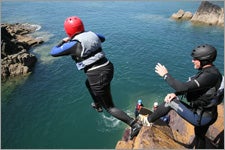 Heading out the door? Read this article on the new Outside+ app available now on iOS devices for members! Download the app.
As you likely know, Europe's major cities become chock-a-block with travelers each summer as the famed landmarks get their daily quotient of tour bus visits. Outside those iconic urban centers, however, you'll find loads of (relatively) uncrowded places to explore—and some inspired ways to do it.
Coasteering in Wales

Coasteering in Wales
For an unexpected dose of adventure, consider coasteering in Wales. This new adventure sport, trademarked by TYF Adventure in Pembrokeshire, combines cliff jumping, rock climbing, and caving. Start by donning a PFD, helmet, and wet suit, and then leap from a cliff into the oncoming surf, where the current transforms the ocean into a swirling pool that drops and rises up to 15 to 20 feet with the tide. Then you climb back up and do it all over again. Beginners start with a seven-foot leap, while the more daring and advanced progress to heights of up to 25 feet. If water isn't your thing, head north to Snowdonia National Park, the mountainous region where Edmond Hillary trained for Everest. Elidi Fawr (elevation 3,031 feet) is the highest mountain in the Glyderau mountain range. Just don't expect a specified route up top. Instead, a quick 2.5-mile scramble over slate and scree slopes proffers stunning views of the North Wales coastline and the four coasts of Anglesey (an island off the northwest coast of Wales).
If jumping is up your alley, then bouncing might be, too. Head up to Dunkeld, Scotland, for something called sphereing. Also known as zorbing, participants climb into a 12-foot-in-diameter, inflated plastic ball, harness themselves in, and then endure a downhill bouncefest at speeds averaging 30 miles per hour. Nae Limits is the only company in Scotland to offer this hamster ball experience. And now they've thrown another ball in the mix: an eclipse version, which is a blacked -out ball that rambles down a hillside in all weather conditions. These rolling beach balls are safe and—while the scenery travels by at a quick clip—they're a great way to get into the Scottish countryside. If you'd rather keep you feet below your head, Nae Limits also offers adventure tubing, a one-man inflatable chair with extra padding for navigating rapids and dodging rocks. Choose a gentle float down the scenic gorge of River Tummel, stopping for swims in deep pools, with cliff jumping as an added option. Or take on Grade II and III rapids before an 18-foot , Grade IV double-tier drop. And finally, canyoneering, a mix of slides, scrambling, swimming through whitewater, and jumping throughout Bruar Canyon. Nae offers three levels—lower Bruar for beginners, upper Bruar for an advanced crowd, and the entire Bruar Canyon for a full day experience—including rock slides, cliff jumping, pool plunges, and extreme rope lowers. Scotland also boasts some of the world's best mountain climbing, from the 7stanes—an extensive network of manicured singletrack scattered throughout the country, with trails rated for all skills—to a multi-day coast-to-coast package trip with Wilderness Scotland (a route linked together by charming hotels in small villages). The outfitter, the Scottish branch of Wilderness Journeys, also offers other epic cycling, paddling, and hiking trips throughout the world, including many spots in Europe.
Or head over to Morzine, France, for some more traditional adventures—but no less extreme: downhill mountain biking on the snowless slopes of the Alps. With over 400 miles of trails, six bike parks, 12 resorts, and 24 lifts—including a lift system equipped for transporting bikes, Morzine offers a little something for all fat-tire skill levels. With the largest area of mountain biking trails and the biggest network of lifts open to bikers in Europe, Morzine offers downhill riders tunnels, jumps, and berms on all-man-made courses. A new all-wood bike park includes a raised zone with the height of a ski jump ramp, as well as a wall ride. While the park is for experienced riders, beginners will find a few tricks to test their skills. Newbies will also find their own downhill tracks, while intermediate riders have plenty of technical trails to keep them challenged. Cross-country riders can explore over 650 miles of trails on singletrack and fire roads, covering terrain into Switzerland with incredible views of peaks like 15,781-foot Mont Blanc.
–Amy A. Clark
Trending on Outside Online