What are the World's Best Kitesurfing Destinations?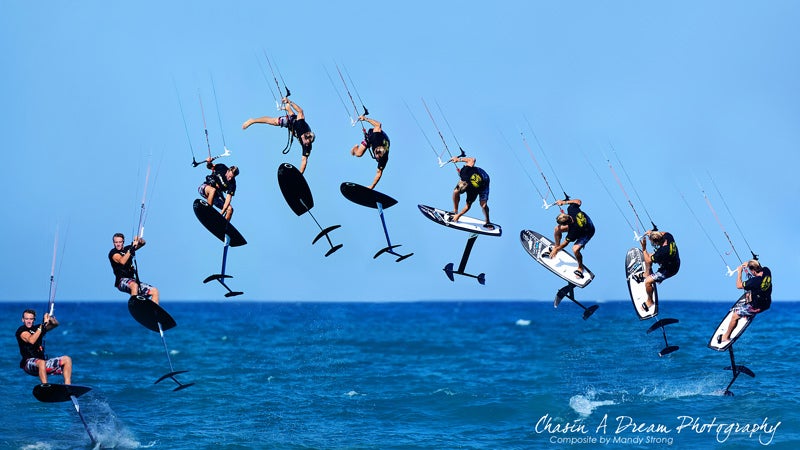 Heading out the door? Read this article on the new Outside+ app available now on iOS devices for members! Download the app.
Imagine surfing on a wakeboard while a big-ass kite pulls you across the water—and occasionally out of it. This is kiteboarding in horribly reductive terms (but you knew that already). Let's get to the part where pro kitesurfer Damien LeRoy answers the question in question.

Damien LeRoy

Fun with a GoPro.

More GoPro fun.
Quick note on LeRoy: After ski racing ruined his knees, the Vail native moved to Florida in 1999, discovered the burgeoning sport of "kiting" and has since mastered its various disciplines, from freestyle to speed racing. He was named the 2011 Kitesurfing Athlete of the Year by the Association of Wind & Water Sports Industries and is currently recording his watery adventures with the now requisite extra appendage of extreme athletes everywhere:
Here are LeRoy's top-five kitesurfing destinations:
Cayman Islands
LeRoy's gun-to-his-head favorite kiting spot. "The east end of the Caymans is a beautiful place … Lots to do, whether it's diving, kiting, or surfing. The water is magical." For beginners, he recommends The Sweet Spot Watersports, a kiteboarding school with two locations on Grand Cayman.
Jupiter, Florida
This city in southeast Florida is LeRoy's current home base. "Jupiter offers everything from big hurricane swells to perfect flat-water riding with warm southerly winds," says LeRoy. "And the local kiters are some of the friendliest anywhere." His go-to kite/board/accessory shop when he's home? Jupiter Kiteboarding.
Grand Rapids, Michigan
"It has great conditions for kiting and endless flat water," says LeRoy of the Lake Michigan hamlet, which has a kite fetish in general. It hosts a Kite Festival each May and is the home of Mackite, which sells sport kites, kiteboards, and toy kites.
Maui, Hawaii
It's a no-brainer for the traveling kiteboarder, says LeRoy: "It's always windy there, and you can have a true sports vacation in Hawaii." When he's on the island, he stops by outfitter Neil Pryde Maui, which also hosts kiteboarding clinics.
Thompson Pass, Alaska
LeRoy is also a fan of snow kiting, which replaces the wakeboard with a snowboard or skis (and, you know, water with snow). He recently made some runs on this popular heliski destination near Valdez. "Alaska offers massive mountains with endless runs and incredible conditions for snow kiting," he says. "Camp in an RV or stay in Valdez and you will have a experience of a lifetime."