What is the cheapest, easiest way to get to Redwood National Park?
I planning a trip out west this summer and would like to go to Redwood National Park and do some camping. I trying to get there as cheaply as possible. Do you have any suggestions for how I should get there? Heather Old Town, ME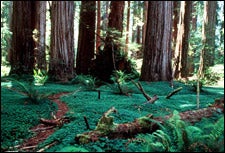 Heading out the door? Read this article on the new Outside+ app available now on iOS devices for members! Download the app.
Traveling coast to coast can be costly as gas prices continue to rise and the economy sinks a little lower. Luckily, hopping on a train or a bus these days will likely save you cash—provided you have the time to spare. And with a little creativity there are ways to make it to remote areas such as Redwood National Park. While there are no metropolises nearby (phew), the park's proximity to small towns allows for easy access by car, bike, or on foot, so you can worry less about your budget and focus more on exploring the land of the 30-story giants.
Redwood National Park

The redwood forest floor in Redwood National Park
After arriving in California, hop on a Greyhound bus to Arcata. From there, you'll be able to catch a ride on the Redwood Coast Transit Route 20 bus (707.464.6400), which travels twice daily between Crescent City and Arcata, Monday through Saturday. The cost is just $20 one way or $30 for a five-day pass. But before reaching Crescent City, the official entrance to Redwood National Park, ask the bus driver to drop you off at Wilson Creek Road, approximately 60 miles north of Arcata. Here, you'll find the Redwood Hostel, an ideal base camp for your Tedwoods adventure.
The Redwood National Park Hostel (415.863.1444) offers dorm rooms with six to eight bunks per room, kitchen facilities, lounge, sundecks, and more. A snack shop offers healthy alternatives to your typical convenience foods and the coastal views are well worth the $21 a night. Complimentary linens and towels are available, as well as on-site laundry facilities. Private rooms can also be rented from $52 per night.
And with the Del Norte Coast Redwoods State Park in its backyard, you can access miles of hiking trails under Sitka spruce, coast redwood, hemlock, and Douglas fir trees right from the hostel's front door. If the weather cooperates, camping out under the towering tree canopies in the park will be an experience you'll never forget. The park has four campgrounds, the most convenient one located approximately four miles north of the hostel. The site boasts 145 sites and amenities that include restrooms, hiker/biker sites, and fire pits for the price of $20 a night. Open from May 1 to September 30, the campground is conveniently located off Highway 101. If a developed campground in the redwoods still seems a little pricey and confined, backcountry permits are free and available at the park visitor centers. Backpackers are limited to a total stay of five consecutive days or 15 total days in a calendar year.
Once you've settled on lodging arrangements, prepare to explore Redwood's vast ecosystem. The Trees of Mystery Trail is just a two-mile hike from the hostel, and here you'll find the famous Paul Bunyan and Babe the Blue Ox statues, as well as a free gondola ride through coast redwood trees—some of which are over 2,000 years old. At the north end of the trail, stop in the End of the Trail Museum, devoted to Native American artifacts; admission is free. Upon your return, cross Highway 101 for a half-mile hike to Hidden Beach and the Coastal Trail. Then it's another four miles north on the Coastal Trail back to the hostel. If you're feeling more ambitious, extend your hike south another four miles to the Klamath River Overlook for beautiful views and a chance to spot seals, sea lions, and whales.
Spend a little extra dough and treat yourself to a sea kayaking tour in Humboldt County's Trinidad Cove. Kayak Zak (707.498.1130) offers hostel guests a two-hour beginner sea kayaking trip that includes two nights at the hostel and a kayak rental for $105. It's a great way to see the redwoods from off shore and enjoy coastal wildlife like harbor seals, gray whales, and western sandpipers.
Redwood National Park feeds on an ecosystem where temperatures range from 40 to 60 degrees year round. Dependent on the rain and summer fog, redwood trees—some standing over 300 feet tall—have been thriving in this coastal climate for over 160 million years. Come prepared with warm, weather-resistant clothing as well as some sturdy hiking boots and you'll be more than ready for some serious outdoor adventures without having to go over budget.
—Amy A. Clark