What Do I Need to Know About Traveling in Wildfire Country?
I'm thinking about doing a road trip and some backpacking out west this summer, but I've heard a lot about the wildfires burning from California to Alaska. What do I need to know about traveling safely in fire country?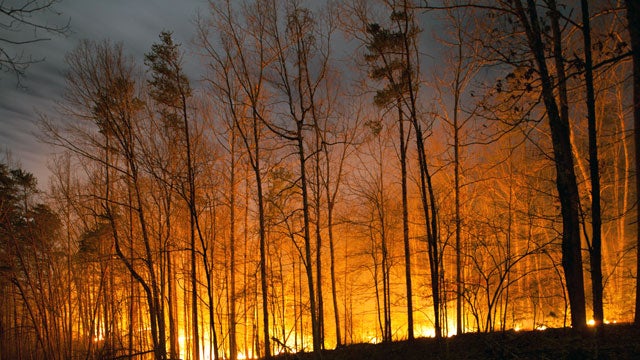 Heading out the door? Read this article on the new Outside+ app available now on iOS devices for members! Download the app.
Wildfires are a constant during a hot, dry summers like those of the past few years. And yes, they can be dangerous—even deadly—to bystanders. Fortunately, fires are such a well-known phenomenon that an entire infrastructure has been built up around managing them and keeping the public abreast of the latest developments.
The first, obvious step is to stay informed about any fires burning in the area where you're traveling. Ideally, you'll avoid driving down back roads with fires burning nearby, or heading into burning backcountry, entirely. Check in with the local public lands managers: National Park Service and Bureau of Land Management officials should all be able to keep you up to date about existing fires, any potential road or trail closures, and campfire restrictions.
From there, it's all about situational awareness and common sense.  Morgan Warthin, the Regional Wildland Fire Communication and Education Specialist for the Alaska branch of the NPS, offers the following tips: Obey all posted campfire restrictions, and when you do make a fire, follow safe burning practices and extinguish it properly. Handle cigarette butts and matches with extreme care – "if conditions are hot, dry and windy," says Warthin, "even a spark can ignite a fire." If you do find yourself driving on a smoky road, go slowly, keep your headlights on at all times, and watch for fire crews or equipment on the shoulder. If you're ordered to evacuate, do so right away.
If you're traveling in the backcountry, the need for caution skyrockets: Fires can move quickly and unpredictably, and hikers need to be prepared.  "Let's say that there's a lightning storm that's moved through an area [where you're hiking]," says Kyle Patterson, the Public Information Officer for Rocky Mountain National Park.  You need to be aware of drought conditions in the area, the extent to which the land around you will provide a ready fuel supply for a fire, and the likelihood of lightning strikes nearby. "While recreating in the backcountry, particularly if there's lightning, if you're smelling smoke, if you're seeing smoke, you better start acting quickly," says Patterson.
There are no guarantees, but your best bet is to head for an area that offers less fuel for a fire to consume – a large lake would be ideal. The back side of a steep hill is an option; avoid canyons, saddles and chimneys.
"Fire will be moving with the wind, so if you can figure out or calculate where the wind is coming from, look at that as an option," says Patterson. "You don't want to be moving in the same direction as the fire. Obviously weather and winds can change very rapidly, so it's certainly something that you would need to continue to monitor."
In a worst-case scenario, look for a depression in the ground, clear it of fuel, and lie face down, covering yourself with any shelter you have at hand, until the fire has passed.
Patterson emphasizes that there are no guarantees: Fires are unpredictable by nature. But while the number of acres that burn every summer is staggering, the west is an enormous playground. Stay informed and aware of fire activity, and you should be able to avoid the blazes entirely.