What outdoor adventures can I find in Morocco?
What kind of outdoor adventures can I find in Morocco? I'm visiting in September and would like to have a little fun while I'm there. Joe L. Littleton, CO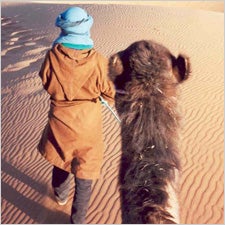 Heading out the door? Read this article on the new Outside+ app available now on iOS devices for members! Download the app.
Whether tempting your taste buds with cumin-laced cuisine or traveling camelback through the dunes of the Sahara, adventure is an integral part of traveling in this North African country. Landscapes as diverse as the Atlas Mountain range and as long as the Atlantic coastline make for ideal playgrounds. The trick is choosing which one to explore.
Morocco

Let the camel do the work in Morocco
With a heritage that originated in approximately 8,000 BC, natives of Berber descent continue to open their villages to passing Moroccan visitors—just a few of the many stops on BikeHike Adventures' ten-day mountain biking tour through the High Atlas Mountains of Morocco. Beginning at 6,000 feet and cresting the Tizi-n-Tichka Pass at 7,415 feet, bikers traverse singletrack and jeep roads from Marrakech to the Sahara Desert. Conquering 24 to 36 miles per day is no easy feat, especially at high altitudes. Fortunately BikeHike navigates the tour through ancient adobe Kasbahs, rolling landscapes complete with herds of sheep and goats, and volcanic rocky passages. Stopping for tea in Berber villages gives a whole new meaning to "aid stations." Bikers also get up-close views of the valley of the 682-mile-long River Draa (Morocco's longest), camel caravans in the Sahara, and passageways and ruined interiors of the extensive Kasbah Tamnougalte. And if participants find some stretches of the tour too extreme support vehicles are close at hand. Bathing opportunities may be limited along the way, but enjoy a refreshing stop at a traditional hammam (a public Moroccan steam bath) on day five. On day eight, the opportunity to hop off two wheels and onto four legs presents itself in the Sahara Desert. Meals and lodging are provided, as well as rental gear and transportation. Tour prices begin at $2,599.
If you'd rather spend time on Morocco's sandy shores, make your way to Essaouira on the Atlantic coast. This artsy coastal port is just two hours from Marrakech and was once the stomping grounds of Orson Wells and Jimi Hendrix. Open spaces and wide streets are just two incentives for visitors, but those artists and musicians come here in search of something the bigger Moroccan cities can't offer. Ocean shores. Early morning conditions are ideal for beginners looking for a lesson or two in windsurfing. Club Mistral offers two-hour lessons on starting in the water, carving, and other windsurfing maneuvers; afternoon instruction (when the winds are highest) are reserved for advanced surfers. Club Mistral is located along a sandy bay, a 20-minute walk west of the city center, and is open year-round to windsurfers, kitesurfers, and surfers. Salute your abilities at the end of the day at Club Mistral's Ocean Vagabound Restaurant and Bar while resting on one of their sun beds. For quaint accommodations at night, reserve a room at Les Matins Bleu. Conceived by a windsurfer, the hotel (meaning "the blue mornings") is just yards from the beach in the center of town. Rooms start at just $36.
Finally, if you'd rather immerse yourself in Moroccan culture and history, a camel trek is the way to roam. While this might not take as much of an effort on your part, the experience is uniquely your own. Berber Tours offers an eight-day, seven-night journey that begins in Marrakech and continues through the High Atlas Mountain range on to the Sahara for a two-night camel trek adventure. Stop at the Telouet Kasbah, a once-elaborate estate for the family of Glaoui—the former governor of Marrakech who was later hired to gain more support for the French Protectorate in Morocco during the 1940s. The massive piece of architecture was left in ruins but remains open for viewing. Continuing on to the Sahara by 4×4, the trek begins in Zagora. You'll be carried away by camels for a two-day adventure across the desert landscape, which ultimately spreads over 3.5 million square miles. Travel across some of the desert's largest sand dunes reaching as high as 600 feet and return each evening for sunset meals at an established camp. On day five, experience a traditional Moroccan family dinner. Prices start at $935 per person.
–Amy A. Clark