What should we do while visiting Mexico's Yucatan Peninsula?
My husband, six-year-old son, and I want to vacation in Mexico's Yucatan Peninsula area. We are flying into Cancun and looking into Tulum. We want a non-touristy rugged adventure that a very active and athletic six-year-old can handle.—Barbara D.Burlington, VT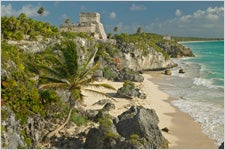 Heading out the door? Read this article on the new Outside+ app available now on iOS devices for members! Download the app.
The once secluded, oceanside Mexican village neighboring majestic Mayan ruins now shares the highway to Cancun (80 miles north). But white-sand beaches at the base of limestone cliffs have kept Tulum ranked one of Mexico's most tropical getaways for adventure seekers. A historically preserved landscape along the Caribbean Sea coastline leaves plenty of room for visitors to roam without a crowd, and the nearby jungle beckons those hoping for a glimpse of spider monkeys and parrots. Although it might seem that neighboring wildlife parks are a safer bet for younger generations, they are also crowd-magnets. Luckily, Tulum offers plenty of free-range family fun as well.
Tulum, Mexico

Tulum, Mexico
Nearby Coba is a city of ruins built between 600 and 900 A.D. The sheer size of the Mayan ruins (Nohoch Mul being the tallest on the Yucatan peninsula at 138 feet) will likely have your little guy dragging you up to the top. Be sure to let him—the views of the surrounding jungles are spectacular. Five groups of over 20 ancient limestone structures are connected by a web of roads called sacbes—wide limestone pathways also constructed during the Mayan era. Spread throughout the jungle, most structures are hidden beneath the jungle canopy across 50 square miles. Find your way on foot or hop on two wheels to cover more ground in less time. Bike rentals are just $3 inside the Coba entrance. Just make sure to pace yourself; weather in Tulum averages in the high 70s in early spring—and then starts to rise. So junior will need all his energy to satisfy his curiosity. He'll also be a happy camper if you remember the bug spray. To get there, travel 30 minutes west from the intersection of Coba Road and Highway 307 in Tulum and then follow the signs.
If you and the fam would rather explore underground, visit Dos Ojos cenote (say-NOH-tay). A flooded cave system of rivers, cenotes are freshwater sinkholes once considered sacred by the Mayan people. Today, those looking for underwater adventures snorkel and dive through deep blue passages. Exploration on Dos Ojos began in 1986, and it remains one of the top ten longest underwater cave systems in the world. Limestone-filtered rainwater and a lack of sediment keep the water clear up to 100 feet. Snorkelers can launch from shallow or deep pools only to find caves, underwater stalactites, and stalagmites as well as some aquatic life. While the cenote depth tops out at 33 feet, the water is comfortably warm, averaging 77 degrees Fahrenheit. Because of the extensive, intricate system of caves, you'd be better off hiring a guide from some place like Akumal Dive Shop and get the complete tour ($75 per person). Price includes snorkel gear, transportation, entrance fees, and guide. Dos Ojos is located just over ten miles north of Tulum and is open 8-5pm, seven days a week.
But if you're looking for a real Mexican experience, make your way to Punta Laguna Nature Reserve. While known for a vast spider monkey population, Punta Laguna is also a preserved Mexican village recently introduced to electricity. Founded in 1930, Punta Laguna is just 15 minutes north of Coba and part of a government-protected 12,350-acre nature reserve called Ma'ax Yetel Kooh where researchers have studied monkeys in a wild habitat for over 40 years. Hire a guide for a local experience—you'll only pay $30 for help in your quest to find spider and howler monkeys, along with other wildlife like pumas and jaguars. You'll also find pre-Hispanic ruins dating from 700 to 1000 A.D. that have yet to be disturbed by archaeologists. During your visit don't be surprised to find farm animals roaming the village, locals selling hand-crafted souvenirs, and Mexican cuisine being grilled over open flames—Punta Laguna is a preserved culture literally untouched by the outside world.
–Amy A. Clark