What is stand-up paddle surfing and where can I learn to do it?
What is stand-up paddle surfing and where can I learn to do it? John M. Los Angeles, CA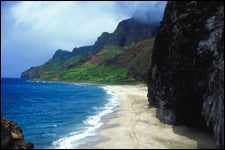 Heading out the door? Read this article on the new Outside+ app available now on iOS devices for members! Download the app.
A Hawaiian sport originating as far back as the 1940s, stand-up paddle surfing is a mix between—you guessed it—surfing and paddling. Back in the day, Waikiki beach boys stood on their longboards while navigating with outrigger paddles, taking pictures of tourists on shore, and the sport of stand-up paddle (SUP) was born. Now referred to as Ku Hoe He'e Nalu on the Hawaiian islands, the sport is quickly gaining popularity all over the world because of its graceful simplicity and quick learning curve.
Kauai, Hawaii

Kauai, the waters that gave birth to stand-up paddling
To learn paddle surfing you'll need a board—and SUP boards are big, averaging between nine and 11 feet long. An instructor can fit you with the proper size according to your height and weight. Boards with a soft deck are ideal for beginners and those who don't want to bother with the tedious chore of waxing. Paddles tend to be six to nine inches taller than the paddler's height, and the more lightweight and easy-to-handle the paddle, the farther you'll travel using the least amount of umph.
In regular surfing, you catch a wave and attempt to hop up on the board while on the wave. Not so with SUP. Because the goal is simply to stand on the board and propel yourself forward using your paddle, flat water is a fine playing field for SUPers and there's no pressure to catch a wave. Most people are up and paddling on flat water after just 30 minutes. But, as with any type of water sport, before you attempt to go it alone, be aware of your swimming ability. If you're not sure, always wear a life jacket in case you fall.
As for where to try SUP, sign up for a lesson just about anywhere—even in the desert. Bend is located in central Oregon, and has an extremely active SUP community. While many experienced paddlers like to cruise the sleepy Deschutes River that winds through the center of town, beginners will want to head to Sunriver Resort (800.801.8765,), approximately 25 miles south. Follow the signs to the marina and book a two-hour SUP lesson on the lower Deschutes River. Rent boards, paddles, and lifejackets for a scenic float through central Oregon's high desert. Make sure to watch out for surfing legend Gerry Lopez, who is a stand-up paddler himself and a Bend local.
If you'd rather spend time in balmier climates, head to San Diego for a series of lessons that will get you SUPing in no time. Located in Grand Caribe Beach on Coronado, Paddle Surf Baja (619.213.6622) offers courses for all abilities. Beginner lessons give you an hour and a half of equipment basics while paddling through San Diego's Back Bay. More advanced lessons take you through entering and exiting the surf zone, as well as catching and riding waves. You'll also learn surfing etiquette and how to handle your board. Finally, when your SUP legs are strong enough, you can complete a two-hour, six-mile downwind paddle through beach break waves. Each lesson is $100 (except the six-mile paddle at $175), and includes board and paddle.
But maybe the coolest place to learn to SUP is where it all began (and at the same time learn what the spirit of Aloha is all about). The Hawaiian island of Kauai is home to Titus Kinimaka's Hawaiian School of Surfing (808.652.1116,). As a Quicksilver ambassador since 1981, Titus has traveled the world as a professional surfer and stuntman. In 2000, he opened his surfing school where over 6,000 lessons were taught in just 12 months. All instructors are native Kauaians and teach Titus's unique style of training techniques, exclusive to the Hawaiian School of Surfing. A group lesson (maximum of three students) will run you $65 and you'll be supplied with a 12-foot soft deck board and 72-inch aluminum paddles. But plan ahead and reserve a spot, because it seems everyone wants a piece of the SUP action these days.
–Amy A. Clark