What to Wear on a Long Flight
From scarves with hidden neck pillows to pants that fit like pj's, these are the ultimate his-and-hers travel wardrobes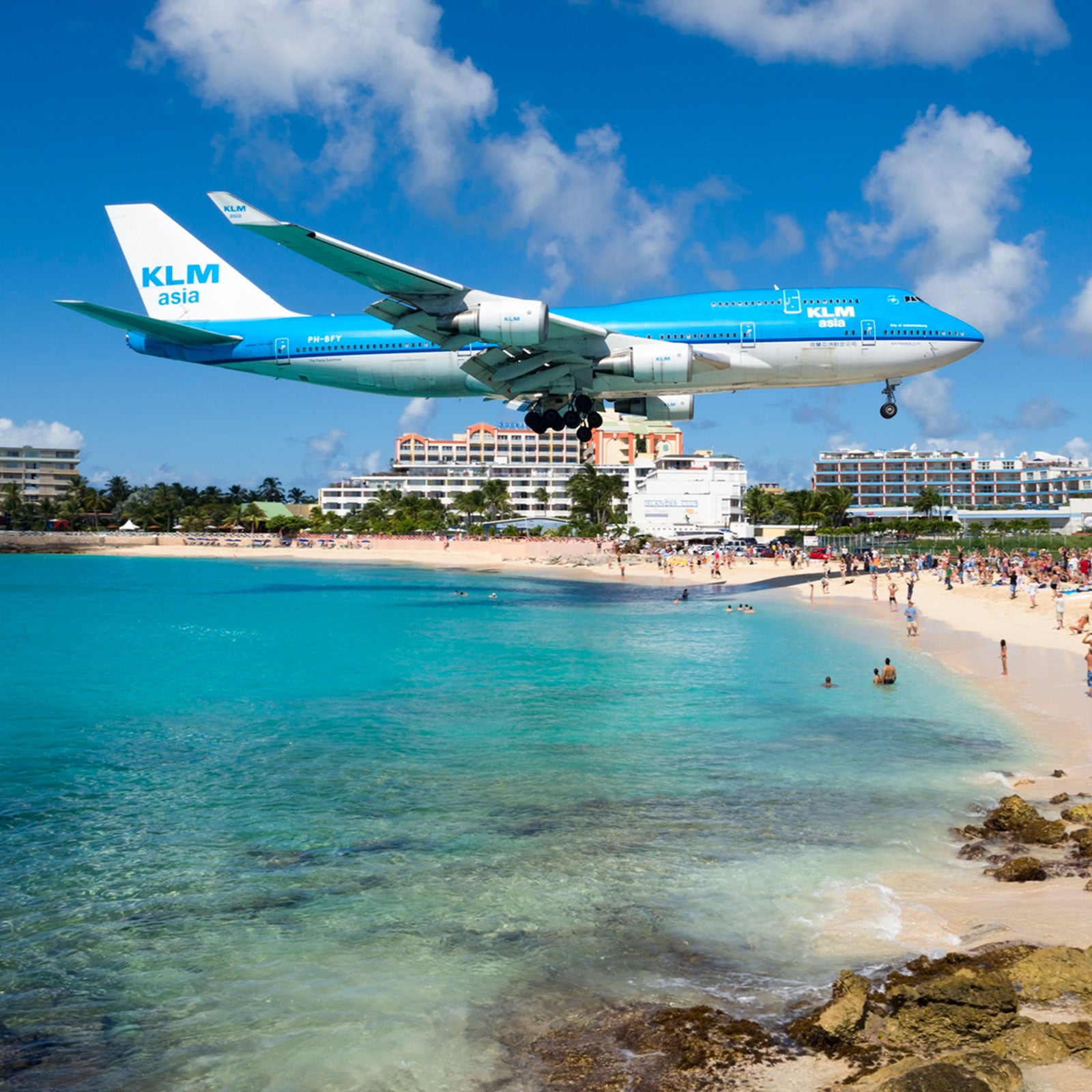 Heading out the door? Read this article on the new Outside+ app available now on iOS devices for members! Download the app.
It wasn't until I got married and traveled with my wife overseas that I realized the importance of wearing the right outfit for a long plane ride. I'll never forget showing up to the airport for an overnight international flight only to watch as her whole family changed into their "plane clothes" just before we boarded. I missed the memo and spent most of the flight shifting around uncomfortably in my jeans instead of sleeping blissfully like everyone else. But finding the right set of digs for your long-haul adventure is about much more than just comfort—it's about style, too. Just because you're flying doesn't mean you have to look like a slob, and a fashionable outfit can pull double duty as streetwear once you're on the ground. Here's how to do it.
Pants
His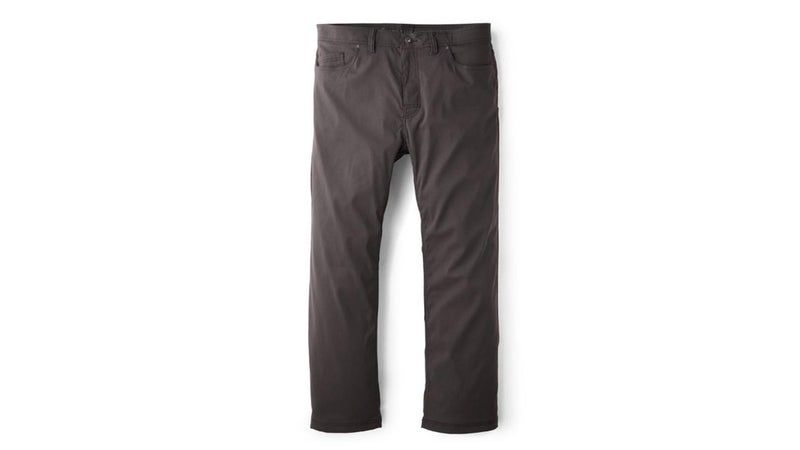 Prana Brion ($79)
I've worn Prana's Stretch Zion pants for years for everything from climbing to fly-fishing to backpacking, but with their cargo pockets and looser fit, I never loved them for nonadventure activities. That's where the company's wrinkle-resistant Brion pants come in. They're made with the same awesome Zion Stretch fabric but with a slimmer fit and classic styling. That means you won't look like you're in pj's on the plane and can wear them for pretty much every activity once you land.  
Hers
Athleta Wonder Stash Skinny ($108)
Stylish enough to be worn as dress pants but as comfortable as leggings, the Skinny's thick fabric will also keep you from getting cold on the plane, while the built-in stretch keeps you cozy.
---
Shirts
His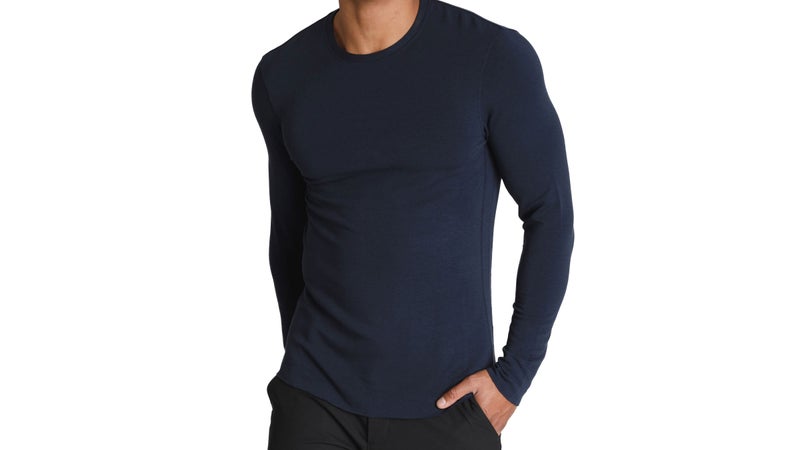 Kit and Ace Brushed Long Sleeve Crew ($88)
This is the most comfortable shirt I've ever worn. The brushed French-terry fabric is incredibly soft next to skin, and the built-in four-way stretch lets you get comfortable even in a cramped airplane seat. But like all things Kit and Ace, the shirt is meant to play. The fabric is quick drying, moisture wicking, and meant to transition seamlessly between a bike and the office, so it can more than handle anything your adventure throws at it. My favorite thing about it is, despite the technical features and coziness, it's a damn good-looking shirt.
Hers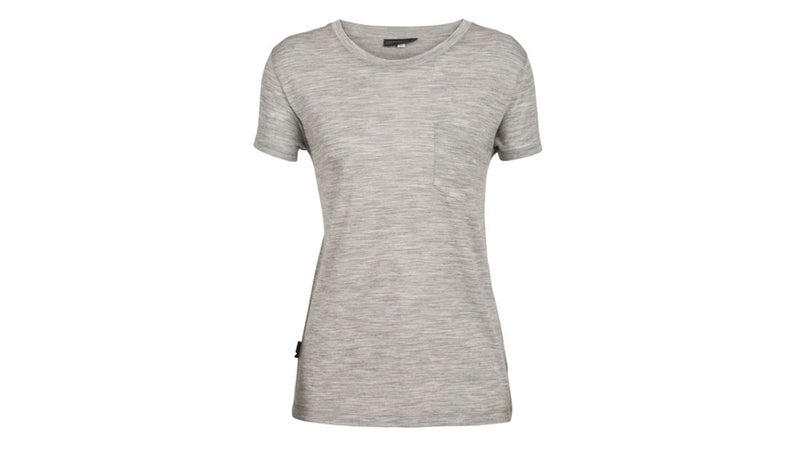 Icebreaker Tabi Tech Lite Short Sleeve Pocket Crew ($100)
If you read this column regularly, you know I'm a big fan of wool. Its natural temperature regulation and odor resistance are obvious benefits for long plane rides, but Icebreaker takes it a step further with its Corespun fabric, which reinforces merino fibers with a nylon core. That means you get a shirt that's more durable, weighs less, and dries faster.
---
Underwear
His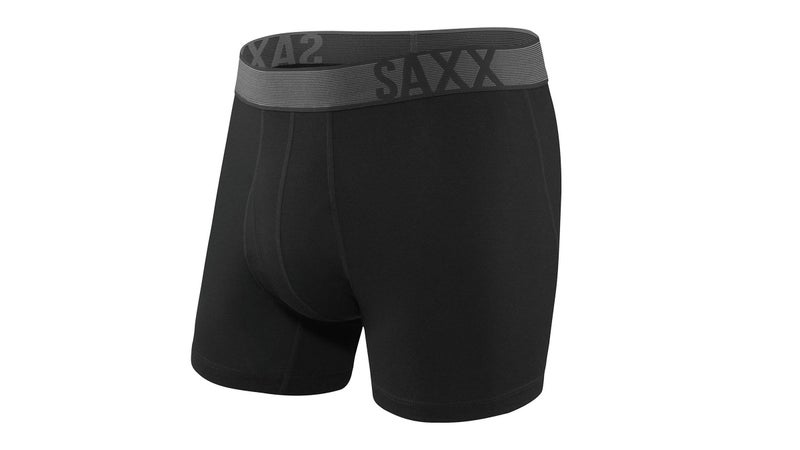 Saxx Blacksheep Boxer Brief ($35)
True comfort comes from within, or in this case, from down below. The Blacksheep boxer brief is an incredibly cozy pair of boxers, thanks to the soft merino fabric, flat seams, and classic Saxx ballpark pouch. The merino wool helps regulate temperature and fights odor, which is great for long travel days.
Hers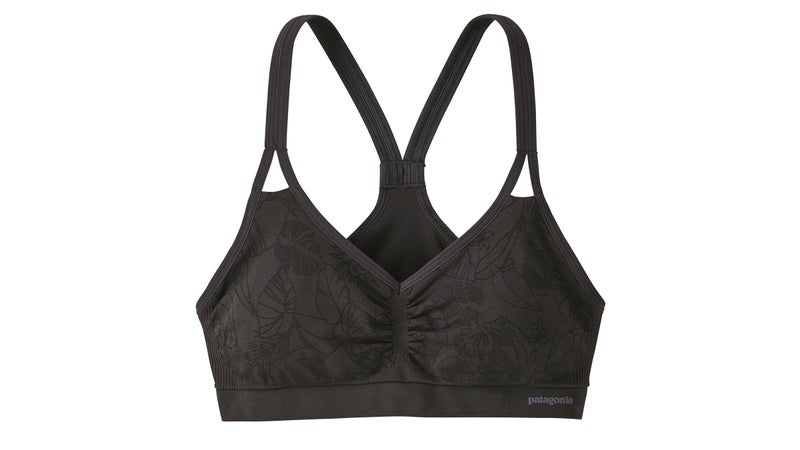 Patagonia Barely Bra Sports Bra ($49)
My wife loves this bra for big trips, because there's no uncomfortable underwire and no clasp to dig into her back. The breathable fabric helps regulate temperature, and the antimicrobial silver-chloride treatment from Polygiene helps you go longer between washes while on the road.
---
Shoes
His
Chaco Davis ($90)
Don't be the guy who takes his shoes off the minute he buckles his seat belt—nobody needs that. These shoes slip on and off easily for navigating security lines but have more than enough support for running across the international terminal to catch your connection. They're also stylish enough to dress up for dinner once you arrive.
Hers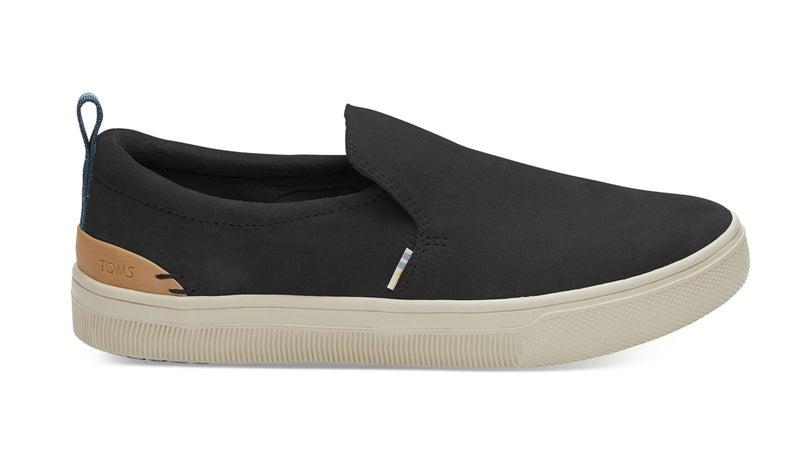 Toms Black Suede Trvl Lite Slip-Ons ($85)
Finding slip-ons that you'll actually want to walk around in all day can be a challenge. Enter the Trvl Lite, which are lightweight and feature a "high rebound" insole from OrthoLite, so they'll be just as comfortable sitting on the plane as they are walking around the city with a heavy suitcase hanging from your shoulders. Plus, slip-ons are infinitely easier than fussing with laces for quick bathroom runs once you're airborne.
---
Jackets
His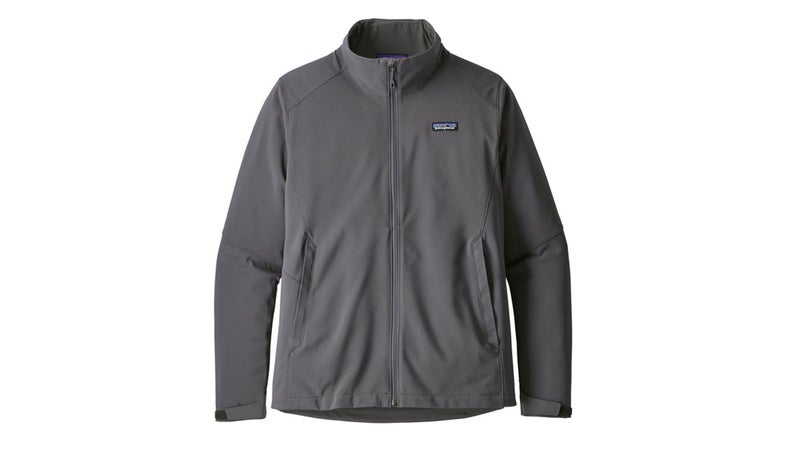 Patagonia Adze ($149)
The right jacket is essential for travel: wear it on the plane if it gets chilly, or ball it up and use it as a pillow if the cabin is warm. I like to pack the Adze because its soft shell fabric is stretchy and comfortable, while the fleece grid backer provides enough insulation for the plane and pretty much any weather I'm likely to experience once I land.
Hers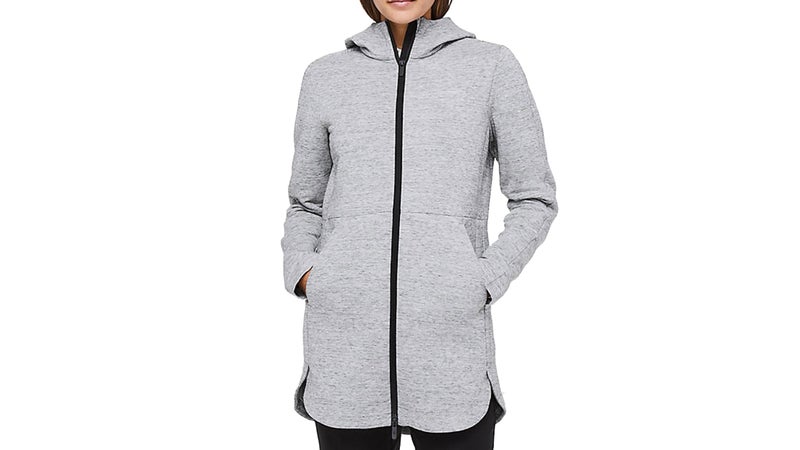 Lululemon Going Places ($148)
This outer is light enough to toss in your carry-on and has enough insulation for uncomfortably cold overnight flights. Add in a touch of weather resistance for when you get to your destination, and it's just about the perfect travel jacket whether you're on the plane or off.  
---
Accessories
His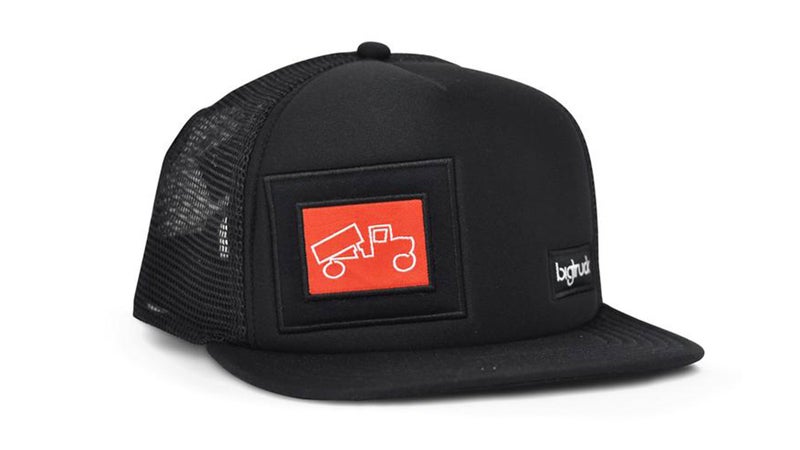 Bigtruck Black Red Beach Original Flat Trucker Hat ($30)
For me, a hat is a crucial travel item. I'll use it as an eyeshade, and I don't have to worry about looking like I just rolled out of bed. Bigtruck makes some of the best (and most comfortable) trucker hats you can buy, thanks to its high-density foam and plush headbands.
Hers
Sleeper Scarf 2-in-1 Travel Scarf and Inflatable Neck Pillow ($40)
This might just be the ultimate piece of clothing for long flights. It's a scarf that has an inflatable neck pillow hidden inside, so you can pack lighter and not have to worry about dragging a bulky travel pillow around.  
Lead Photo: Joel Carillet/iStock