What's the best three- to four-day backpacking route in Utah?
My friends and I are planning a backpacking trip to Utah, but we're at a loss as to where to go. We're looking for a three- to four-day trip, so something in the range of 18 to 25 miles or so, give or take. If possible, we'd love to spend some time in slot canyons, but that's not really the focus. Landon H. Boulder, CO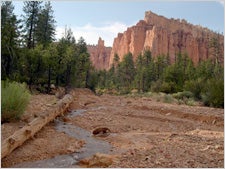 Heading out the door? Read this article on the new Outside+ app available now on iOS devices for members! Download the app.
A reputation for miles of salt flats—159 to be exact—might deceive any traveler from thinking much else exists in Utah besides buoyant lakes and world-class skiing. But south of Salt Lake City are a whopping five national parks (Bryce, Zion, Arches, Canyonlands, and Capitol Reef) and a national recreation area (Glen Canyon) as well as other surreal and alluring landscapes that fall within the National Park Systems. Predominantly surrounded by sandstone, the region has been carved over millions of years by rains and rivers, forming famed monuments such as the Delicate Arch and a majority of the slot canyons common throughout Utah's southern region. Such dramatic views make for ideal backpacking over hundreds of miles of trails throughout the desert landscape. Here are a few that make those miles all worthwhile.
Under-the-Rim Trail

Backcountry Bryce: One of the campsites along the Under-the-Rim Trail
Serious backcountry hiking means often going without seeing another soul on the trail – unless it's another backpacker, of course. Bryce Canyon National Park is a 56-square-mile natural amphitheater with an expanse of limestone canyons and spires, or "hoodoos." Check out the crowd-choked overlooks, then leave the people behind by dropping onto the Under-the-Rim Trail, which you can follow from 8,250-foot Bryce Point to Rainbow Point for 22.9 miles along the Paunsaugunt Plateau, with panoramas of natural amphitheaters, ponderosa forests, and alpine meadows. Highlights of this backcountry adventure include the Hat Shop (boulders perched atop dirt pedestals), a tilted plateau at Swampy Butte, the Natural Bridg,e and a 2.9-mile hike to the views from Rainbow Point at the end. Total elevation gain is approximately 1,500 feet with numerous climbs and descents along the way. Six campsites mark the trail—Right Fork Yellow Creek, Yellow Creek, Sheep Creek, Right Fork Swamp Canyon, Swamp Canyon, Natural Bridge, and Iron Spring. Water sources are limited, and packing in a gallon per day per person is recommended. Bryce Point is accessible via shuttle during summer months. Permits are available at the visitor center and start at $5. But one thing to keep in mind: this is an out-and-back trail, not a loop. So either arrange for a shuttle, or be ready to hoof it to the nearest park bus stop after the hike. There's also a fair amount of spill outs onto the main, paved canyon road if you end up wanting to cut the trip short (sometimes the Utah sun can be unforgiving!).
For a backcountry hike that offers both outlandish obstacles as well as funky rock formations, the trail from Coyote Gulch to Hurricane Wash in Glen Canyon National Rec Area satisfies. With two arches, a natural bridge, and several waterfalls, this 26-mile trail has become the site's most popular. Start the hike at Red Well trailhead and you'll get top-notch scenery not to mention quicker access to water. Beginning as a wide, sandy wash and narrowing to a canyon with towering walls, Hurricane Wash joins the lush riparian zone of Coyote Gulch approximately five miles from the trailhead. Hikers will conquer the first obstacle at Cliff Arch after reaching the second waterfall. Below the arch, daredevils can follow a ledge along the south wall about 100 feet downstream to find an opportunity to descend from the narrow footing. The next adventure is an nearly-impassable boulder jam located approximately half a mile up Coyote Gulch from the Escalante River. To navigate the boulders, follow the trail on the right side of the stream across the lower portion of a sand slide and then slowly descend the steep slickrock slope. Hike from Fortymile Ridge to Crack-in-the-Wall and scramble through the crack to a steep sand dune and lower Coyote Gulch. Just be prepared for the steep hike back up. You'll also encounter Lobo Arch, Coyote Natural Bridge, and Stevens Arch along the way. Contact the visitor center in Escalante for permit information and weather conditions.
Zion National Park is next door neighbor to Bryce Canyon, and at 229 square miles just 15 miles long. While backpackers won't find many common backcountry "trails," they will find a uncommon hike along the Zion Narrows. Carved by the Virgin River, the Narrows is a 16-mile gorge in upper Zion Canyon with 2,000-foot high sheer sandstone walls, caves, and hanging gardens. The river is your guide as well as 60% of the trail, so special preparation (such as water proof sandals) is required for this unique adventure—and also one of the reasons the hike was ranked #5 on National Geographic's list of America's Best 100 Adventures. Hiking from top to bottom will take you through "Wall Street," a two-mile section where walls close to just 22-feet wide at the top of the canyon. Natural springs and waterfalls abound, and be prepared to hike waist-deep through the water or opt to take a swim along the route. Only 11 overnight campsites are available in the Narrows, so make sure to call ahead and obtain a permit. The final leg of the Narrows ends at the Temple of Sinawa where you can catch the park shuttle back to the visitor center. Before planning your trip, make sure to contact the Zion Canyon Visitor Center to obtain a backcountry permit and check weather conditions. This unique area is also a hot spot for flash flooding due to tight canyon quarters and thunderstorms that often occur miles upstream. The hike itself is open and passable Nov-May, but the cold water requires wearing a wet or dry suit, while March to early June calls for high water because of spring snowmelt; the best time to hike would be mid-summer through fall. But with proper planning and attention to surroundings, the Narrows can be a 16-mile hike like no other.
–Amy A. Clark