What's the best way for a young, single woman to travel solo?
I'm 28, single, and want to hike, camp, climb, and paddle all over the world. And while I have a great group of friends, most are married or coupled off, so finding a travel partner is a problem. Could you suggest some good adventure travel outfitters or other alternatives that cater to young, single women?—SarahAtlanta, GA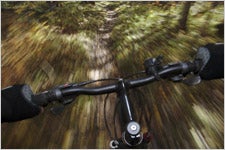 Heading out the door? Read this article on the new Outside+ app available now on iOS devices for members! Download the app.
The 11 worst words for solo women travelers are: "creepy German guy from the hostel who won't leave me alone." When you travel with a tour group, your problems aren't solved either, because most times you have to pay a "single supplement"—which is the penalty for not booking your lodgings and meals for two.
adventure adviser

Never fear, though, Sarah. You do have alternatives. There's a growing list of adventure outfitters and other resources out there aimed at promoting active solo travel for women who don't yet put their teeth in a glass at night.
Adventure Outfitters

Adventurous Wench

No self-respecting tour outfitter would ever discriminate based on birth date"—so you're never guaranteed that everyone in your group came of age with Britney Spears the way you did. But odds are, the more active the trip, the more youthful (in spirit, at least) the group. Adventurous Wench offers the gamut, from leisurely California wine country excursions to snorkeling and caving adventures in Belize to kayaking and hiking through the San Juan Islands.
Tomgirl Tours

Tomgirl specializes mostly in softer tours that combine exotic places with leisurely balloon rides, shopping, and Segway excursions. But it does organize one harder-core trip to St. John, Virgin Islands. On it, you'll snorkel and kayak along the island's federally protected Caribbean shores, jungle hike through Virgin Islands National Park, and spend your nights in an eco-tent.
Holiday Expeditions

This adventure travel outfitter organizes four women's "River and Yoga Retreats," held alternately on the San Juan, Yampa, Lower Salmon, and Green rivers. On them, you'll combine the peace and serenity of meditation and yoga on quiet, hidden canyon beaches and the rollicking thrills of world-class whitewater.
Web Sites

Womentraveltips.com

Safety tip for solo women travelers: You're more likely to be victimized if your hair is in a ponytail or bun, because it's easier for a man to grab onto. This is one of the many useful insights provided on the Women Travel Tips site"—aimed solely at planning and safety, not specific trips and destinations.
Journeywoman.com

Don't know the hottest cruises for women? Or the best urban guide services in Europe? Then clearly you've never visited journeywoman.com. This "travel source for women" combines original articles with reader contributions on everything from "12 Things You'll Find Difficult in Northern India" and "The Best 25 Things in Her Backpack" to "Amsterdam"—She Shops, Shops, Shops."
Trending on Outside Online