Where are some bouldering spots for beginners?
I just discovered that I love bouldering and would like to plan a vacation around it. Where are some bouldering spots for beginners? Mike Boise, ID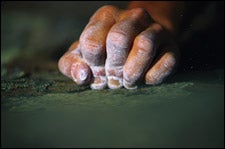 Heading out the door? Read this article on the new Outside+ app available now on iOS devices for members! Download the app.
Sounds like you're hooked—and it's easy to see why. Bouldering has become more widely recognized in recent years by those looking for a physical and mental challenge that doesn't involve belaying a rope or climbing to uncomfortable heights. It's also mostly free of gear; you just need climbing shoes, and a bag of chalk and tape so your hands don't slip or get torn up. The goal, of course, is not to fall…but inevitably you will. Thus, you need a spotter, someone will help break your fall and protect your head and shoulders from hitting the ground. And also need a crash pad, which start at around $100, and might just save you from that next broken bone. Check out Metolius [www.metoliusclimbing.com] (541.382.7585) to get a sense of what's out there.
bouldering

HOLD TIGHT: A good grip is essential in bouldering
As a beginner, you'll want to find a place that has a range of "problems" (climbs that fall in a rating group between VB and V14). And there are a number of bouldering spots across the country that qualify. But if you want to be a technical climber, here are a few areas sought out by those looking to immerse themselves in giant boulders, overhanging rock faces, and challenging crags. Before you know it, you'll be on your way to conquering a V9. Just make sure to bring your crash pad.
If you want to mix surfing with bouldering, make your way to Lost Rocks in Northern California. Approximately one hour north of Arcata is Klamath Beach Road. Head west and you'll find Kamp Klamath—the closest campground to Lost Rocks. From there, a beach trail leads you to nearly two miles of shoreline and smooth basalt boulders with numerous problems that are constantly changing due to sweeping sands carried by the Pacific's tides. While you won't be able to find a topo map to guide you, follow the chalk and discover your own routes; there are rocks that cover the spectrum, from beginner to advanced. And while sand might seem like a soft landing, bring a crash pad in case you're tempted to try a problem over a bed of pebbles (they seem small until you land on your back.) The beach itself is a secluded strip of volcanic sand backed by a rainforest of Redwoods, Sitka Spruce, and Douglas Fir. The bouldering is best with dry weather—think late spring, summer, and fall. Kamp Klamath [www.kampklamath.com] (866.552.6284) is open year round and the lush, grassy tent sites begin at just $20 per night. This mom-and-pop campground also offers full RV hookups, showers, a convenience store, and free Wifi.
Sometimes, there's no better way to learn than by watching the pros. If you're up for catching some serious competition, then visit the IFSC Bouldering World Cup June 6 and 7 in Vail, Colorado, when big names like Chris Sharma and Alex Johnson vie for the title at the 2008 Teva Mountain Games [www.tevamountaingames.com]. From June 5 to 8, Vail will host events from trail running to paragliding, even film schools. And you can be sure the nightlife will be just as hardcore. And once you're inspired to try a few new moves, head 80 miles north of Denver to Loveland and 5,750-foot Carter Lake, a sandstone bouldering area with mostly moderate climbs and a few for beginners. Mars Wall is the first lower wall when entering from north on Fawn Hollow Trail, and has plenty of V2 routes to tackle. Continue to head west on the trail (from Monster Boulder) and you'll hit a couple V0s at Doughboy Boulder. Bring your tent for roadside camping [www.co.larimer.co.us/parks/campgrounds.cfm] but beware, the sites are anything but private.
But if you're looking for the mecca that is bouldering, head to Bishop, California [www.bishopvisitor.com] (888.395.3952), for a little Buttermilk and some Happy Boulders. The diversity in rock type, excellent year round weather, and thousands of problems make for prime bouldering anywhere from five to 30 minutes outside of Bishop. Climbers of all abilities will find over 3,000 challenges ranging from VB to V14 throughout the main bouldering areas: Happy and Sad Boulders, Buttermilk County, and the Druid Stones. While the granite Buttermilks are just ten miles west of Bishop, the "Happies" are part of the Volcanic Tablelands located to the north. Because of the geological diversity, your hands may need a couple days to adjust to these sharper rocks. Bureau of Land Management and the U.S. Forest Service both have lots of campgrounds, but plenty of hotels are available if you're looking a soft bed to rest your weary body after pulling all day in the hot sun.
-Amy A. Clark